So it's been half term this week in Ye Olde England, and that's a chance to put the feet up, raid the junk bin and MAKE STUFF.
After a mere three year gestation period, Da Skooderia Ferrorki are finally starting to approach the tabletop – DIY battlewagon and warbuggies in the last instalment, and before we tackle the fiddly infantry conversions (using Caesar 1/72 fantasy orcs as our base models) it's time to bring some firepower to the table in the form of an Orky Dreadnought!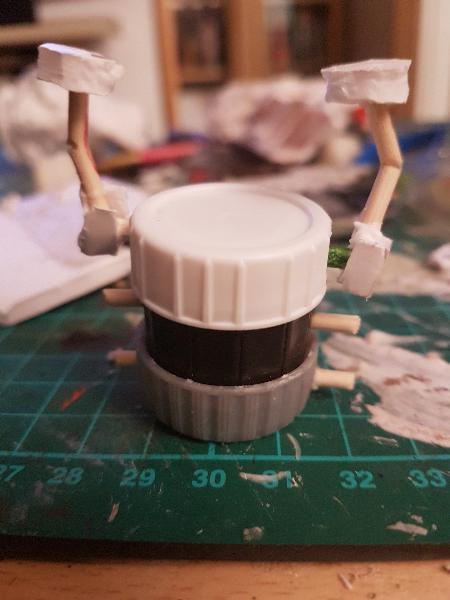 We begin with three bottle caps glued together to create the body. Next stop was puncturing these caps to allow insert point for the arms and legs (kebab skewers) – this was done with a screw driver and a pocket knife, although in retrospect a pin vise would be a better bet. (Health & Safety warning – if you're doing this, be careful I managed to slash my index finger open. Not recommended, I like my index finger unslashed. )
For the hip joints, I used little pieces of scrap foamboard – as you'll see later, this created a few problems.. if I was doing it again, I'd use greenstuff – and buried the legs and hips in it, cementing with tacky PVA based glue. You don't want superglue or anything solvent based for foamboard, as it melts the foam. Feet were octagons cut from foamboard, and the knee joints were done by cracking the legs and soaking the cracked joint in superglue.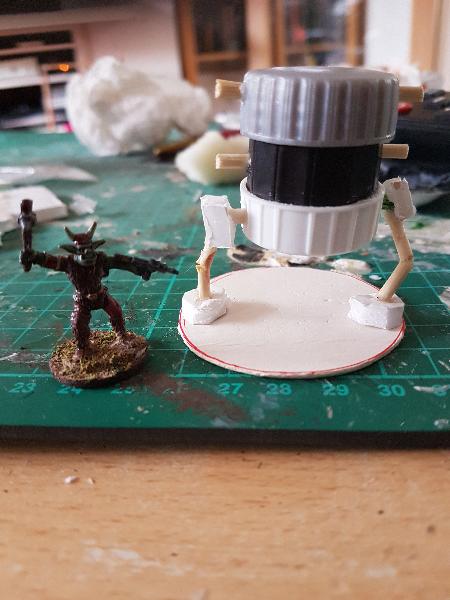 Shown here with Warboss Enzo Ferrorki for scale – base is cardstock, drew around the bottom of a wine glass and cut out
Next up, weapons! This Dread is packing a heavy bolter and a heavy flamer, along with a couple of Power Klaws – I figured it made most sense to mount the ranged weapons on the shoulders and leave the lower arms free for close combat. Obviously you shouldn't apply too much sense and logic though – it is an Ork vehicle, after all.
Coming together now!
Arms are cocktail sticks using the snap & superglue technique, then little offcuts of guitar string (low E, if you're interested) bent into a V shape and embedded in greenstuff for the wrists. I used greenstuff to attach and reinforce the joints onto the shoulders.
I chopped up cocktail sticks and a little bit of drinking straw to created the weapons, superglueing the parts together before attaching them to the shoulders using greenstuff – by this point I was feeling pretty good about the project!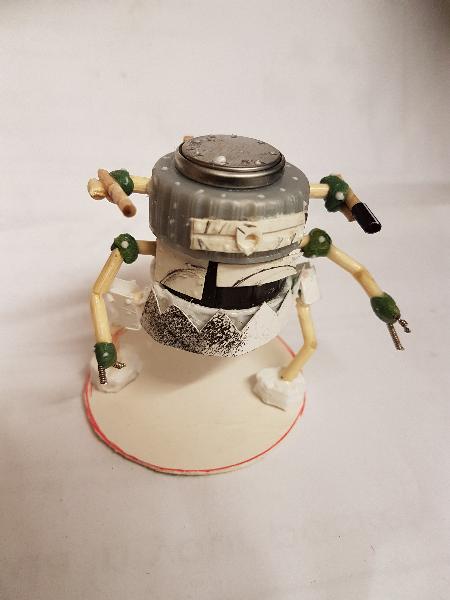 Detailing and rivets – SO MANY RIVETS – added
With the basic elements done, time for detailng! I used Google Images to get some inspiration here using a defunct watch batter for the top hatch scrap card for the teef and other bitz, card and foamboard for the engine block at the back, straw and cocktail sticks for the exhaust stacks, and because this is 40k and these are Orks – RIVETS!!! MANY MANY RIVETS!!!!
Actually, this is where being super cheapy 1/72 scale pays off, as instead of arsing around with holepunching and glueing fiddly bits of card until you're driven to the bottle in frustration, I just use the tip of a cocktail stick to dab on little dollops of PVA. This dries nicely into a dome (ish) shape which pin washing and drybrushing picks up nicely.
Next up was priming – I used cheap white car spray paint as I wanted the red nice and vivid, and in any case I didn't have any black – and this was where things went a bit awry. Although I covered the exposed areas of foam with PVA and paint, I clearly didn't do it thoroughly enough as something in the spray paint reacted with the foam, causing a slight change in the gait – in short, it looks pissed as a rat.
Paint scheme is exactly the same as I used on the buggies and battlewagon, so I won't go into that here.
Whatchoo lookin' at? Hic!
I went heavy with the weathering again, based with a mix of Garage Floor Dust (patent pending) and flock, finishing with a coat of matt varnish, and good to go!
It's a shame about the wonky gait, but the more I look at it, the more I quite like it – I imagine this guy lurching across the battlefield, piloted by a Grot drunk on both power and fungus wine! He's certainly a big fella, probably close to his 28mm counterpart, and should provide both a visual centrepiece and some hefty punch when Da Skooderia FINALLY hit the tabletop…
Overall a fun build, and actually not too tricky. I'd like to give a shout out to Wyloch of Wyloch's Crafting Videos whose superb series on DIY miniatures inspired this build – thanks man, we're waiting to see what you come up with next!
Stay thrifty out there, we'll be back next time with some teeny weeny greeny meanies as the Boyz get their turn in the spotlight.