Here in dear old Blighty the foul weather continues, and so therefore does our temporary tactical withdrawal from the gaming shed and into the centrally heated sanctuary of my living room.. which means, skirmish games!
The other week we pulled out a forgotten classic from the 90's, Alternative Armies "Firefight"  –
-and tweaked it to run with 3D scenery and no squares, but for this week we returned to the folks at onepagerules.com to check out their skirmish level adaptation of Grimdark Future – Grimdark Future Firefight.
Now, straightaway there's not really much difference between the two, aside for rules where models are wounded and may revive, it's basically the same game. That said, the mission statement is One Page Rules – the whole point is for it to be easy to play, not weighted down with complication. So this shouldn't be taken as criticism!
We rolled out the 2nd Ed 40k plastics again, Dan taking a Battle Brother team and me a force of Orc Marauders:
Battle Brothers:
Captain – Quality 3+ Defence 2+, Fearless, Hero, Relentless, Tough (3)
Advanced Tactics, War Chant, Storm Rifle, Destroyer Armour (Tough +3)
3 Battle Brothers – Quality 3+, Defence 2+, Fearless, Veteran Infantry, Storm Rifle
Battle Brother – Quality 3+, Defence 2+, Fearless, Veteran Infantry, Heavy Machine Gun
Orc Marauders
Warlord – Quality 3+, Defence 4+, Heavy Armour, Cyborg Body, War!!!, Ultra Axe, Bad Shot, Furious, Hero, Tough (3)
3 x Goblin Herd – Quality 6+, Defence 6+, Good Shot, Pistol
6 x Orc – Quality 4+, Defence 5+, Carbine, Bad Shot, Furious
4 x Orc – Quality 4+, Defence 5+, Heavy Machine Gun, Bad Shot, Furious
So as you can see, pretty different approaches, very much an elites v horde approach! My plan was to use the HMG equipped boyz and Goblins to provide enough covering fire/ meat shield (respectively) to advance my boyz into melee, particularly my Warlord who should be absolutely lethal! Dan simply planned to gun down as many of my ladz as possible before cleaning up the stragglers in melee.
We figured that should provide a good cinematic scuffle, so pulled out the small urban board, decorated it with some appropriately grimdark scenery, and set to business.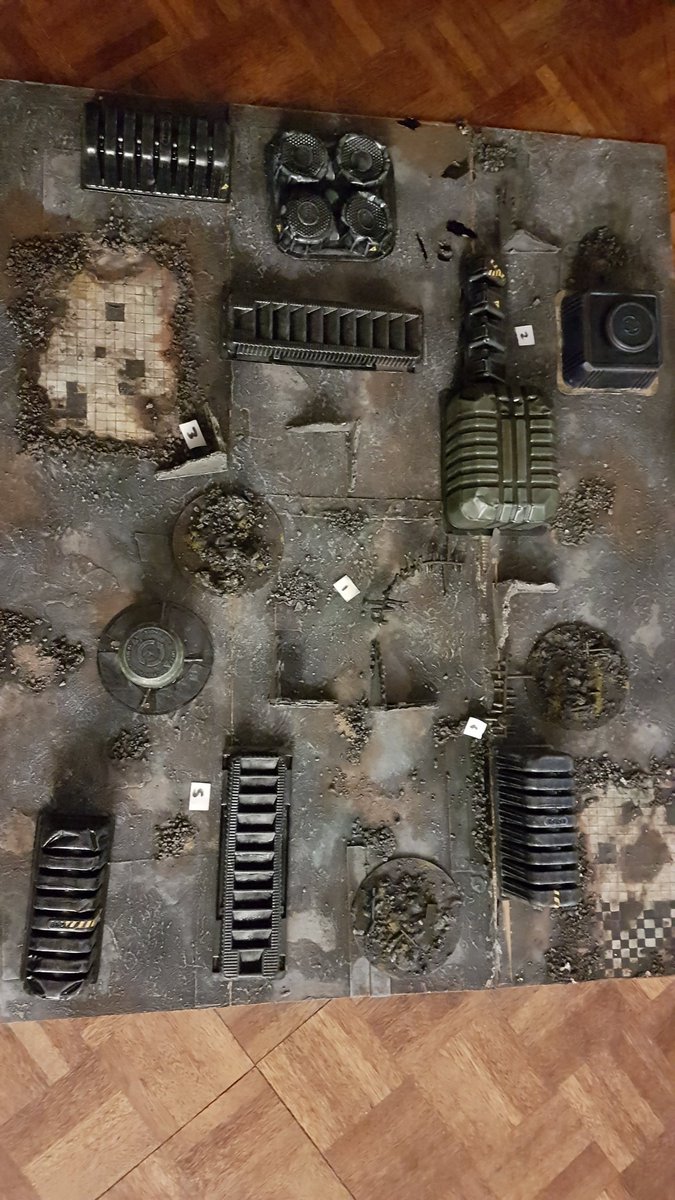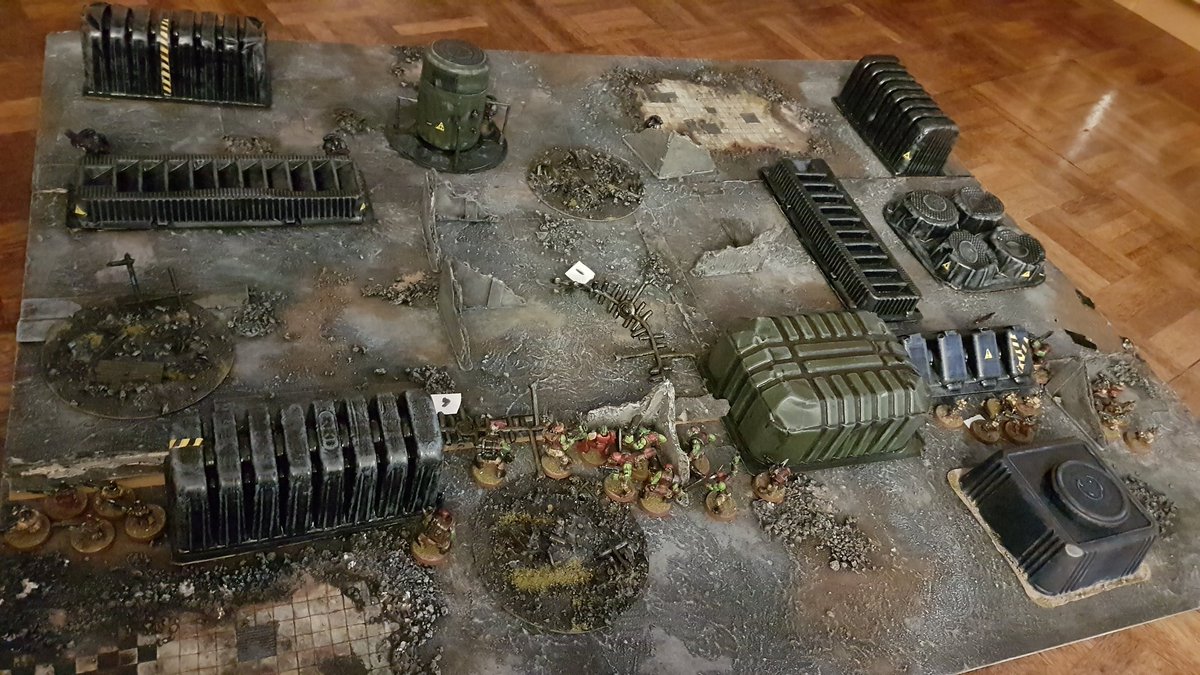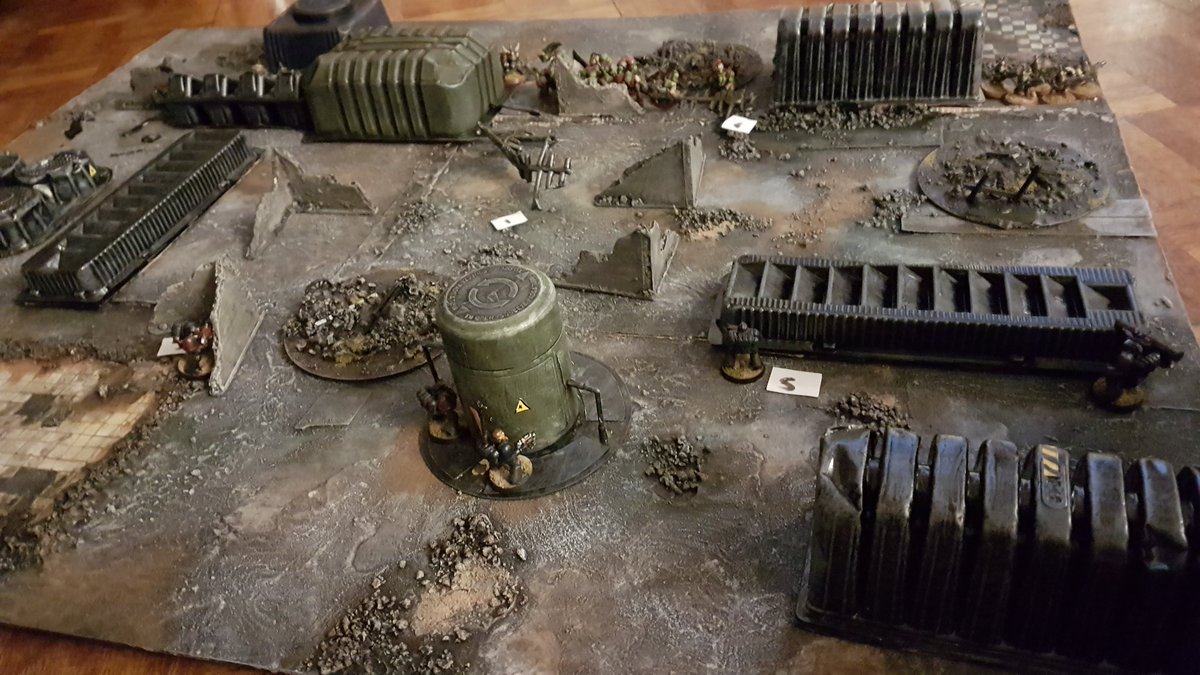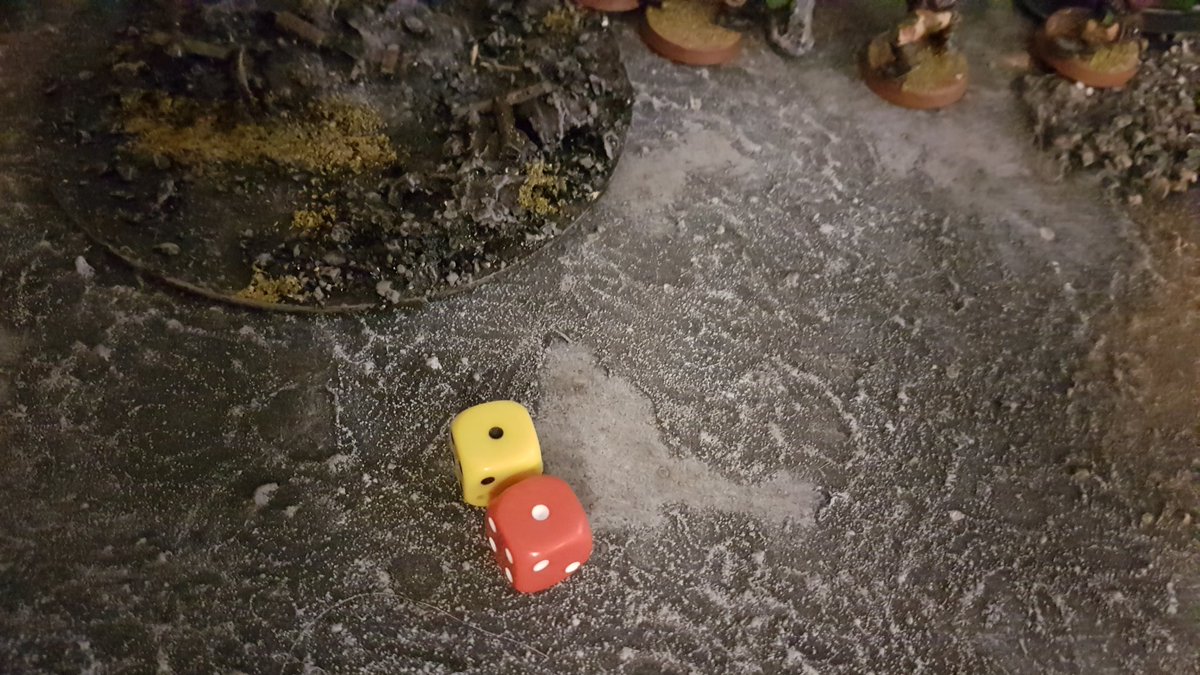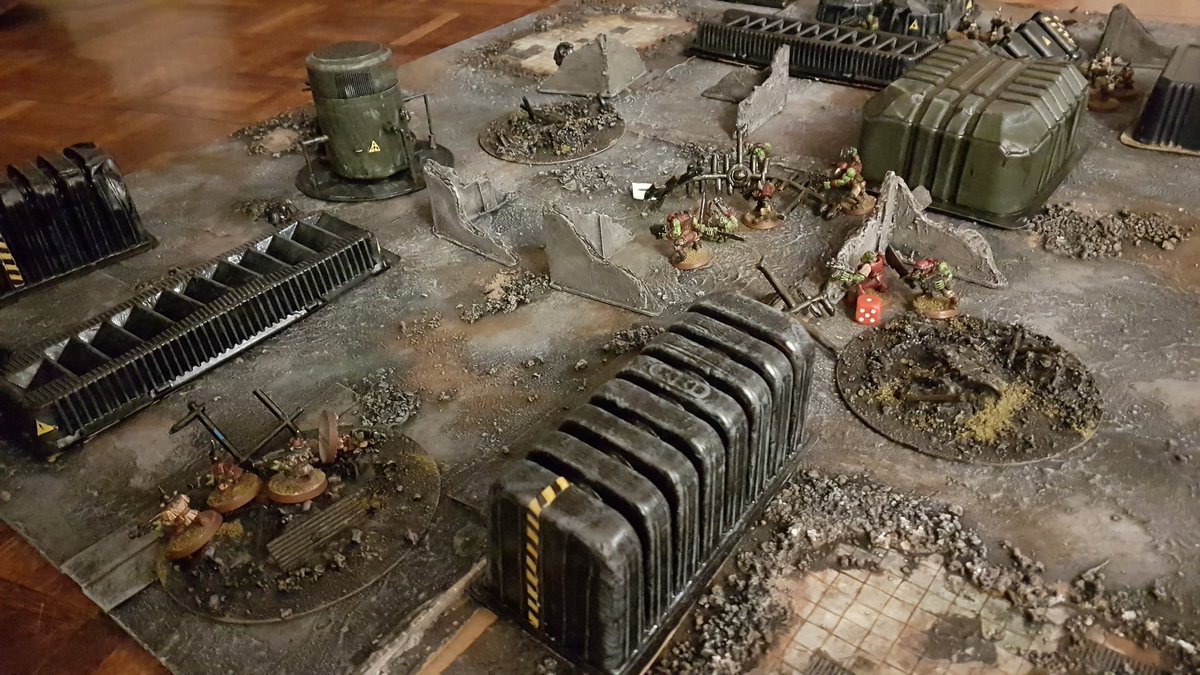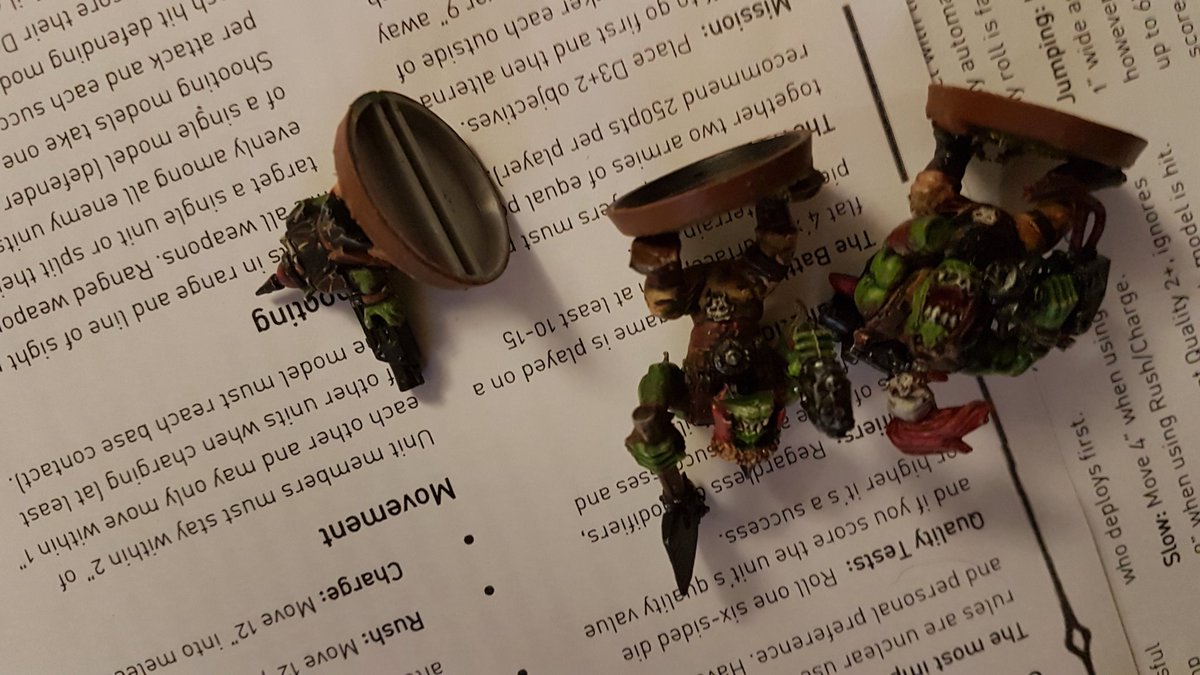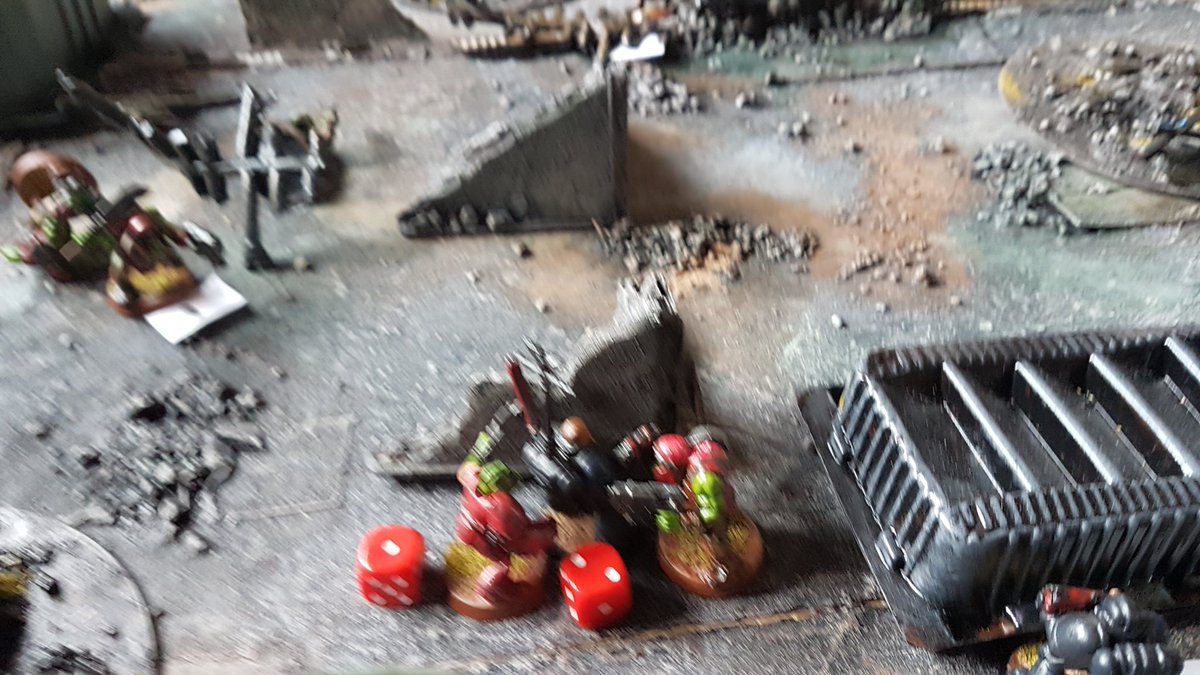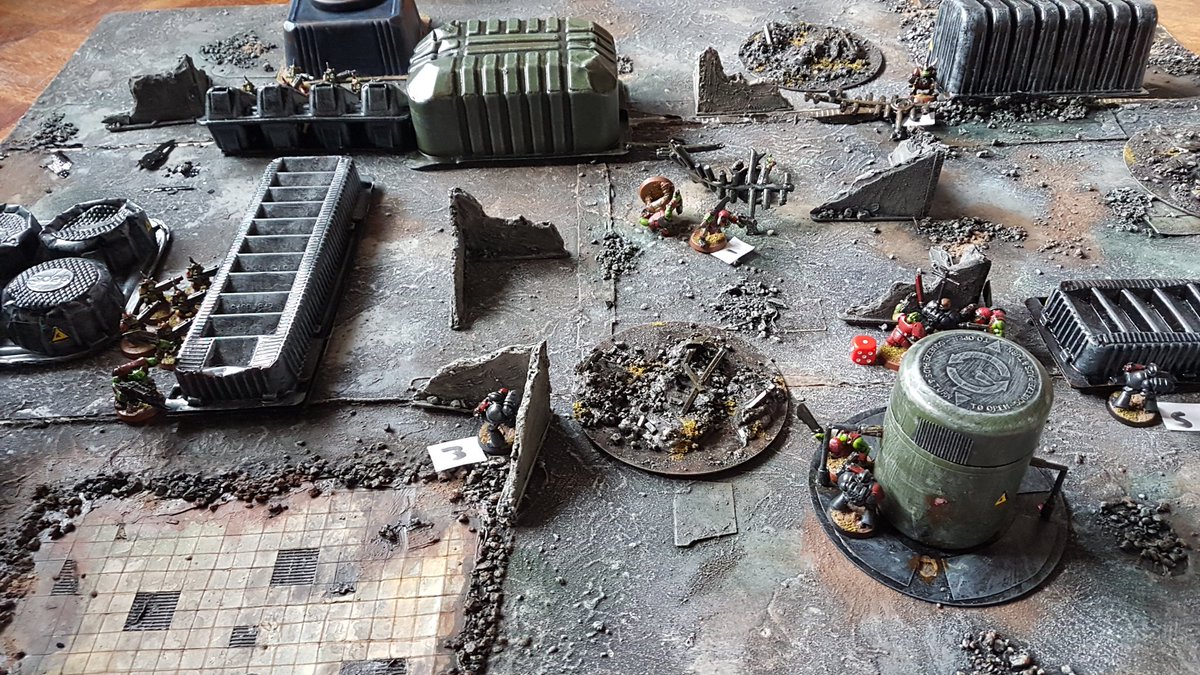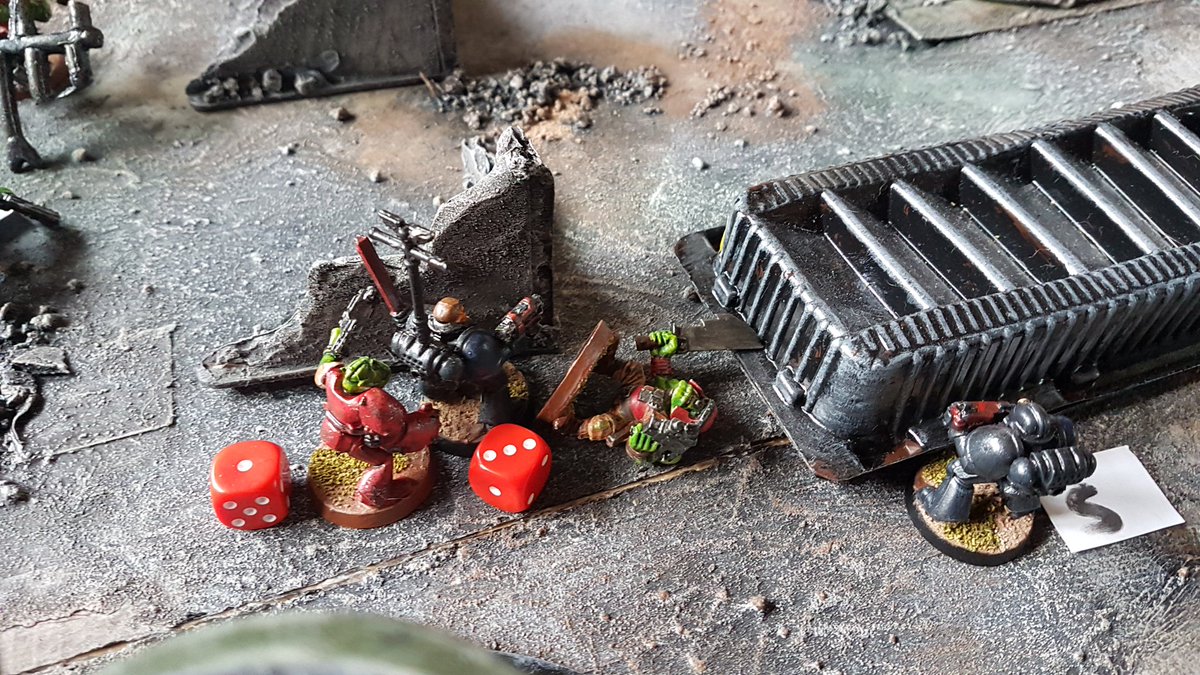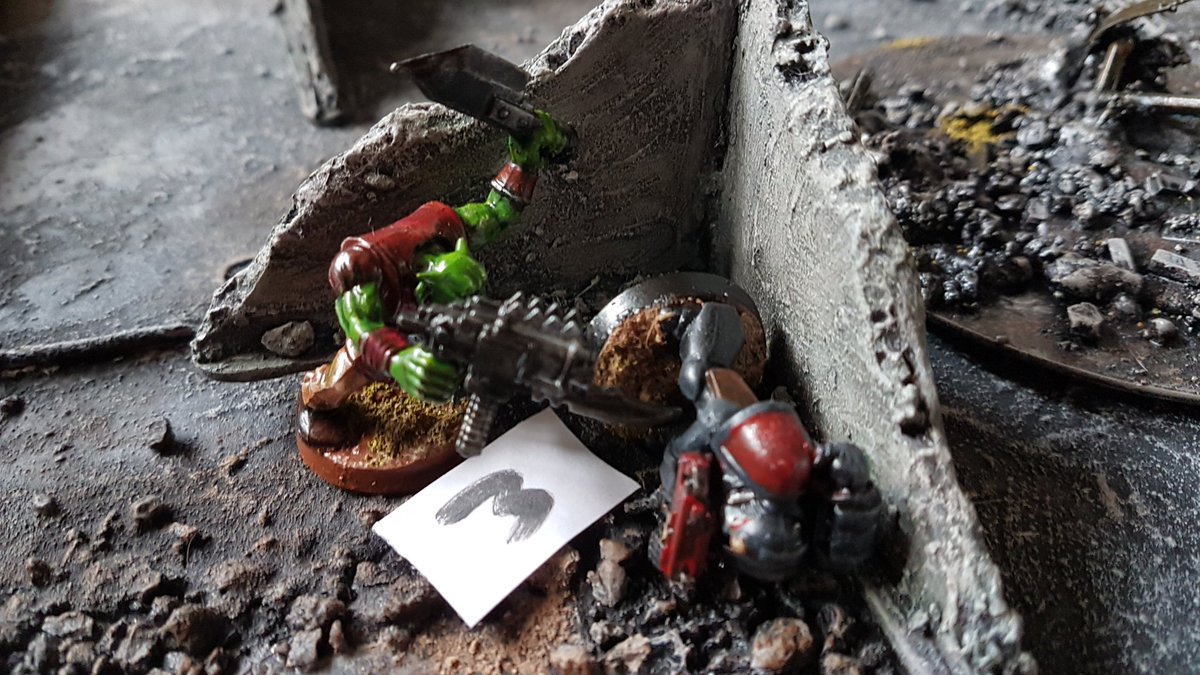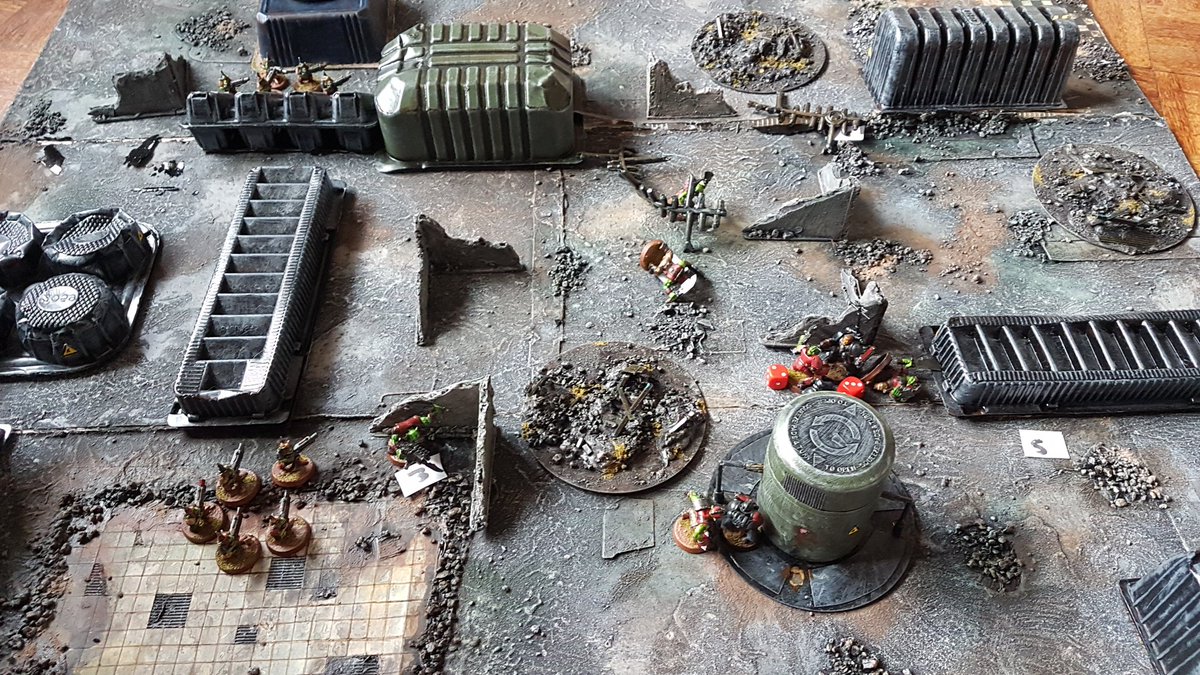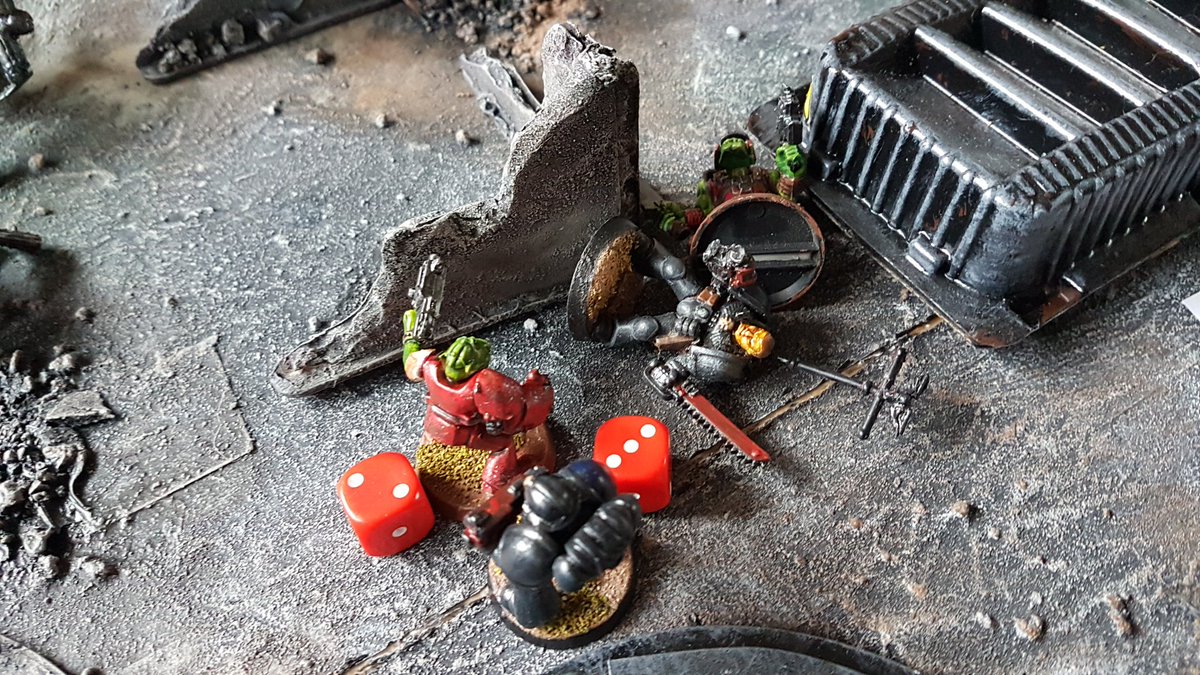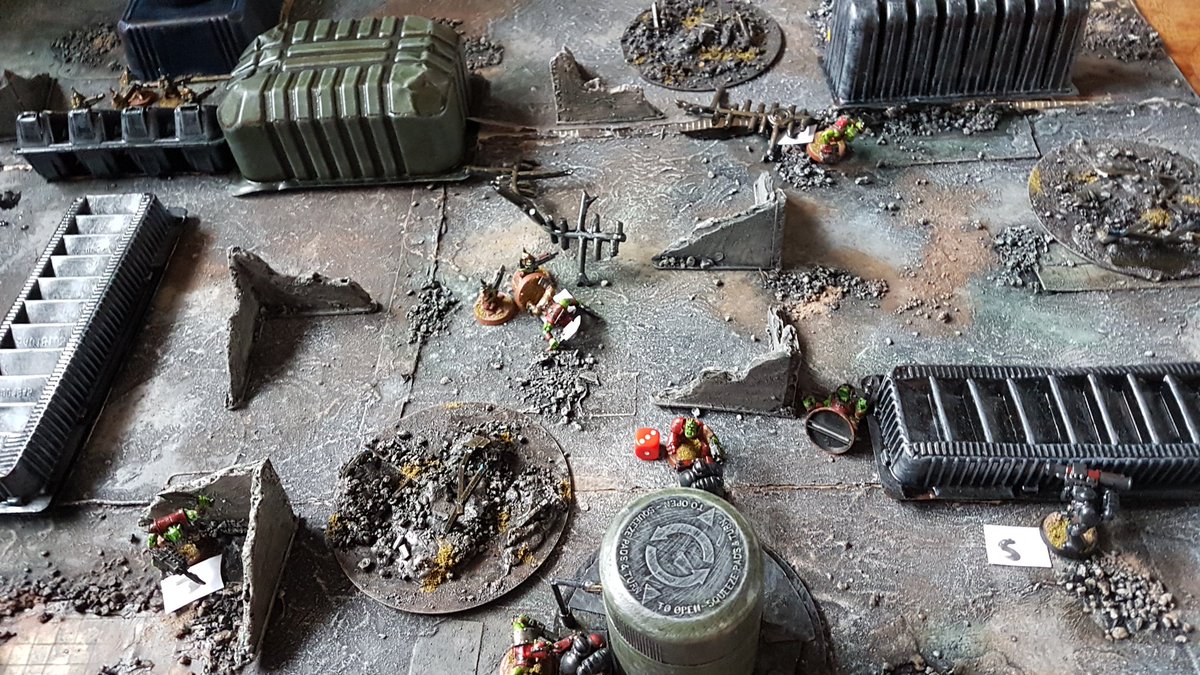 So there we go, pretty solid Orc victory but at quite a price and given a little more luck with the dice Dan's Battle Brothers might well have handed my my arse fair and square!
Thoughts on the game itself – tricky one really. There's nothing about it that makes you go "wow, that's so cool", and certainly it didn't feel terribly pacy or perilous… but there again, it's incredibly intuitive and it just works. 5-10 minutes reading the rules and you're away – 40k can't seem to manage that, with endless codexes and Chapter Approved and FAQs.. but there again, if you're a big company, you have to provide "support" to your player base… and support means new stuff, and new stuff means added complexity..  I don't know. What I do know is that the One Page Rules guys have a really solid system here, well worth checking out. My only bugbear is one that seems to plague pretty much every ruleset we try – why oh why oh why oh why  must I move and then shoot? Why can't I shoot then move? Well, maybe I'm an outlier in this regard!
Anyway, winter draws on, so that means lots more skirmishing to try, and next up we'll be taking our Black Ops system out for a trial run as Atlantic Alliance Special Forces go hunting aliens! See you there, and stay thrifty out there..