It's a new year, but not just any new year – 2020, a new decade and DAMN if this wasn't always the future in pretty much any sci fi film or literature you cared to pick up..
So with this in mind, we decided we wanted to do something BIG. And that meant bringing everything.
Everything?
EVERYTHING.
Our three games systems (yes we've only managed to get one actually done and published, but what do you want? There's only two of us, and at least one of us is usually mashed) all use basically the same engine, and while we haven't specifically designed them to be compatible, we'd like it if they were.. and so we decided the best way to achieve that was by throwing everything we have onto the table!
We divided the forces into "goodies" and "baddies":
"Goodies":
Atlantic Alliance (A:E)
League Of European Nations (A:E)
People's State Liberation Army (FFW)
Ancien Regime (HW)
Sky Marines (HW)
"Baddies":
Holy Soviet Army (A:E)
Da Skooderia (FFW)
Virum Naasci (HW)
No real attempt at balance, we were just throwing down and let the dice gods sort it out!
---
"So who are they?" McAuliffe whispered to Lt. Grant.
Grant sighed. "Look, Mac, you were at the same briefing I was"
And what a briefing it had been. Lots of exotic terminology thrown around – "temporal displacement anomaly", "quantum entanglement" – but Grant couldn't shake the feeling that nobody knew quite how this had happened. Something to do with the Deep Space program, according to the whispers. One thing was for sure though – Ivan would be wanting this place too..
_______________________________________________________________________
Lt. Polikarpov smelled a rat. Literally. That wasn't an issue in itself, though. The real problem was that the rat in question was stood on hind legs, almost six feet tall with a vicious looking sword, and his political officer was talking to it. Even worse, the rat was replying, in a sibilant but still discernible dialect of Russian. The hulking great creature looming over both of them didn't help his mood either – it bore a striking resemblance to the Siberian assault troops the task force included, which was intimidating enough in itself, but this one was green.
The lieutenant pondered the situation and decided to quit drinking next week instead.
_________________________________
We lined up the opposing forces on the wide 6′ edges of the board, up to 24cm forward. No limits to flank deployment, there was too much to squeeze in! To our mutual surprise, the "bad guys" won the deployment roll, picking the southern table edge with the hedgerows and ruined village and forcing the "good guys" to deploy first. Grab yourself a beer, this is going to be a big one!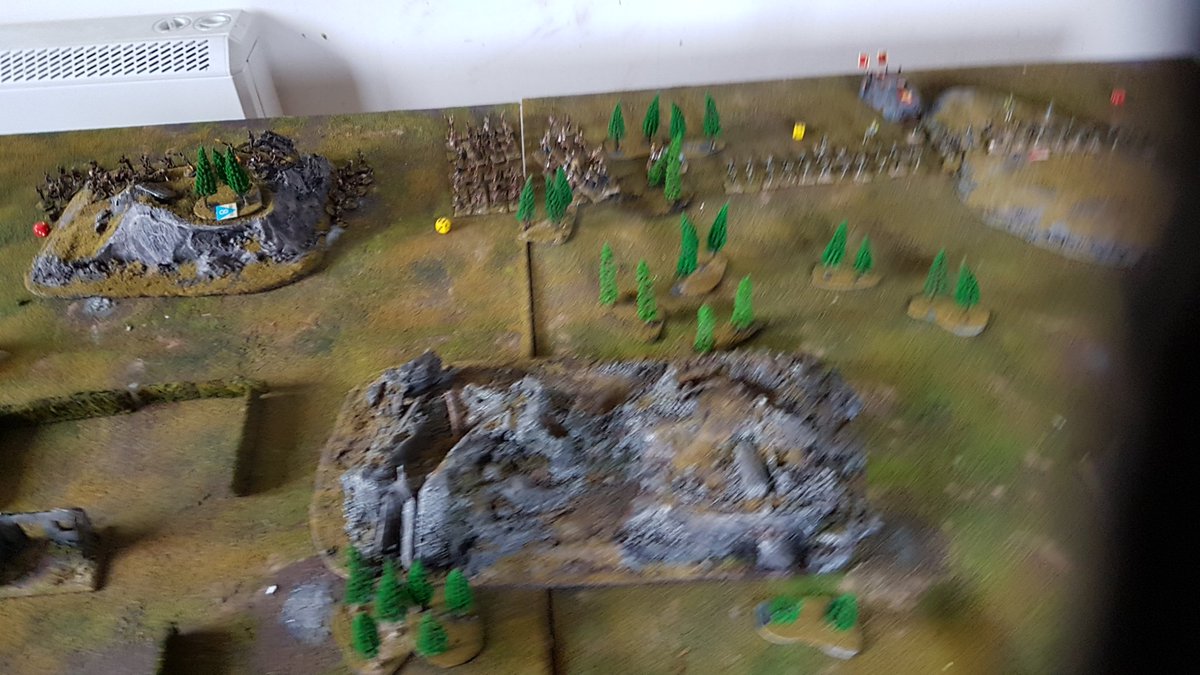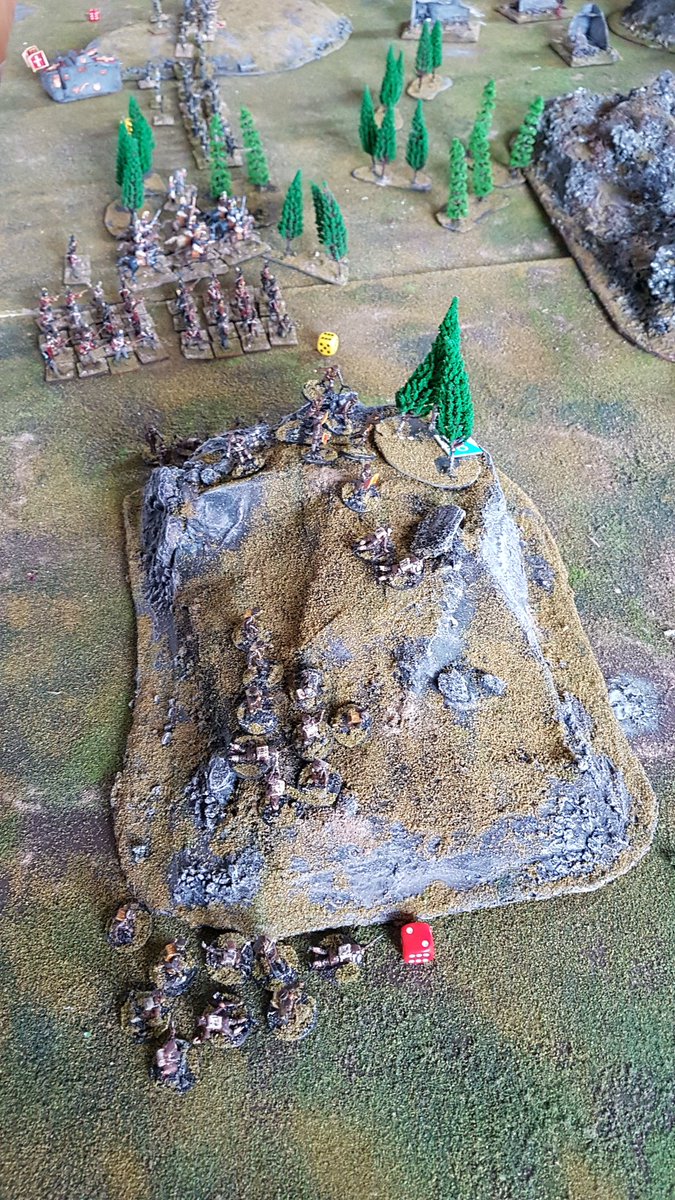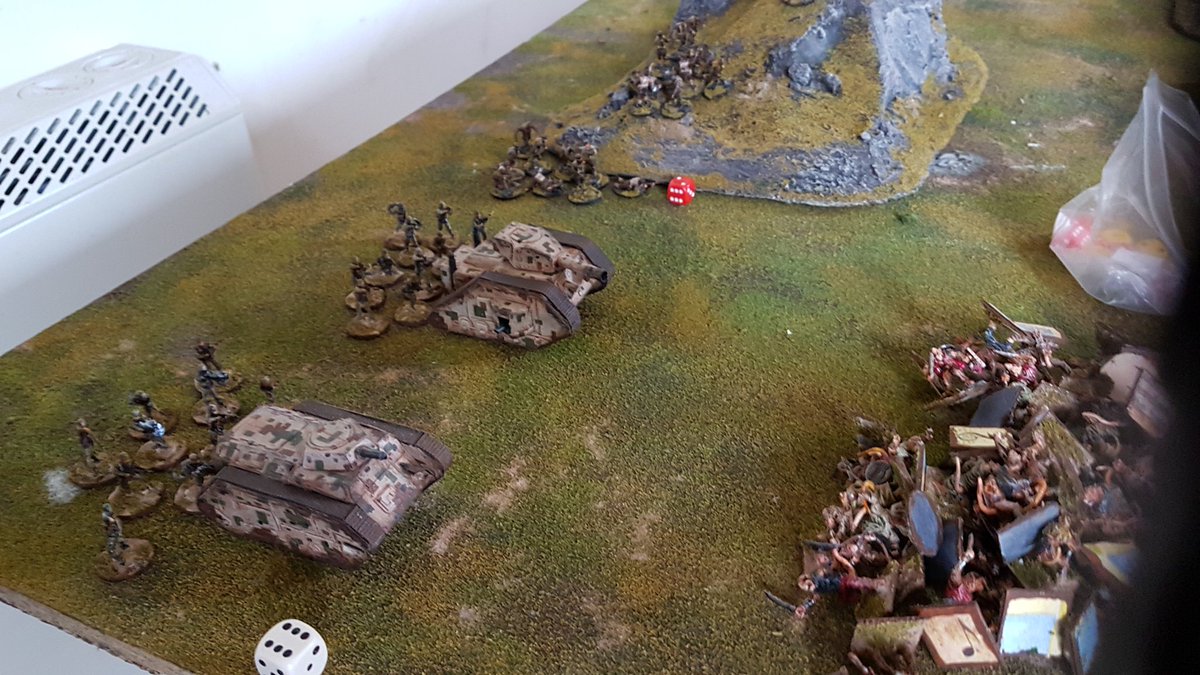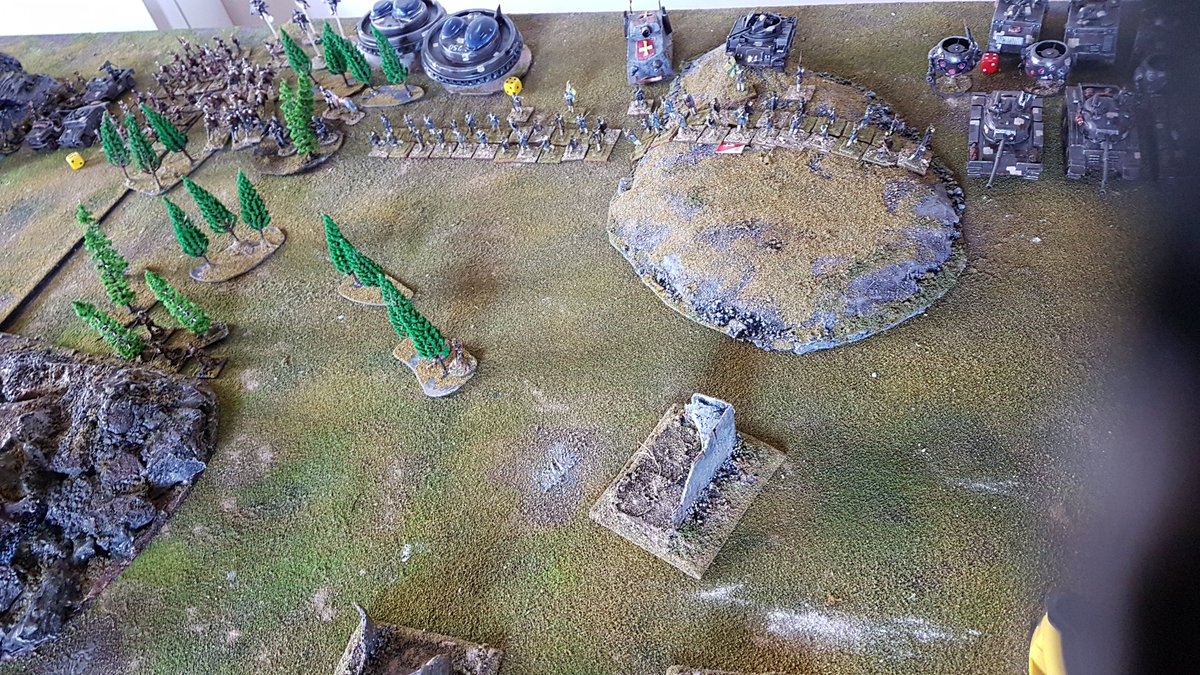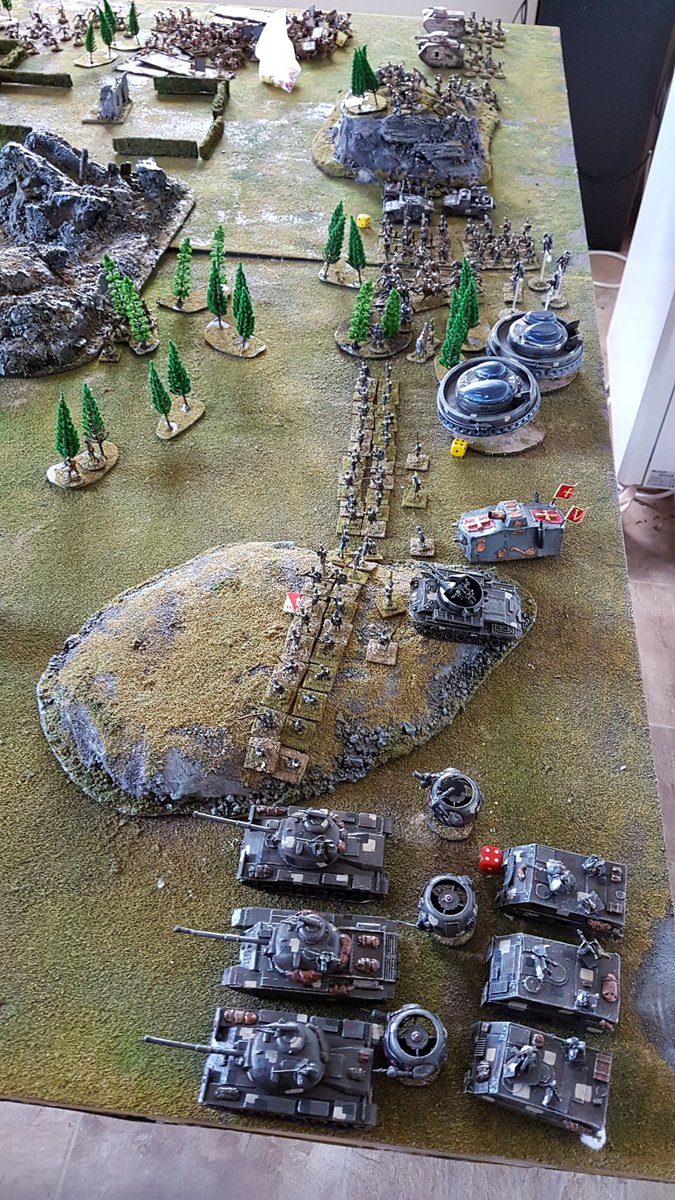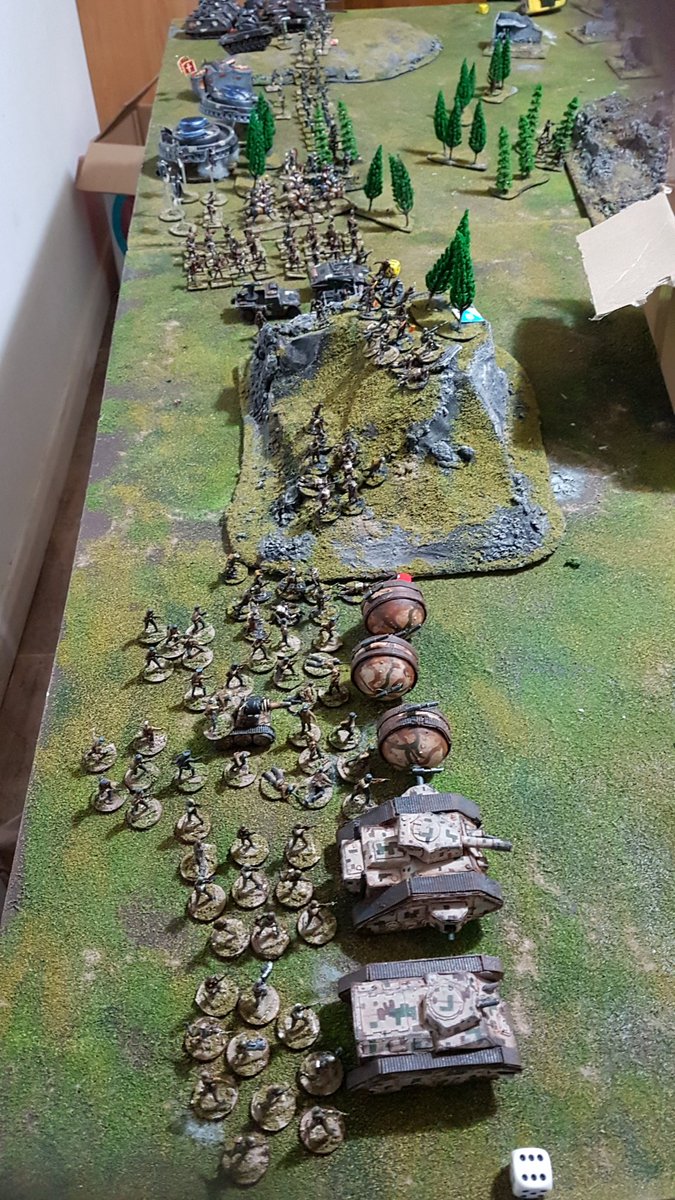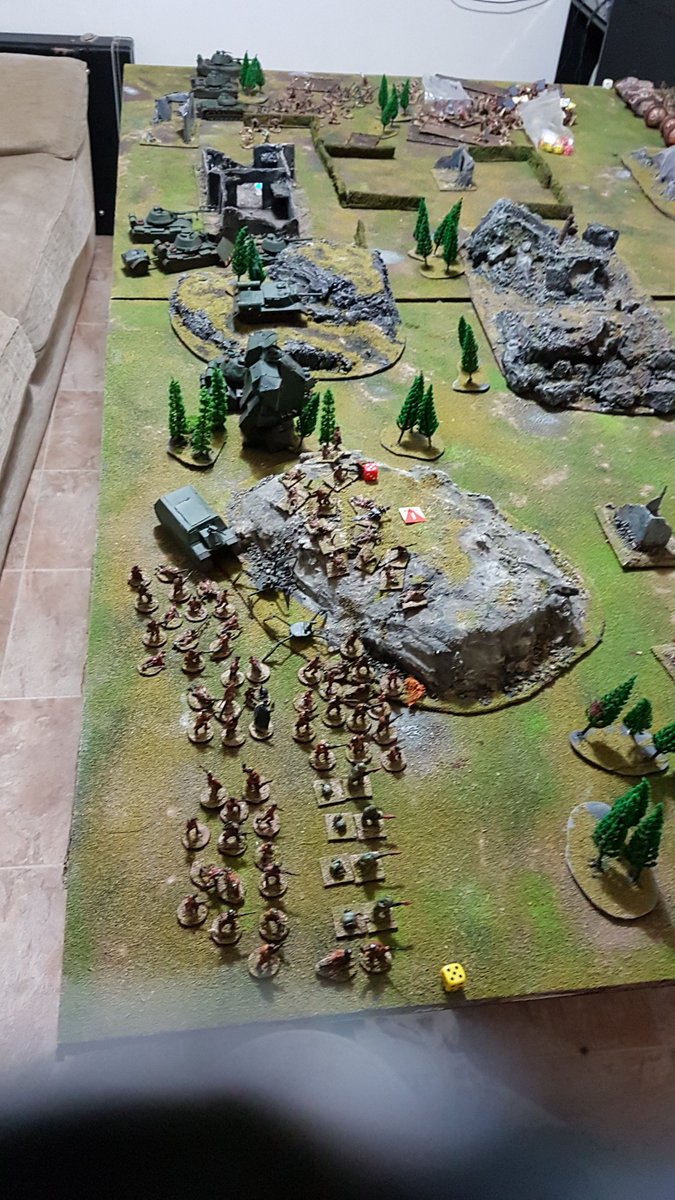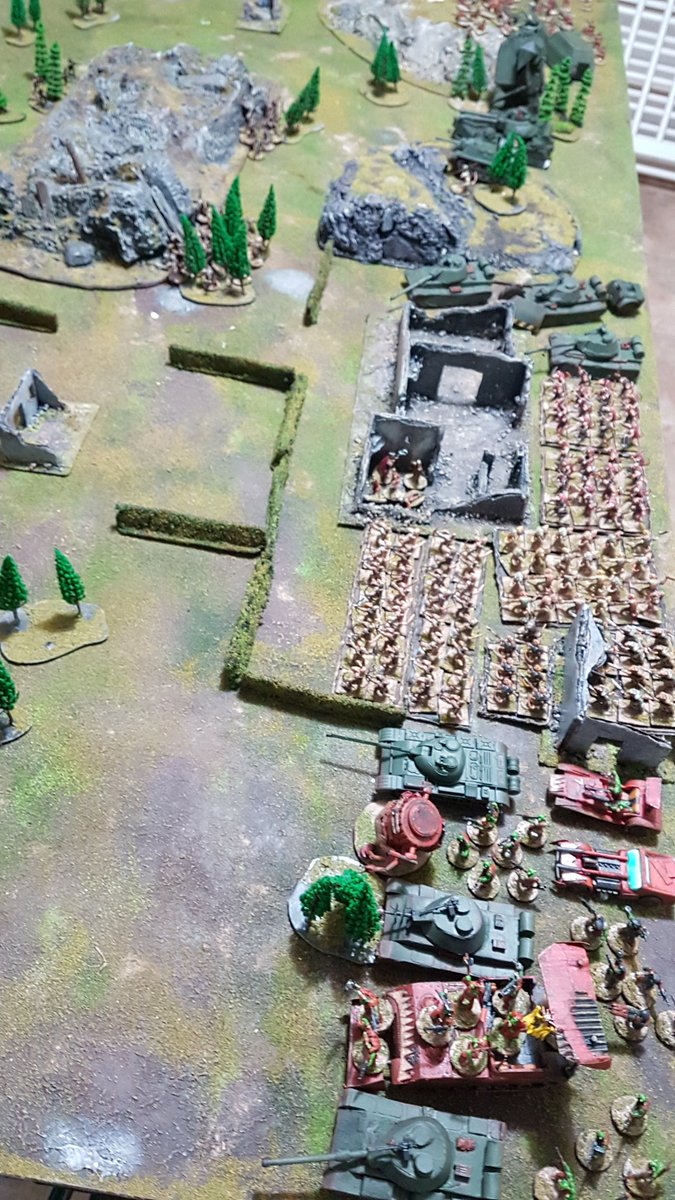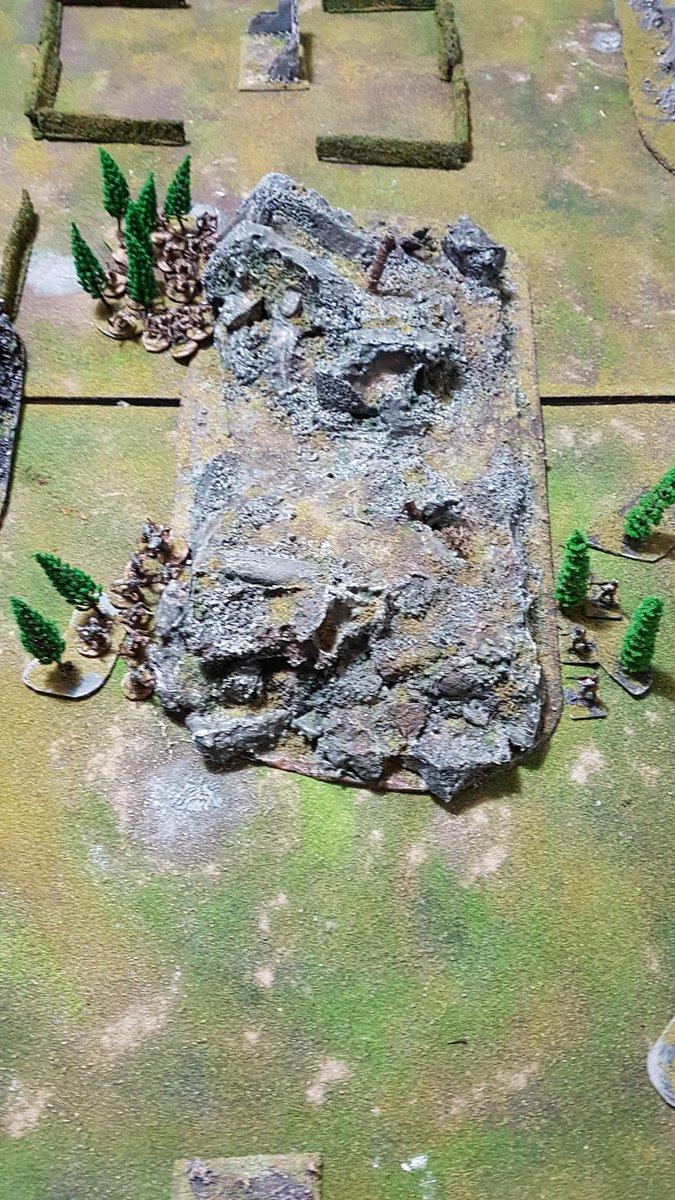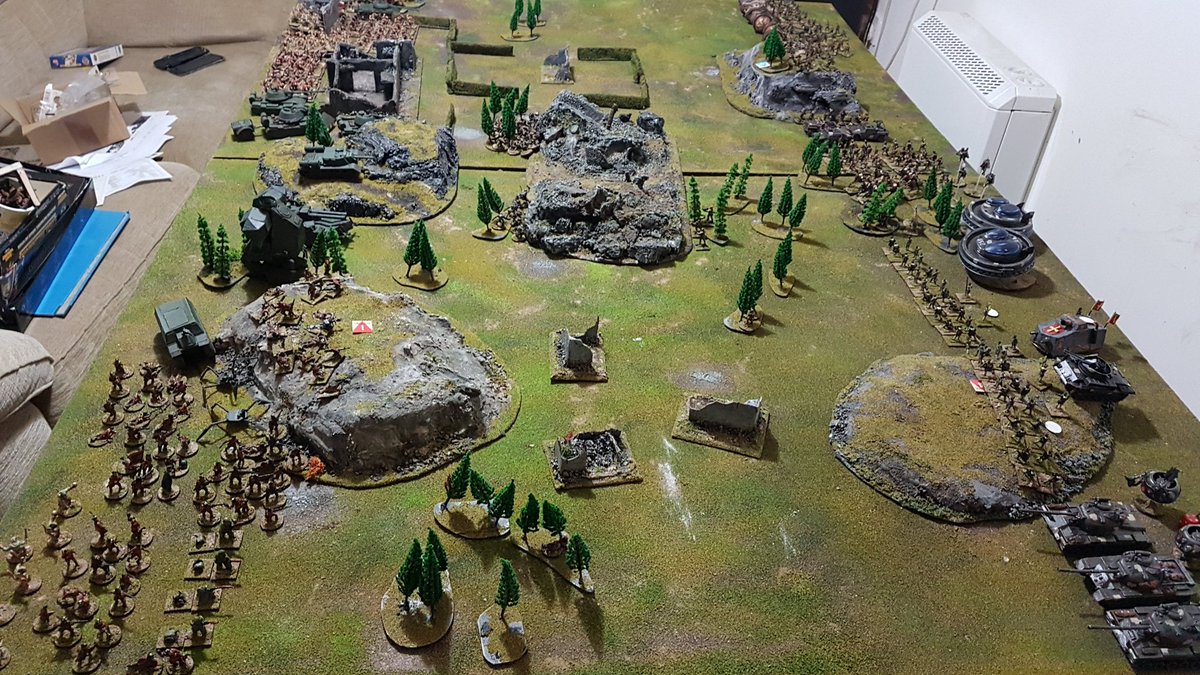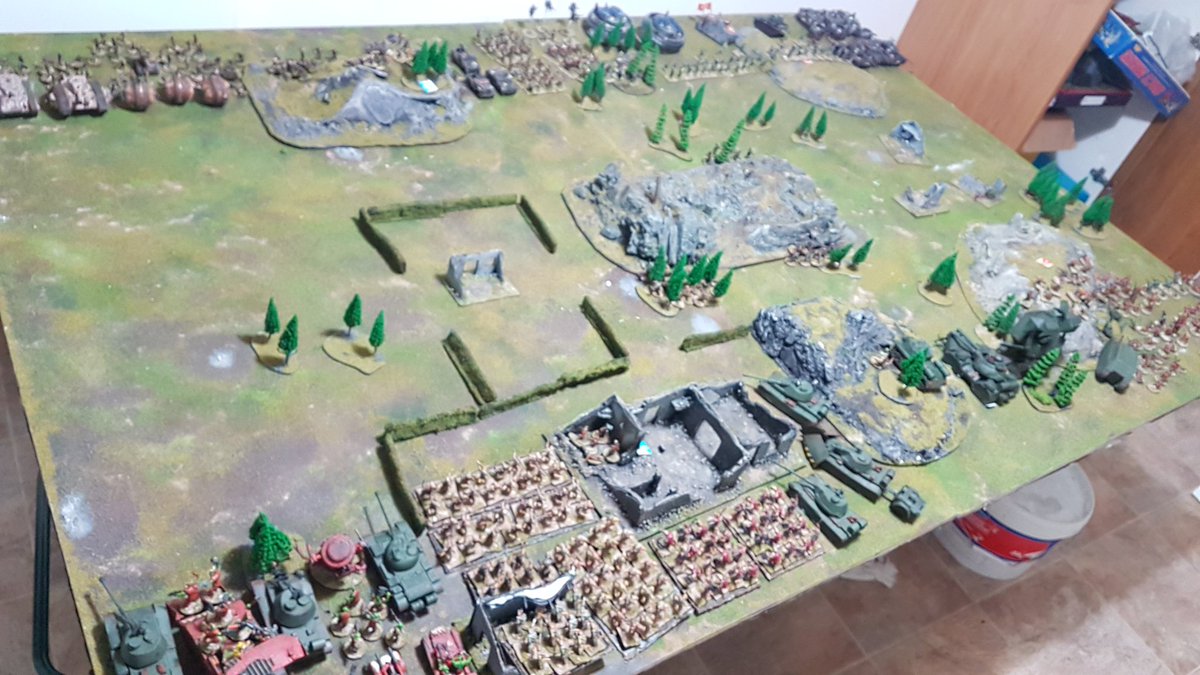 Battle plans were fairly rudimentary on both sides – the idea was table domination, we placed an objective counter square in the middle of each table quarter, the idea being that whoever controlled more at the end of turn 4 would be the winner.
And with that, battle was joined!
Turn 1
The "Goodies" won the initiative and struck hard! I chose to activate my most lethal units first, the deadly Silverbugs –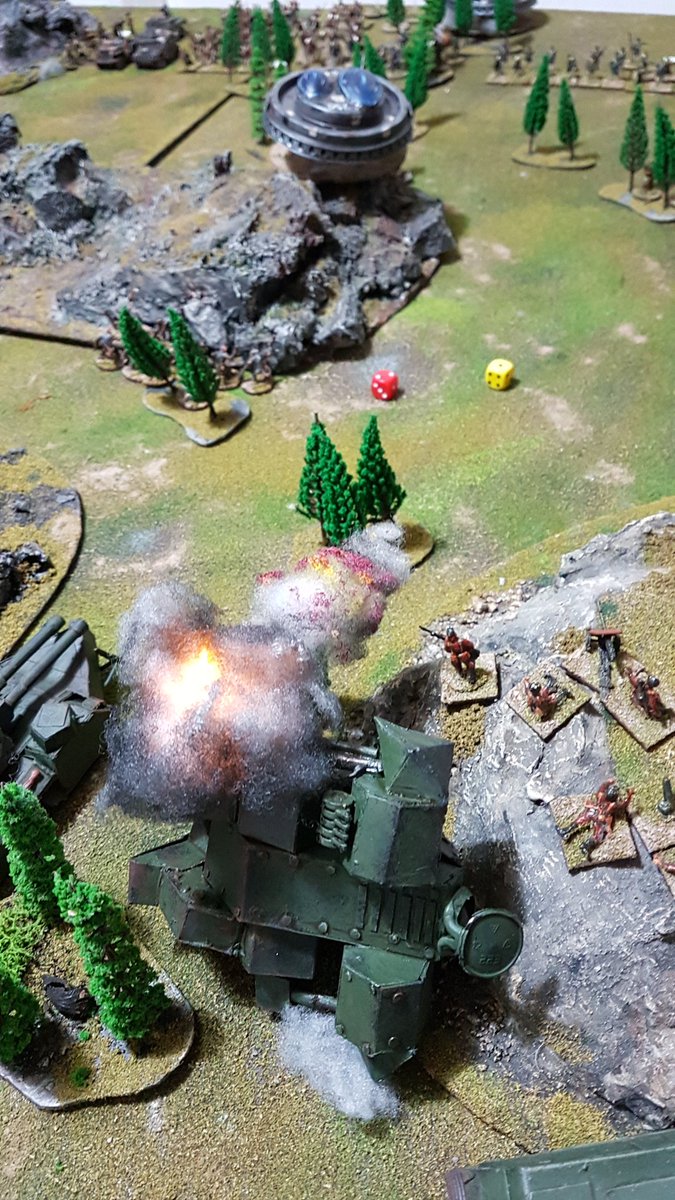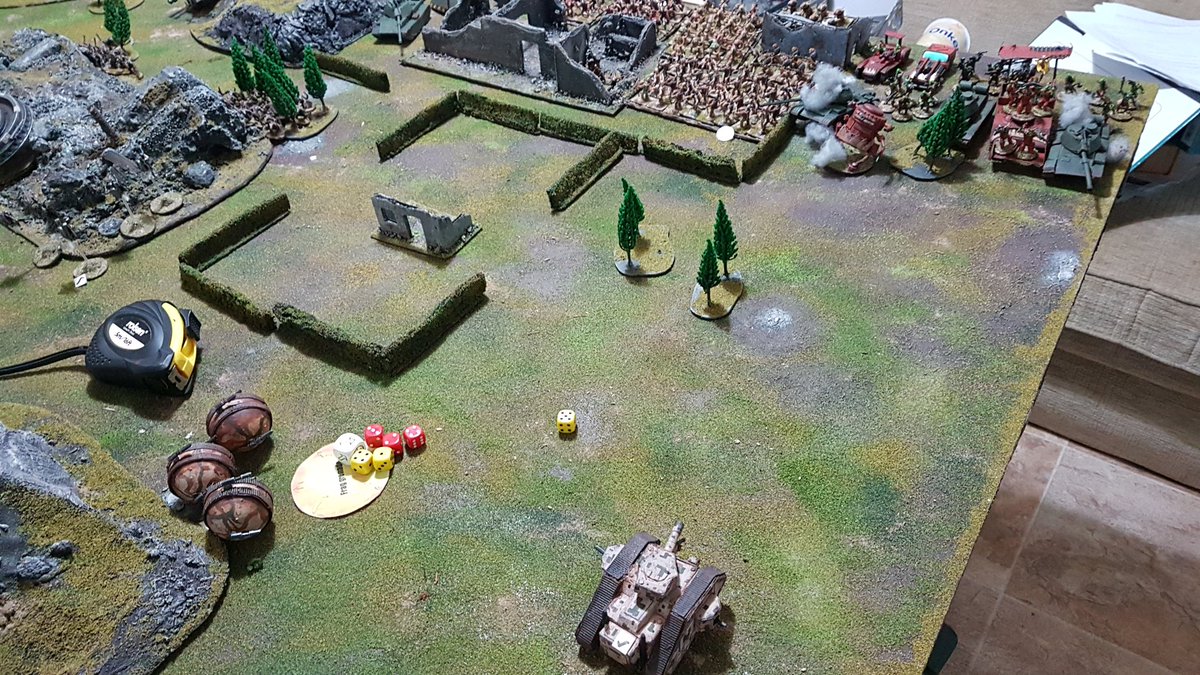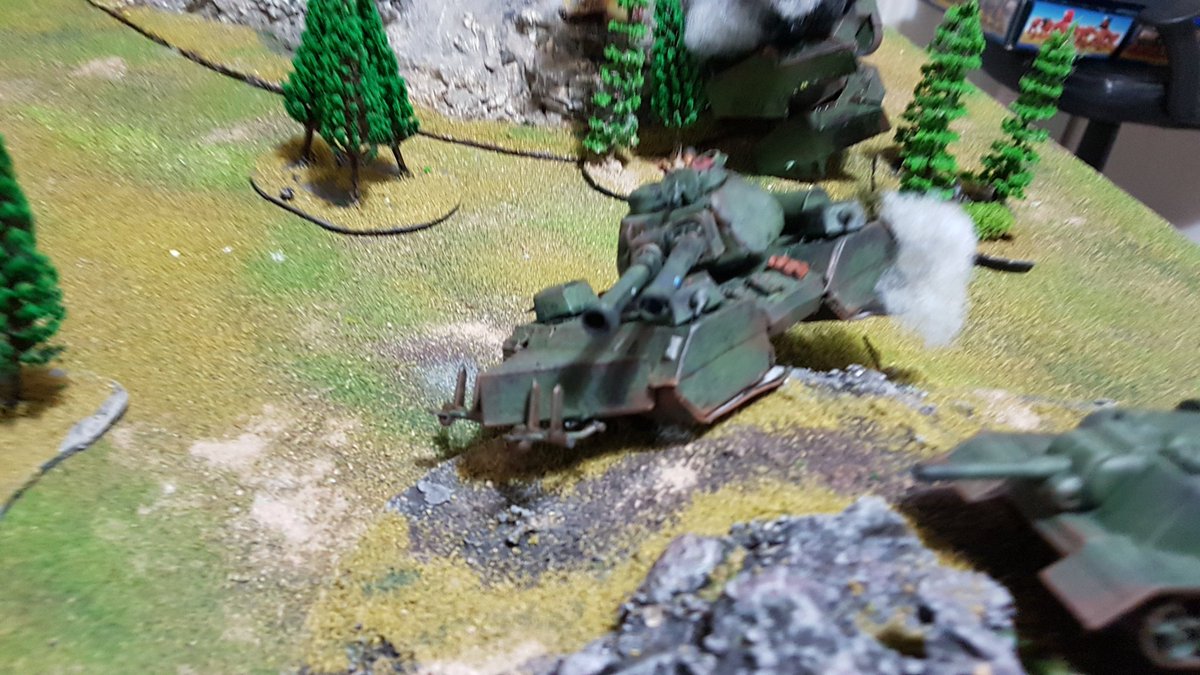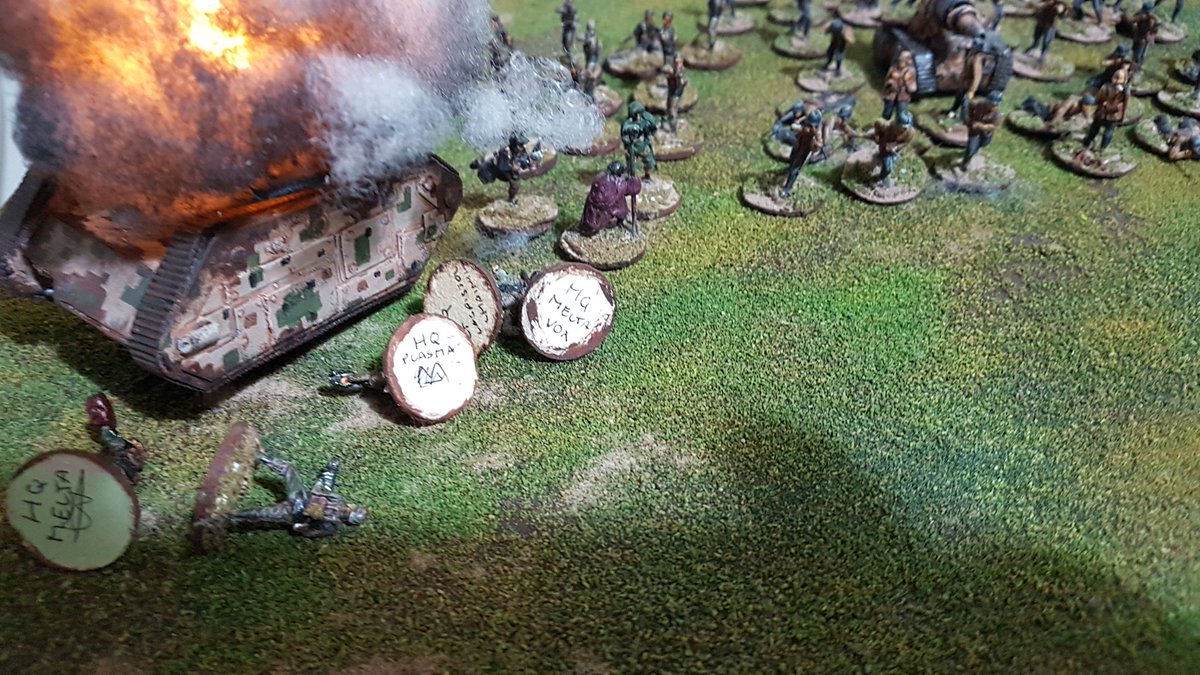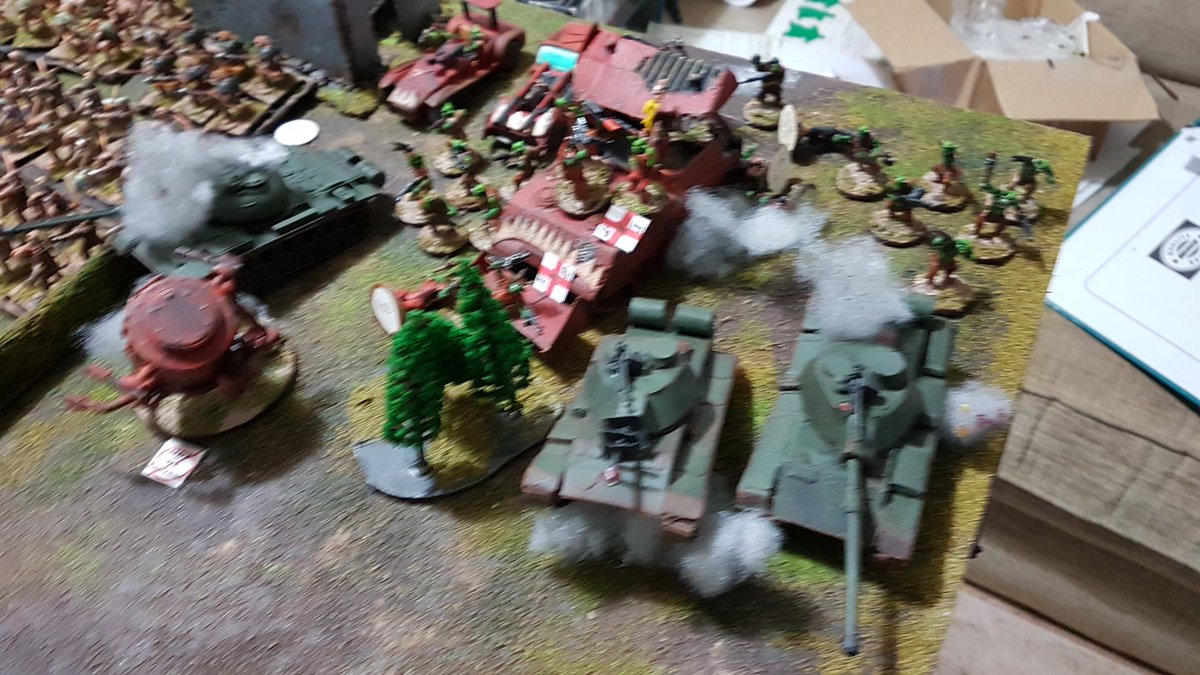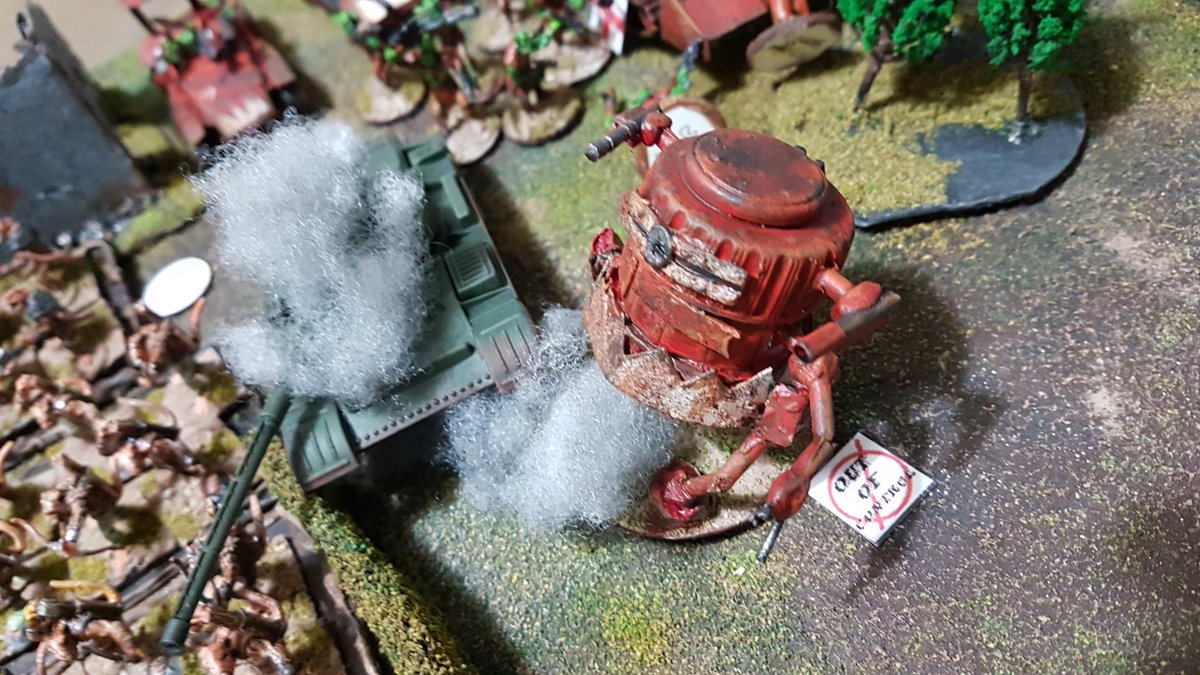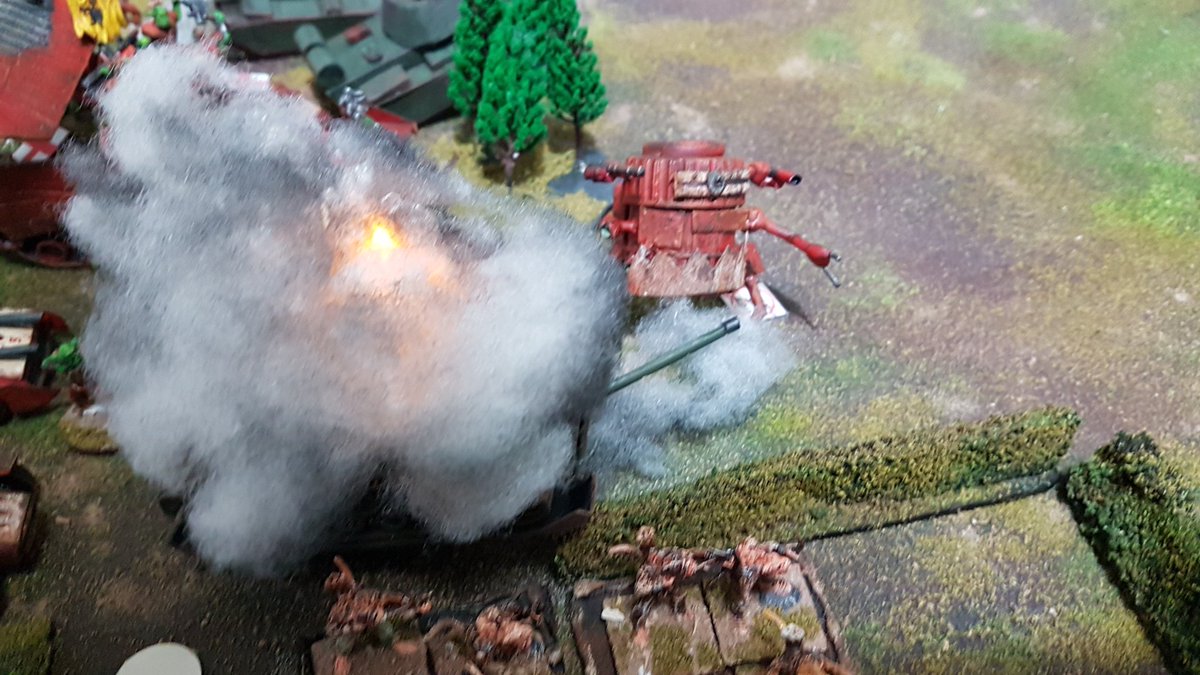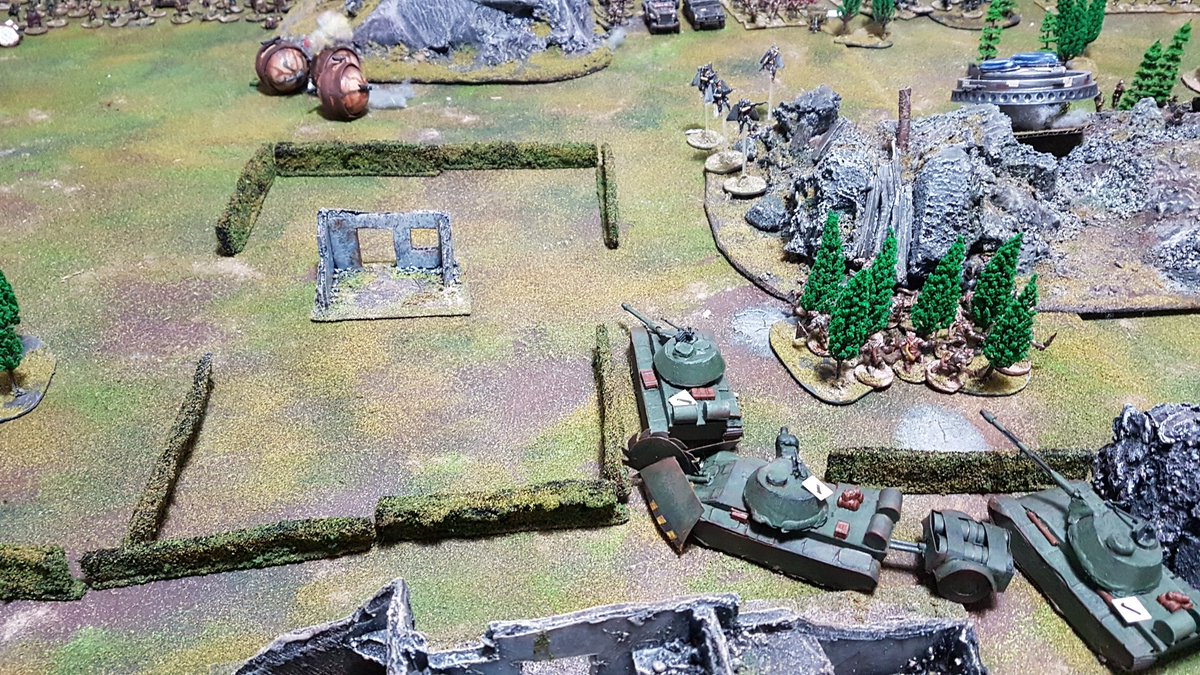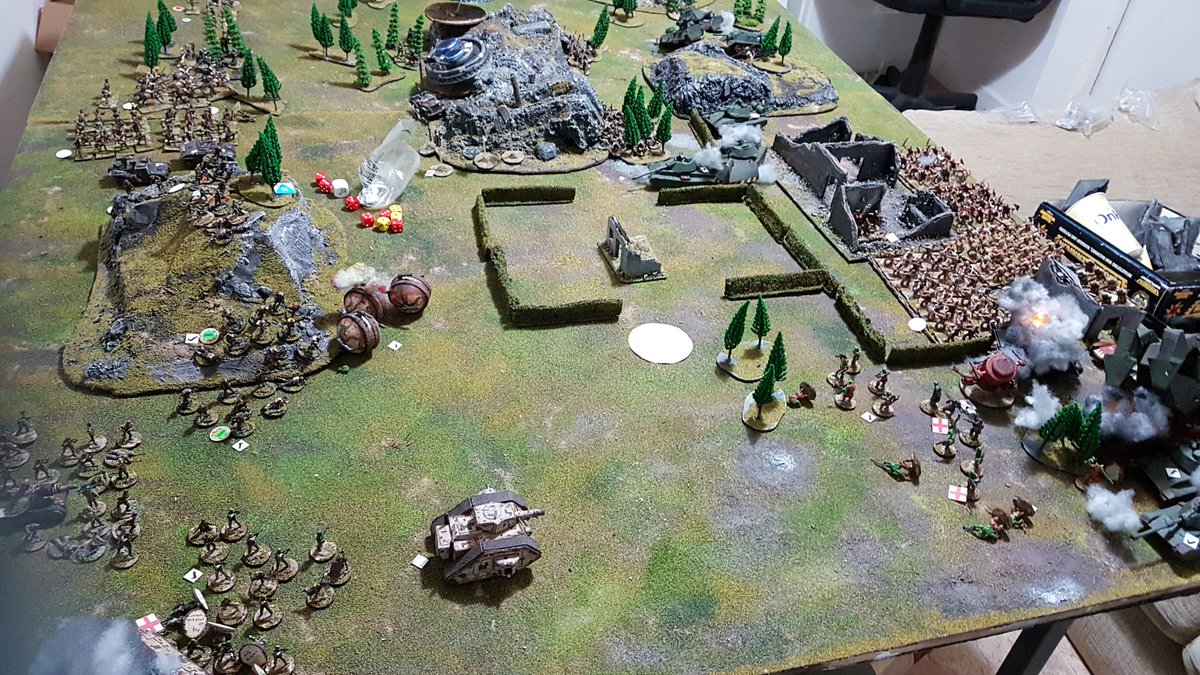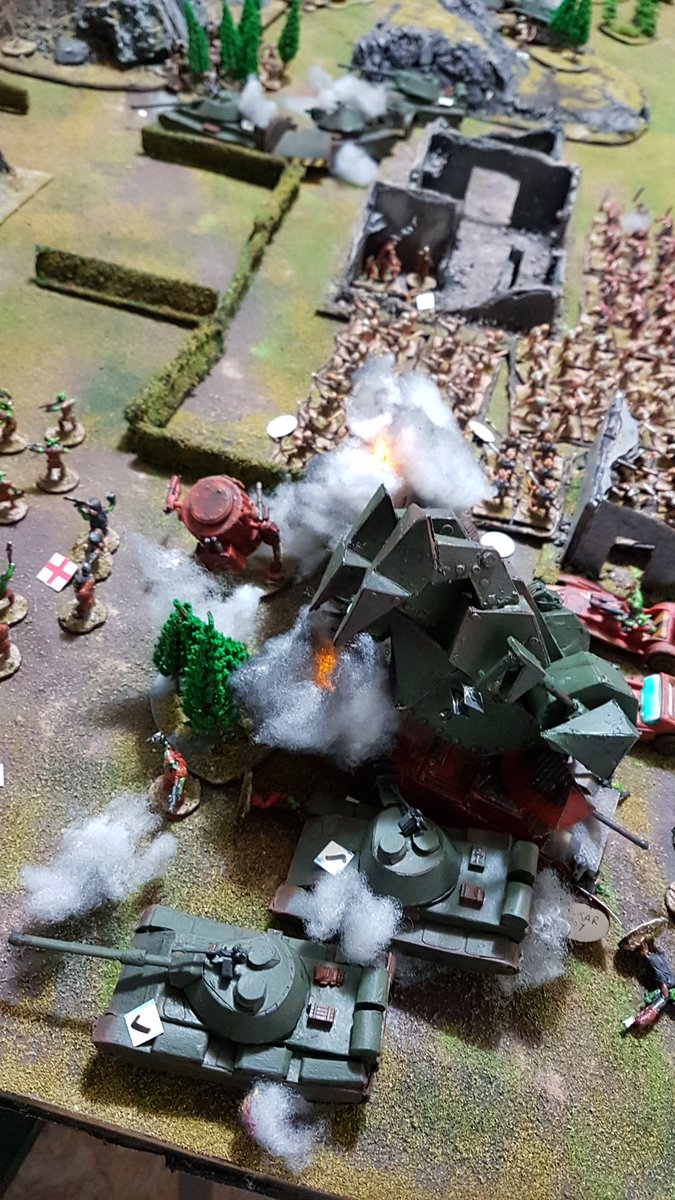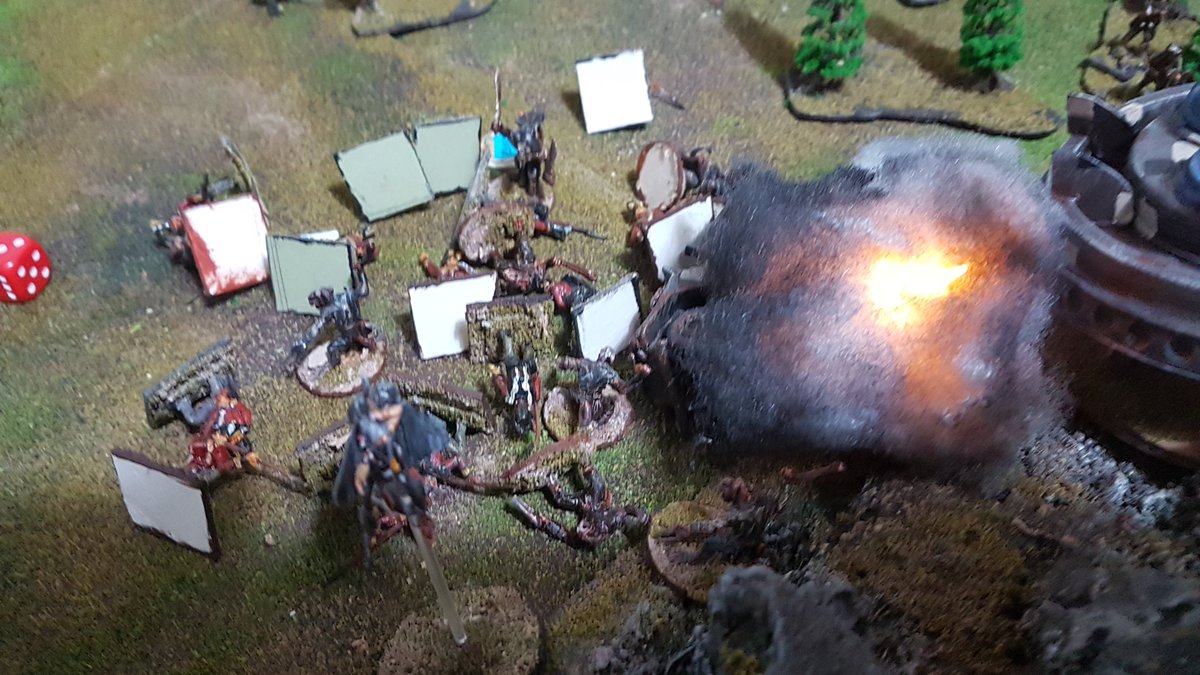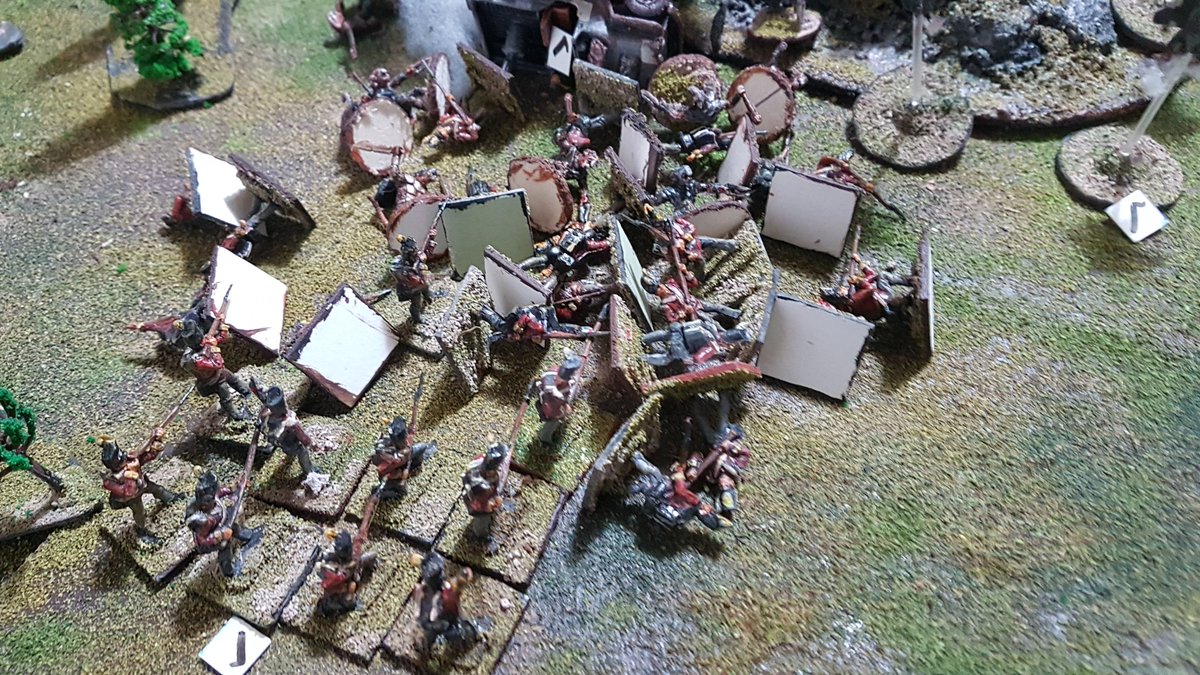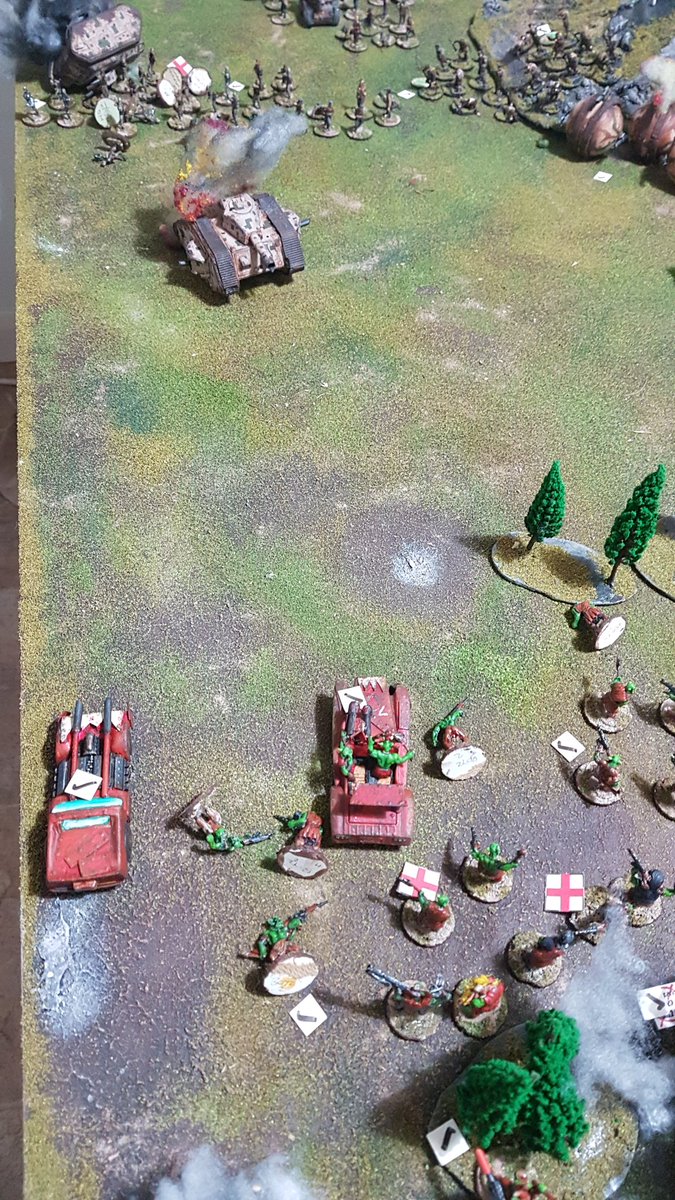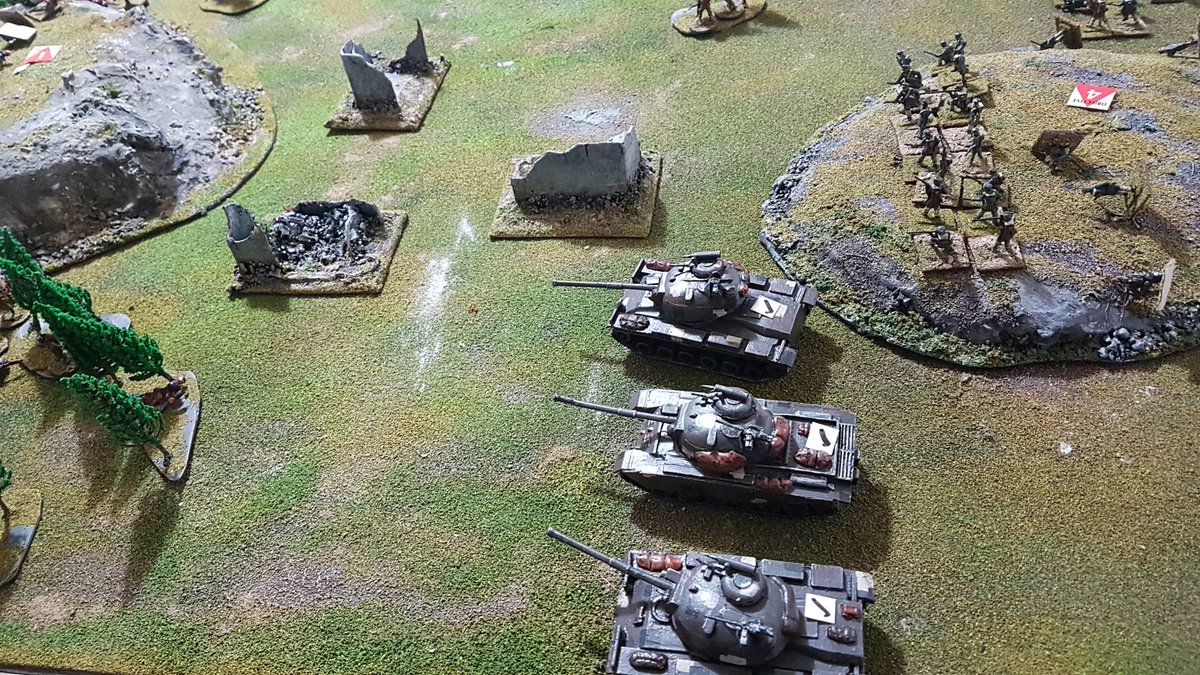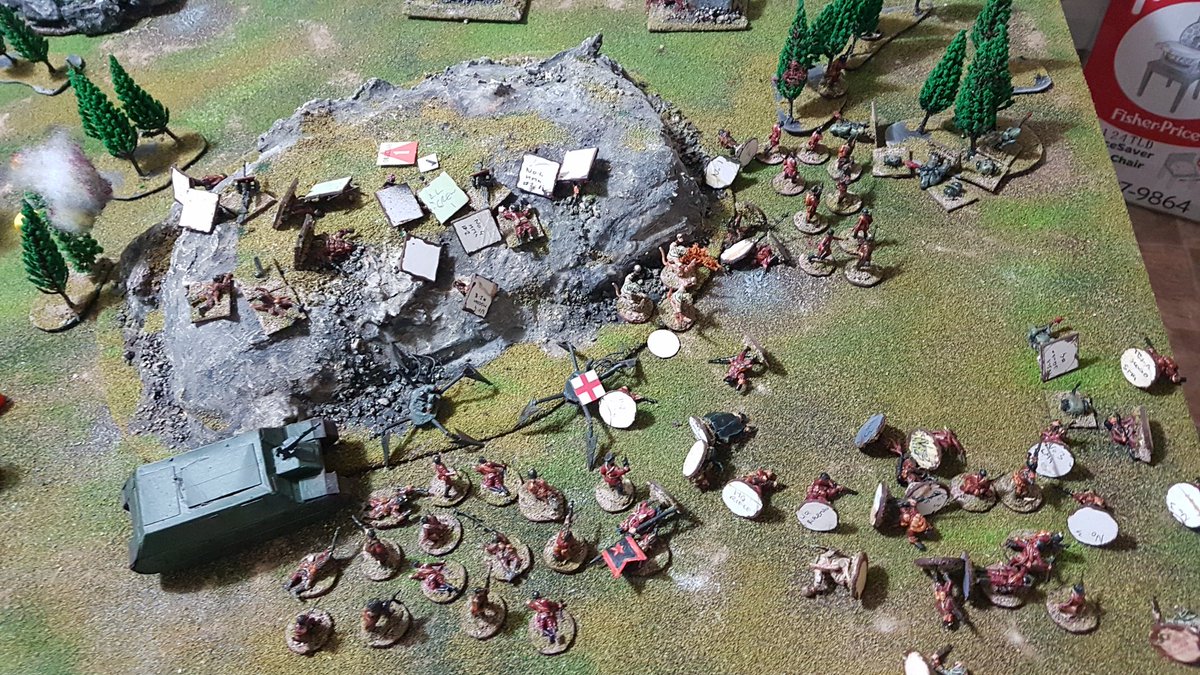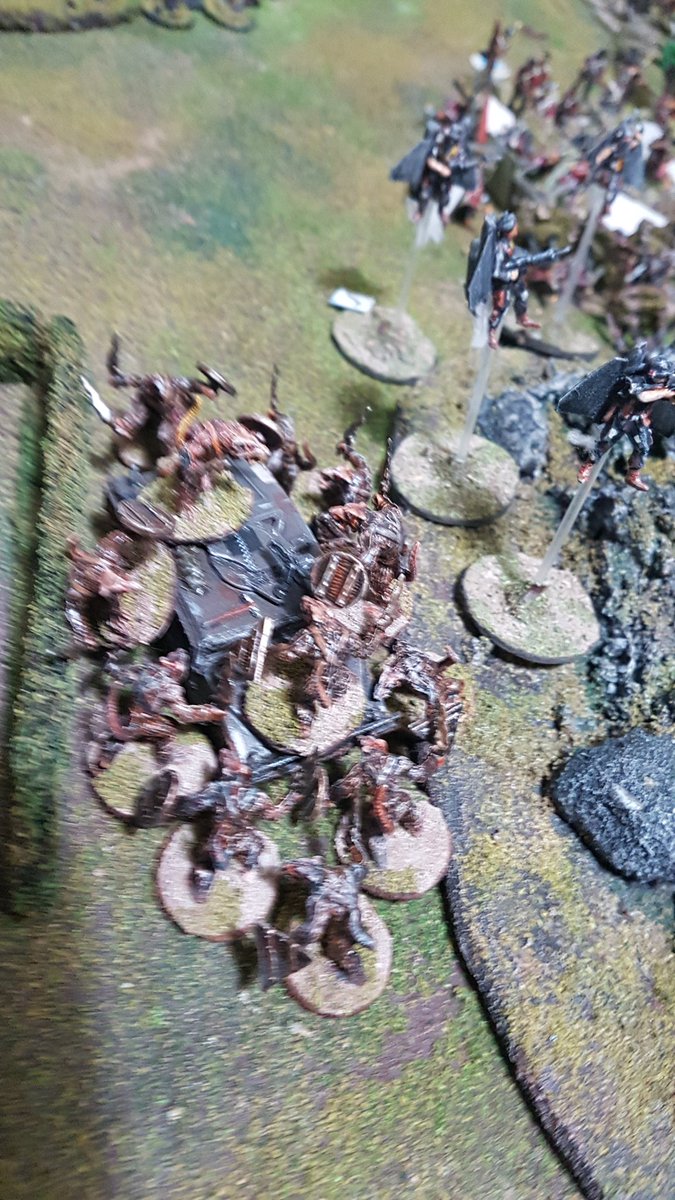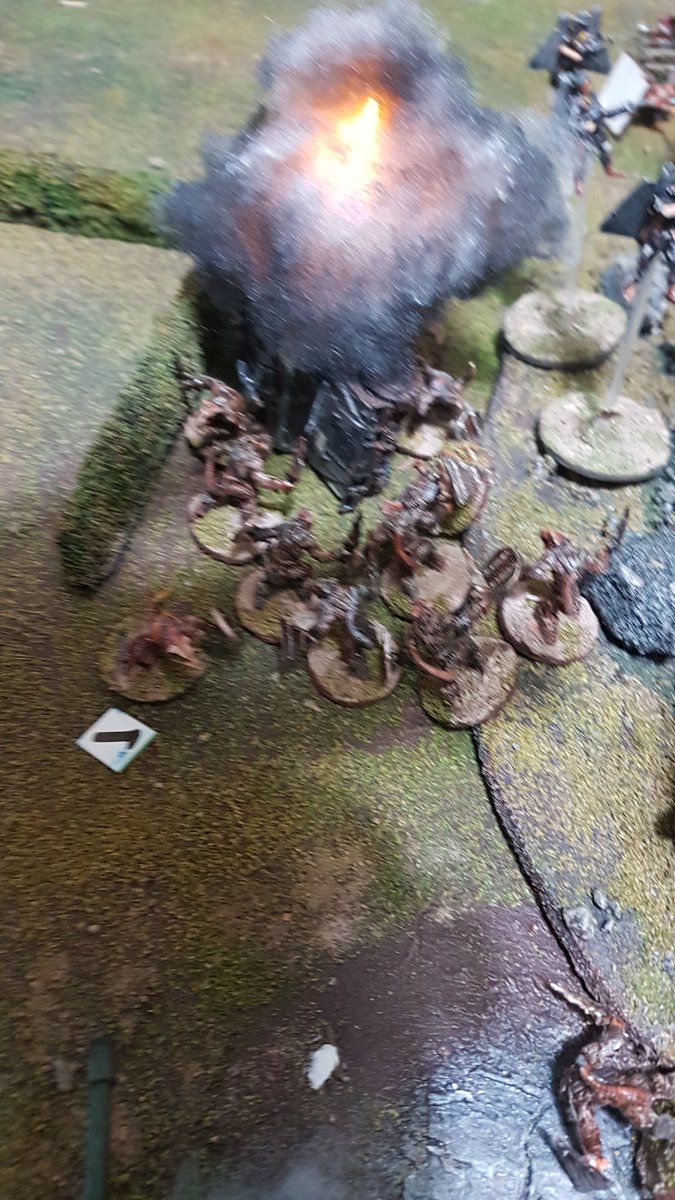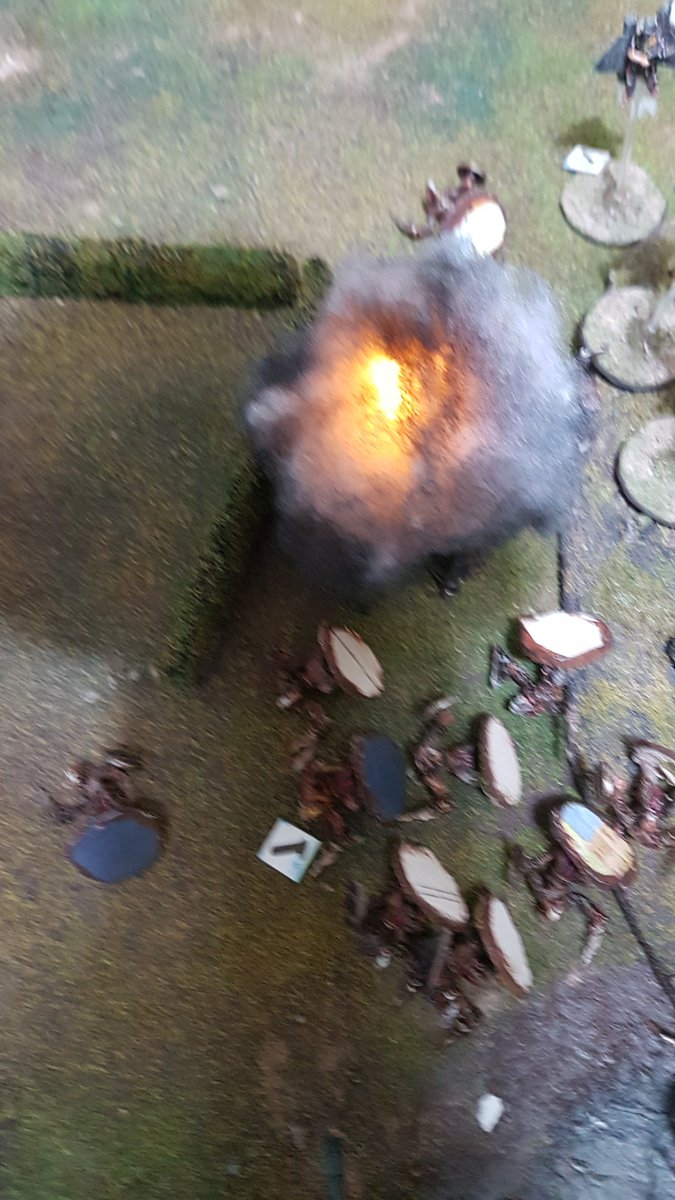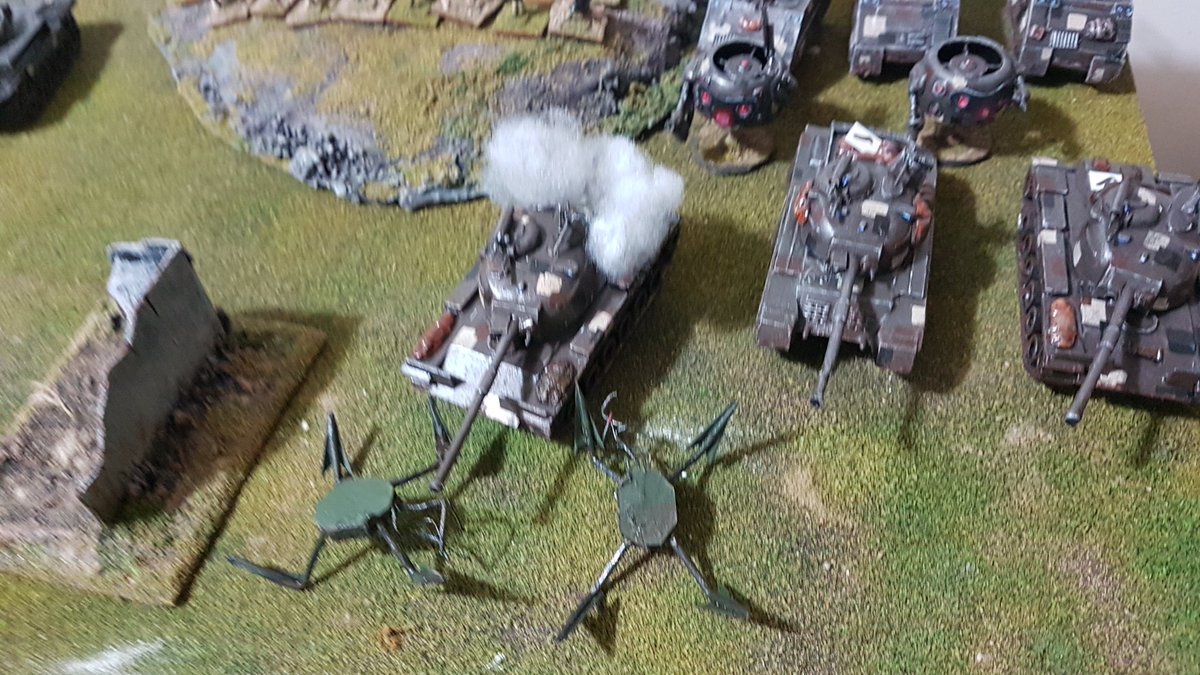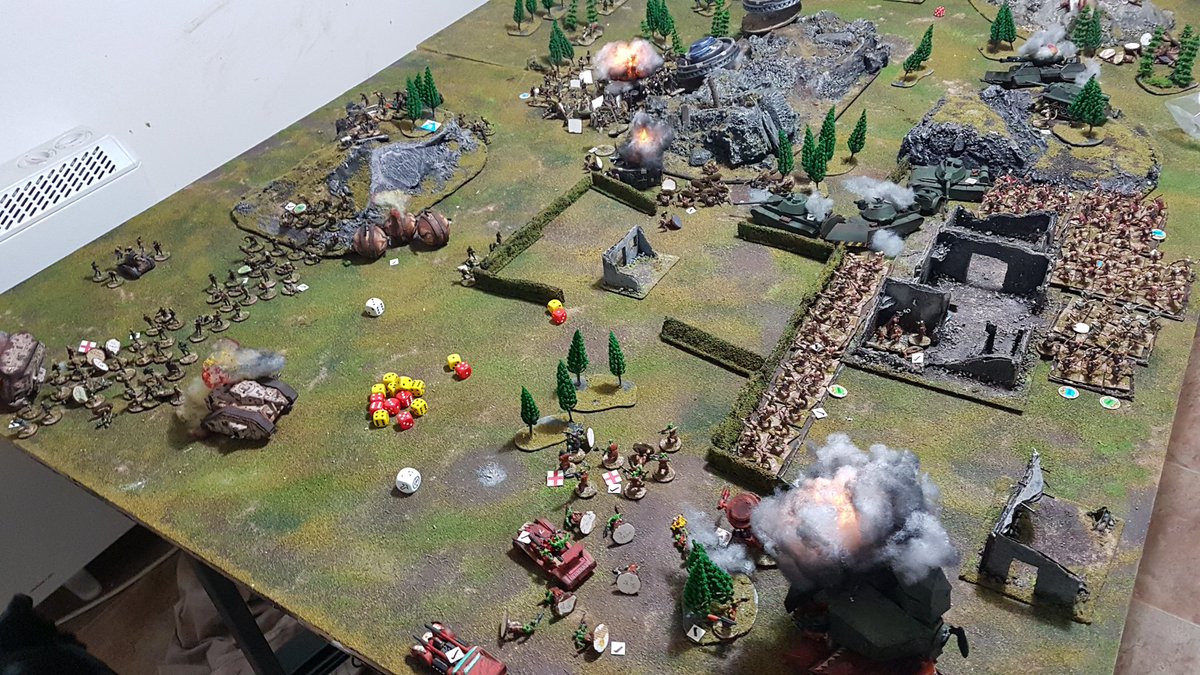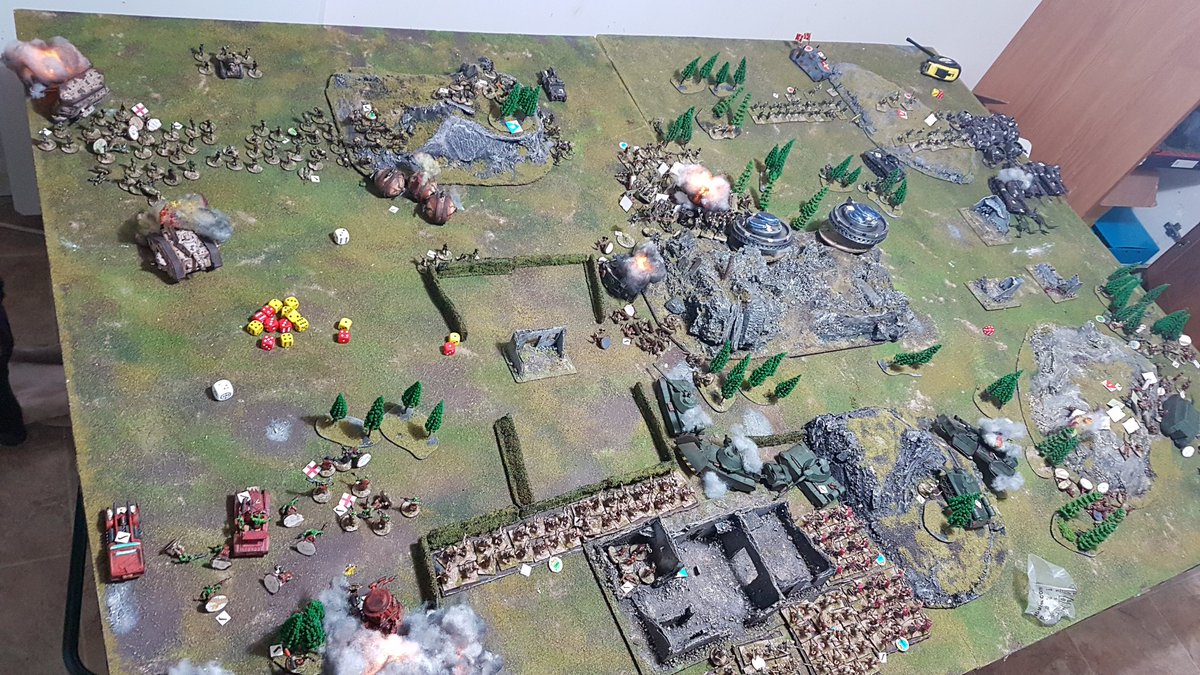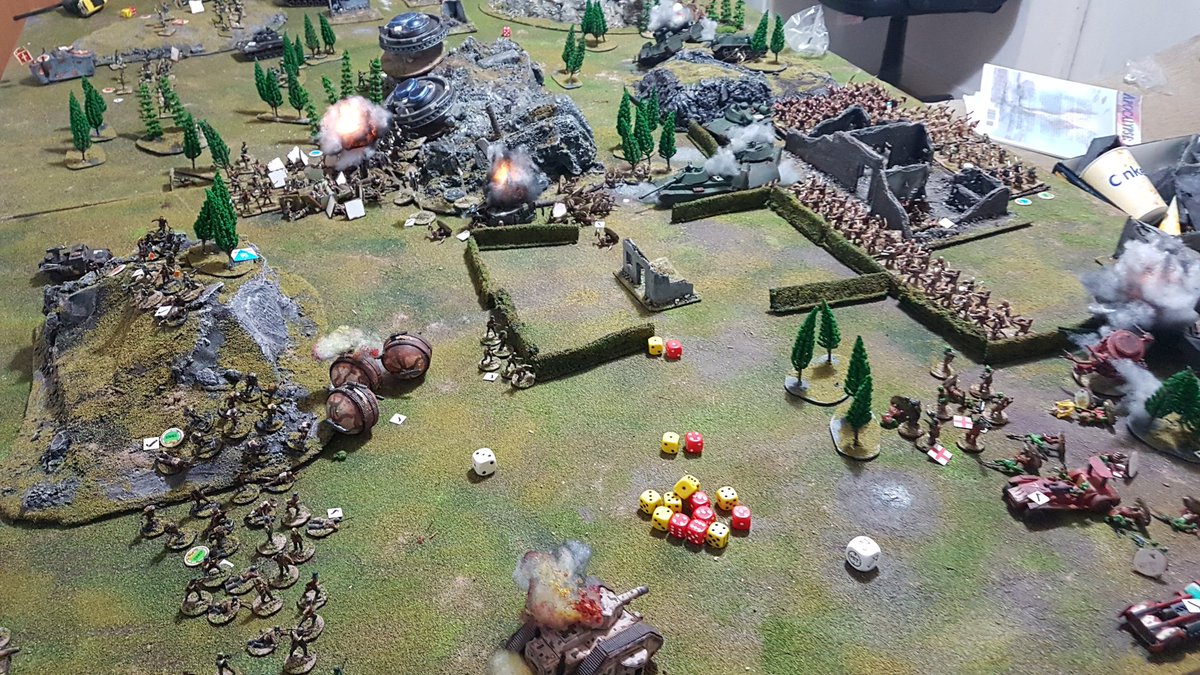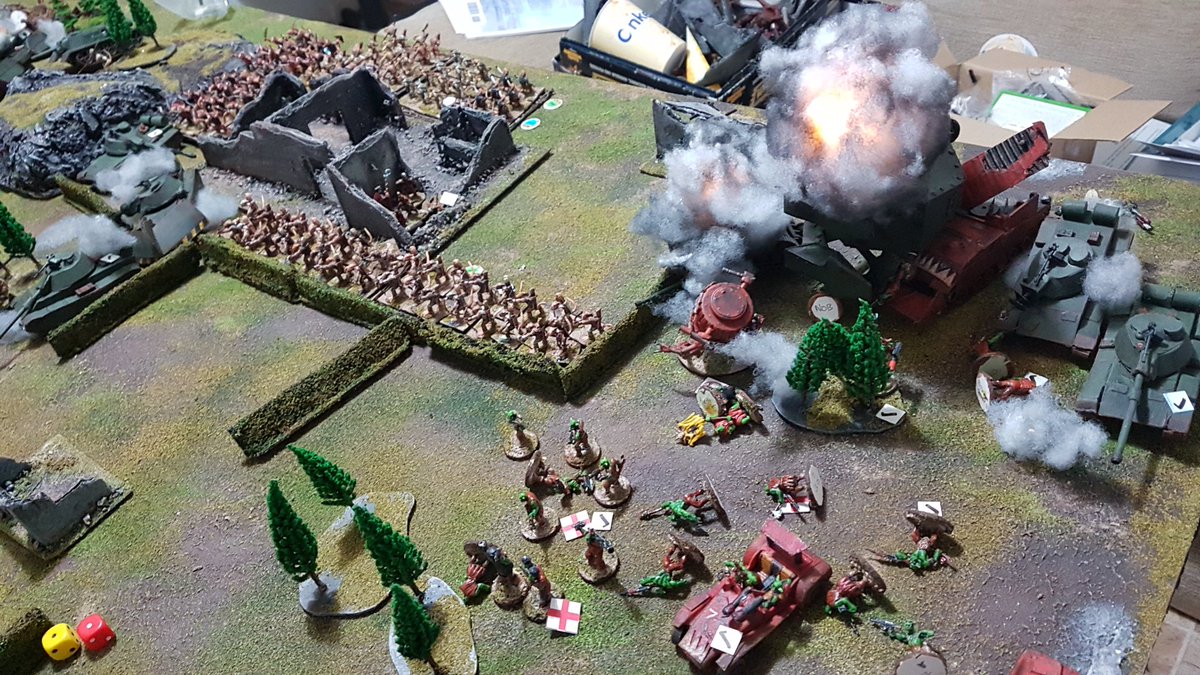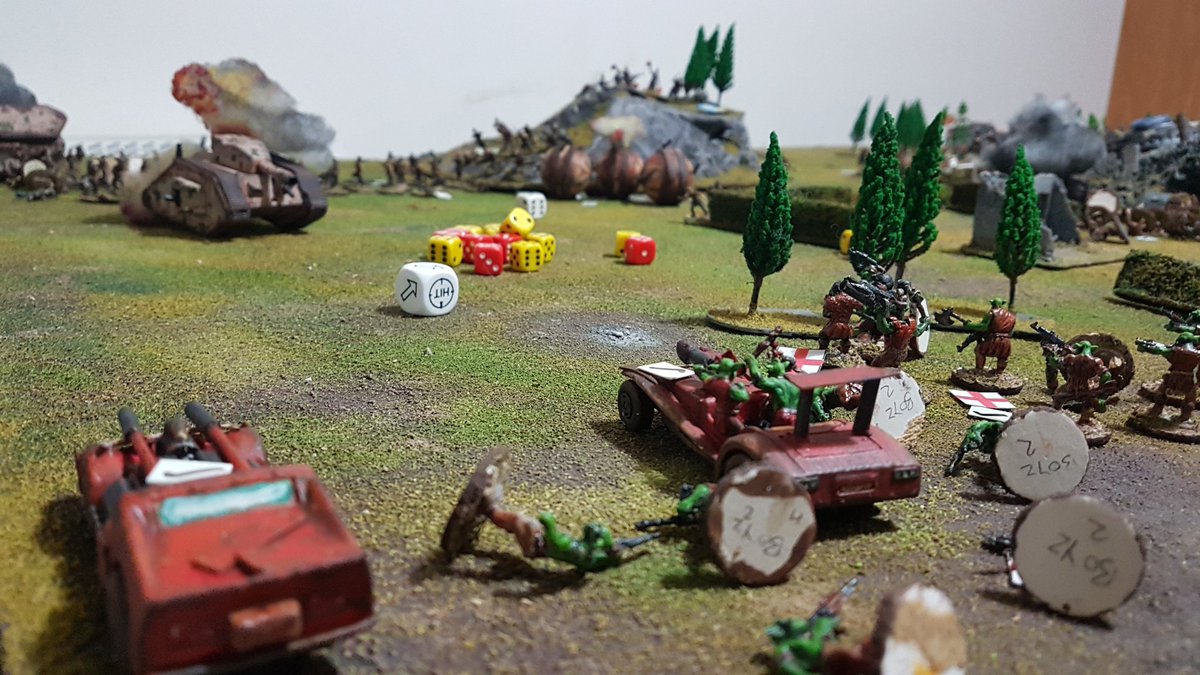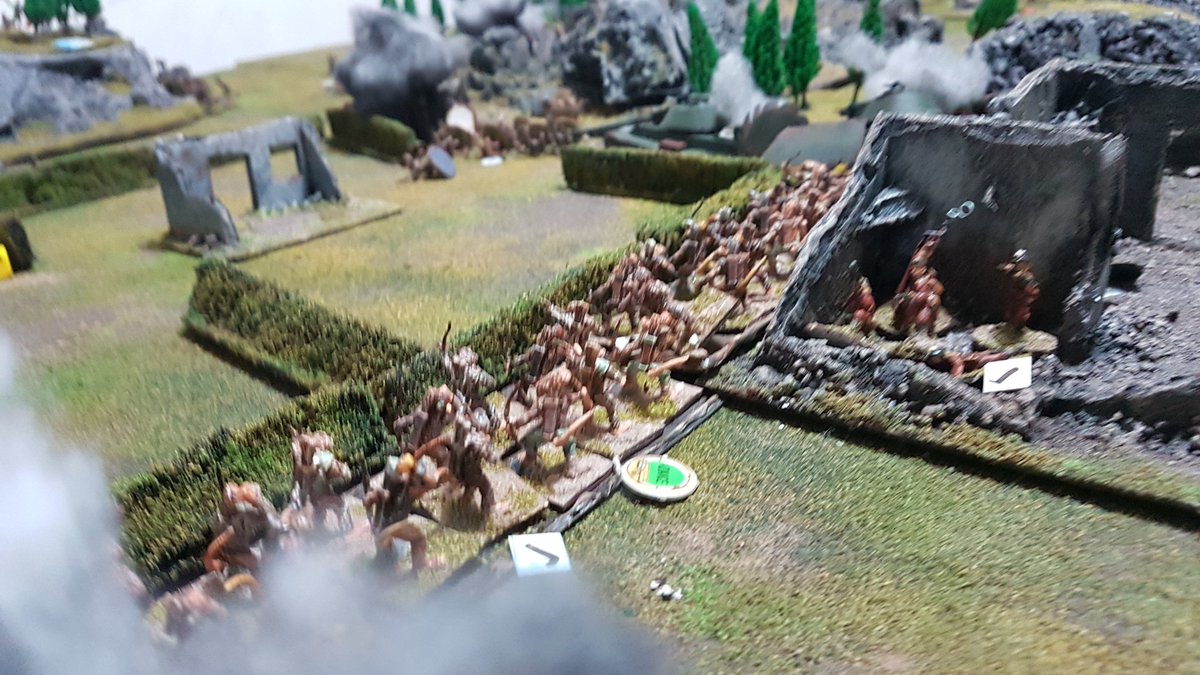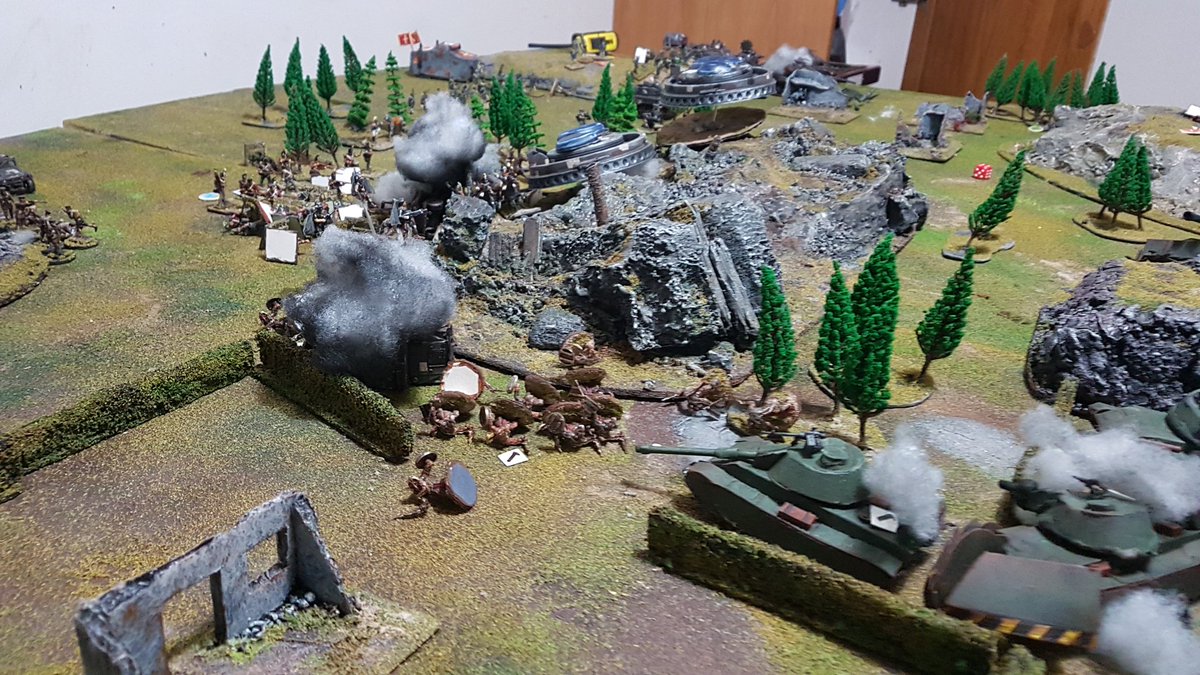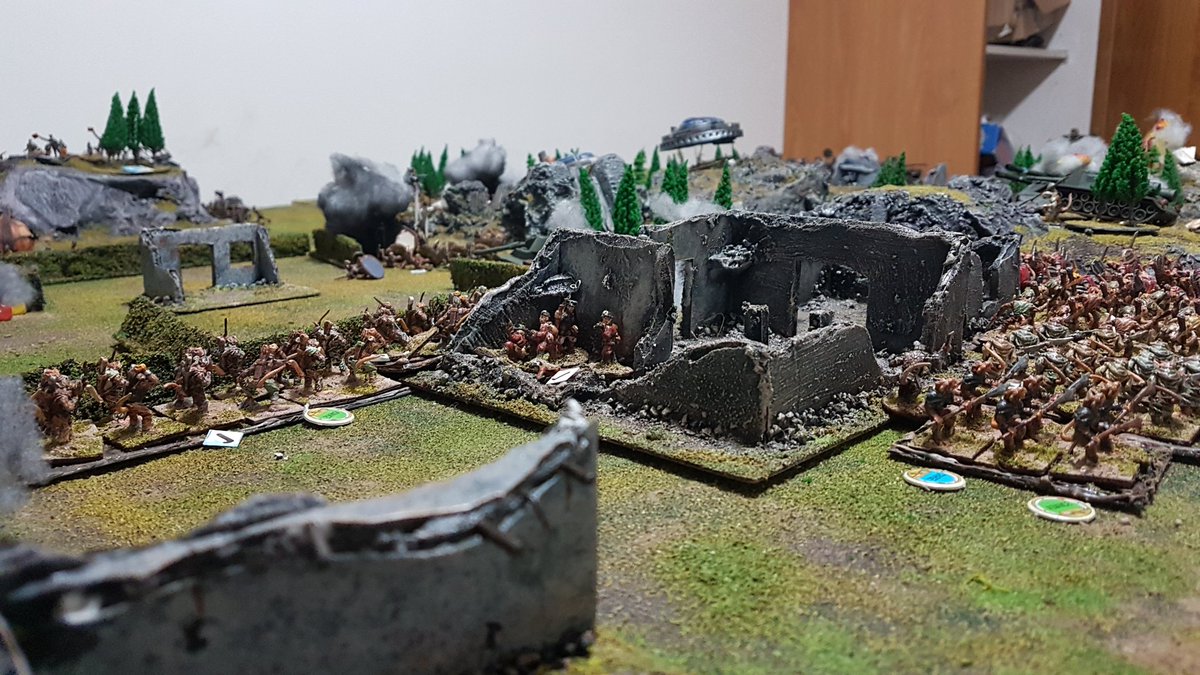 Turn 2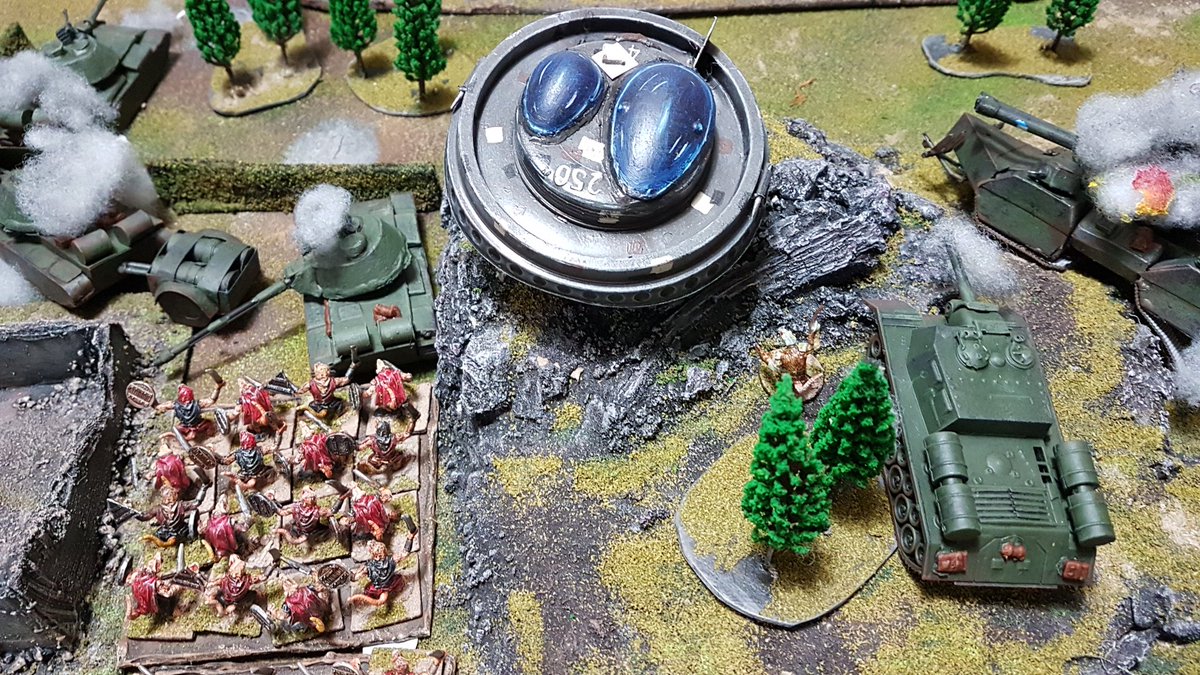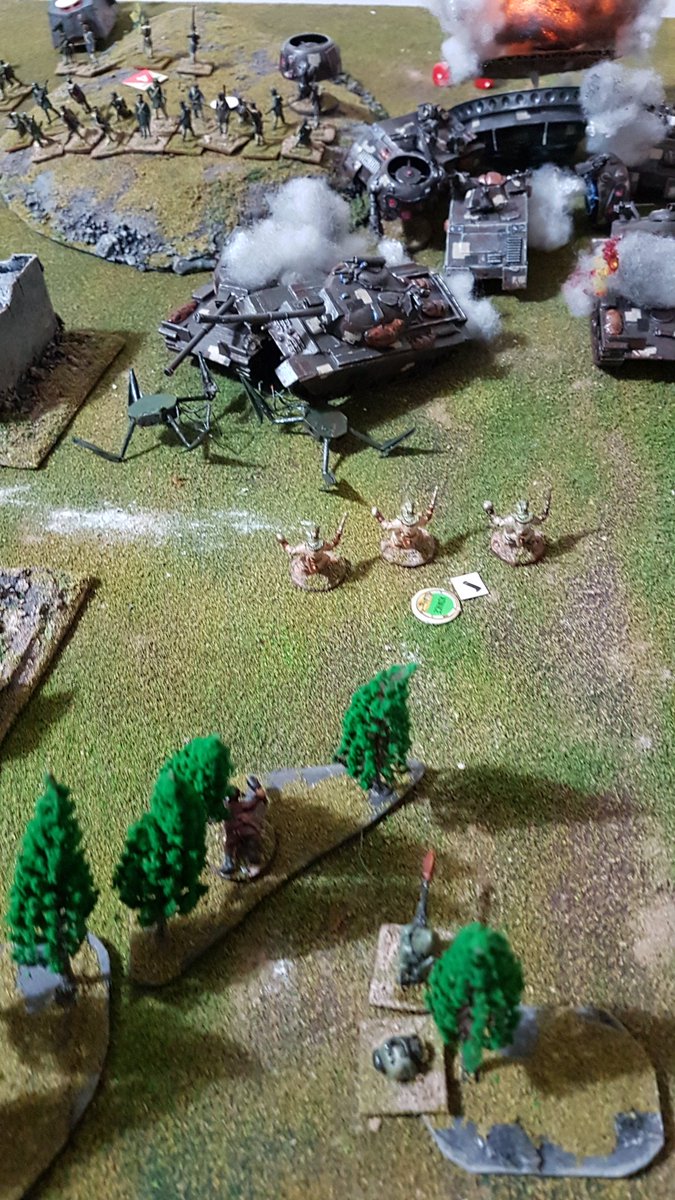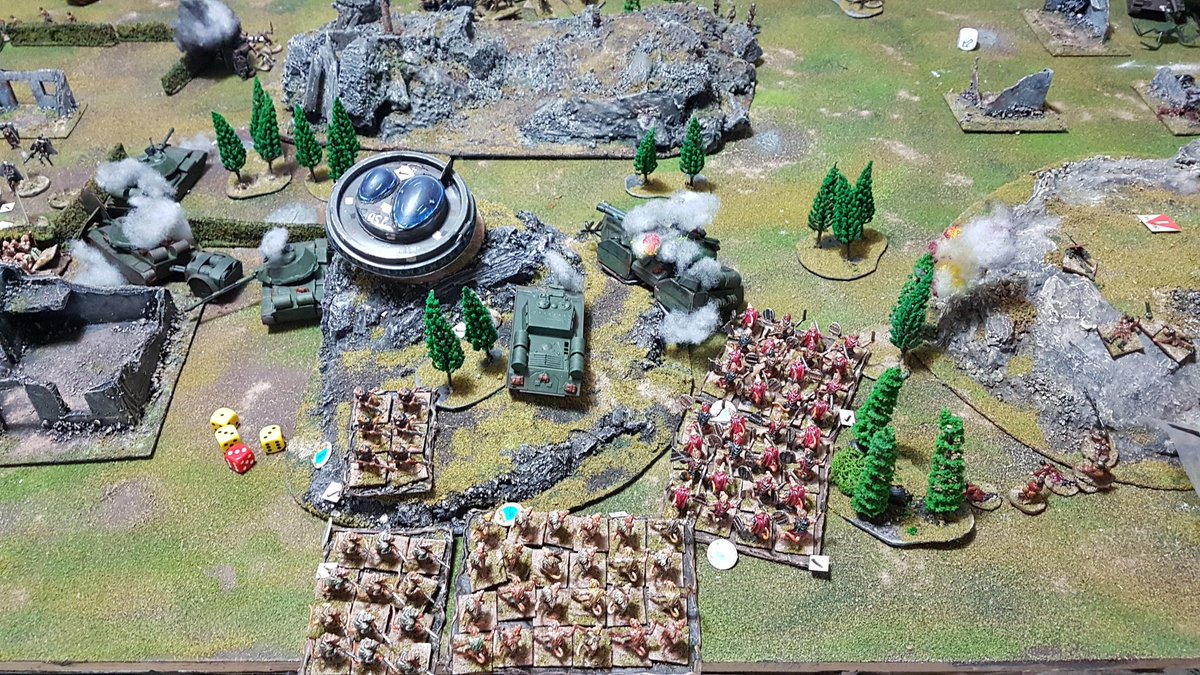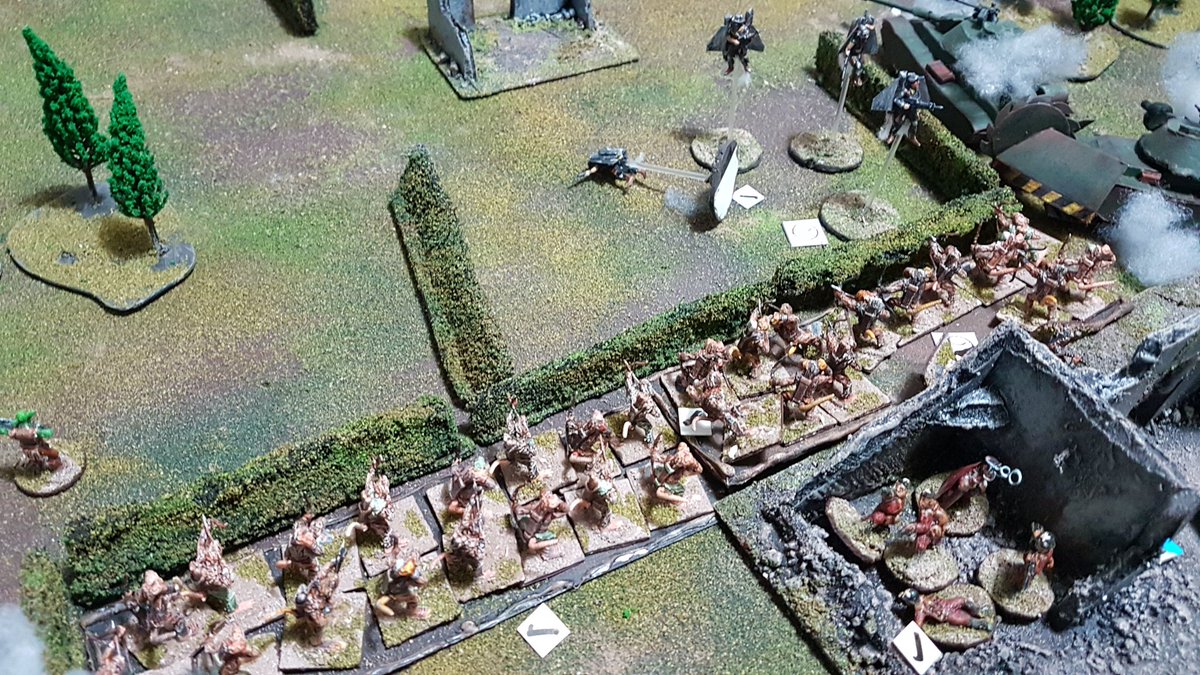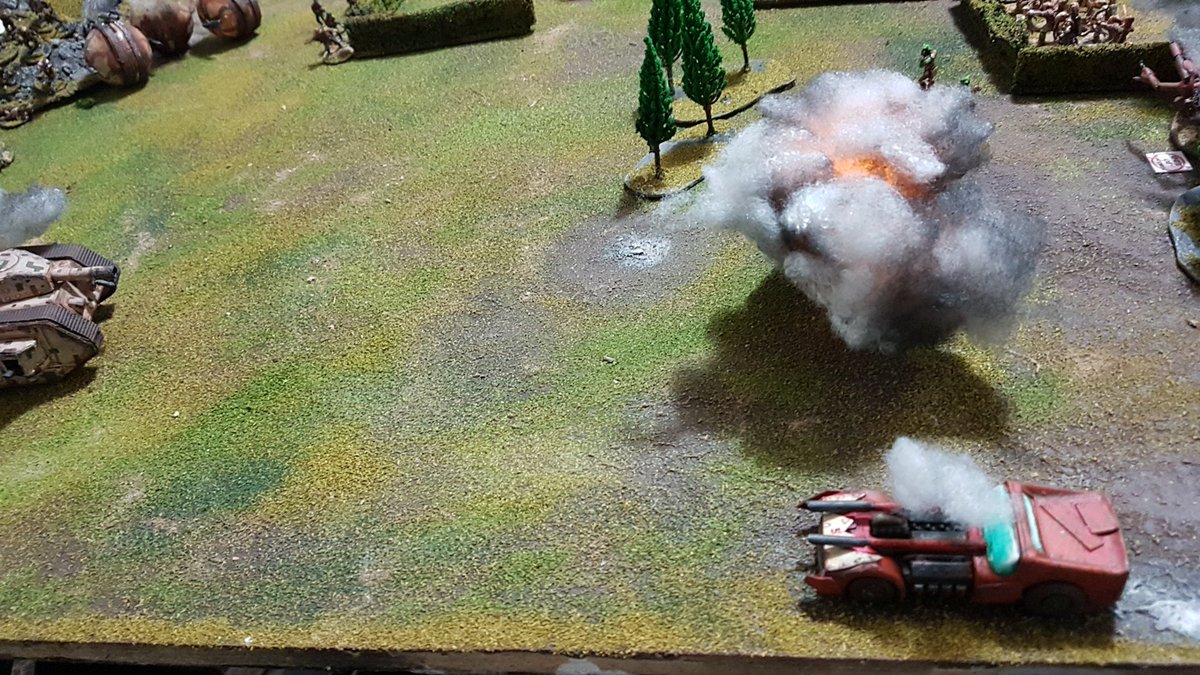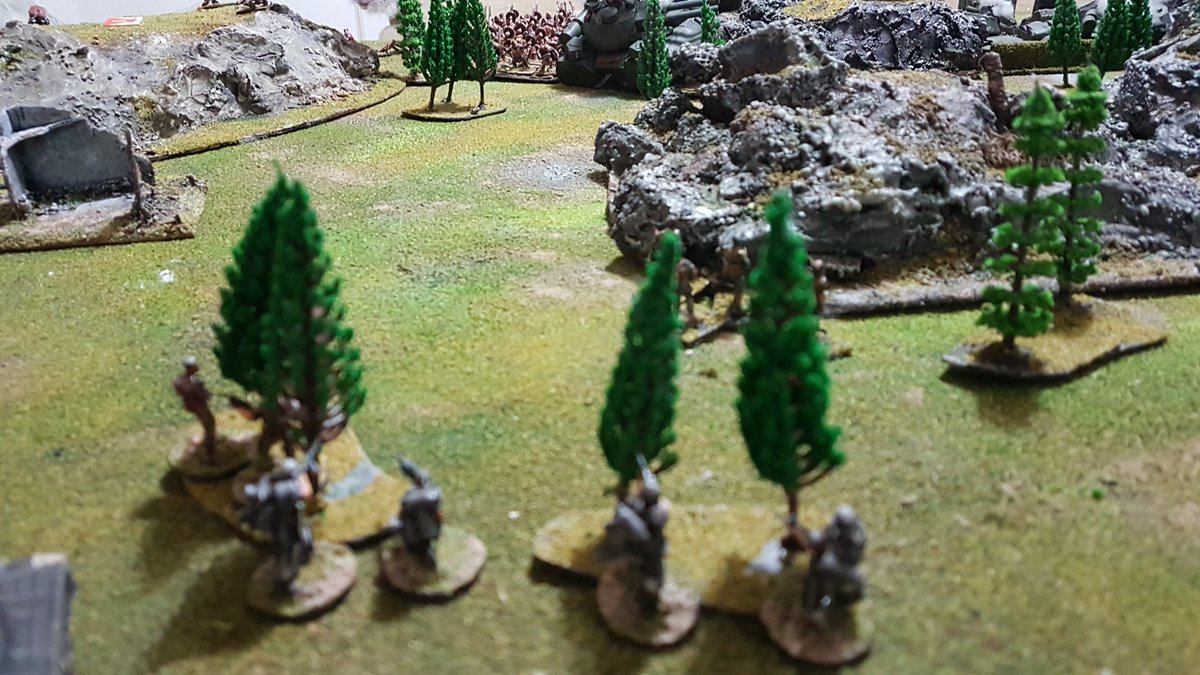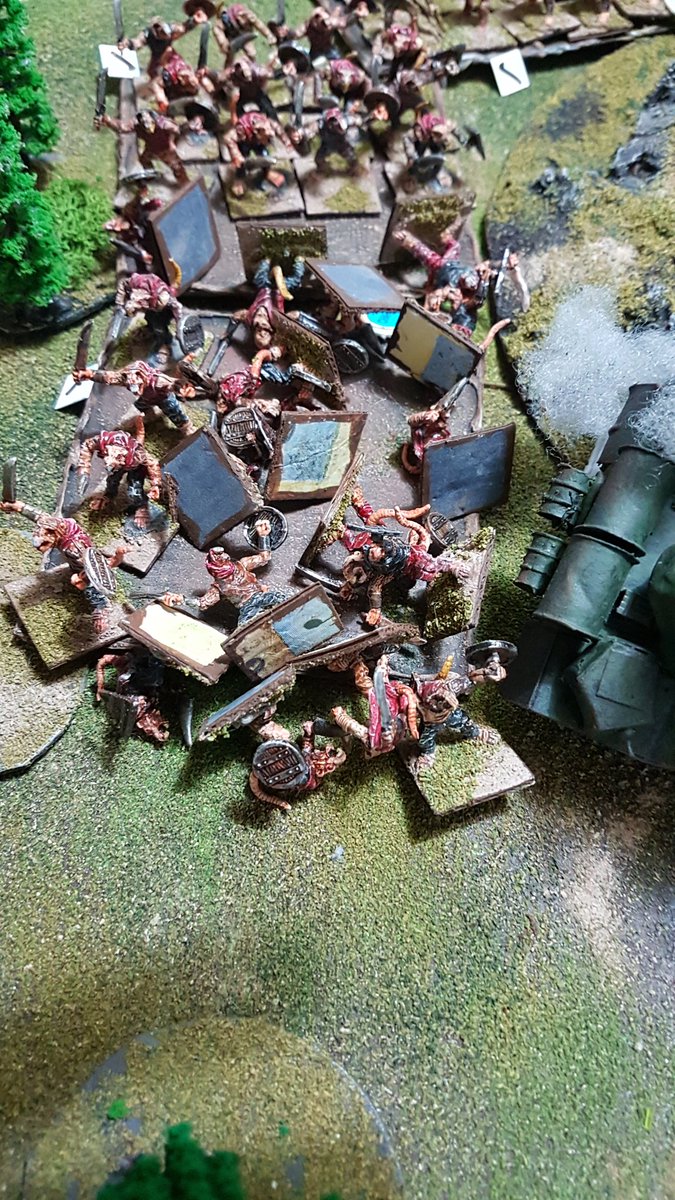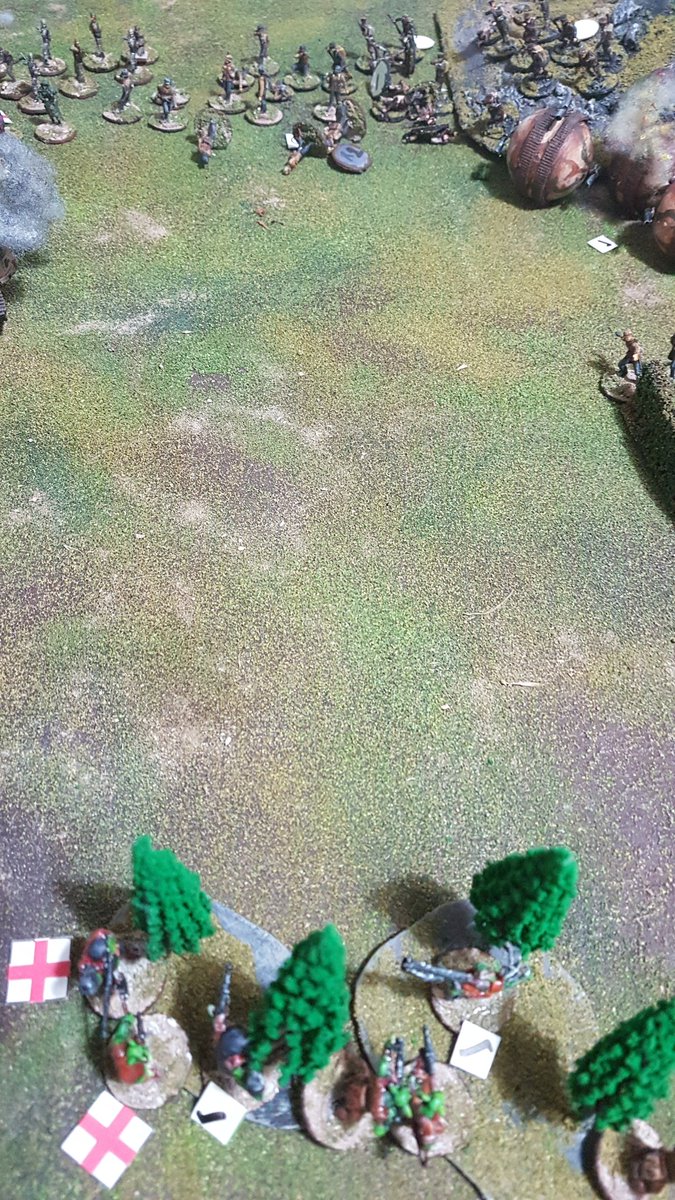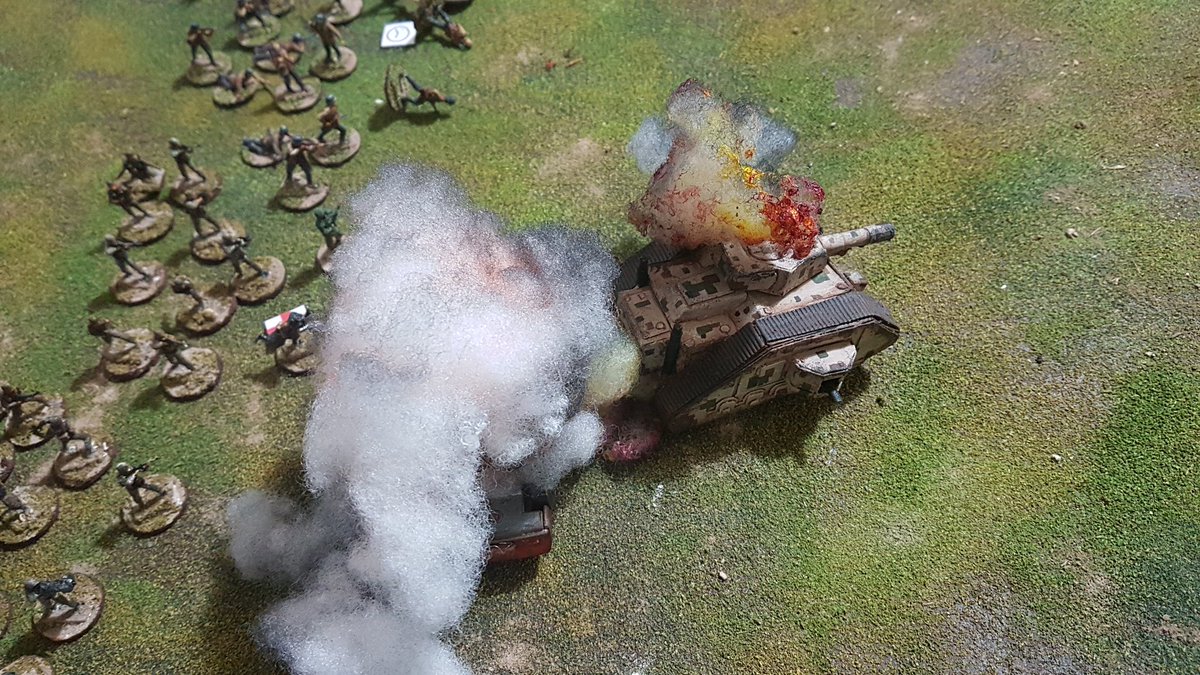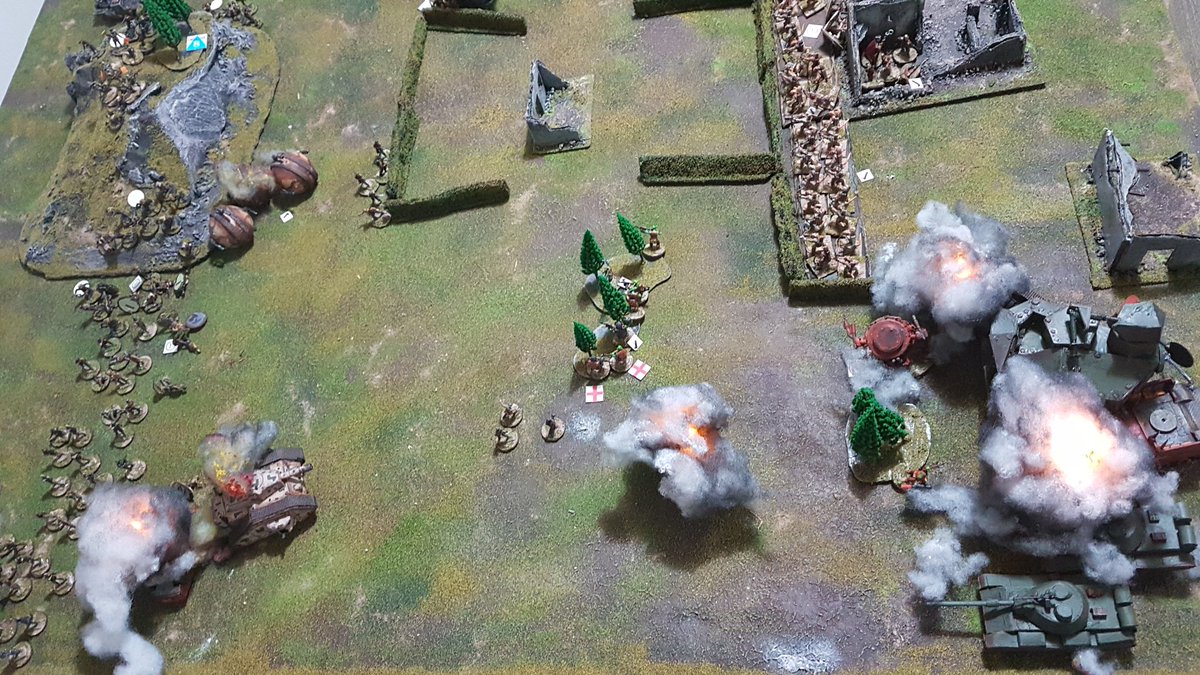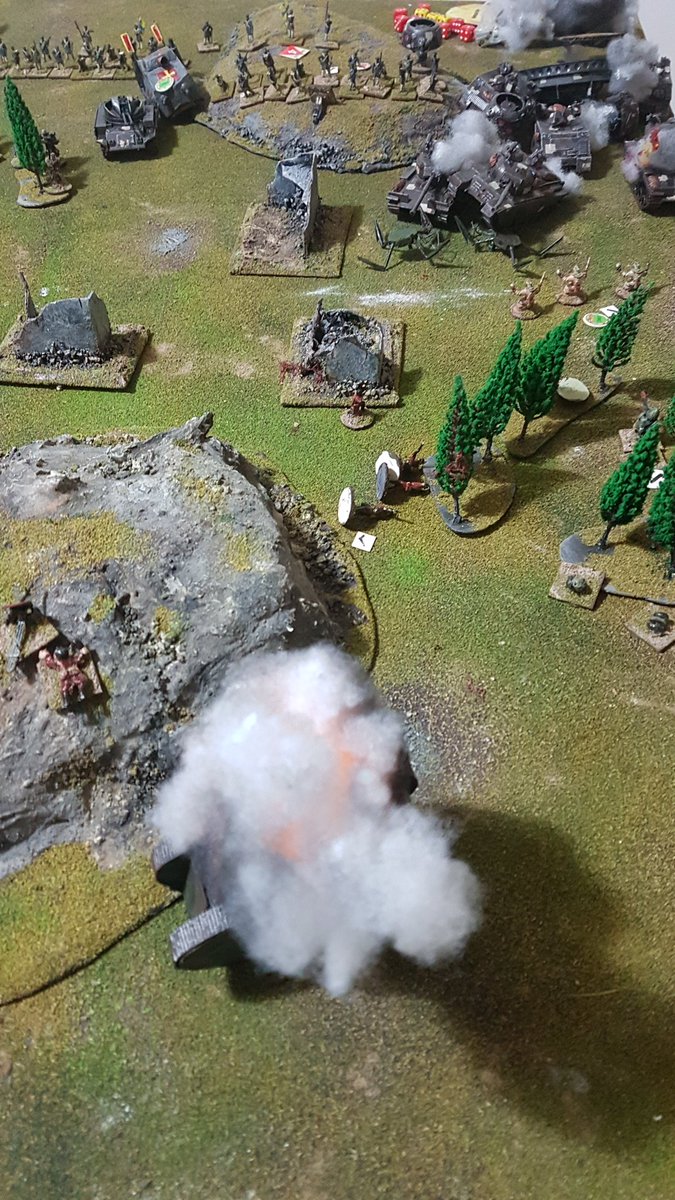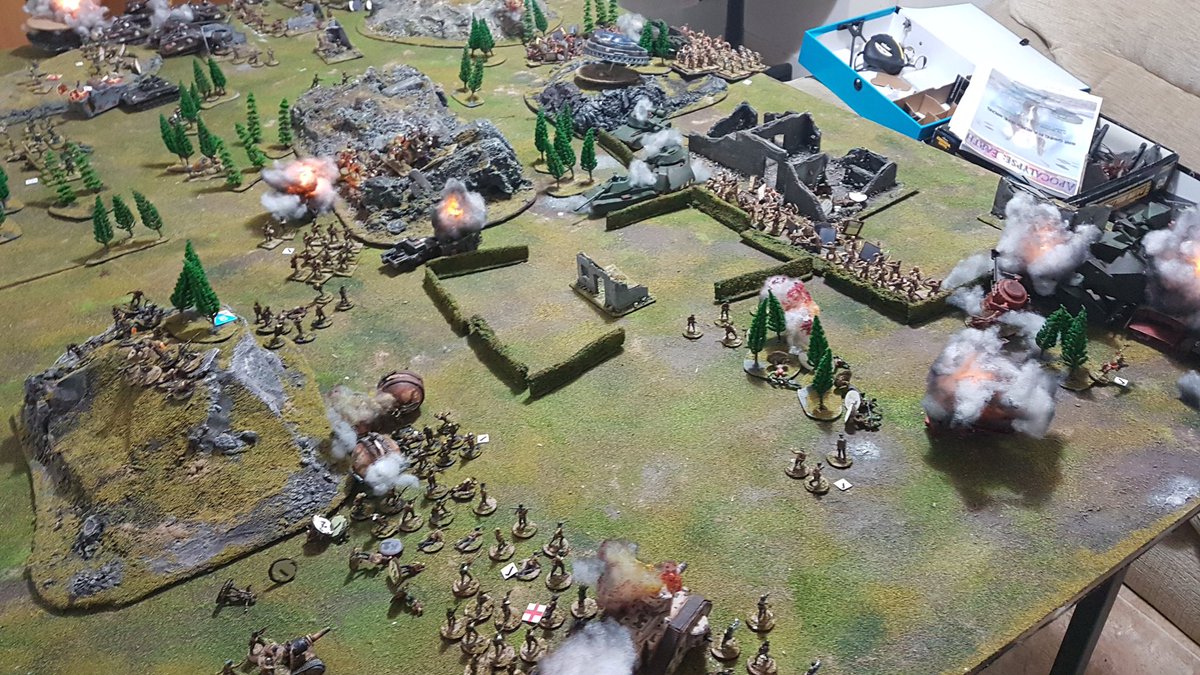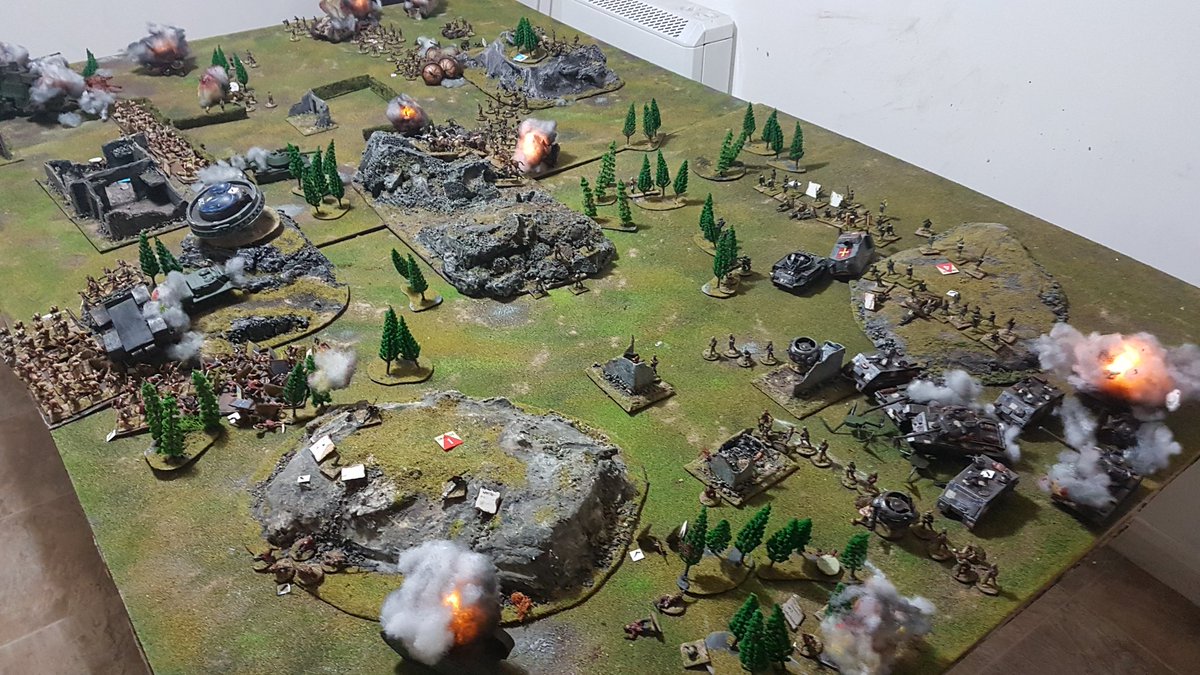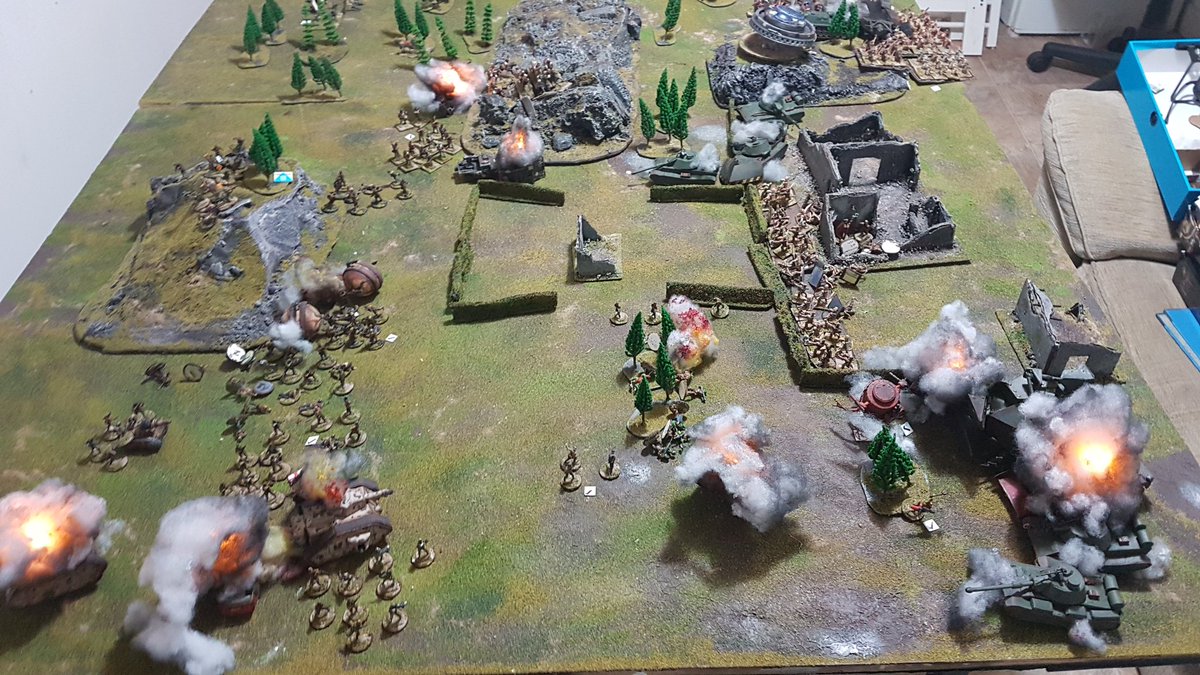 Turn 3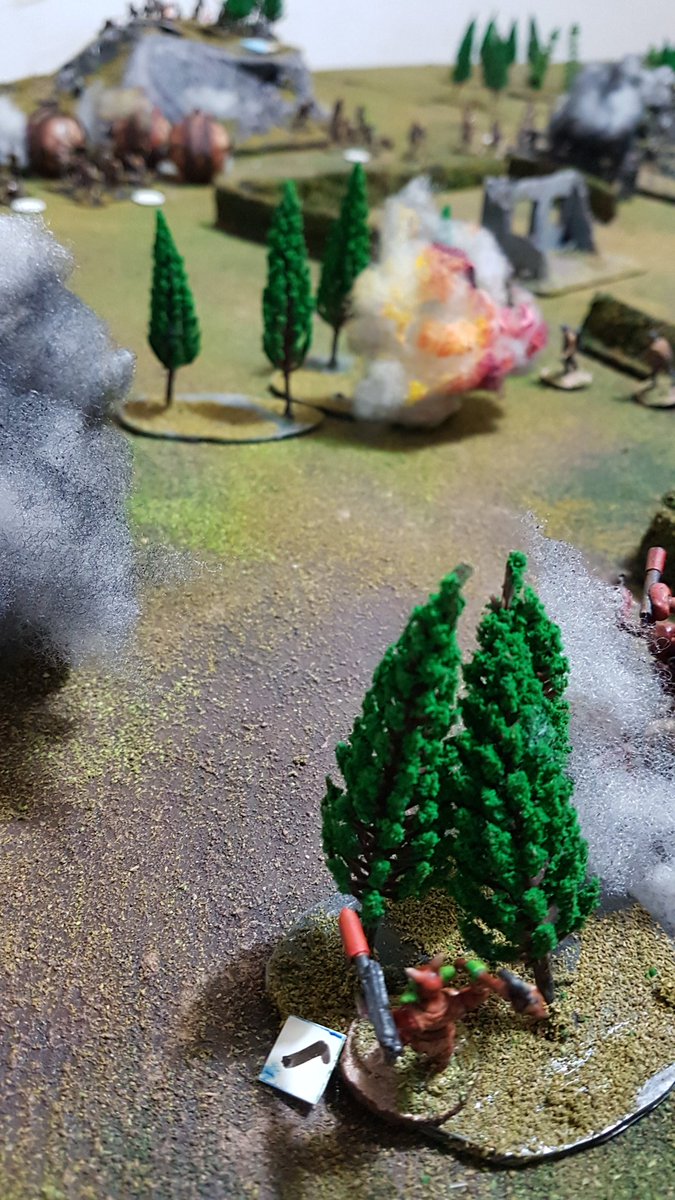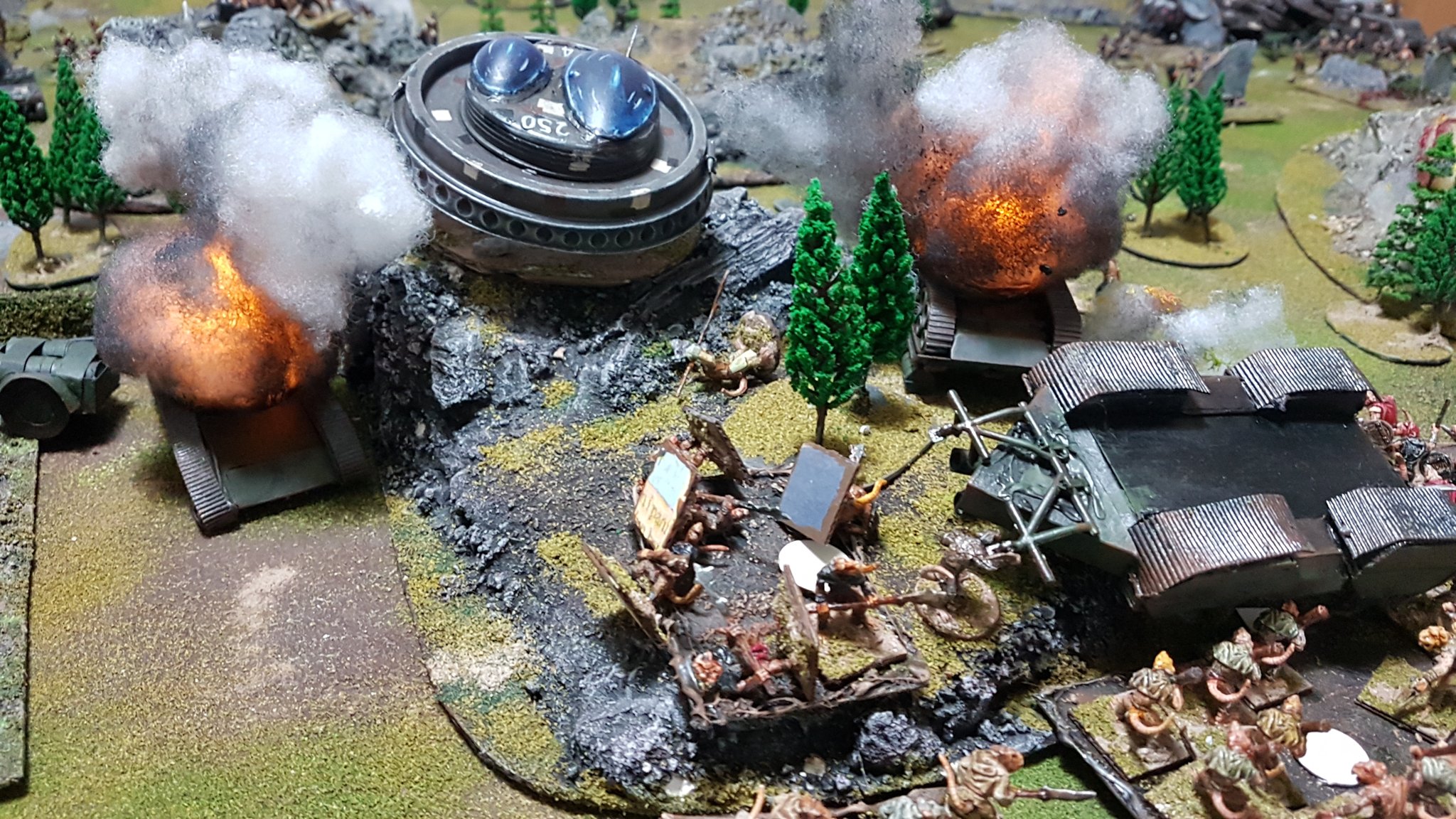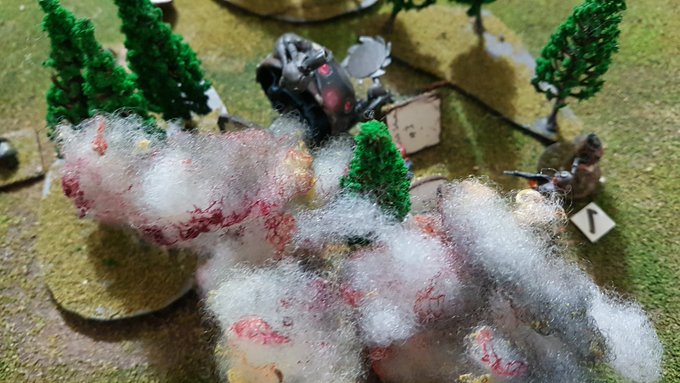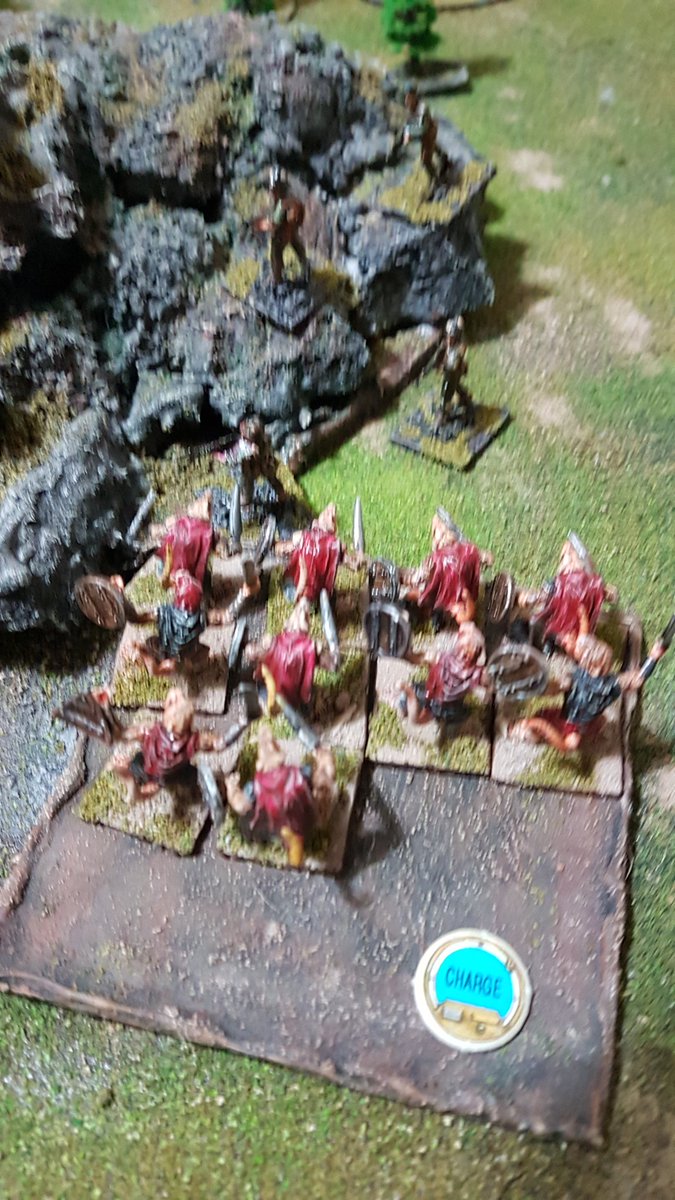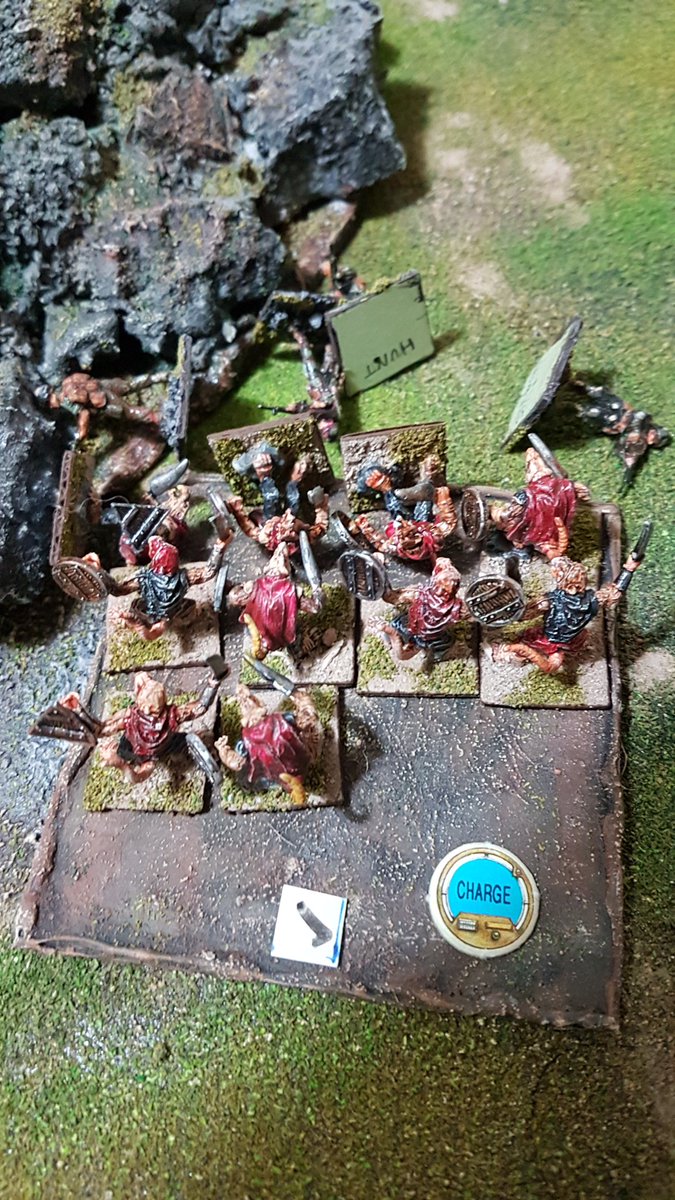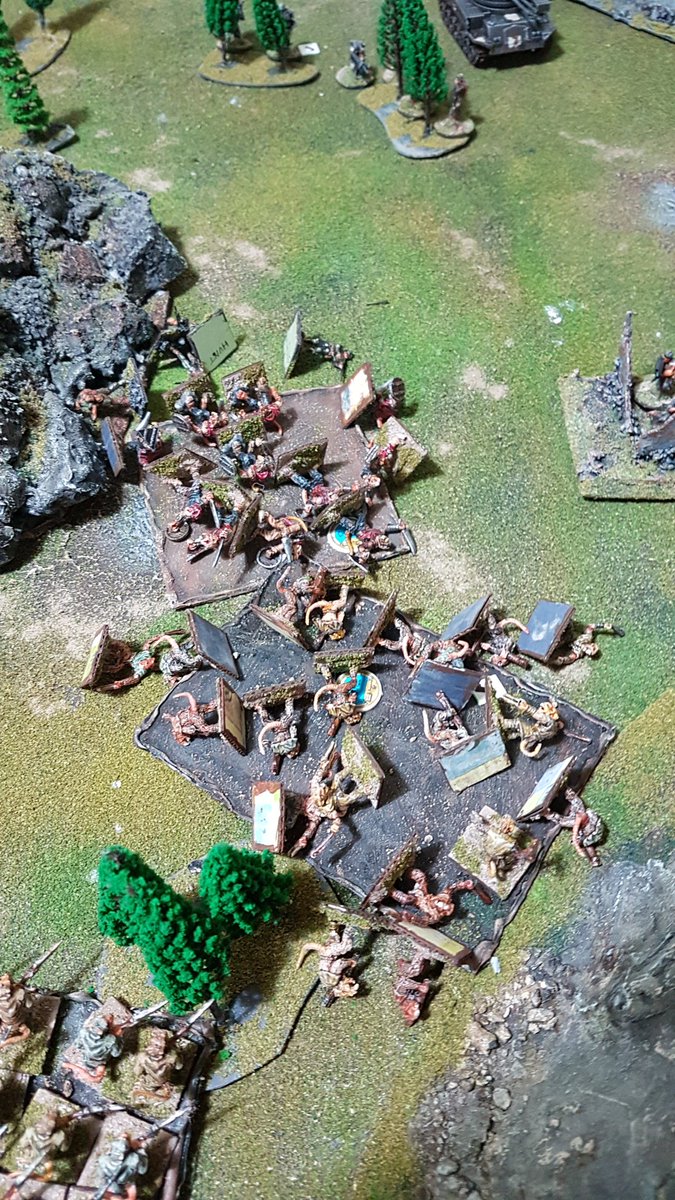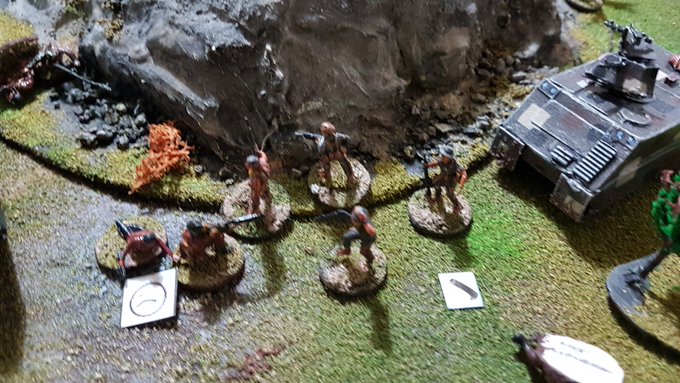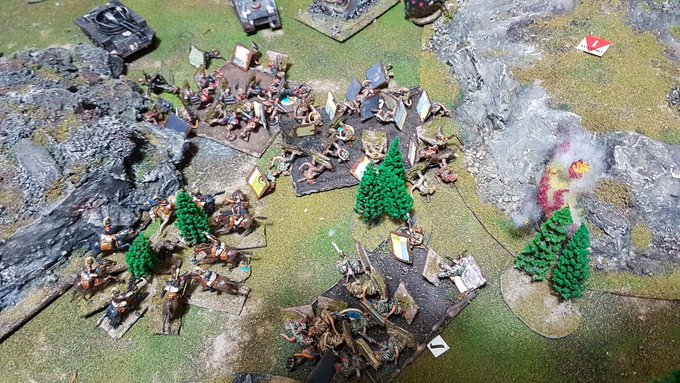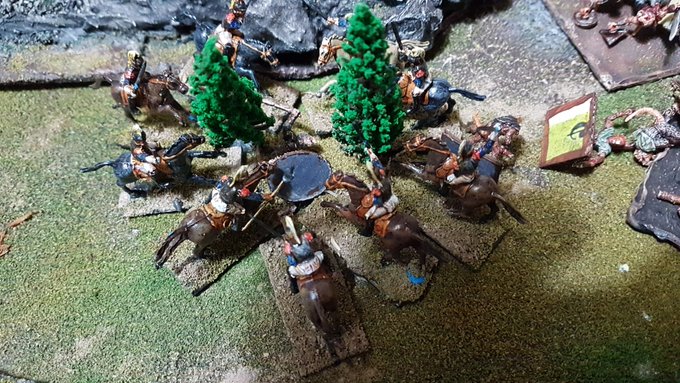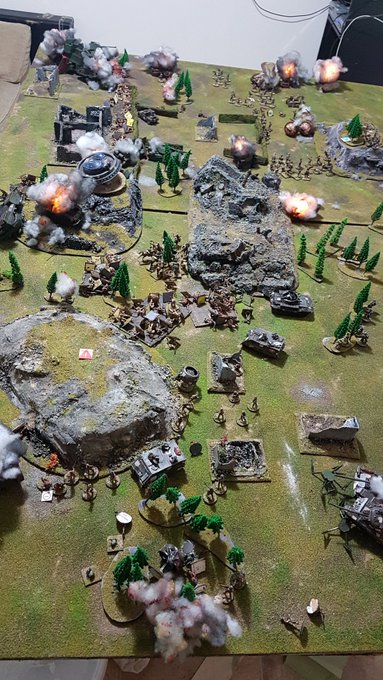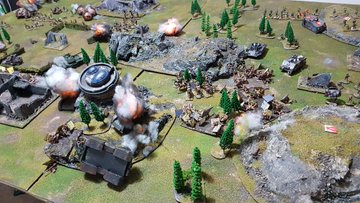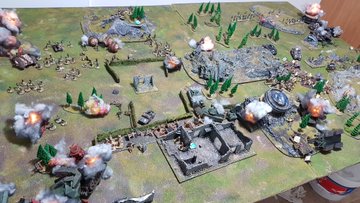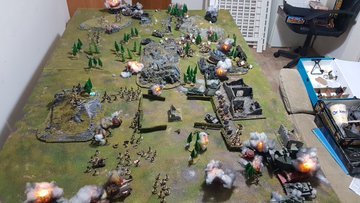 Turn 4
By this point it was pretty clear who the victors were going to be – Baddies reduced to half a dozen Virum Nascii Slave Archers, the Soviet Holy Mystic with but a single bodyguard and Skooderia Mek Michael Schumorker, but very sportingly Dan wanted to go down swinging, so away we went!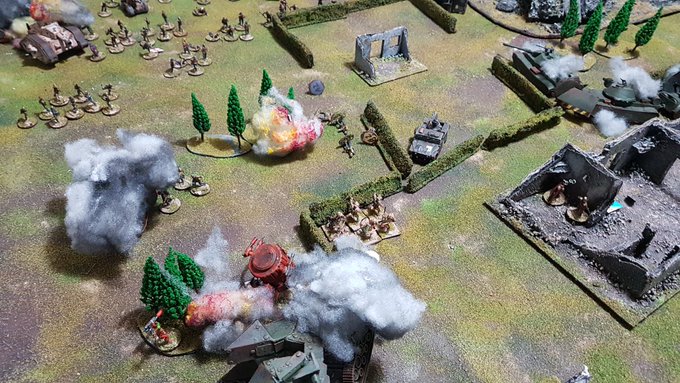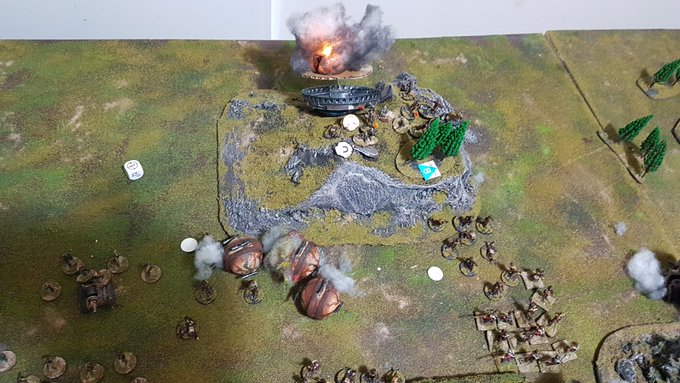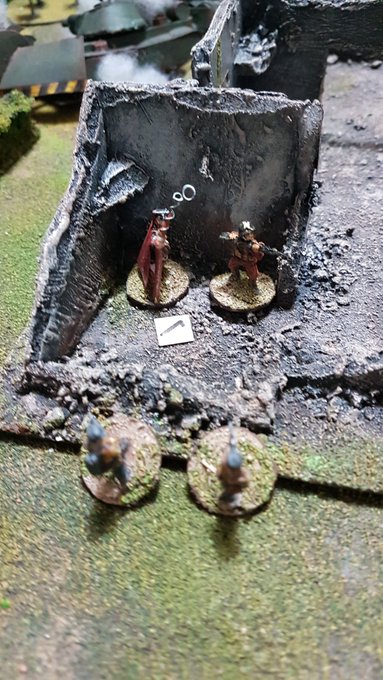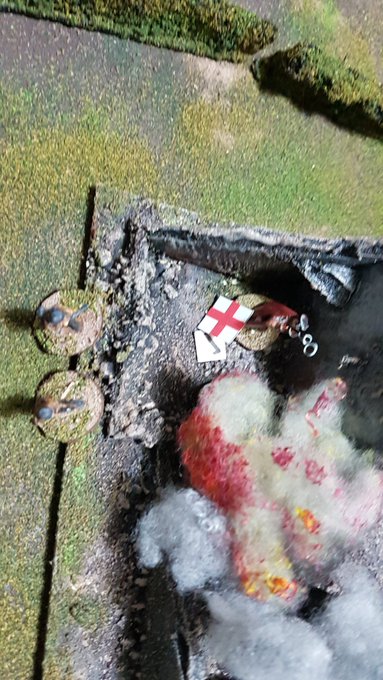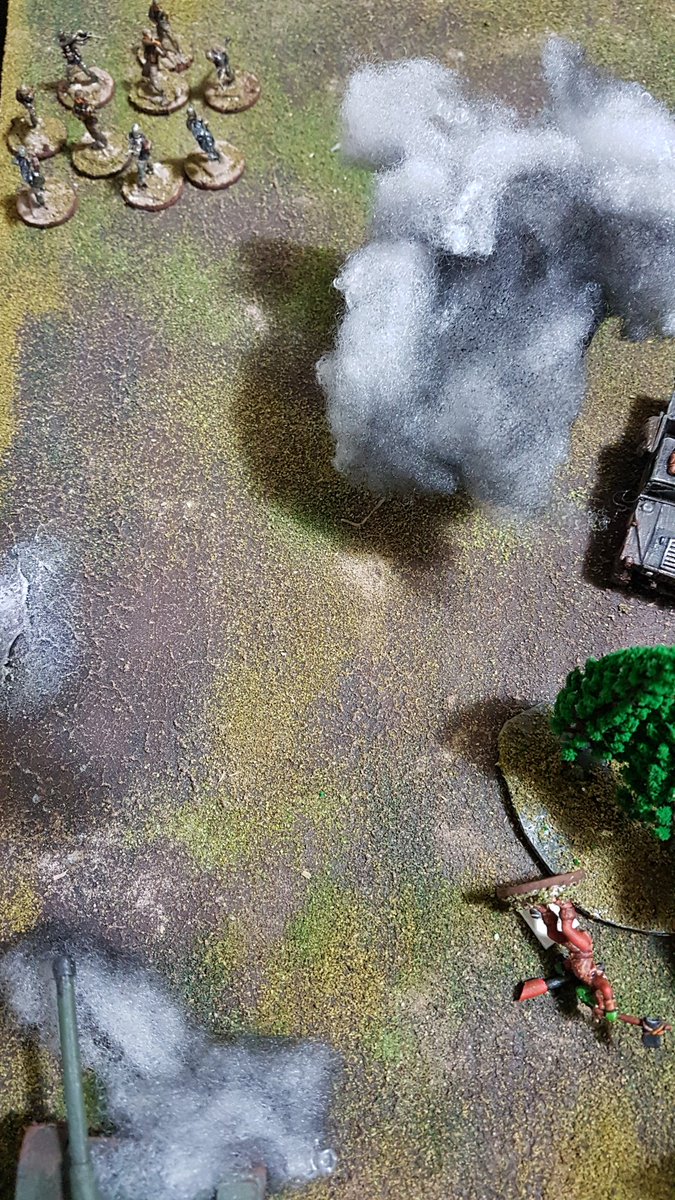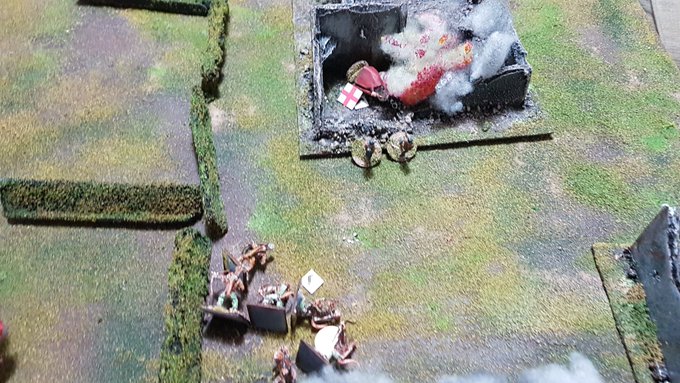 ….And with that, it was game over! Total Baddie tabling, but not without loss to the Goodies, aside from the two Silverbug gunships, the M60A3 Centurions were all damaged to some degree or other, a regiment of Grenadiers was wiped out and another one not far behind him, significant casualties amongst League infantry, Allied Special Forces team wiped out, a Humvee lost to rampaging ratmen, the PSLA armour was knocked out, and a smattering of moderate casualties through the rest of the infantry.
To be fair, we had no idea about balance and it's clear that the odds were stacked against the Baddies from the get go in terms of forces. Dan also wryly noted that the hedges he'd intended to use as cover actually just ended up blocking the big Virum Nascii regiments in, and with his left blocked by burning Skooderia and Holy Soviet armour, they had to detour around which led them right into Atlantic Alliance guns, so a few rule tweaks I think – maybe next time count hedges as difficult terrain that slows you down as you get your sword out and hack through it rather than impassable..
Overall conclusions though.. it was a BLAST! Not the most tactical game we've ever played, but immense fun, and nice to see that in fact you can link these three different gameworlds and although the fantasy troops got a kicking they were more than just cannon fodder – the image of the SAS fireteam getting eaten by a regiment of giant rats is something that I think will stay with me in terms of game moments!
If you've made it to the end, well done, and thanks for sticking with us – it's pretty obvious why we've been a bit quiet the last couple of weeks! Stay thrifty out there, we'll see you soon