Back again after a few more GrimDark Future scraps out in the gaming shed as the nights draw in (and as a second lockdown looms, making the best of the opportunity while we have it..) – the Human Defence Force in the guise of the Hazzard 1977th Planetary Defence Force Regiment have retired from the field having placed themselves clearly in the lead with three wins and a draw, but behind them Ratticus McStilton's Ratmen have a draw to their credit and the Rebel Guerillas of the People's Front Of Hazzard 237th Freedom Brigade have a win in their pocket, so it ain't over yet!
Game 6 – Ratmen Clans vs Orc Marauders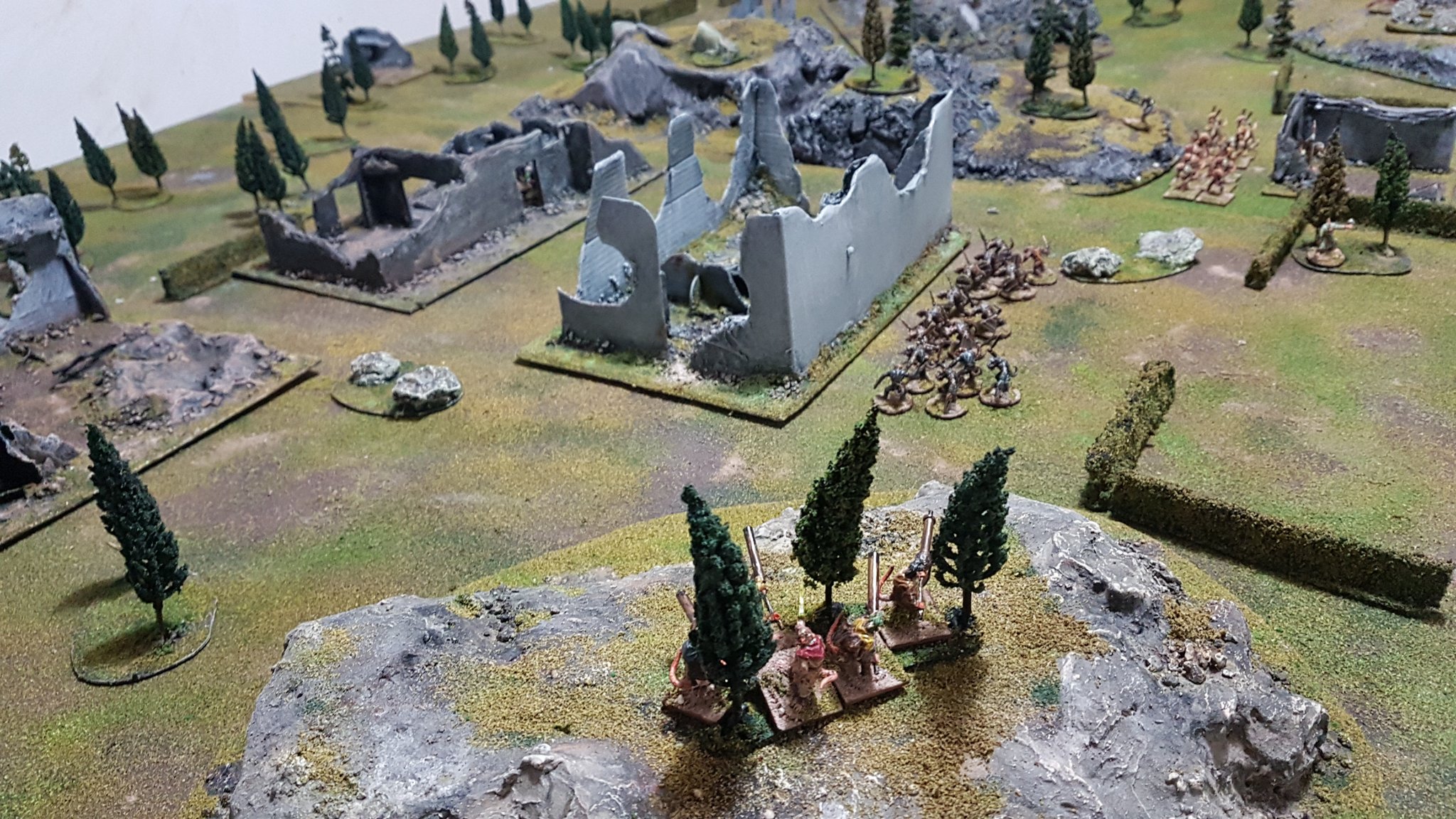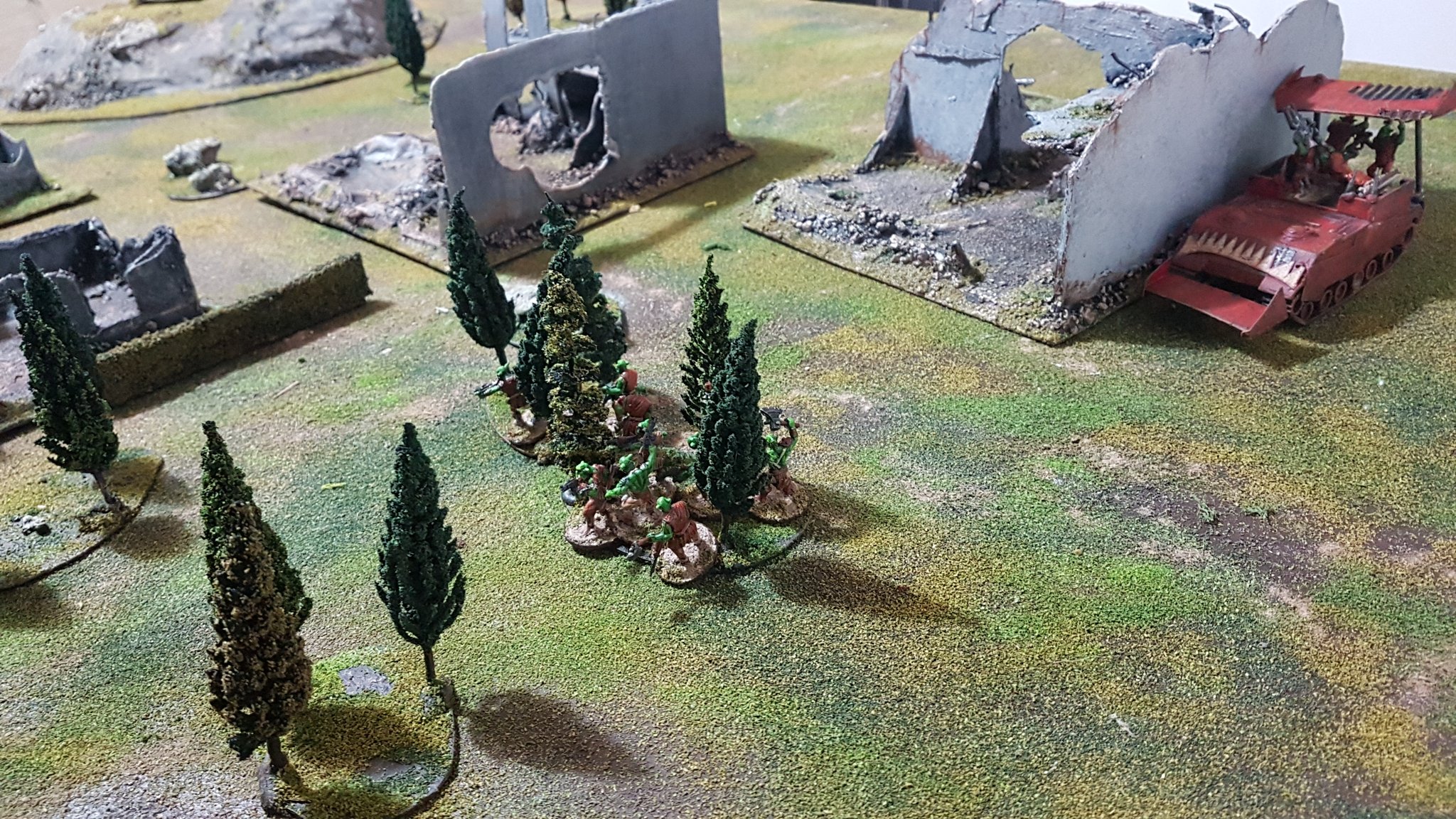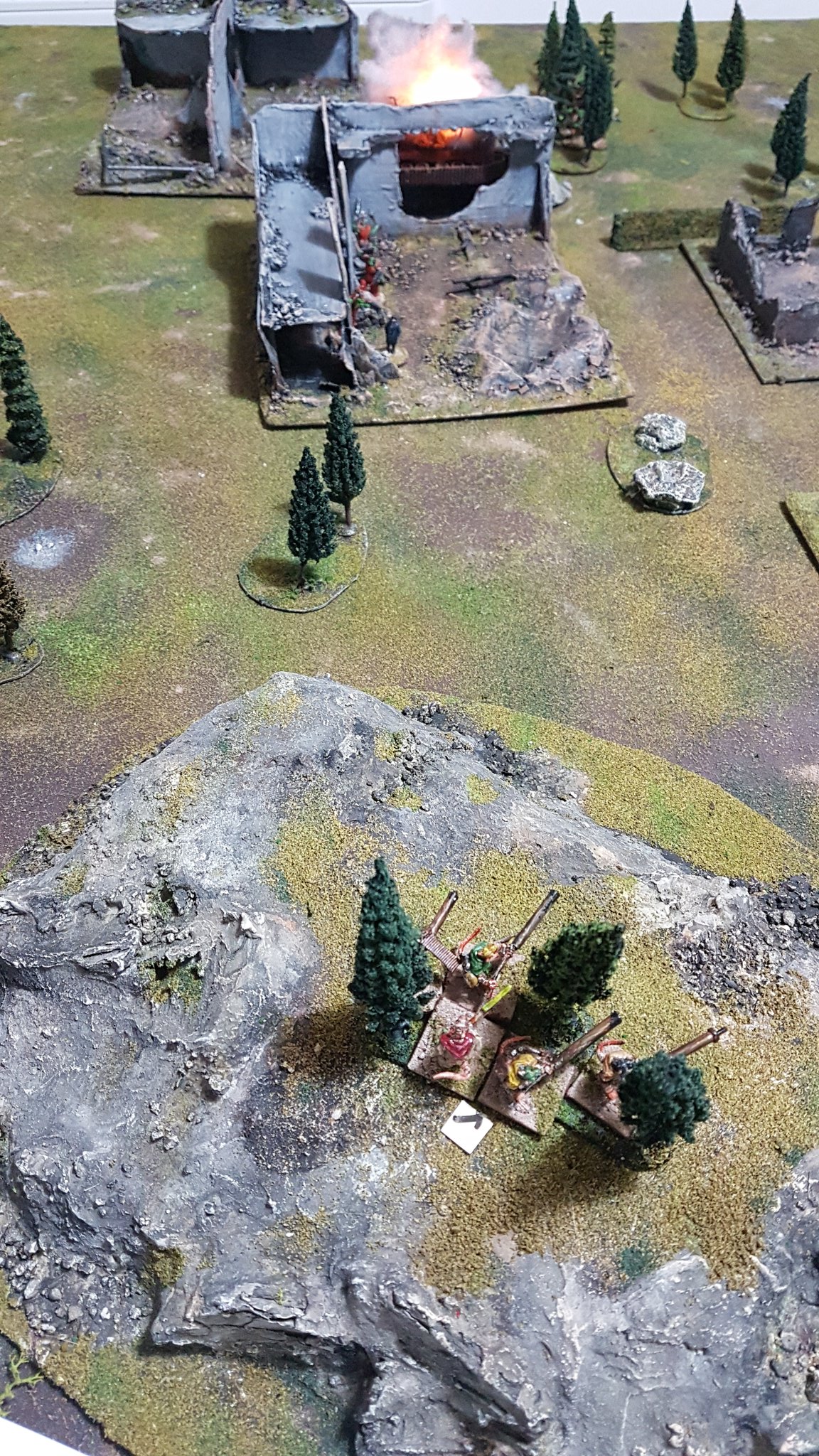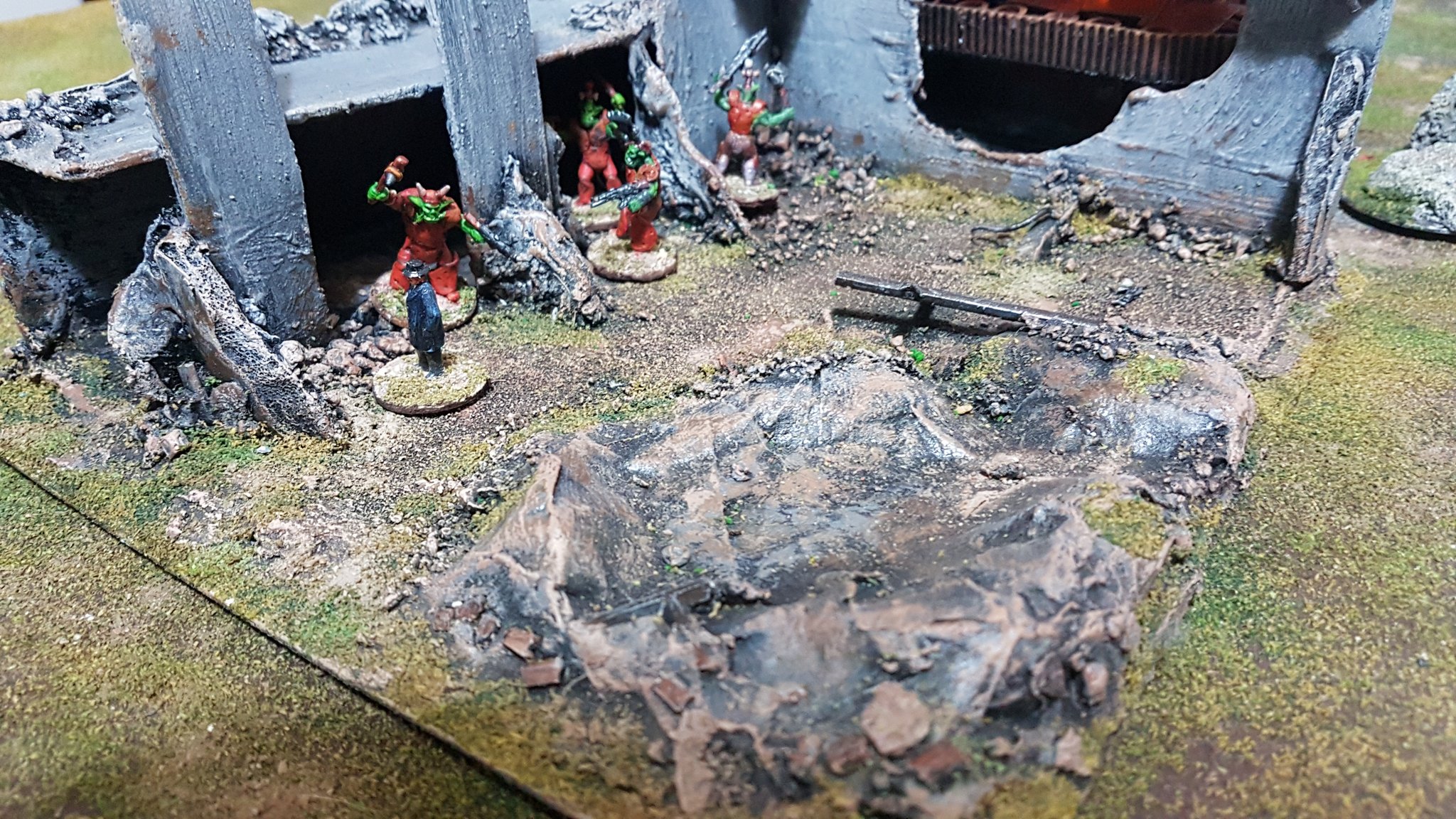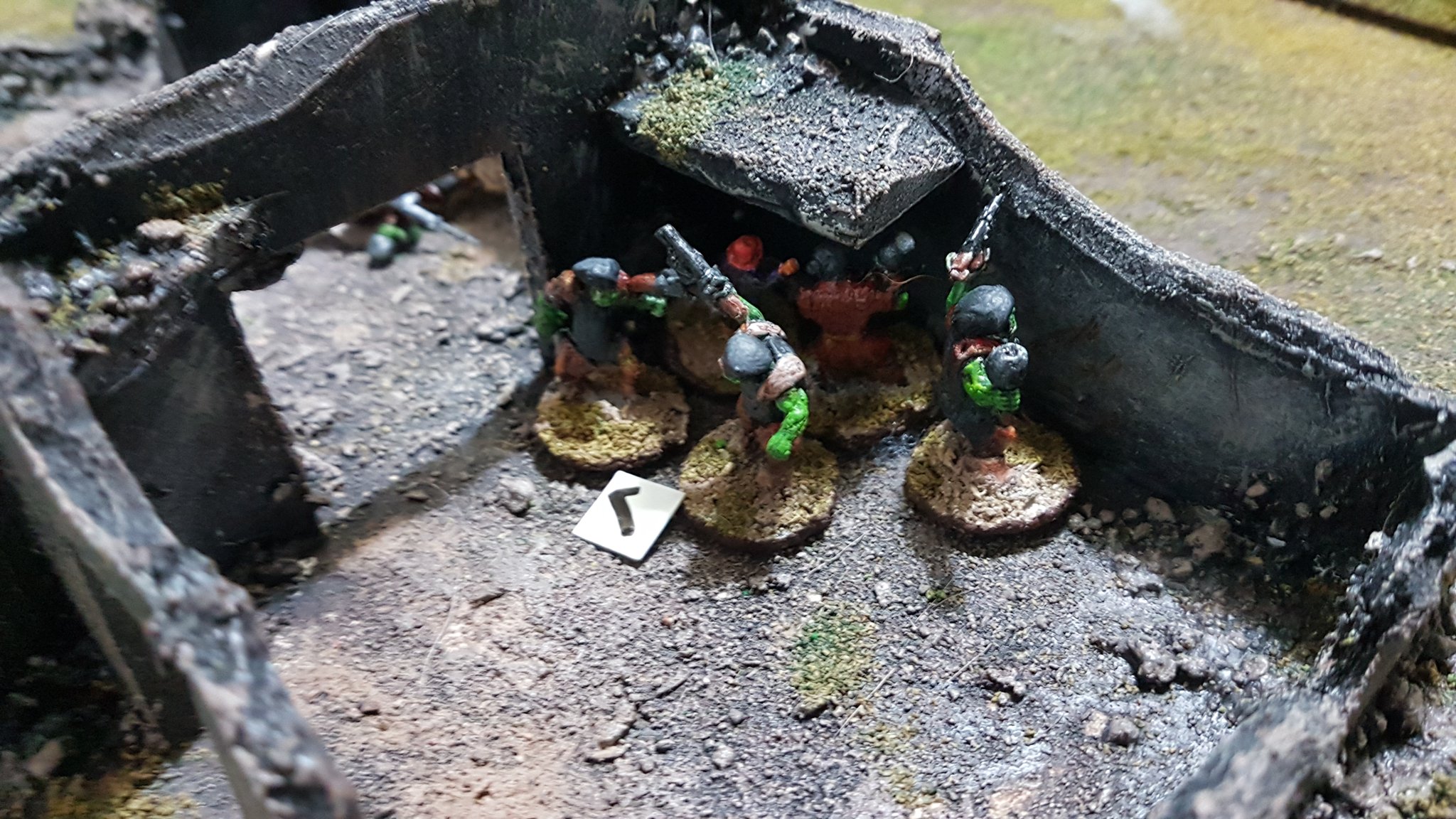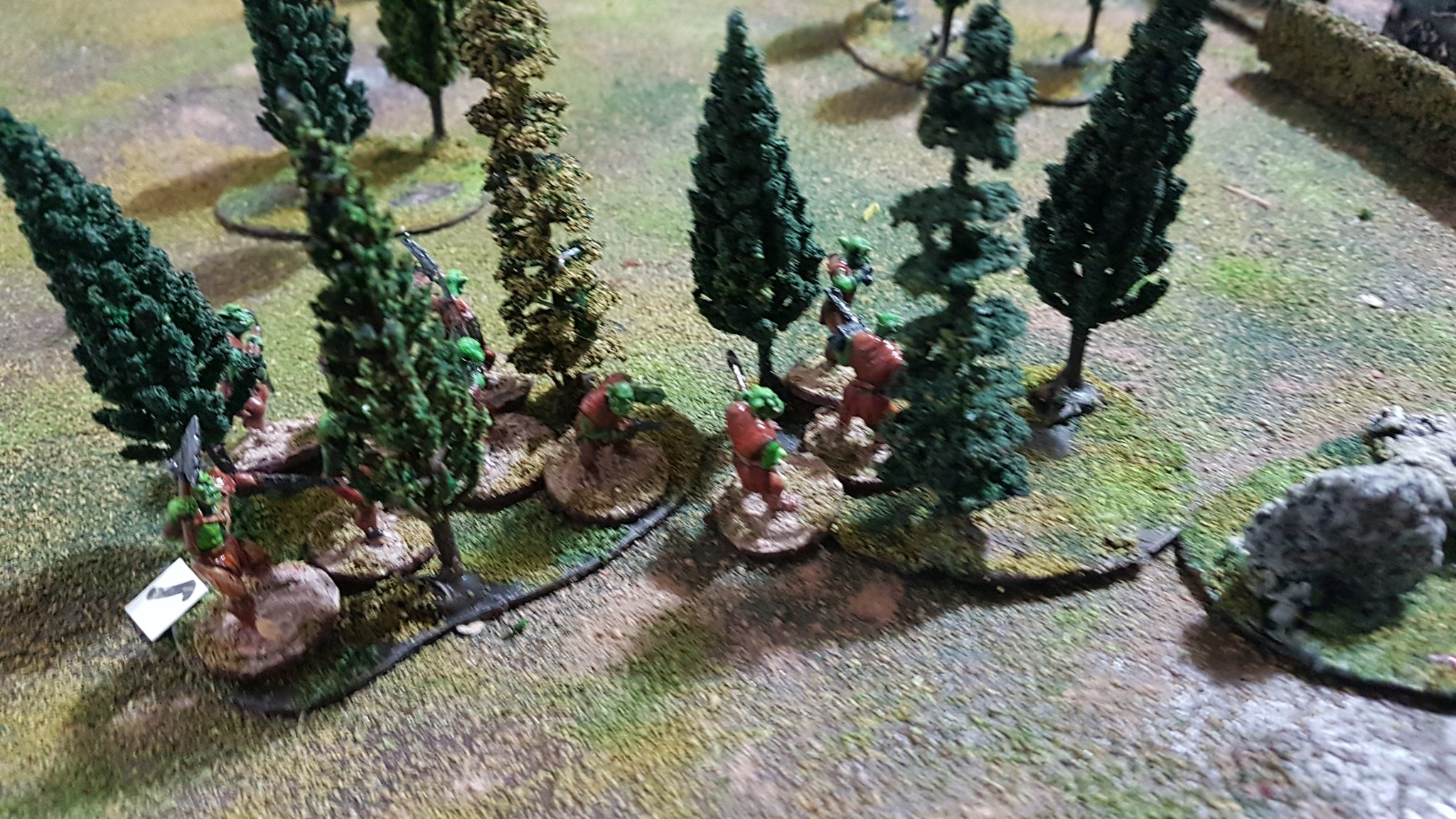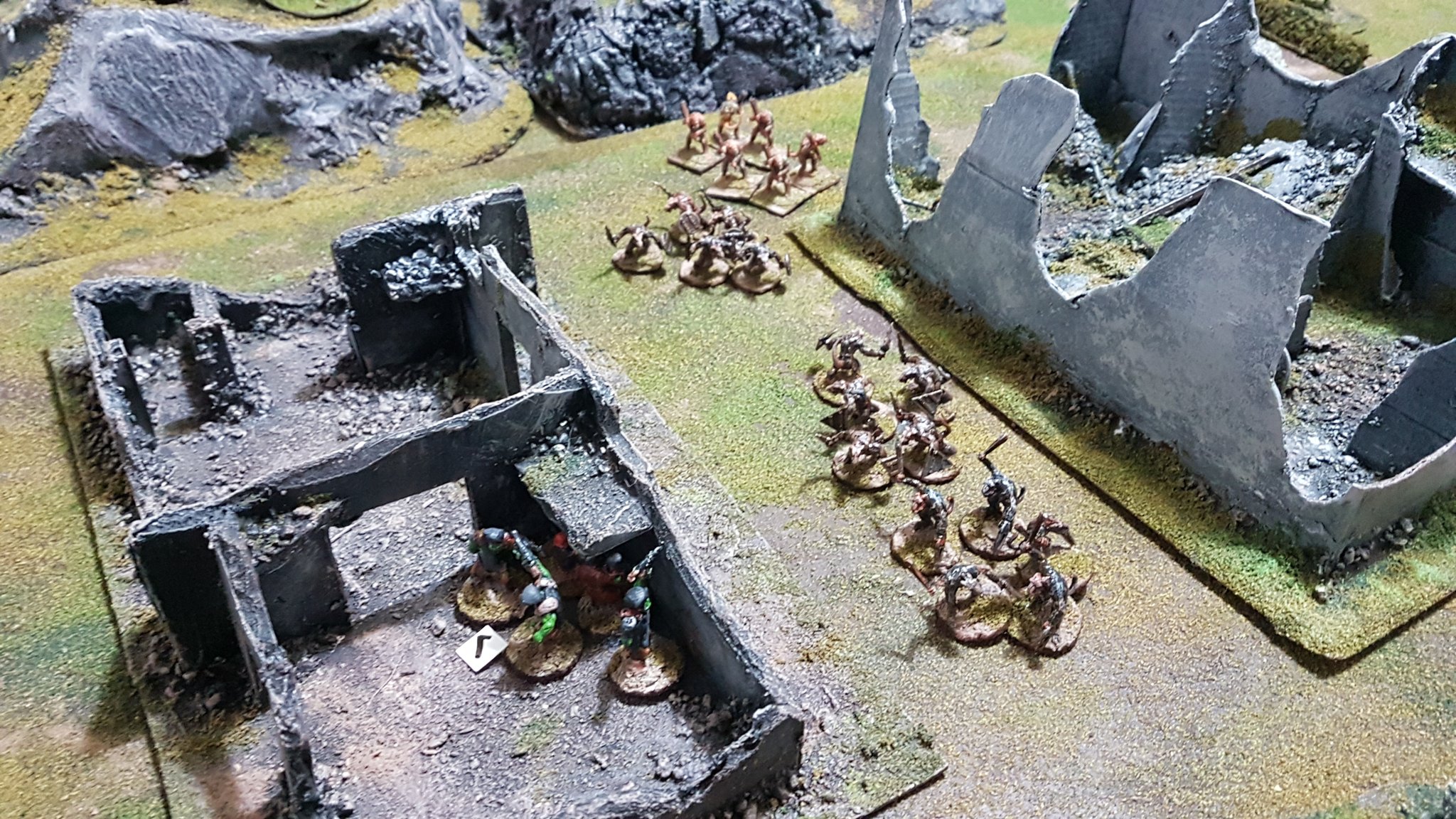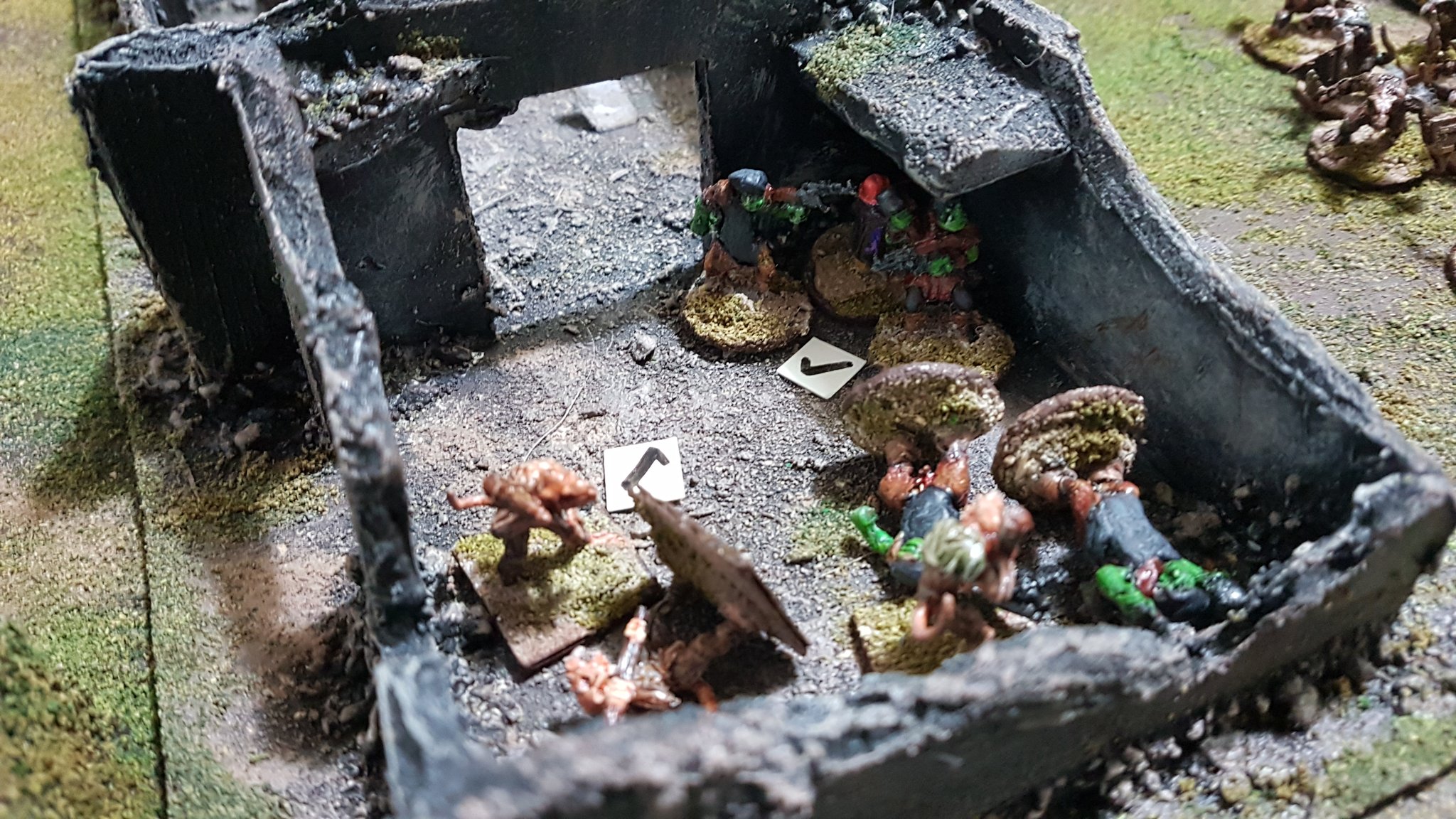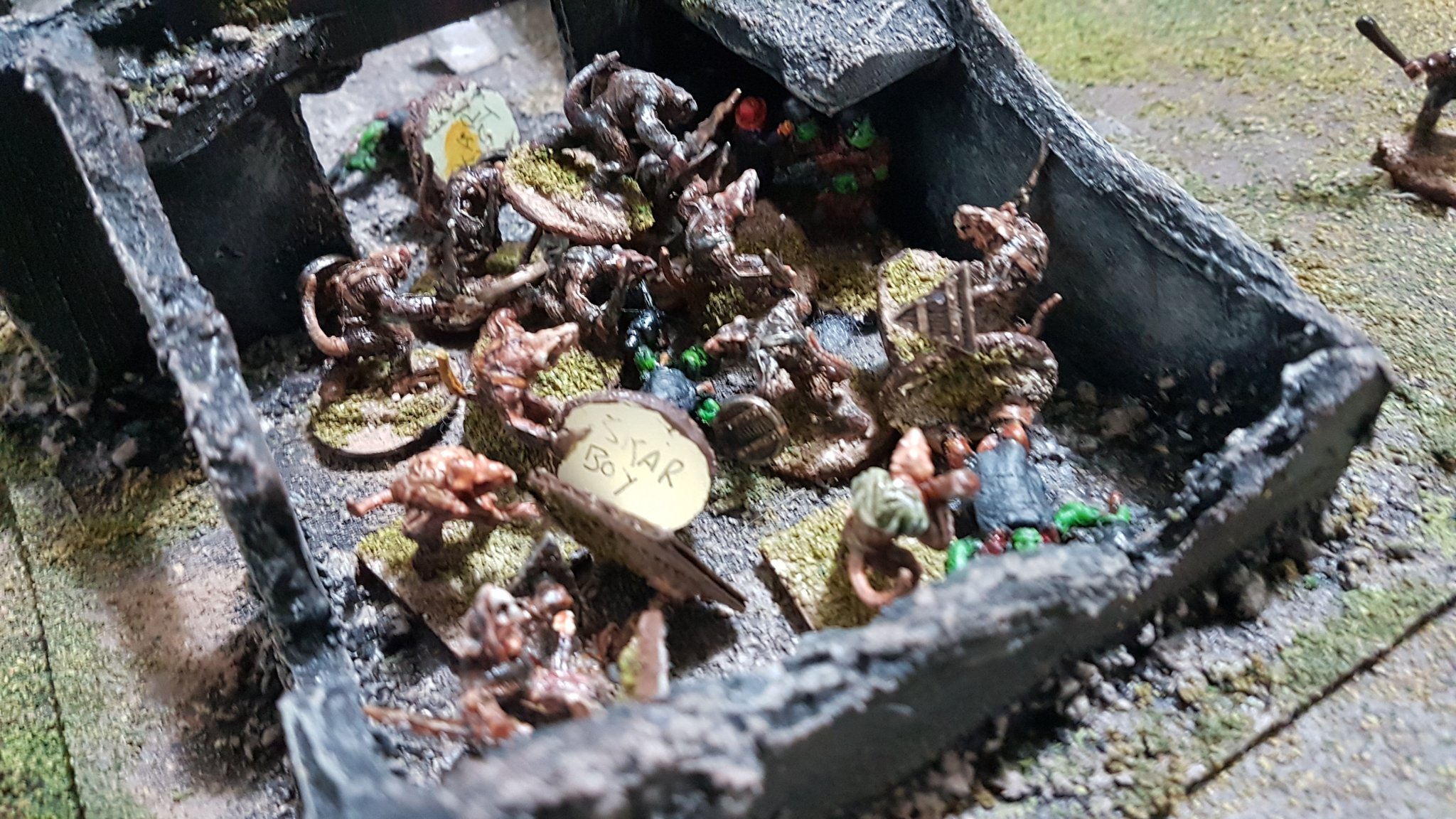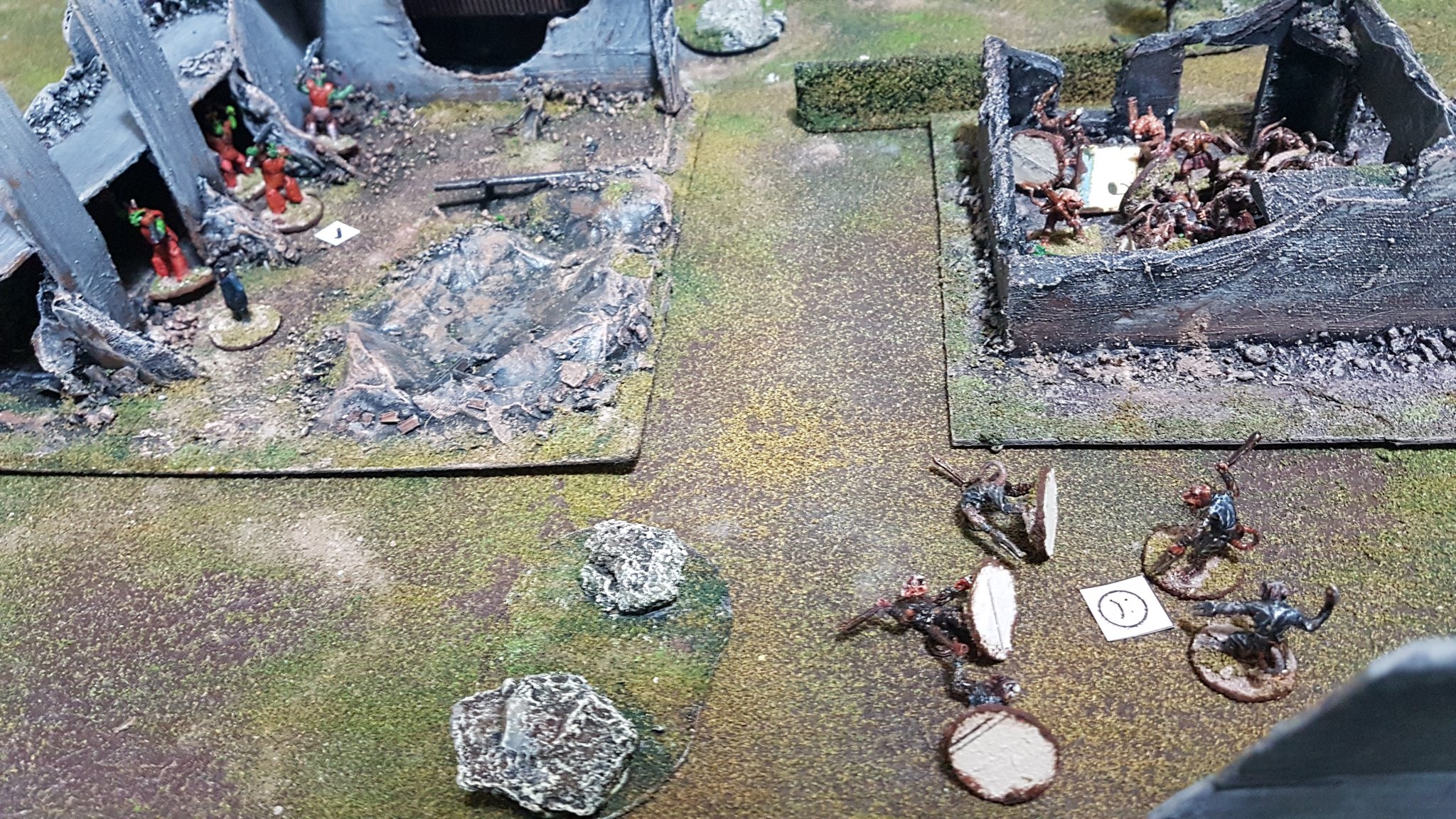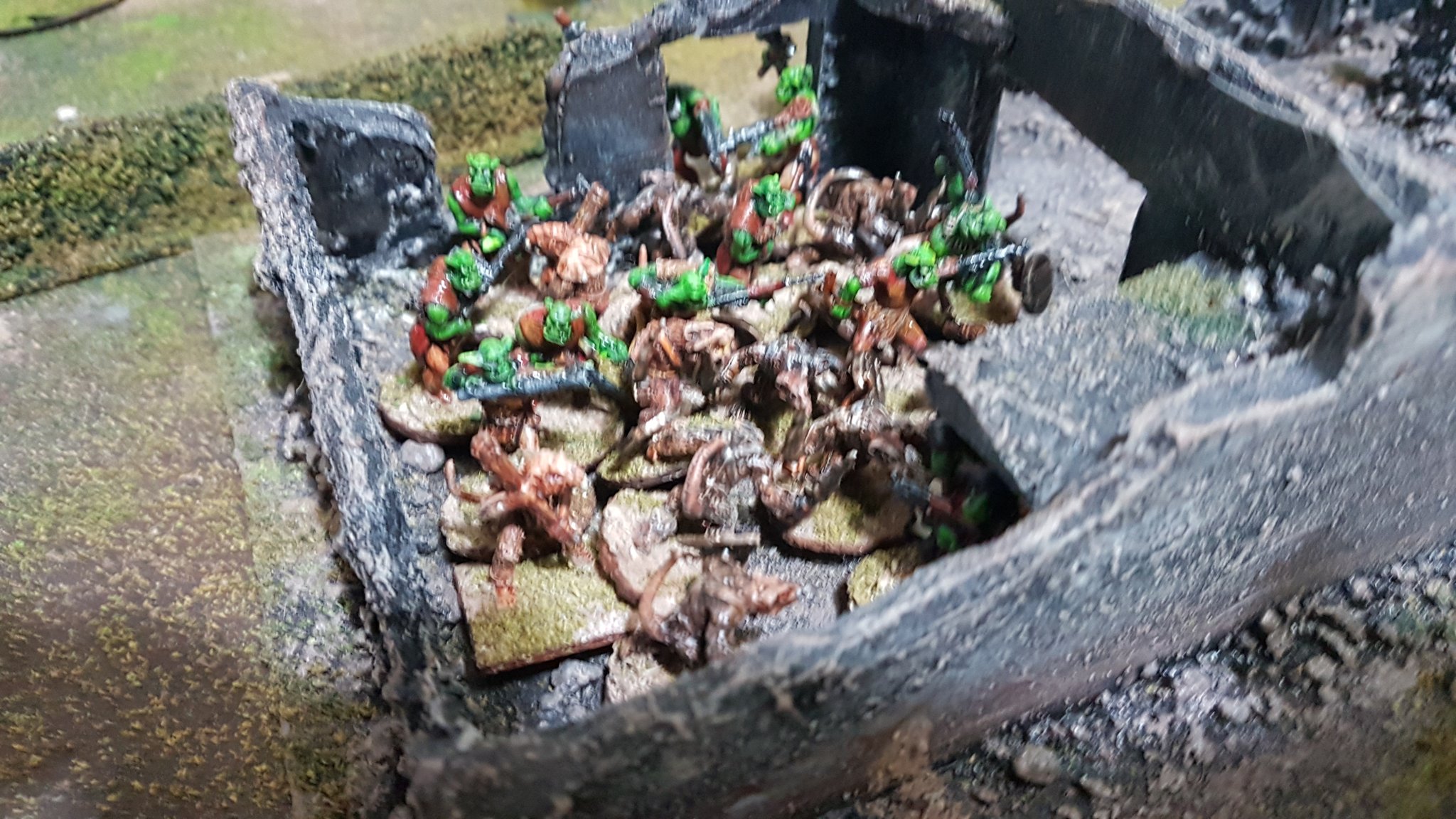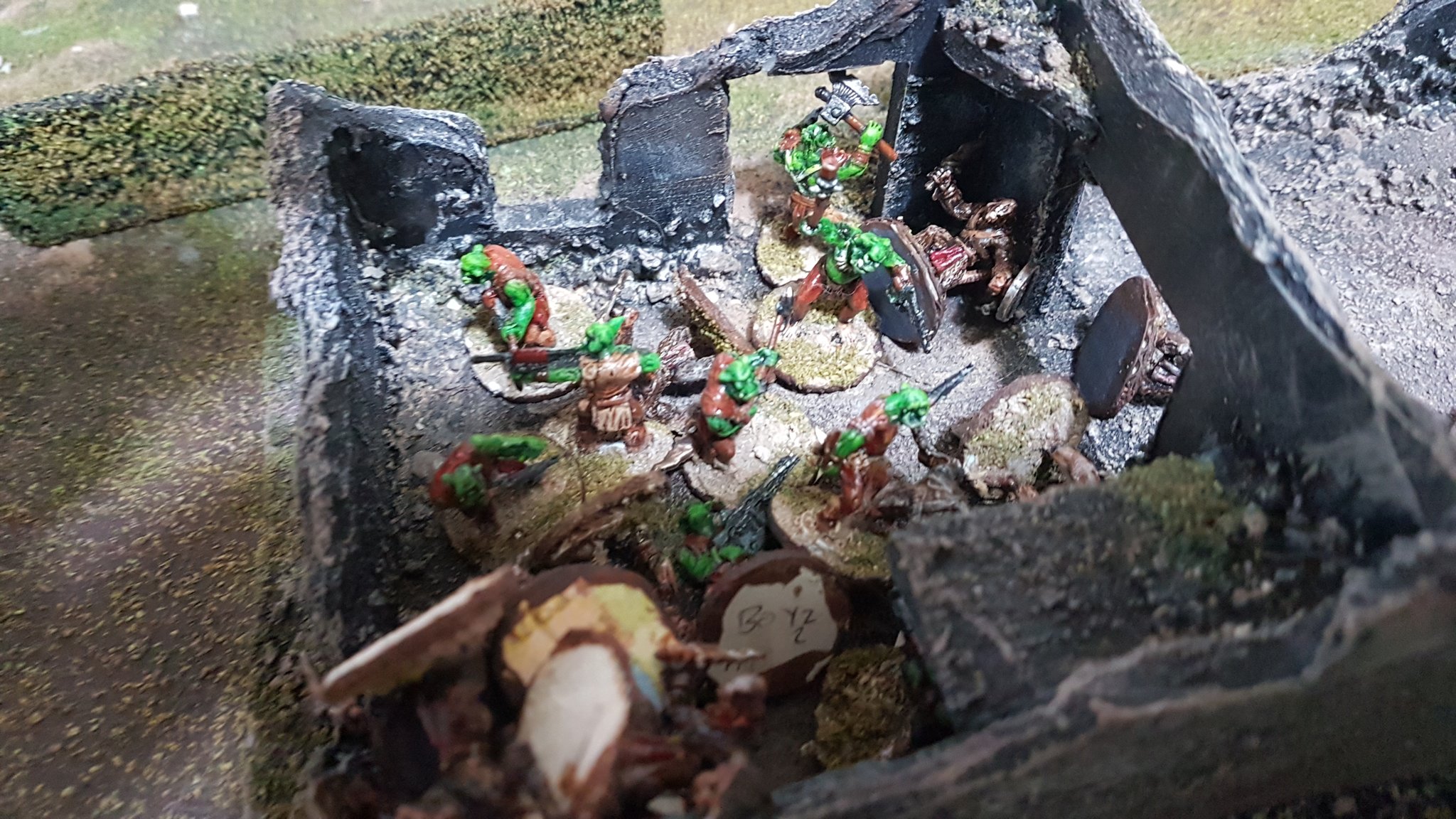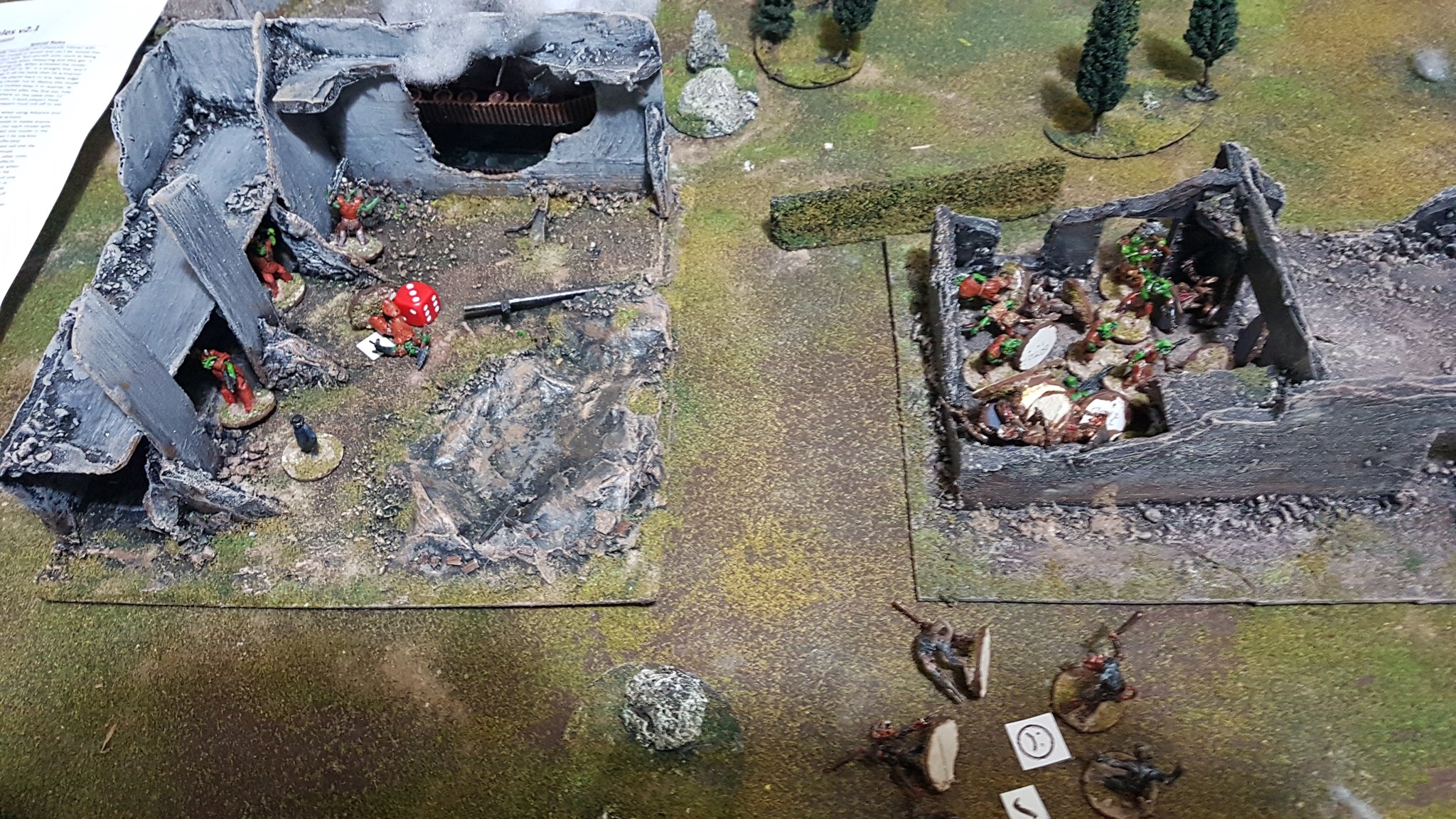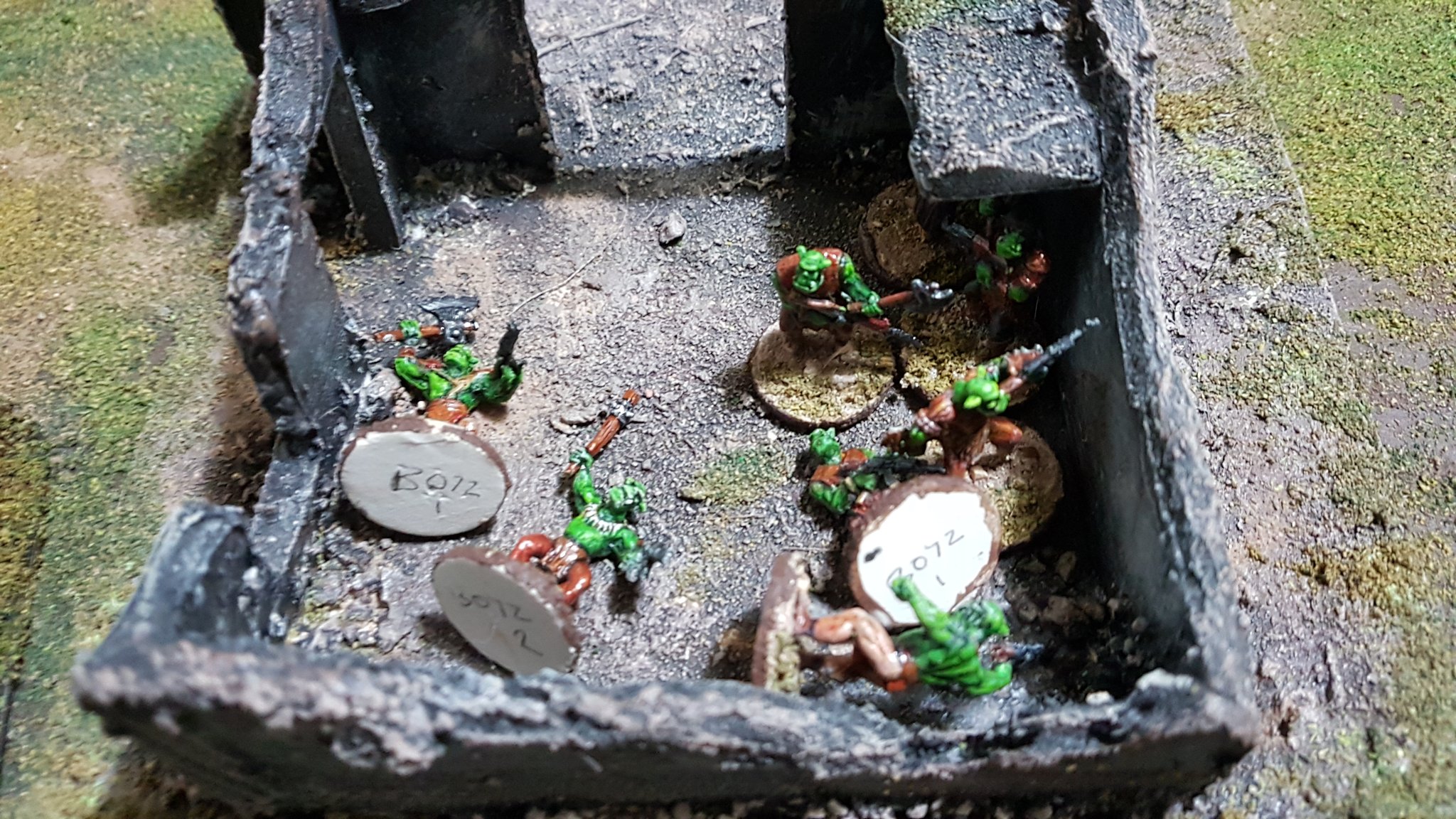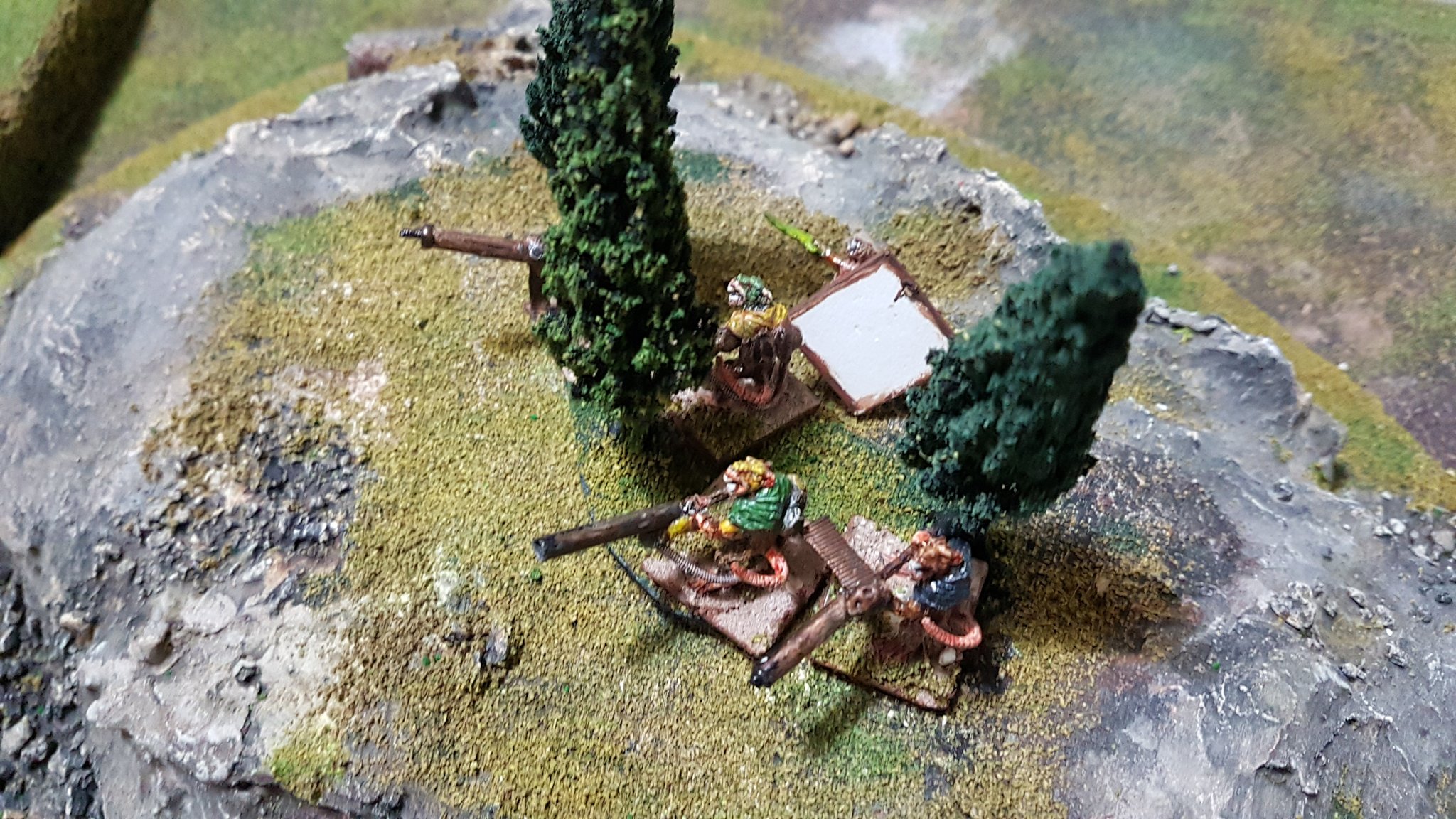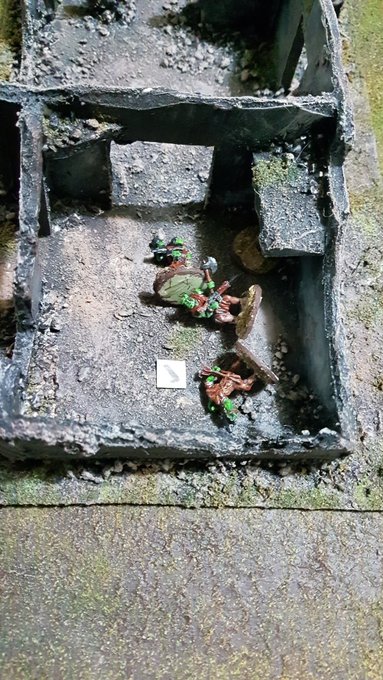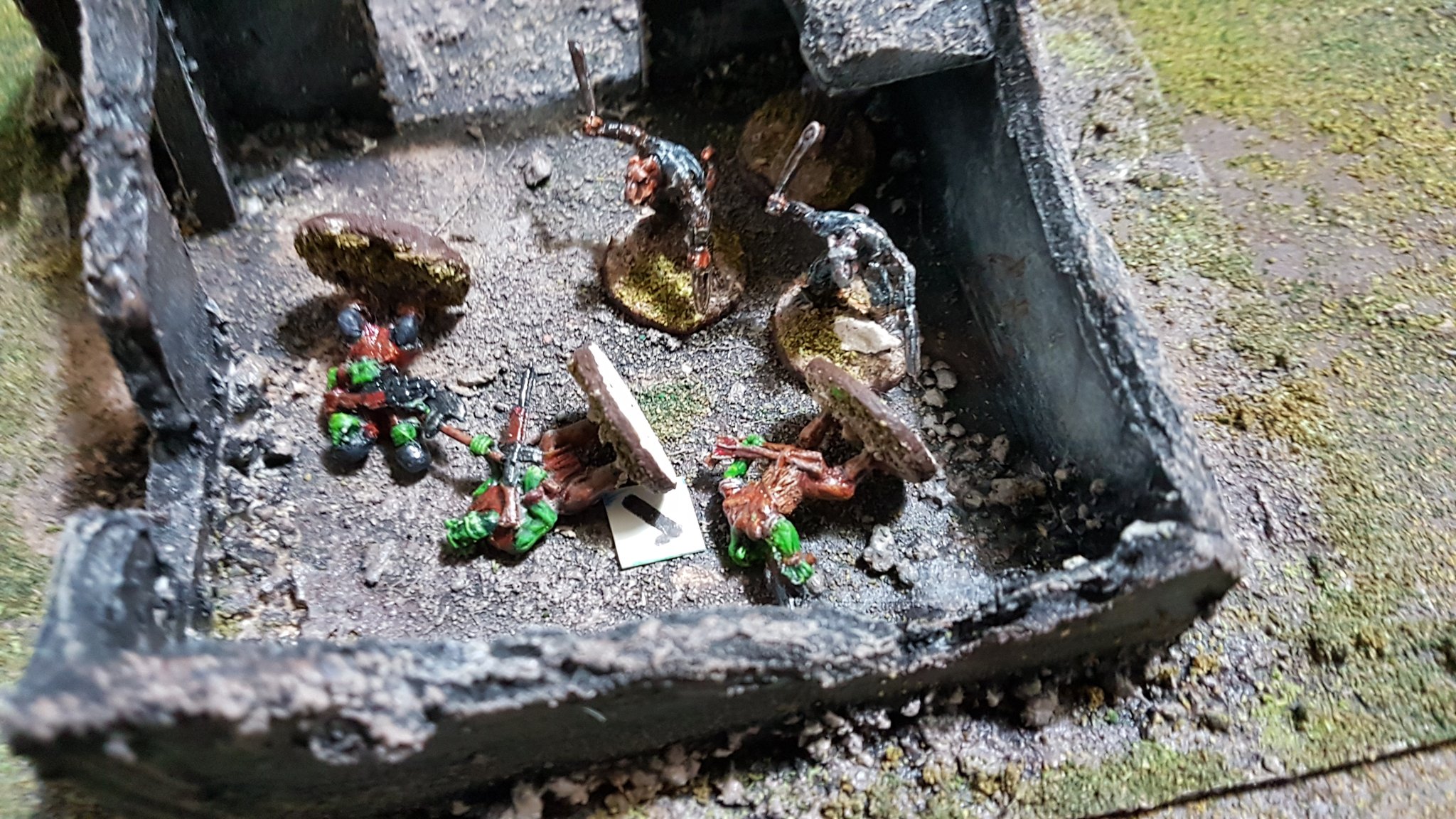 Well, that was quite something, went down almost to the last dice roll of the game – congratulations to Ratticus McStilton, he won fair and square, leaving Orc Warlord Enzo Ferrorki to seethe, knock a few heads together and come back with a new plan for the next game…
So that leaves the scores as –
Human Defence Force – 3.5
Ratmen Clans – 1.5
Rebel Guerillas – 1
Orc Marauders & Battle Brothers – 0
Winner stays on, so that'll be the Ratmen facing the Peope's Front Of Hazzard in their next game (lockdowns permitting..)
Game 7 – Ratmen v Rebel Guerillas
Winner stays on, so in this battle Ratticus' boys will be taking on the People's Front Of Hazzard 237th Freedom Brigade – can the defenders of social justice, equality and diversity face down the cheese eating vicious mutants?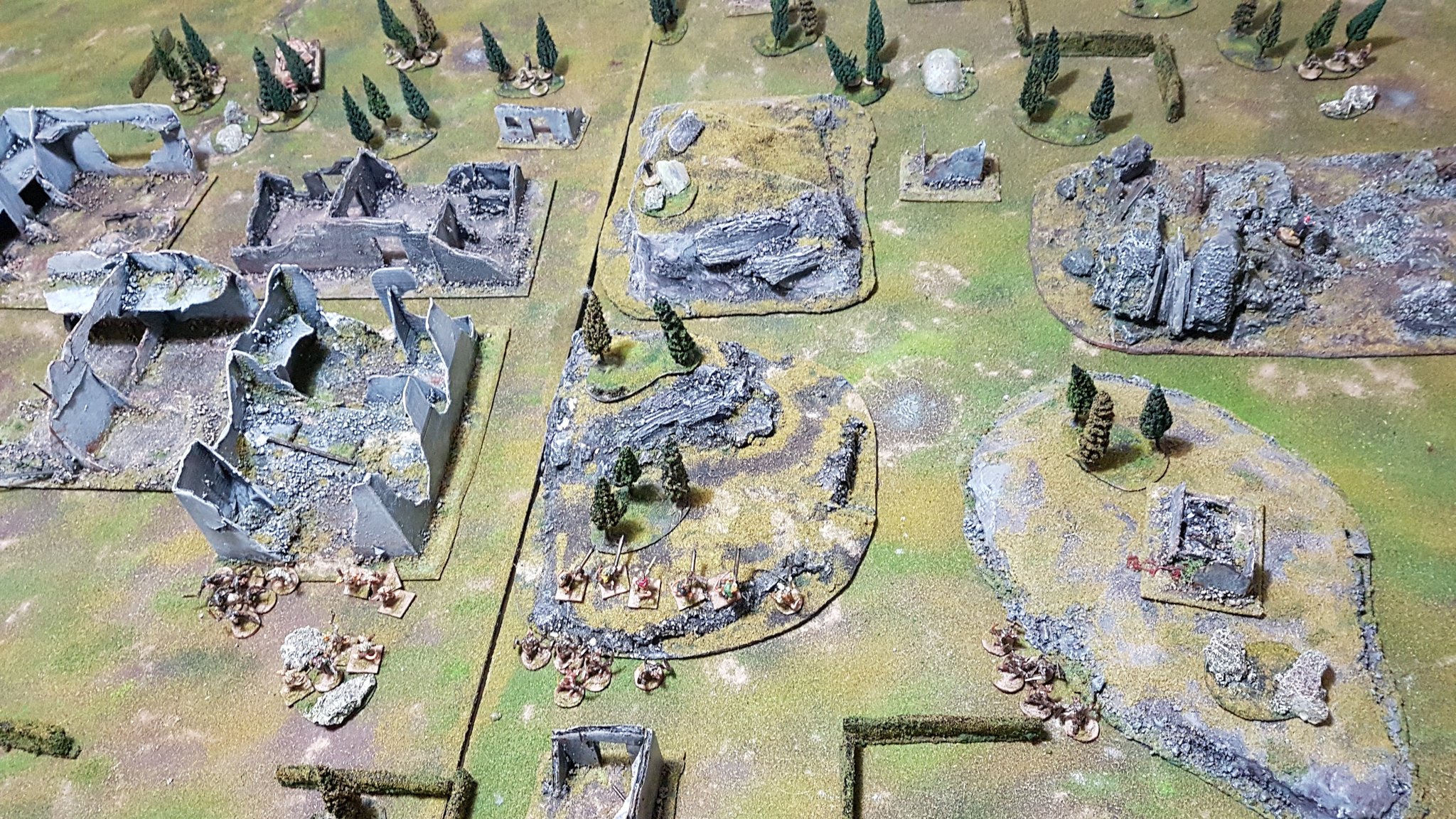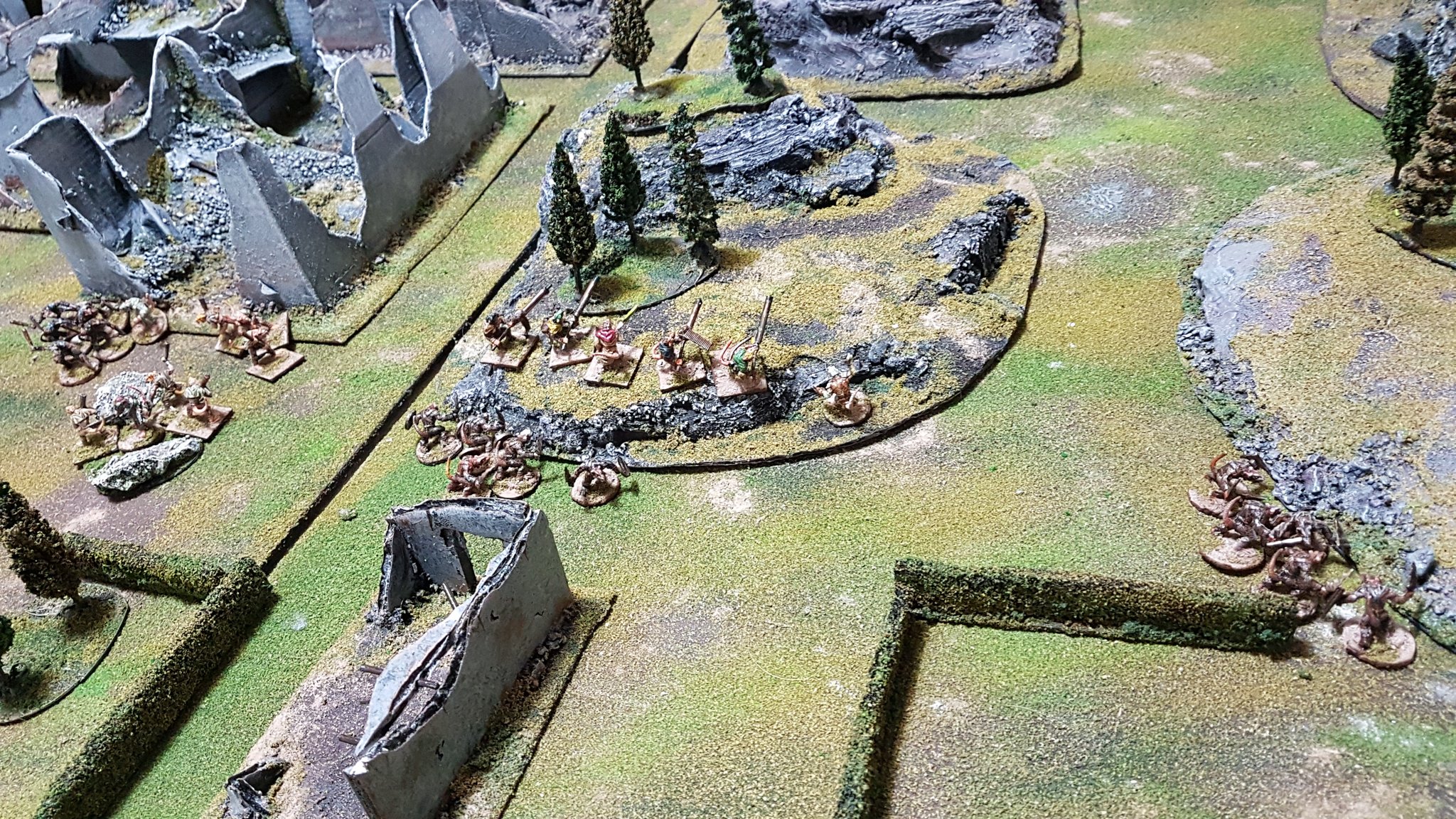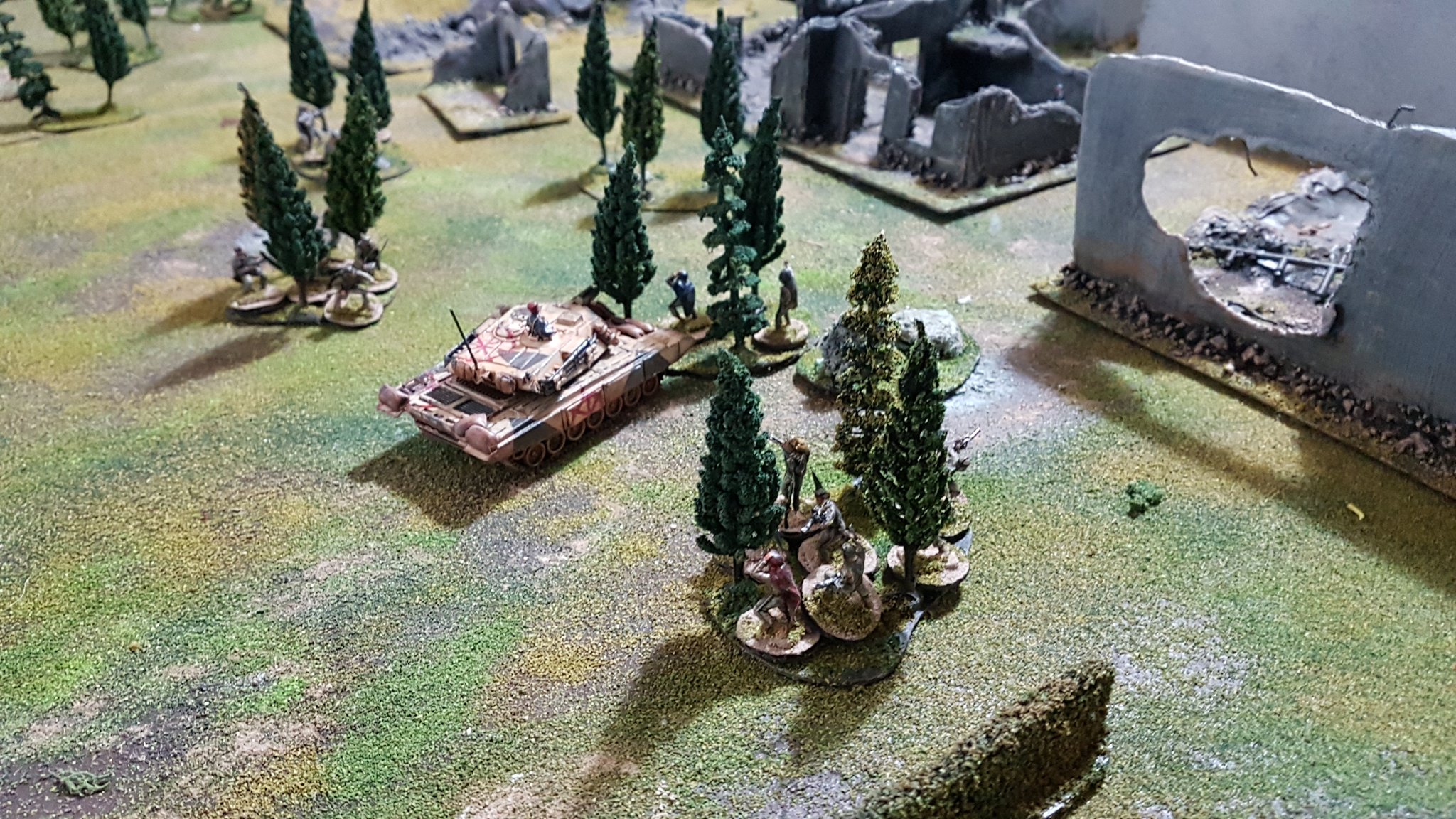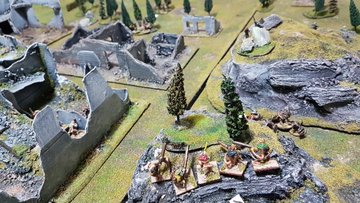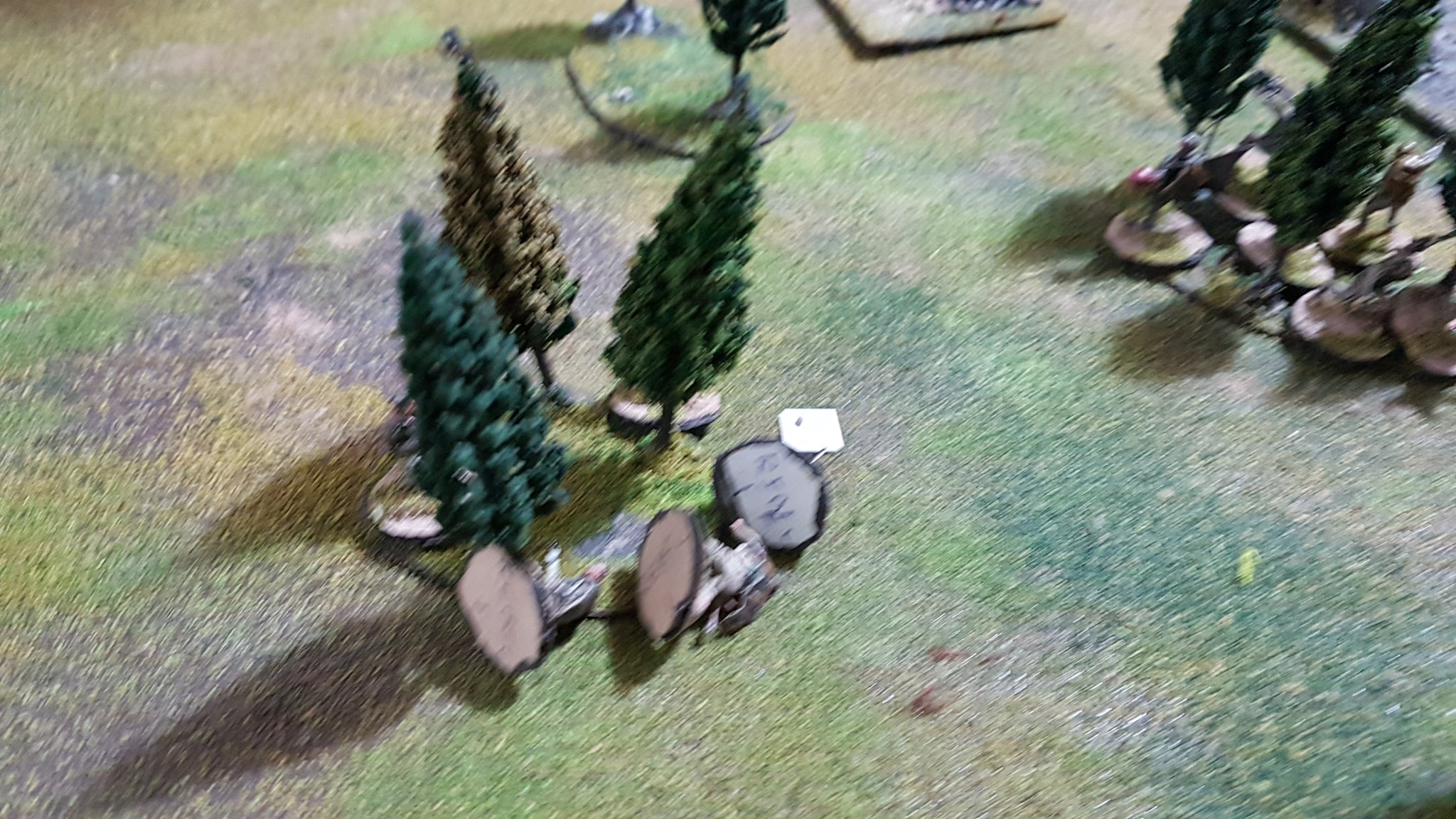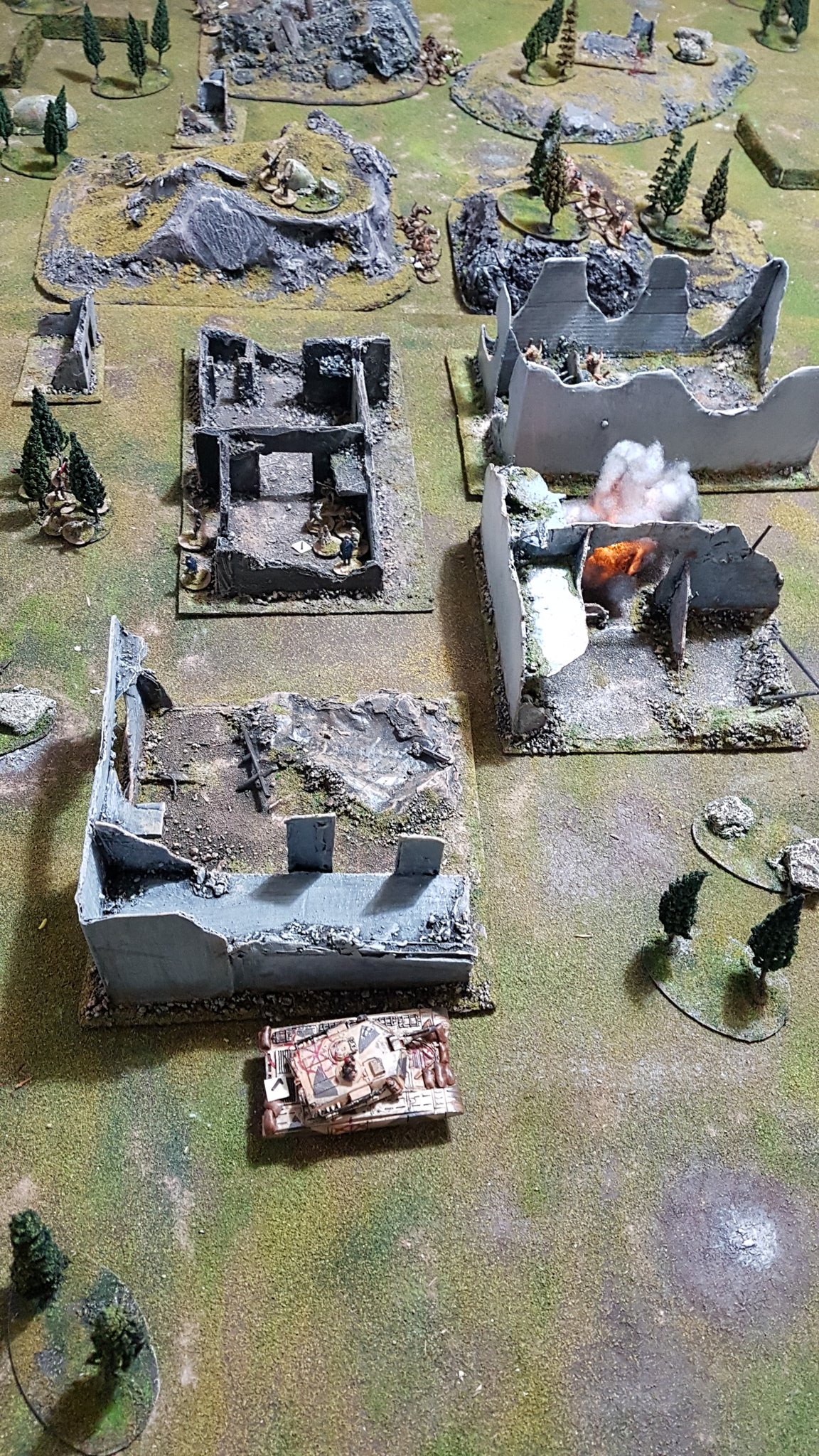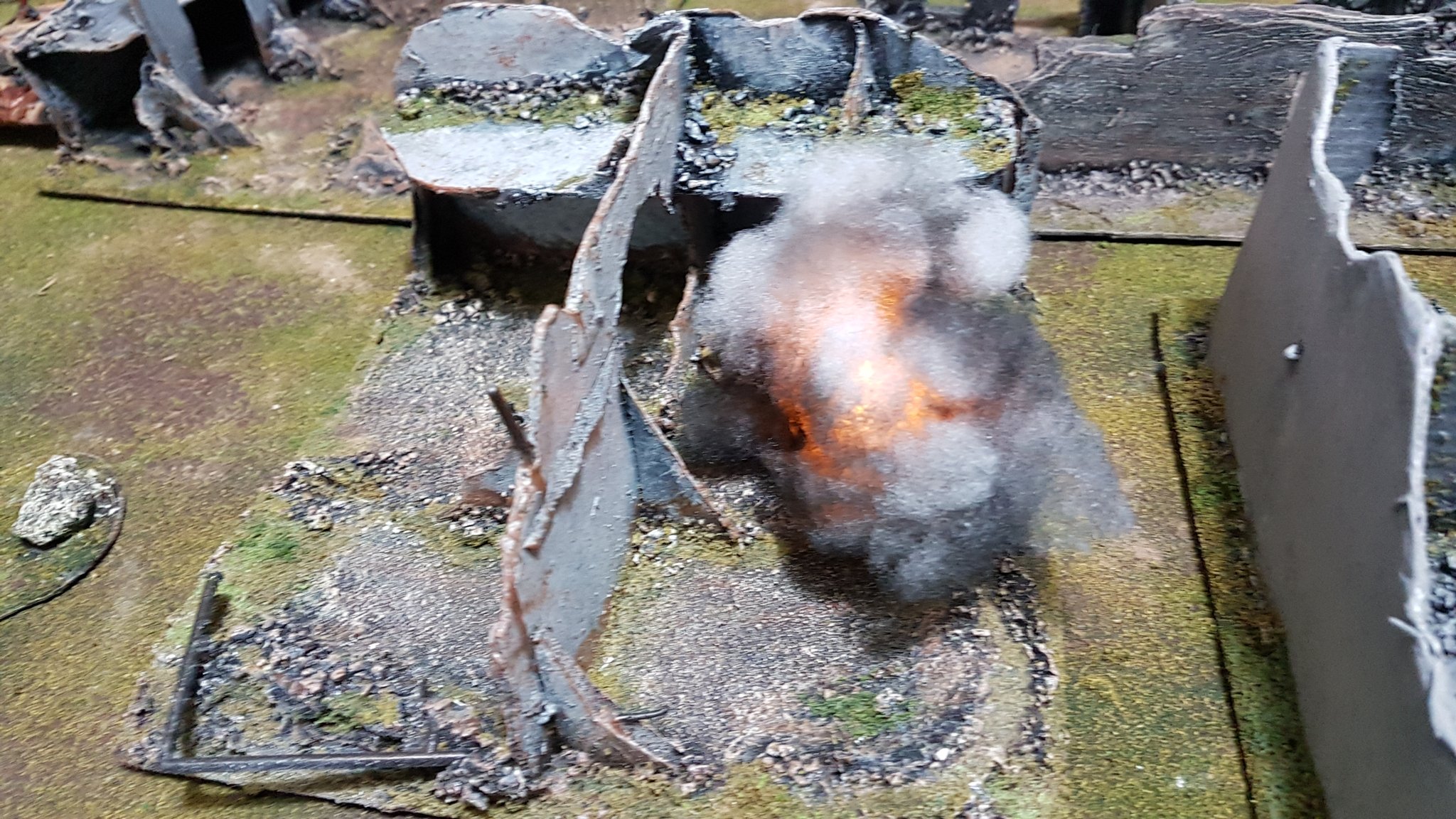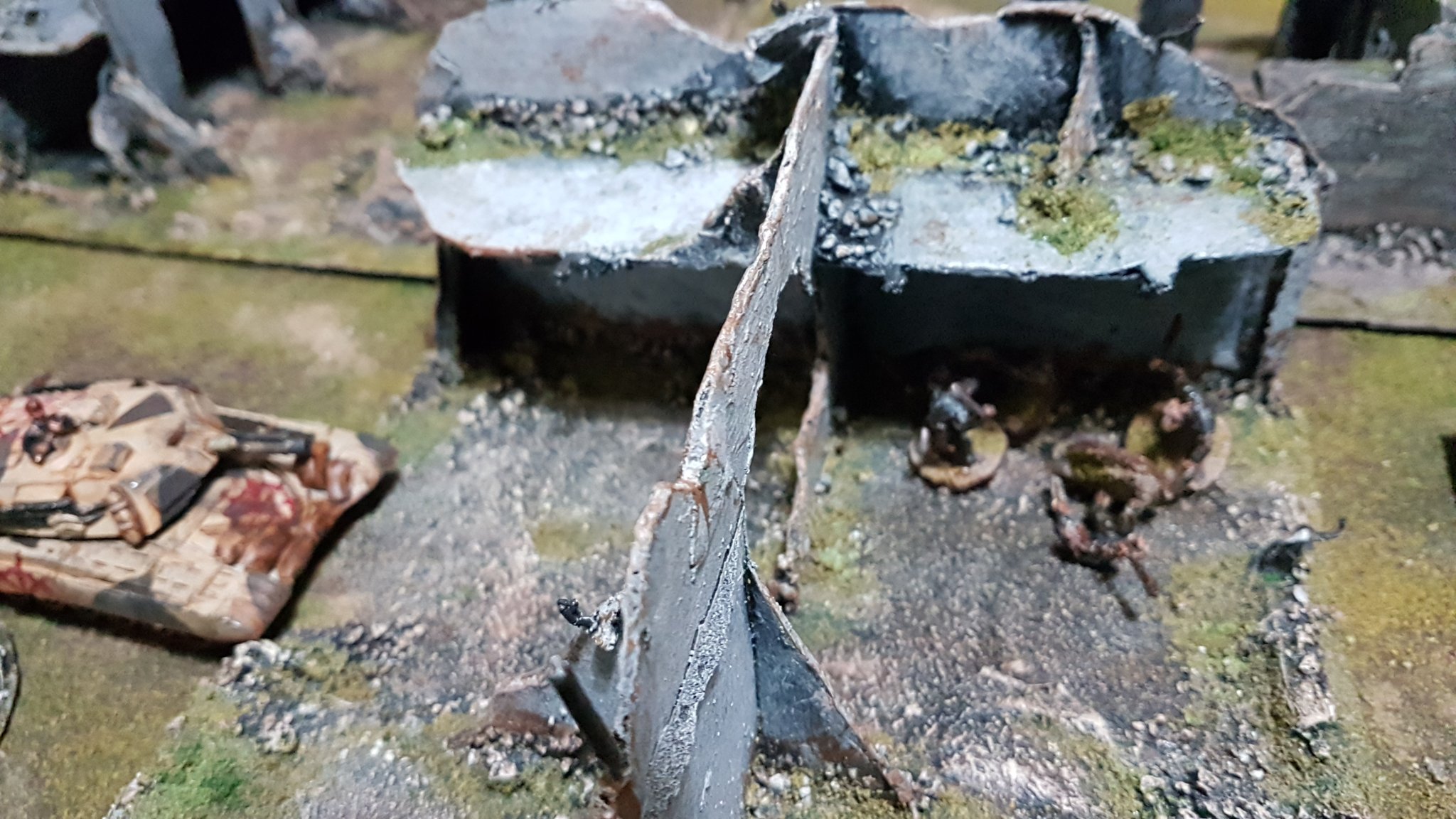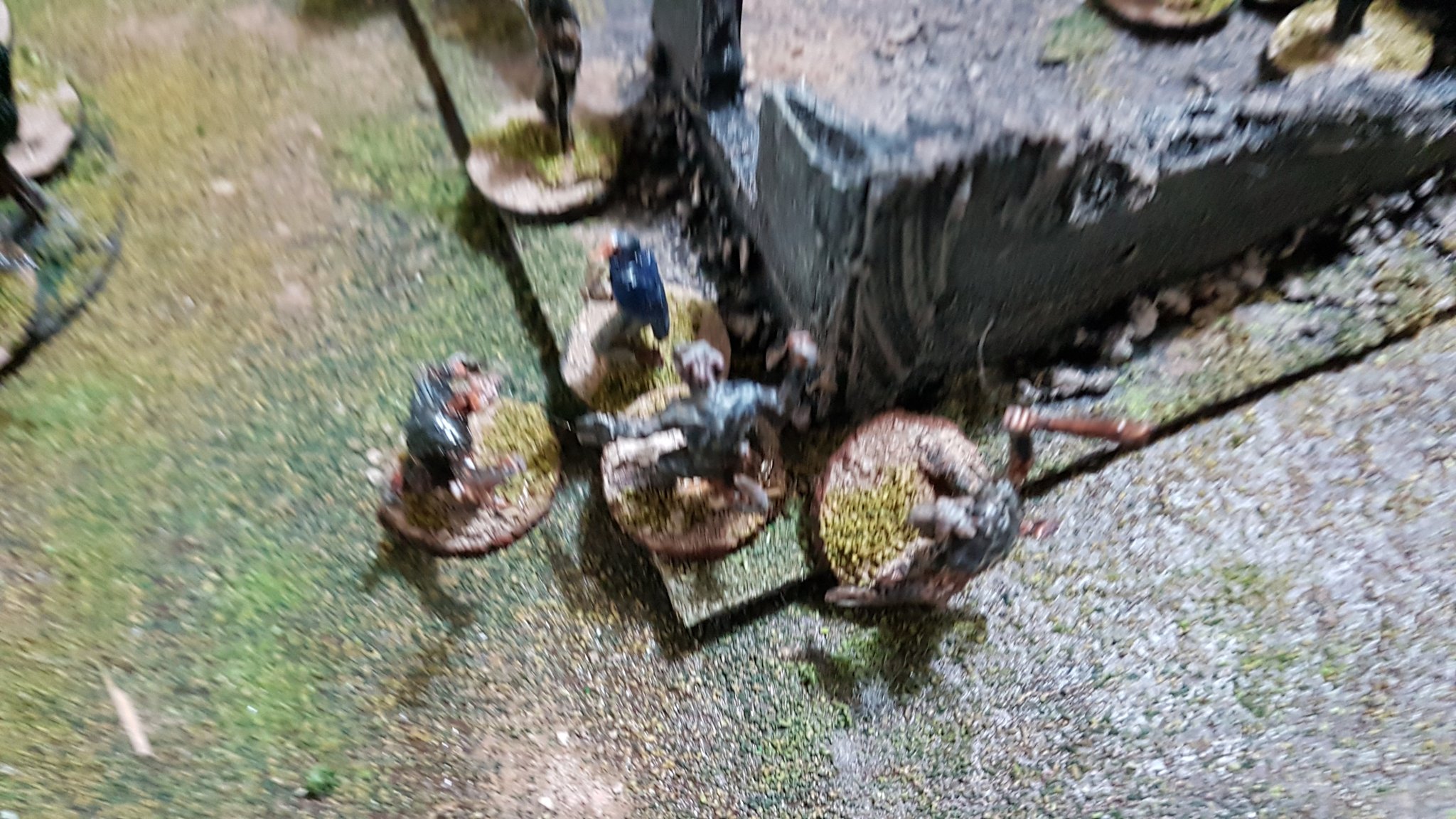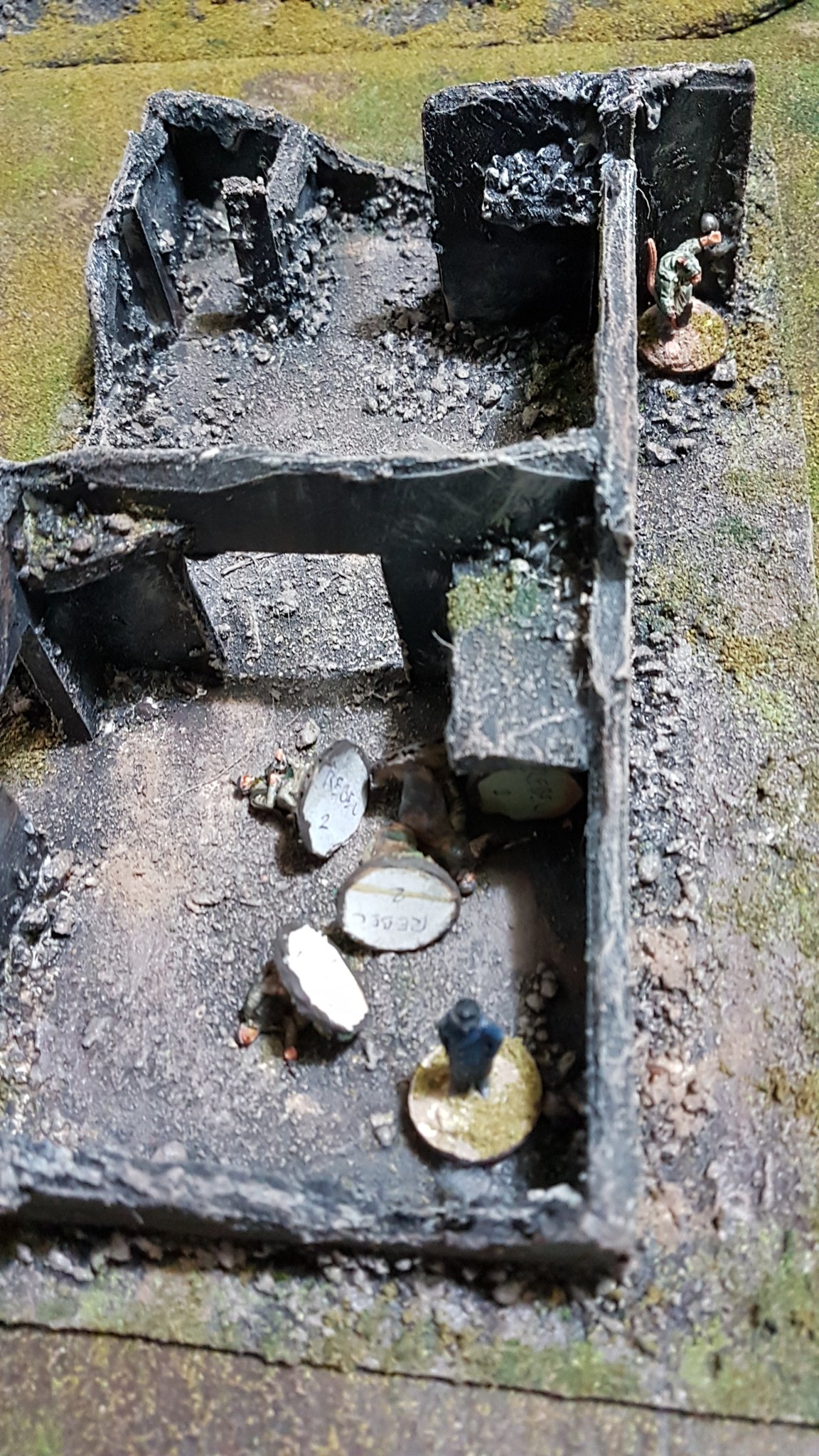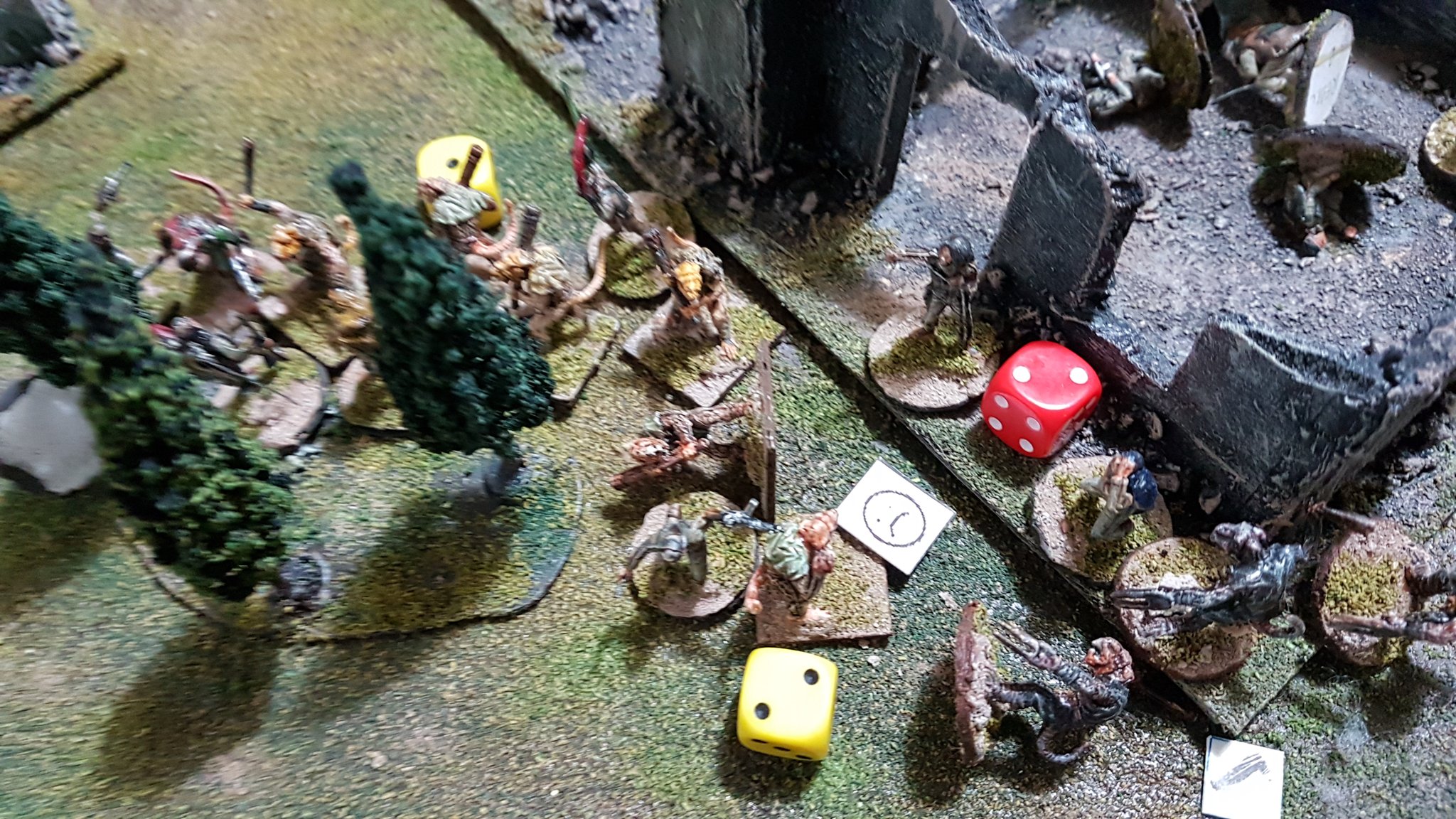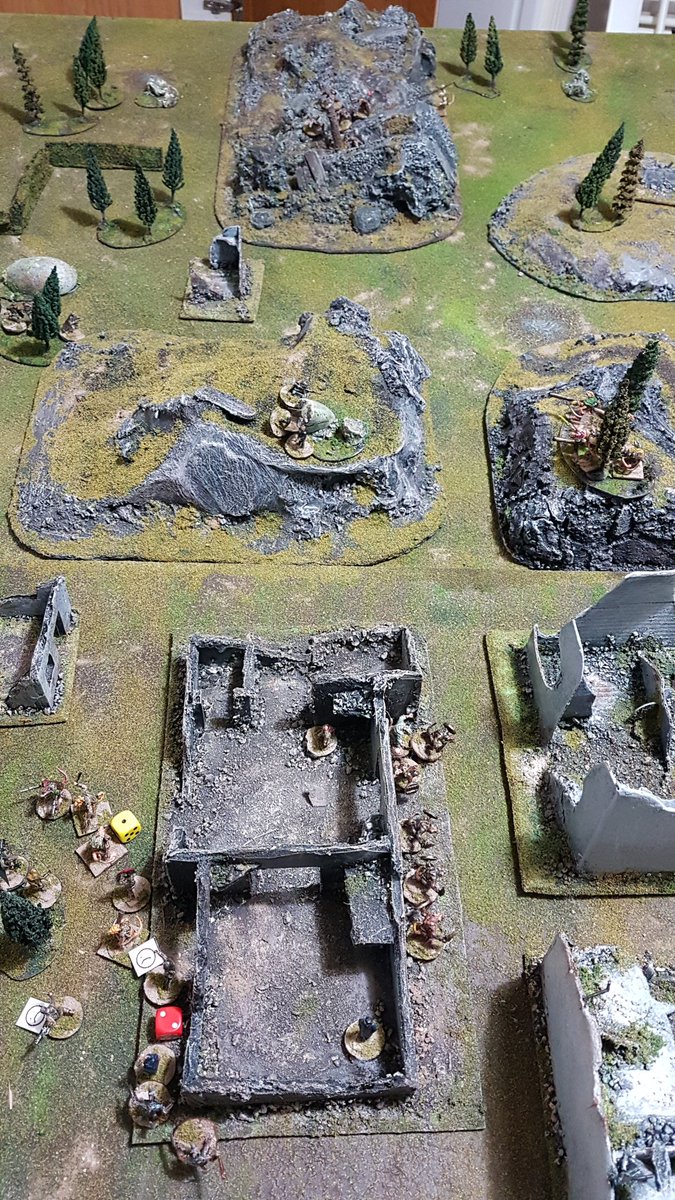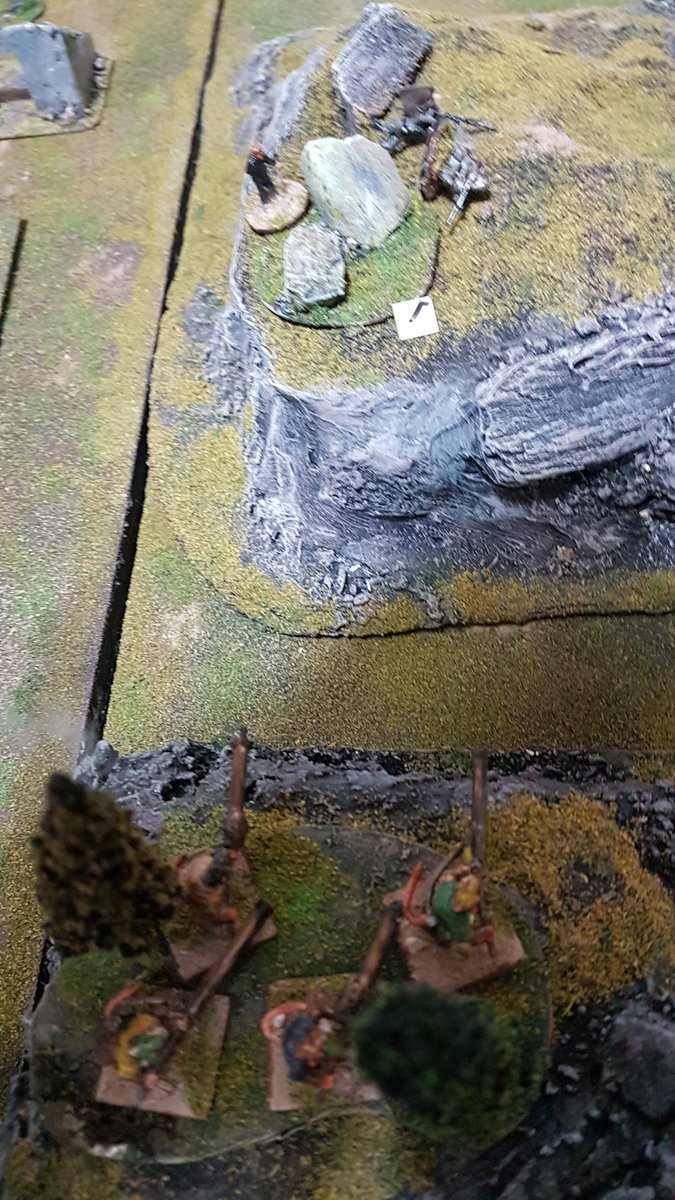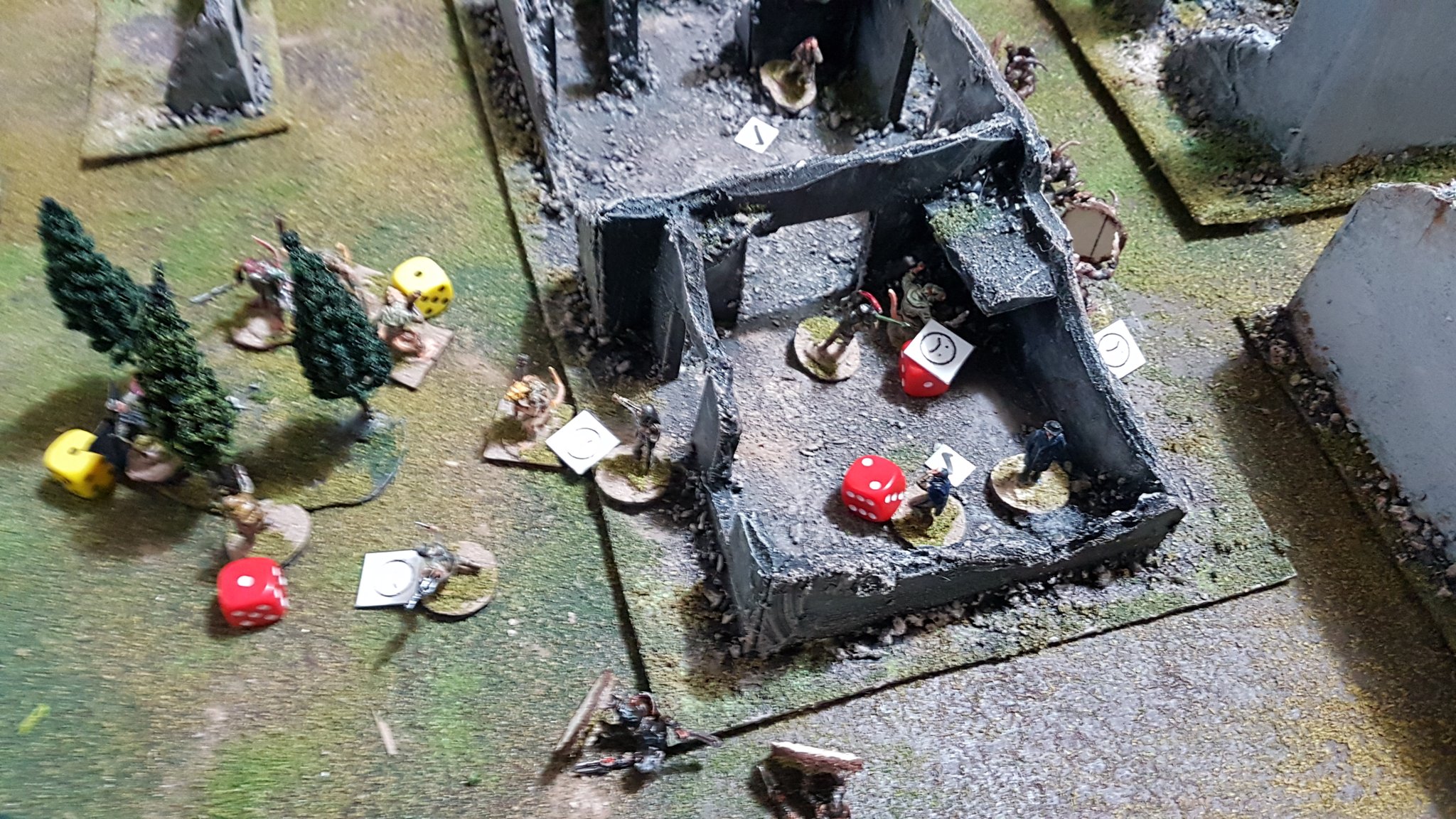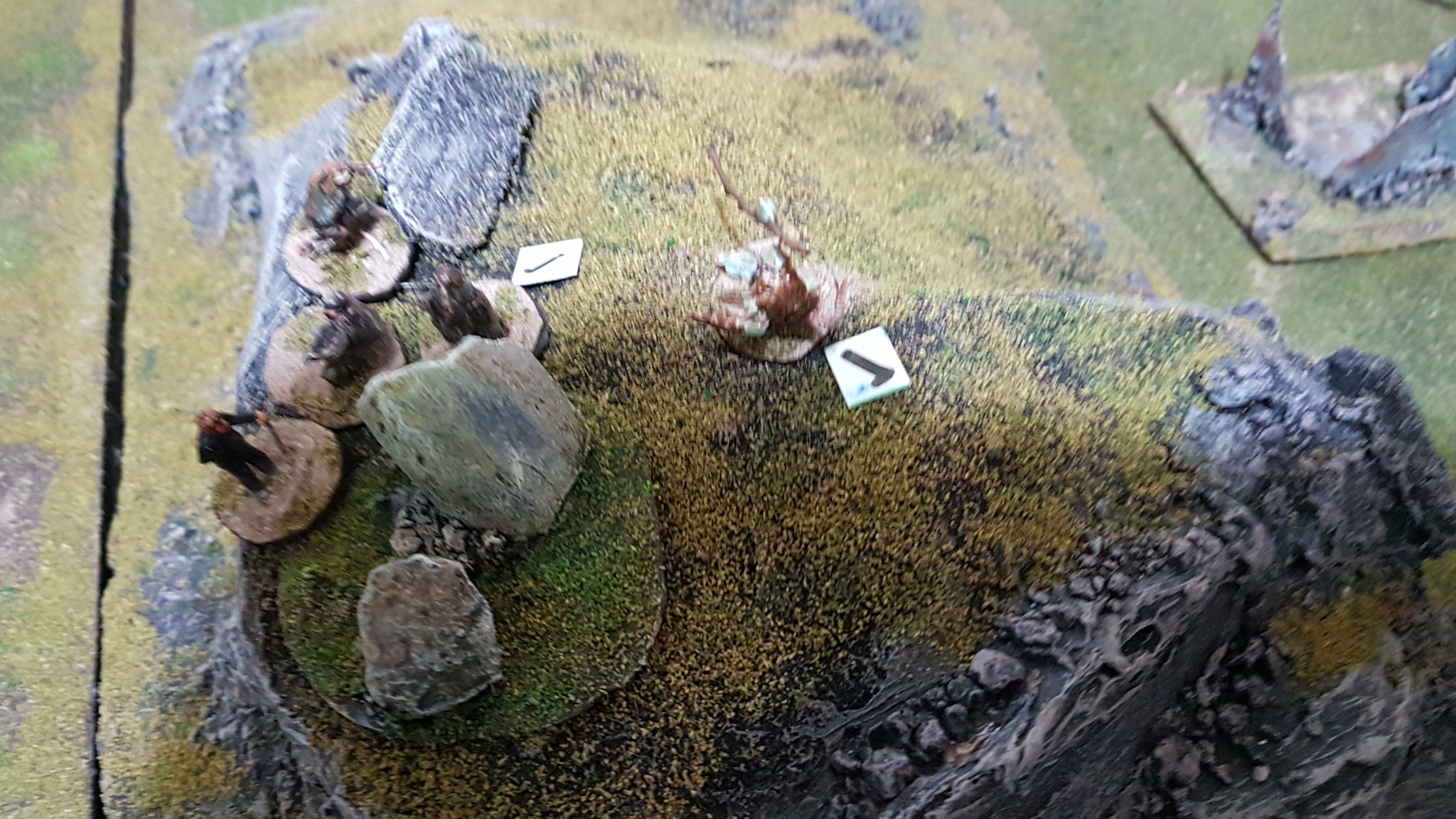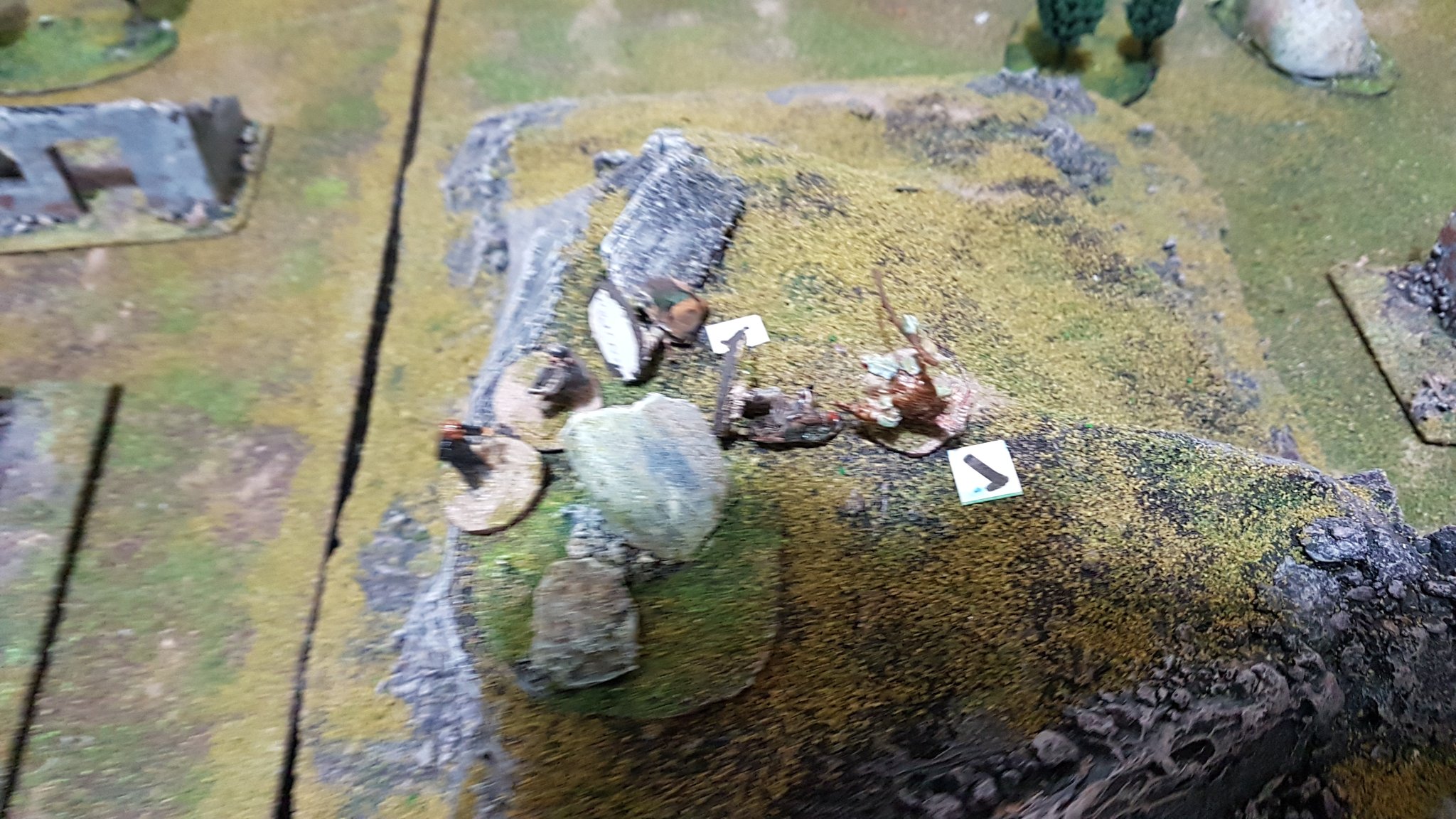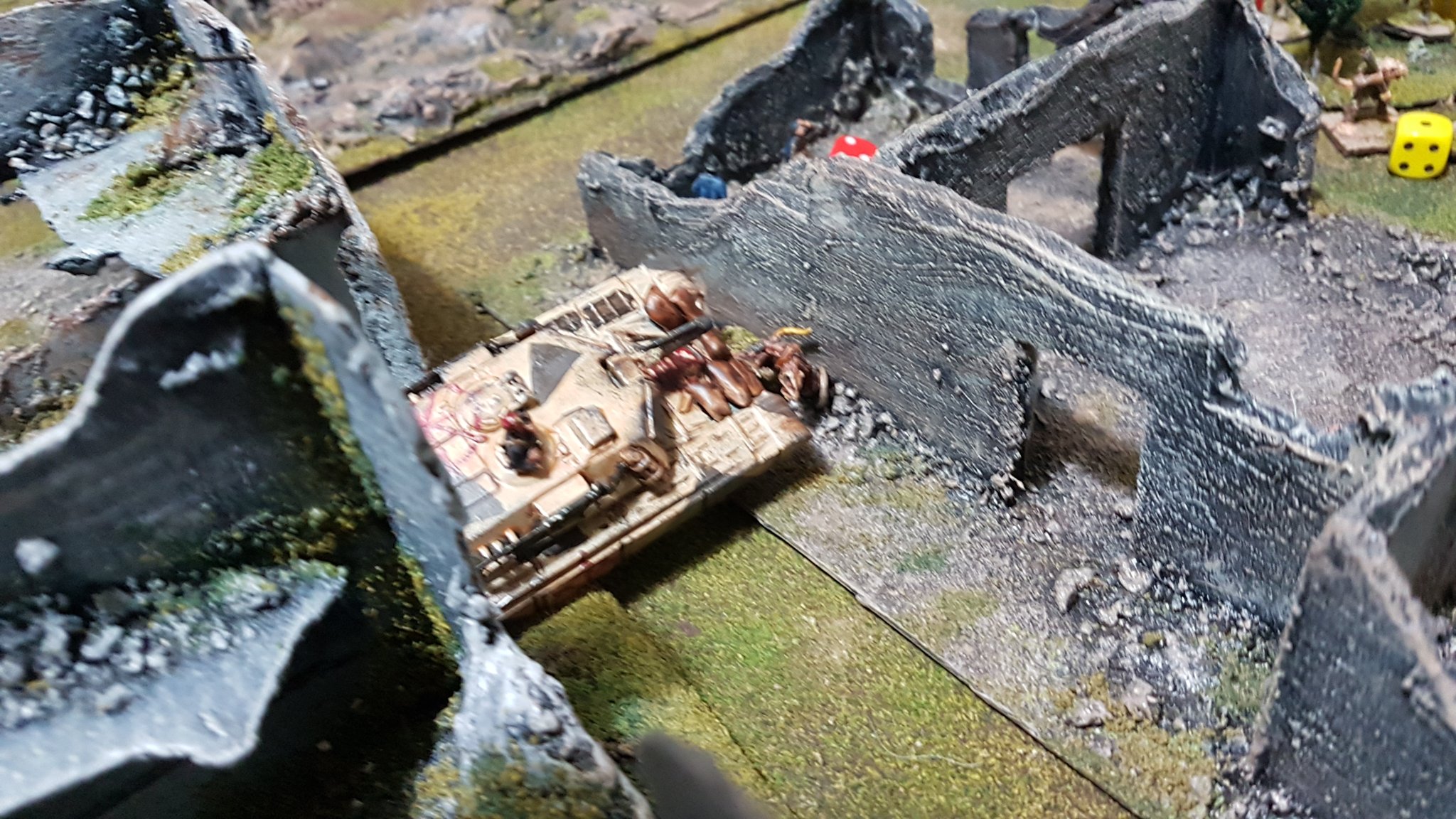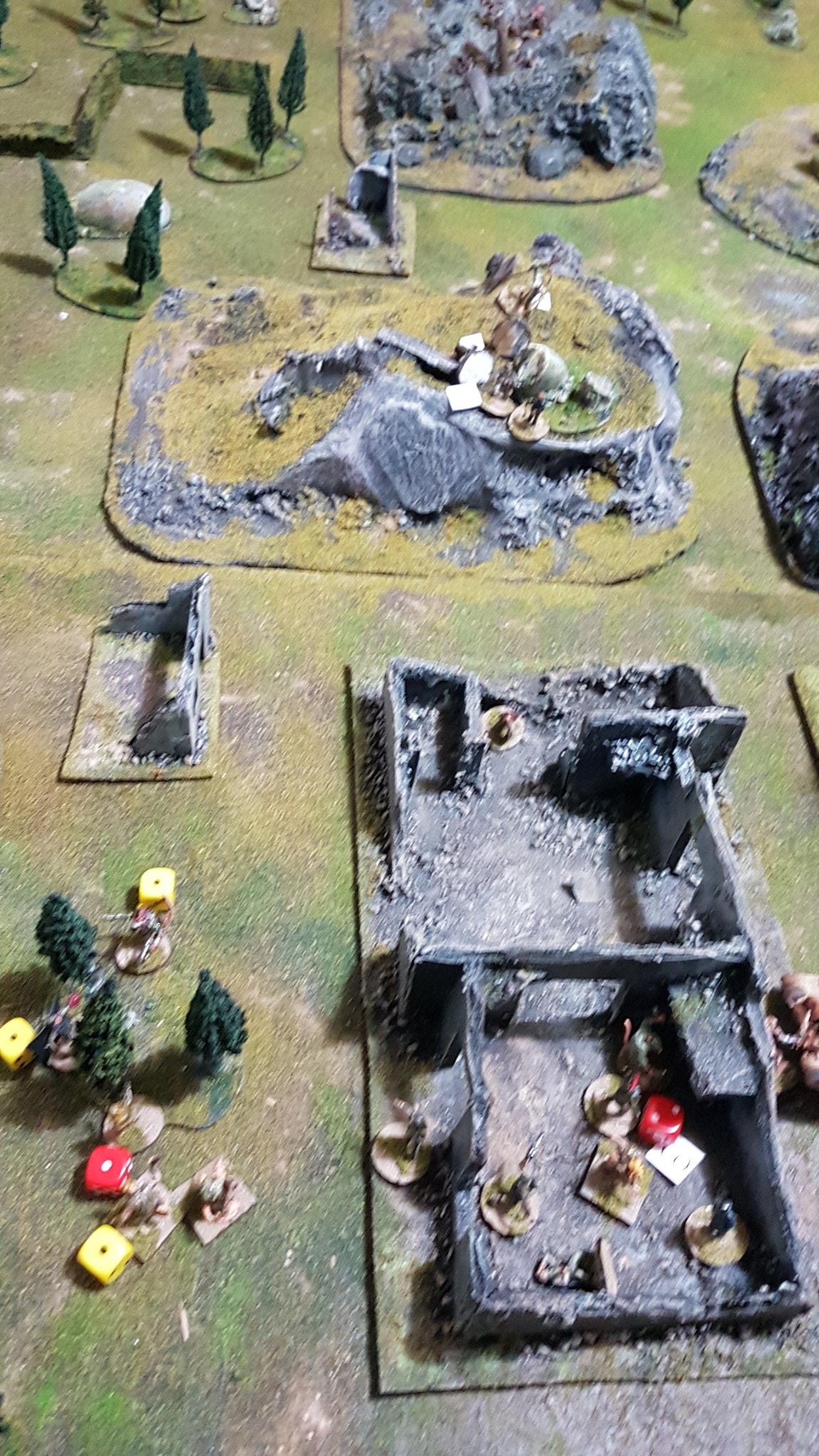 Whew, that was a belter – could have gone either way really, but when the bounty hunters got hosed off the hilltop objective that was really the end of PFH victory hopes. One hell of a fight around that farmhouse though, and the very cinematic moment of the rebel tank crushing a Ratman against the wall was one of the standout moments of the game! SO that brings the scores to:
Human Defence Force – 3.5
Ratmen Clans – 2.5
Rebel Guerillas – 1
Orc Marauders & Battle Brothers – 0
Once again, winner stays on, so next up the Ratmen clans will fight the Battle Brothers for a chance to share the trophy with the Human Defence Force! See you then (lockdowns permitting…) ..
Game 8 – Ratmen Clans vs Battle Brothers
So we return to the slippery Ratmen, this time facing (trans)humanity's finest – the Battle Brothers! It has to be said, the Brothers have fared pretty poorly so far – their concept of deploying fast via APC and getting stuck in, relying on their power armour (Defence 2+) to keep them alive has NOT worked out so far (although their dice rolling has generally been appalling), so perhaps a new approach is necessary…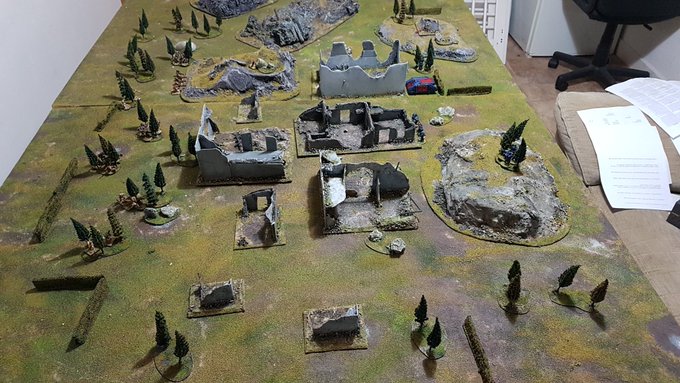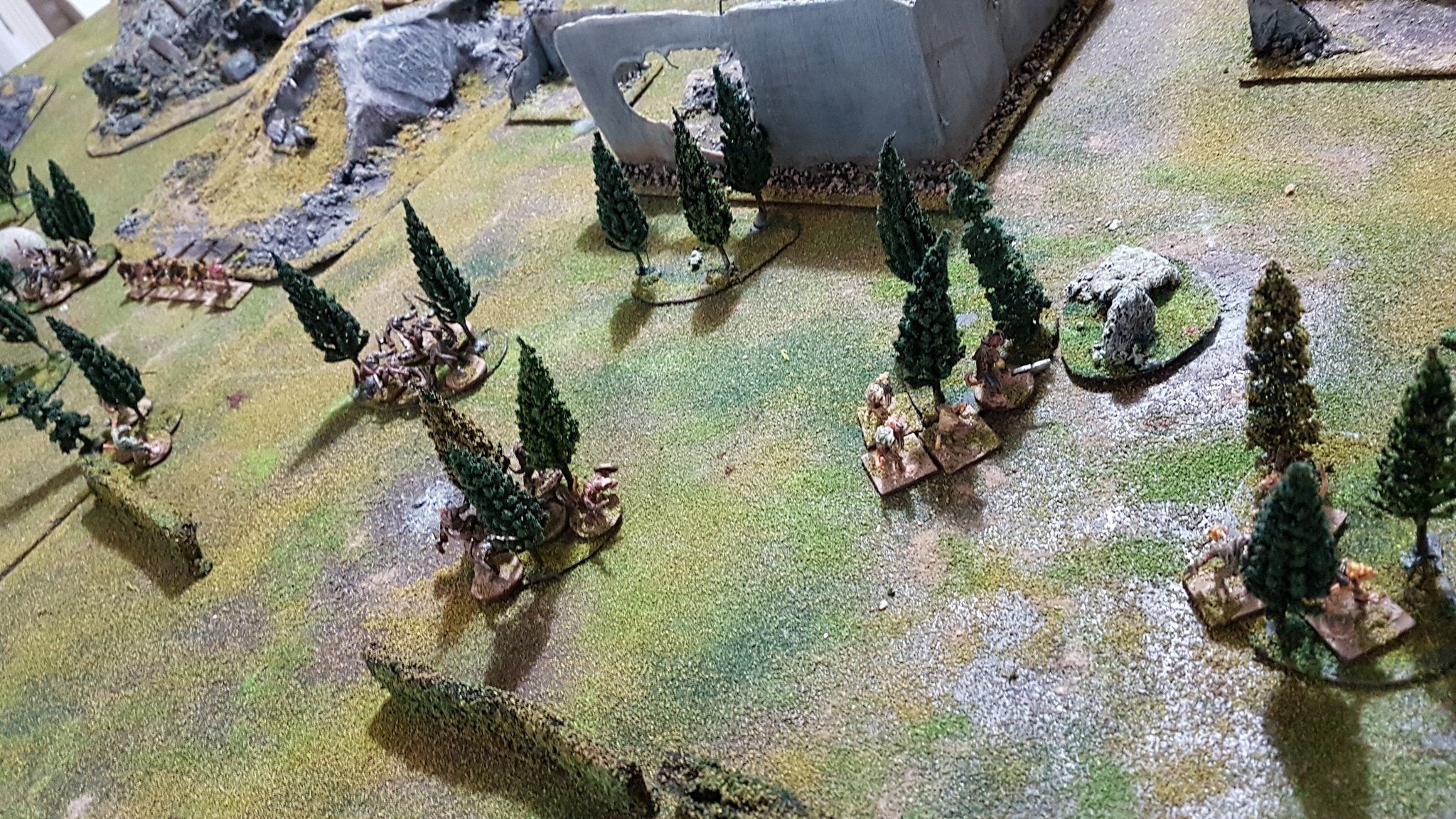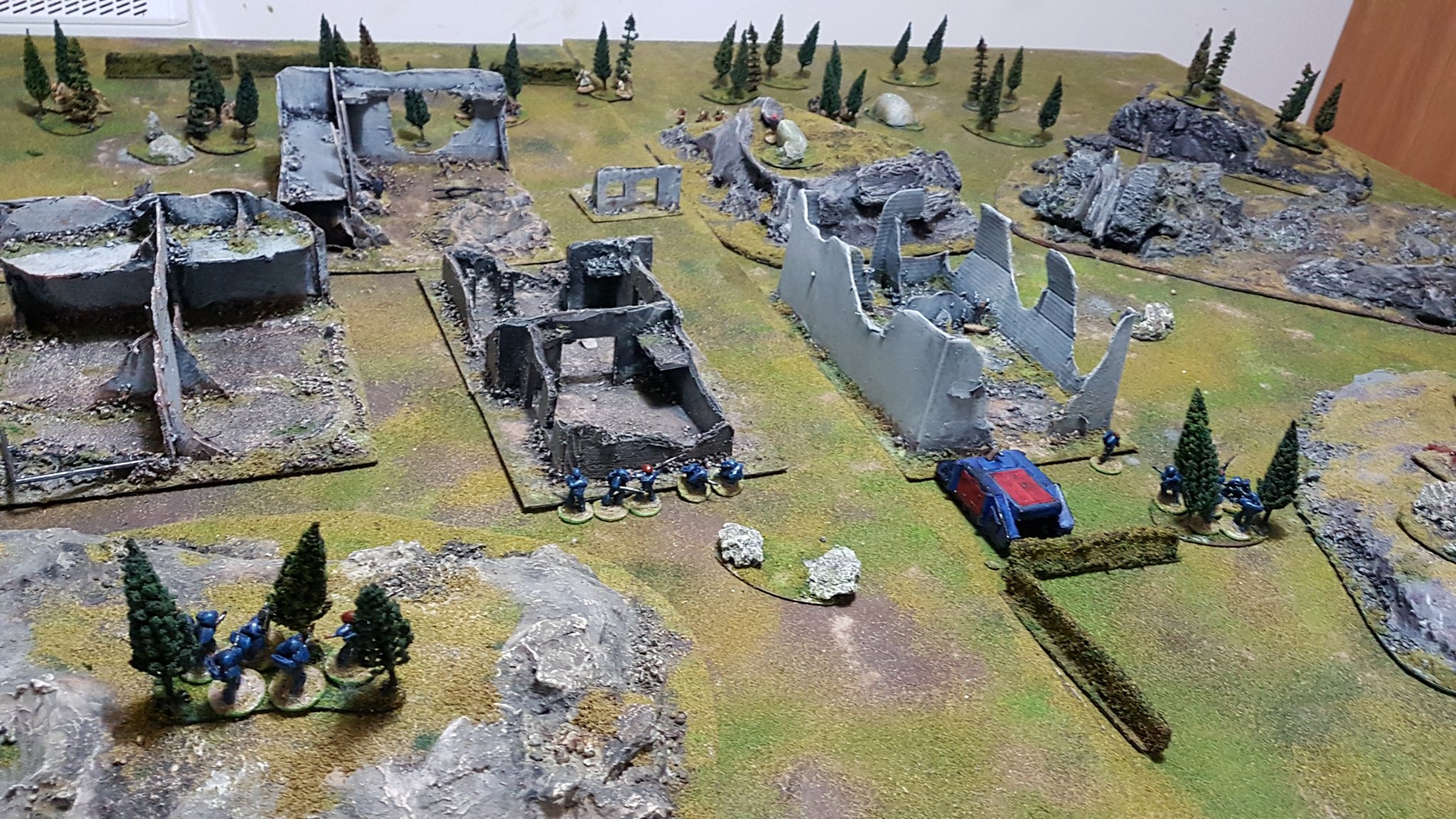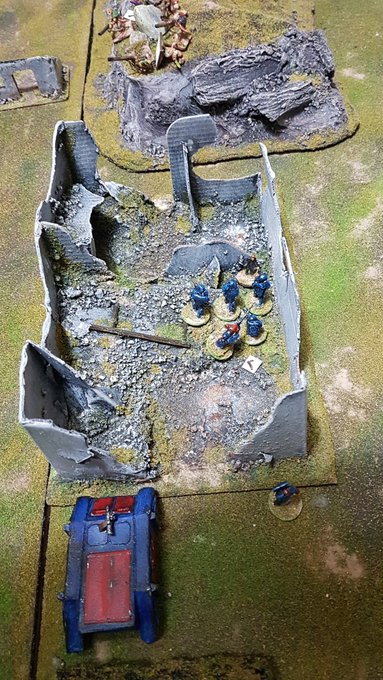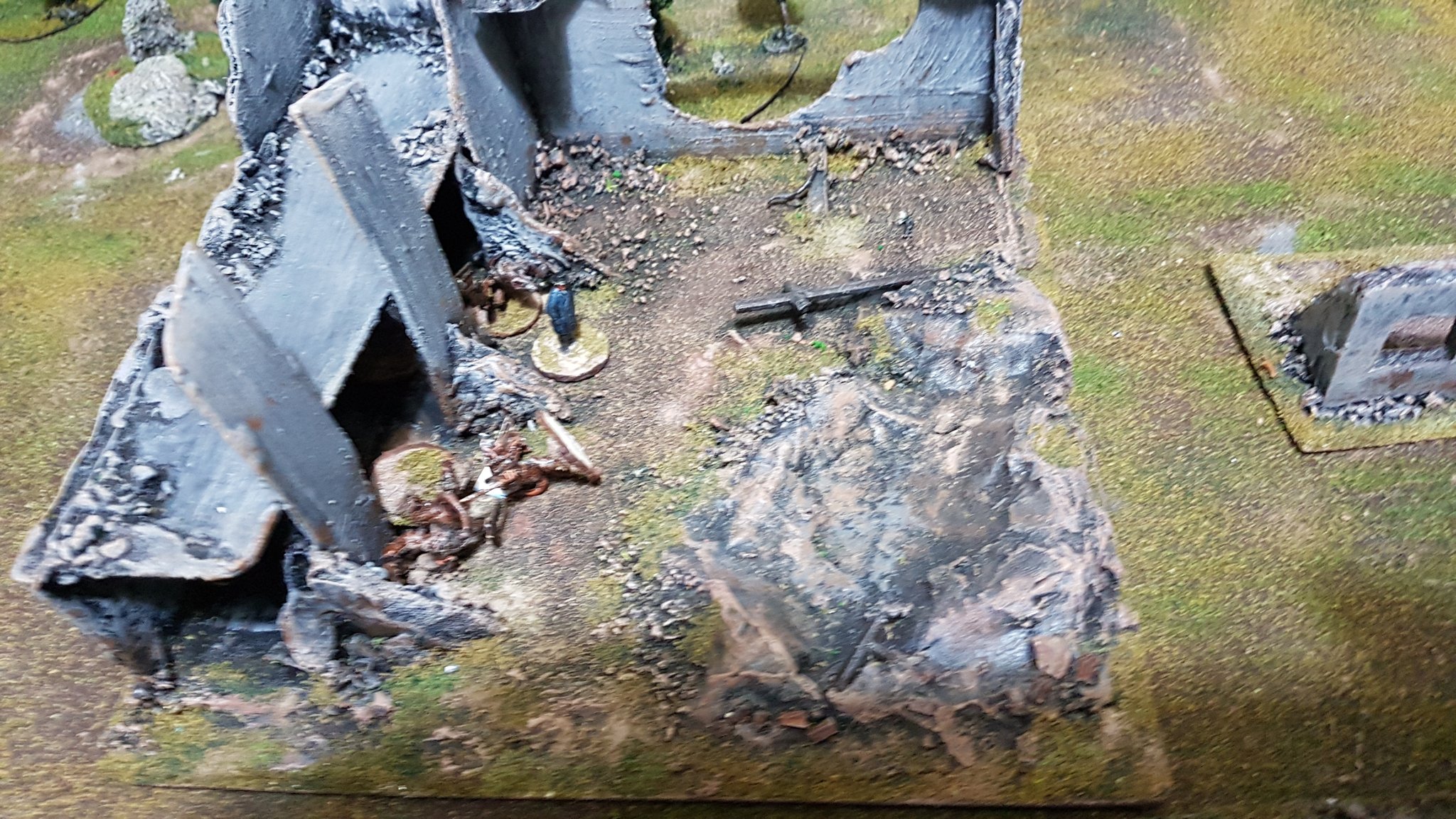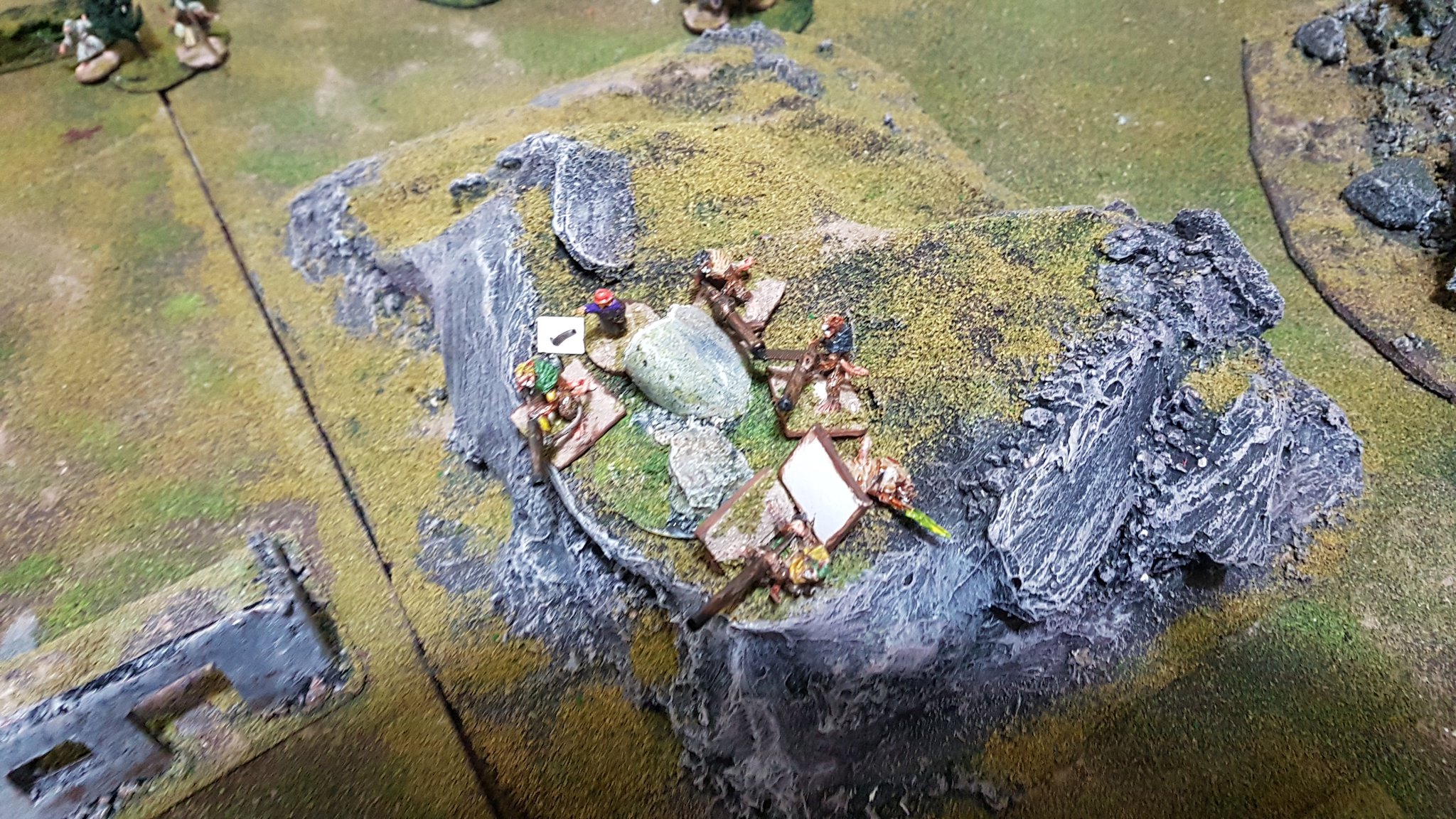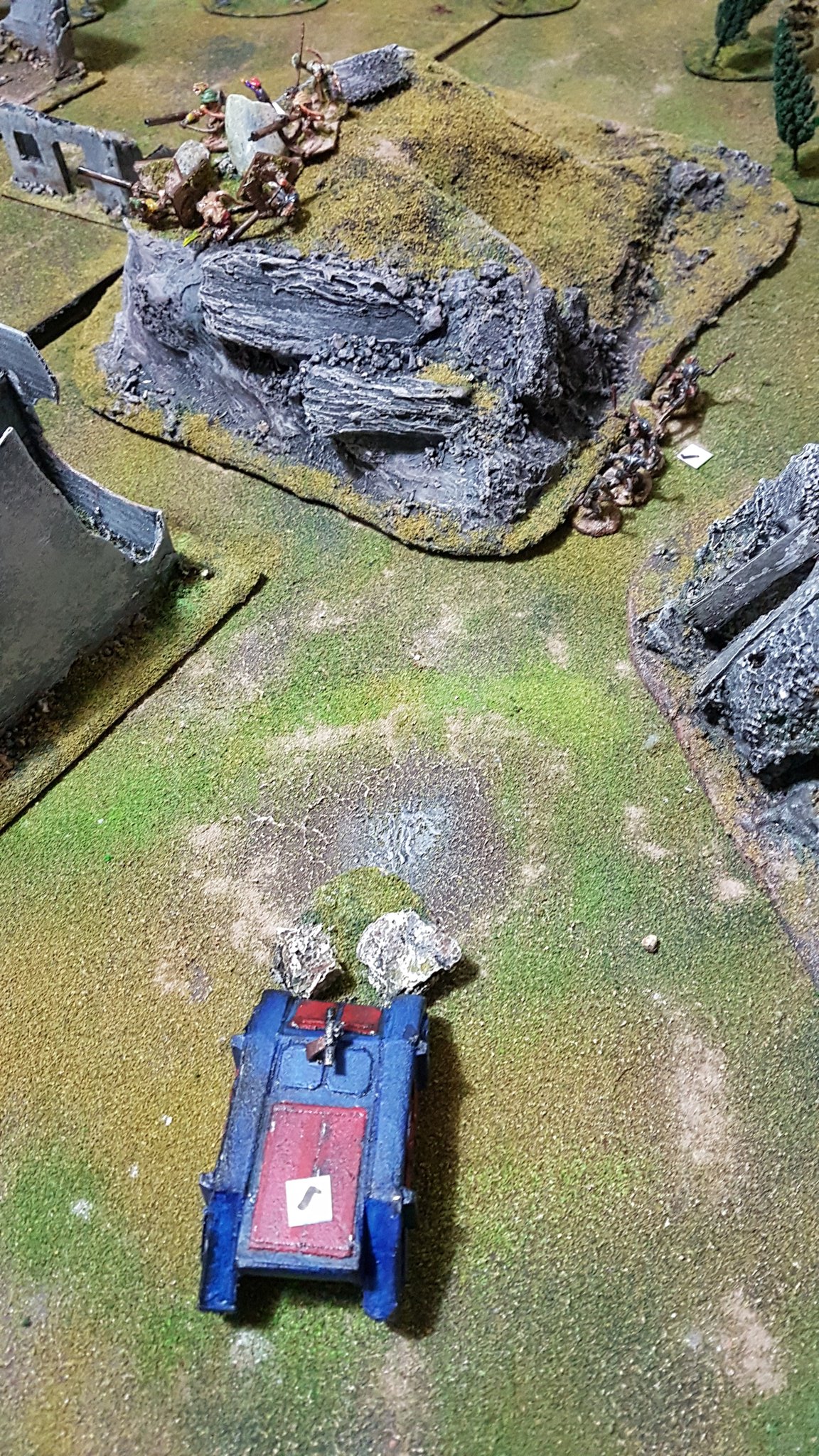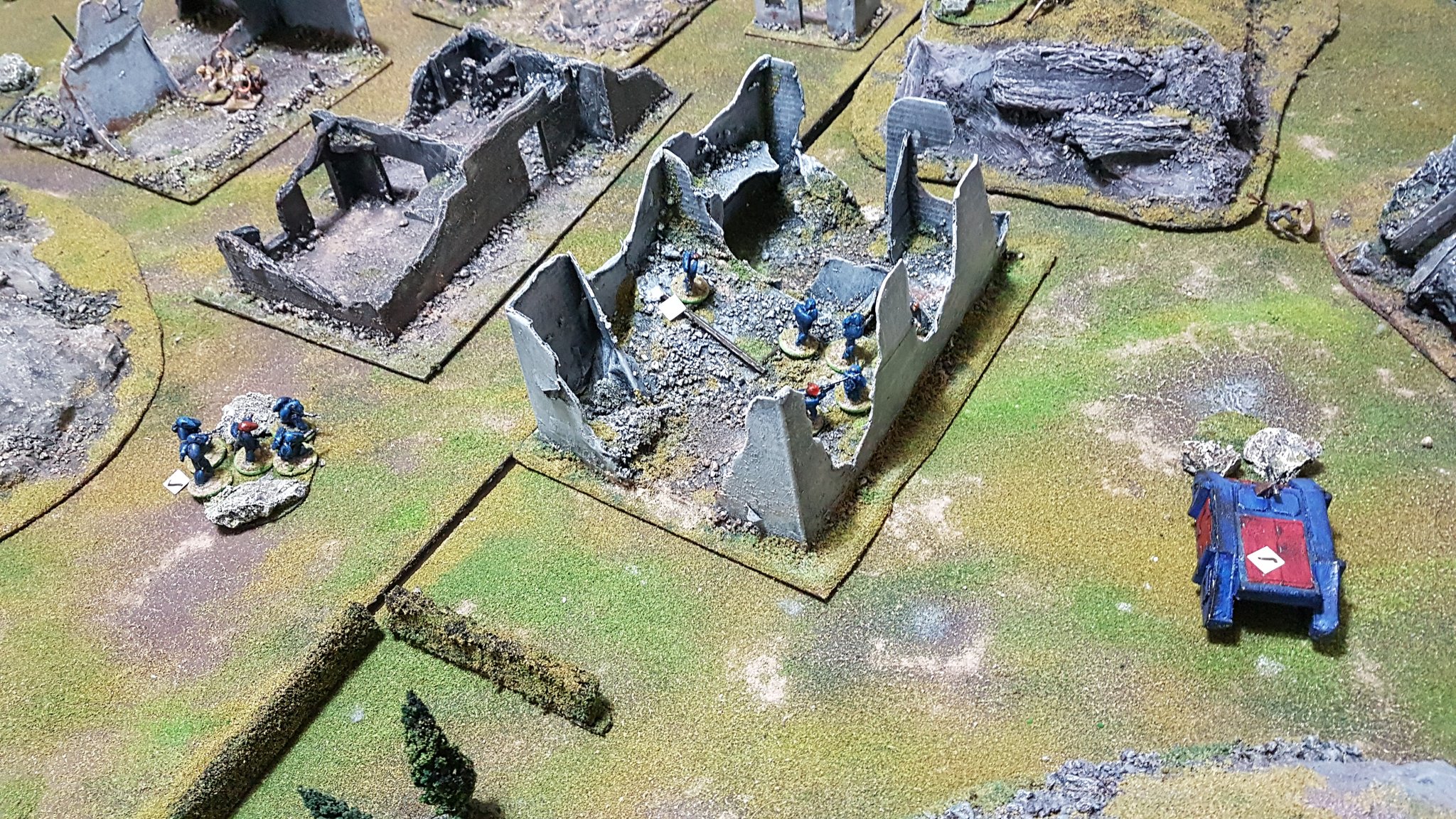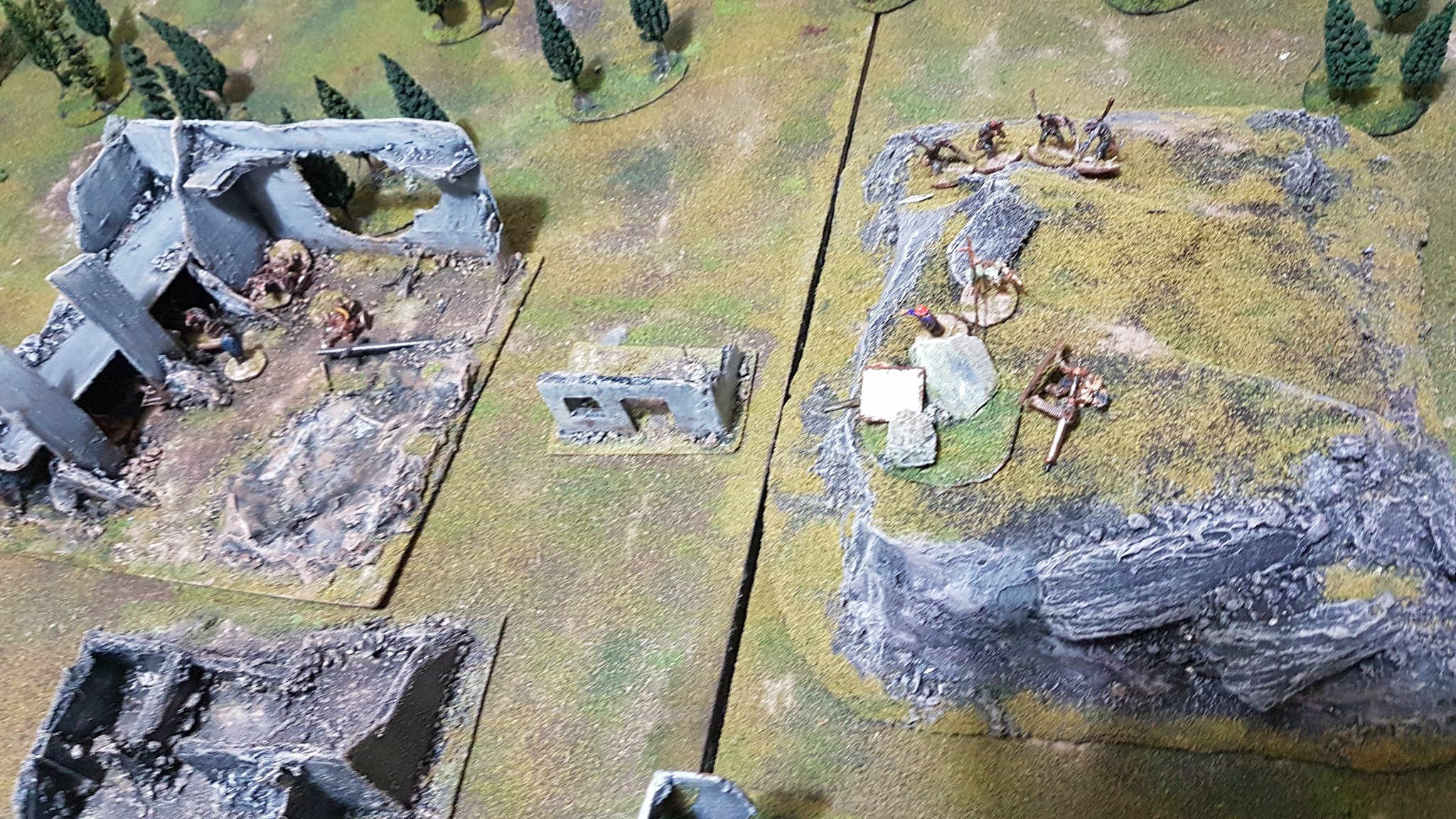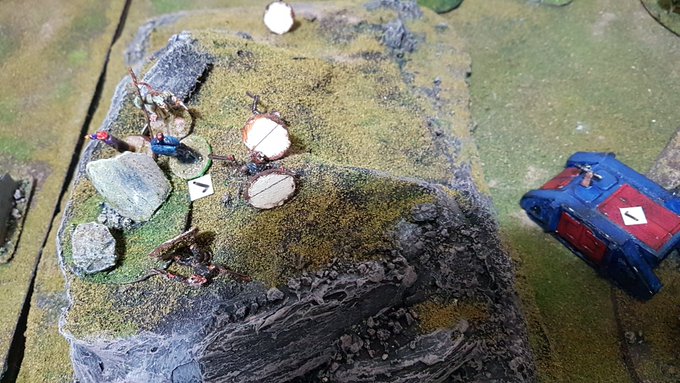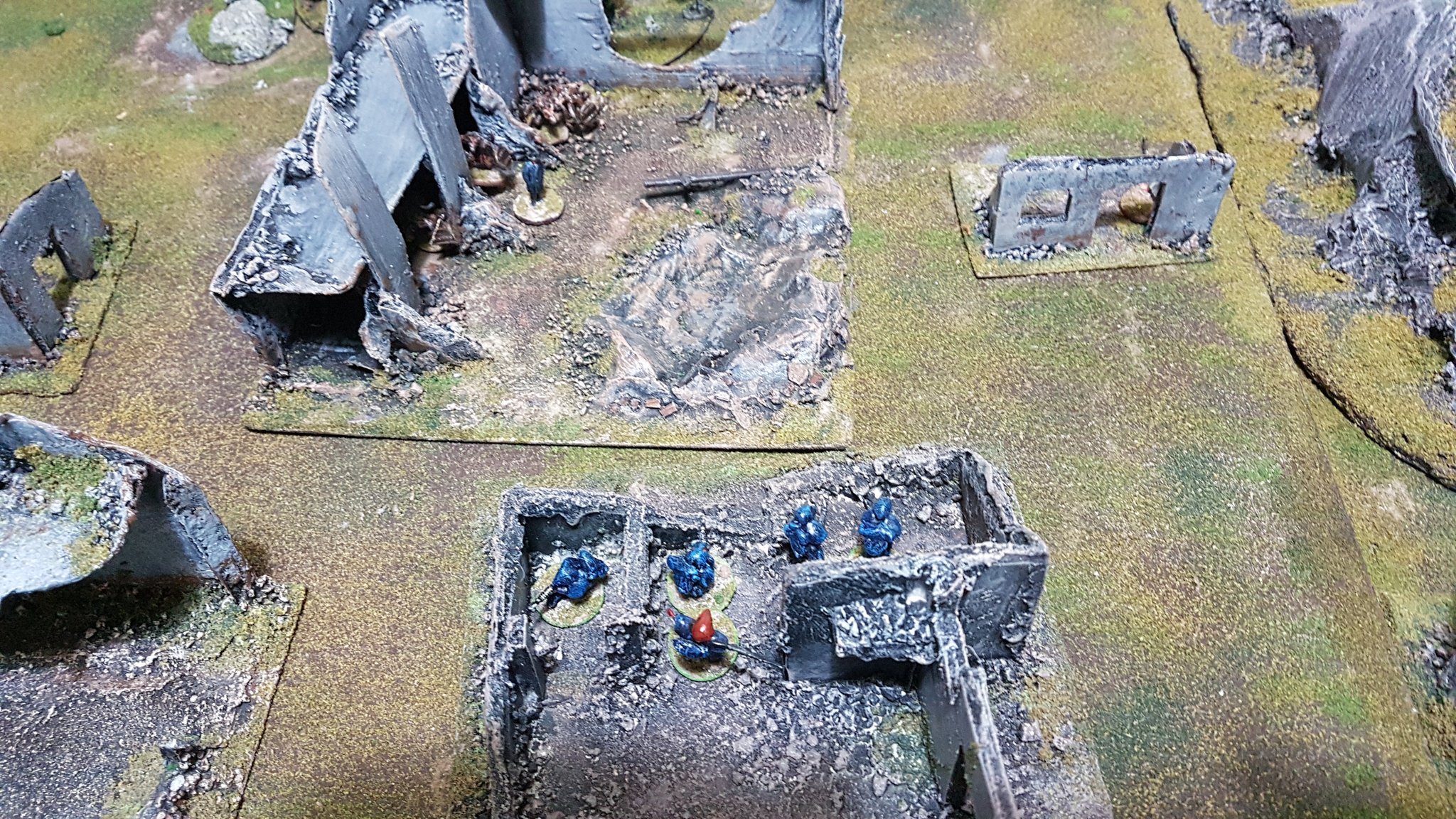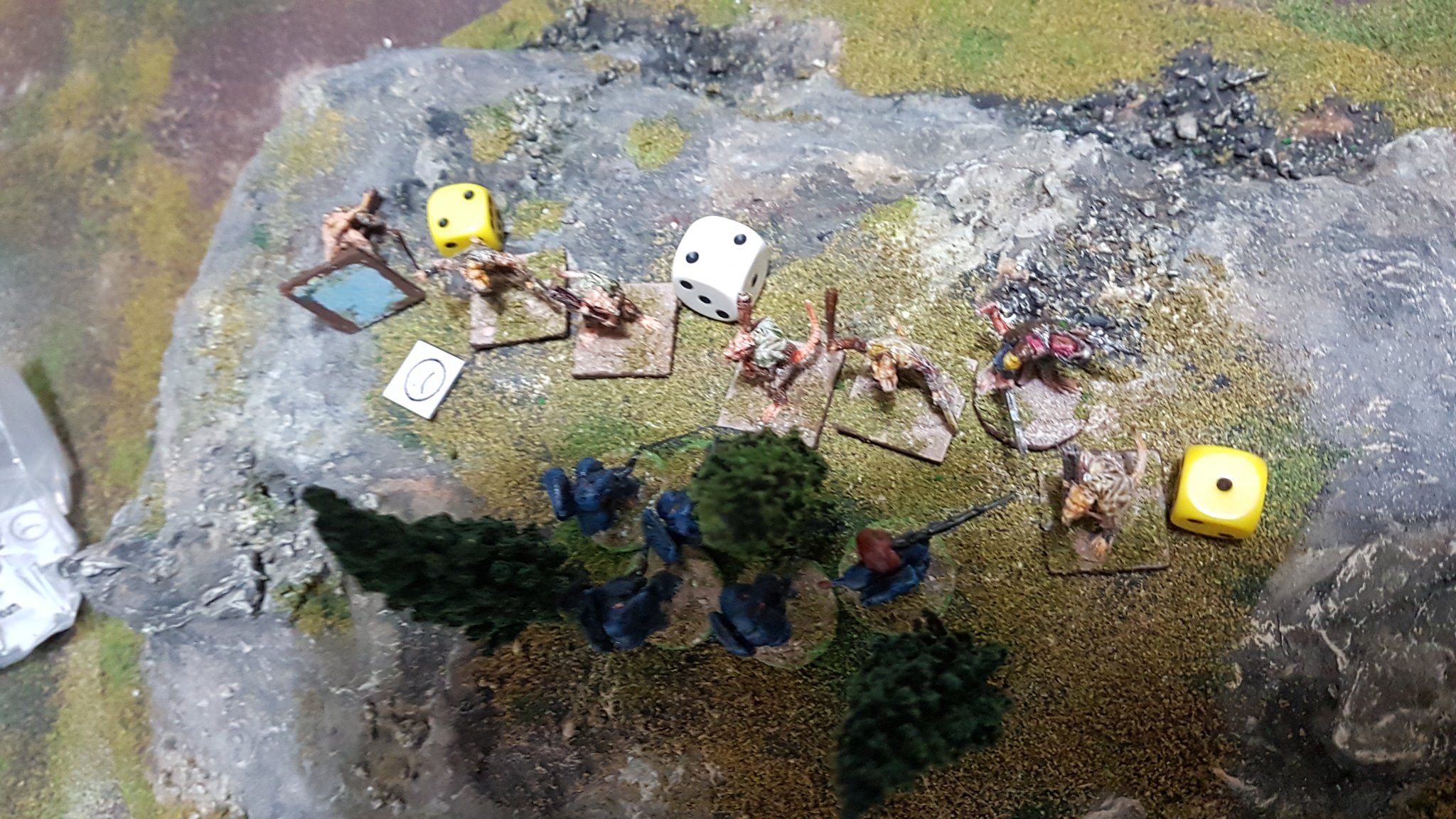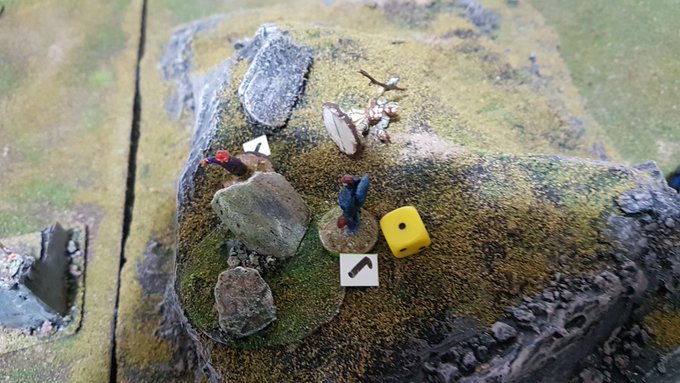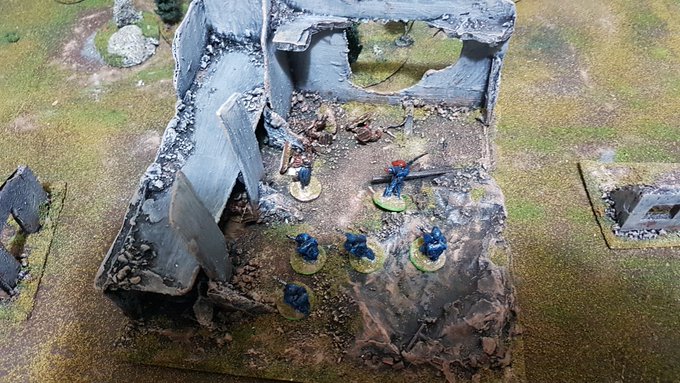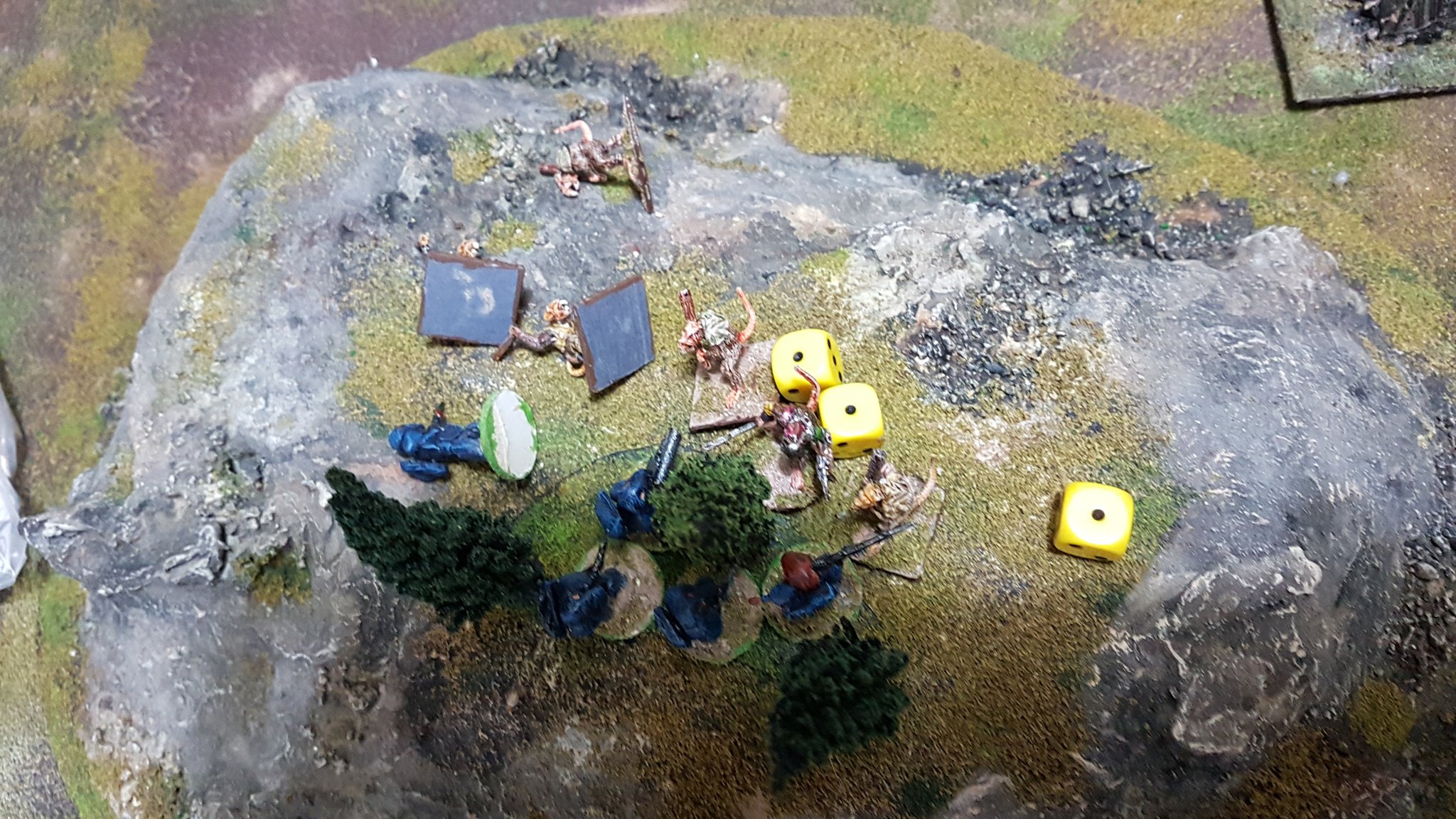 Well, that was unexpected after the kicking they've taken in their previous game! Although in fairness, me forgetting to use the Tangled Psychic didn't exactly help matters.. still, props to Dan, he played very cleverly and crucially played to the mission – hold more objectives then your opponent when turn 4 ends, not turn 1. We'll probably switch up objectives, maybe some sort of kill points system for next season but for now we're doing pure vanilla GrimDark Future – so next game, winner stays on and it'll be the Brothers' taking on Da Skooderia!
Human Defence Force – 3.5
Ratmen Clans – 2.5
Rebel Guerillas – 1
Battle Brothers – 1
Orc Marauders – 0