I'm blaming Brexit for this. Sorry to get political – I'm on the fence about most things, but since the start of this month I've been moob-deep in paperwork, which in turn has knocked on to a lack of hobby time.. with the result that it's taken the better part of a month to get this next unit done,
This is the Devastator squad, as featured in the original 1991 Blood Angels army I'm using as my template – a few concessions to necessity, as the models I got in my haul back in May (eight months ago! How did THAT happen?!) are all wearing Mk 7 armour not Mk 6. As with the White Dwarf studio army, they're packing two missile launchers and two heavy bolters.
The goal:
The painting process was basically the same as the two tactical squads, so I'm not going to repeat it here – the only difference was the blue helmets, which I used cheap craft blue, highlighted with Wilkinson brand Duck Egg blue house paint from a tester pot. Yes, I've used house paint to paint Space Marines. I offer up my soul to the Emperor in penance.
I also noticed for the first time the little blue circle campaign badge, so I put that in too, again with Duck Egg blue. I'll have to go back and add that in to the tactical squads over the next couple of.. weeks? Months? Depending on my dealings with the Administratum….
Anyway, pics: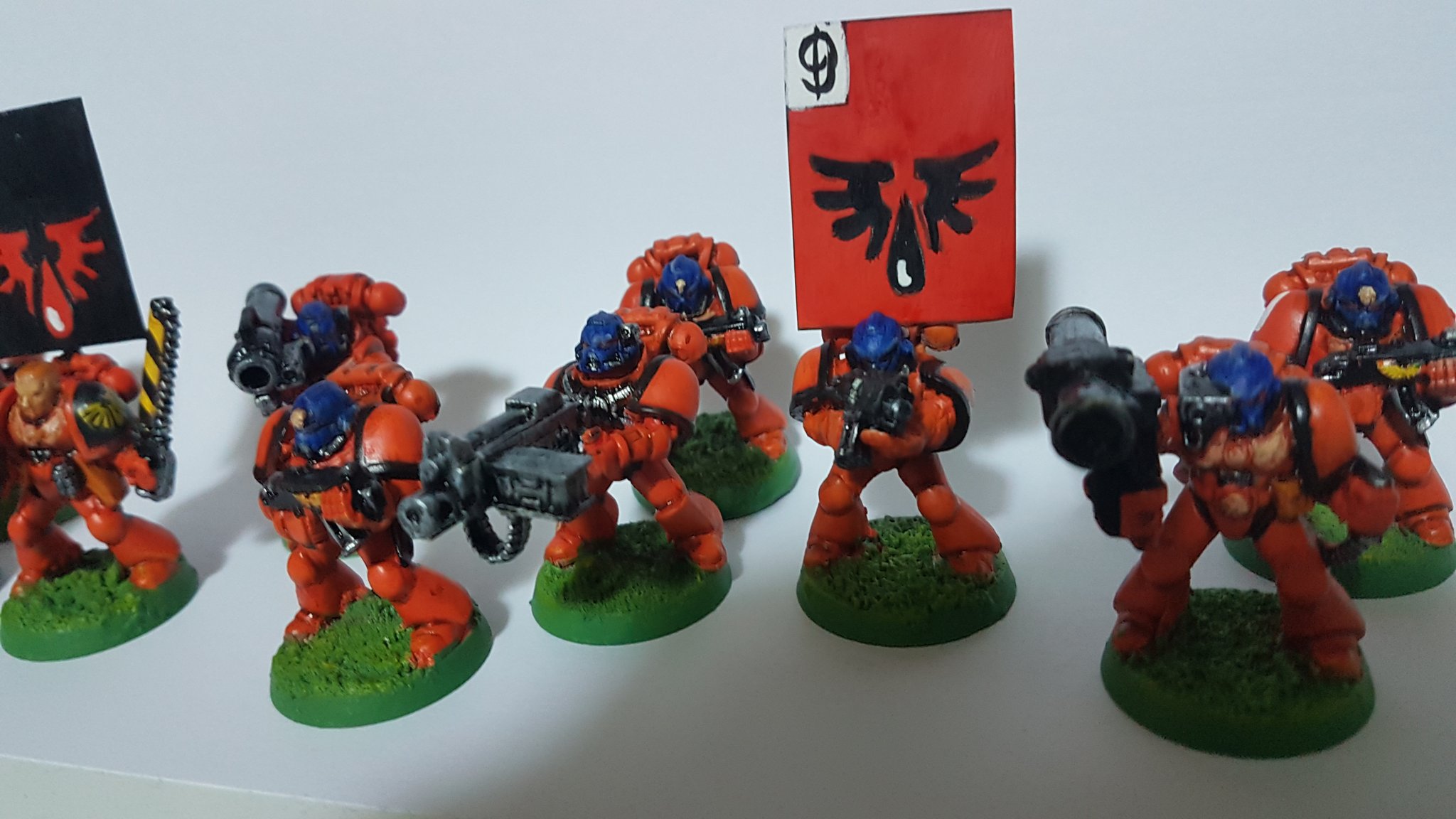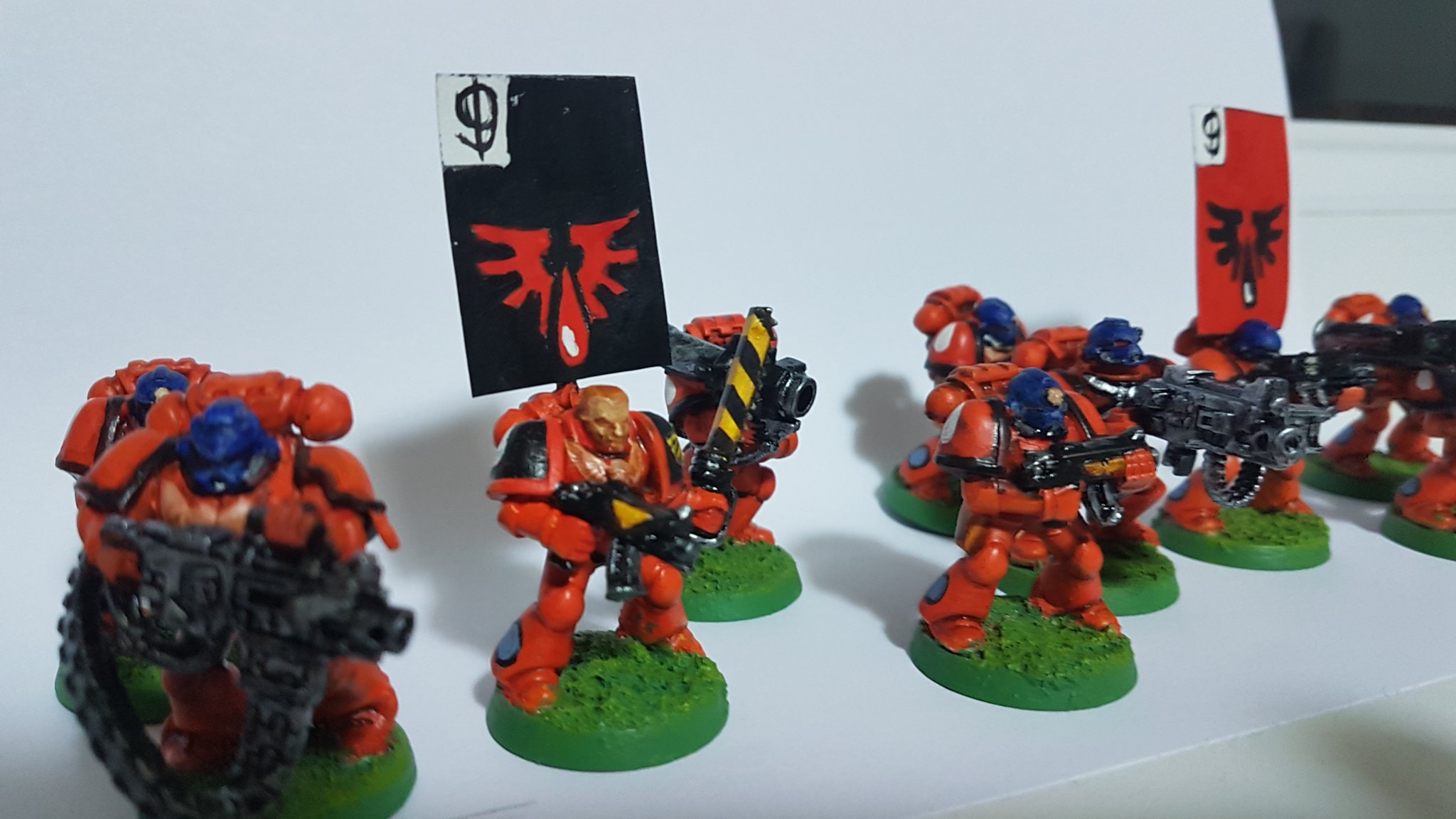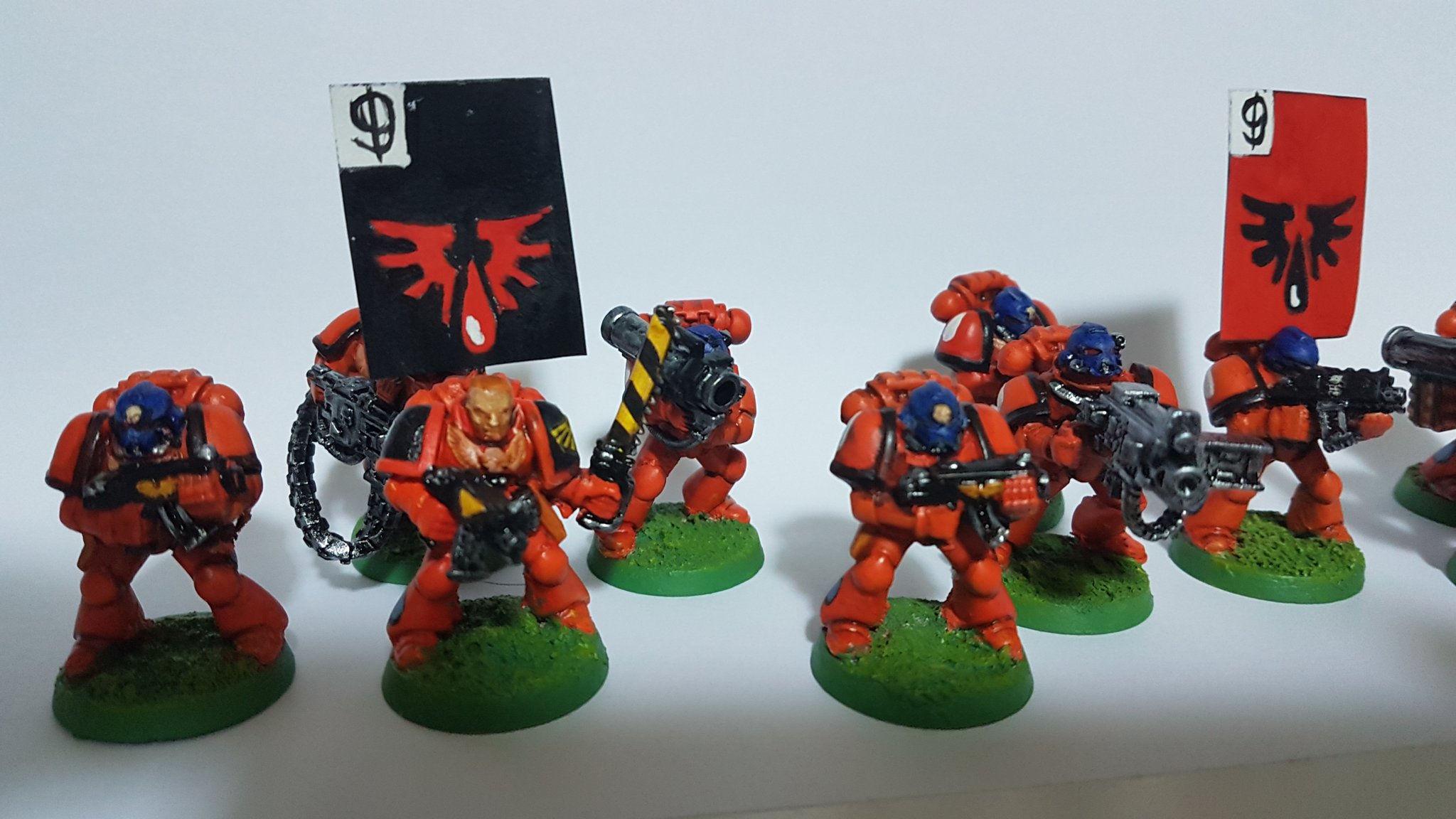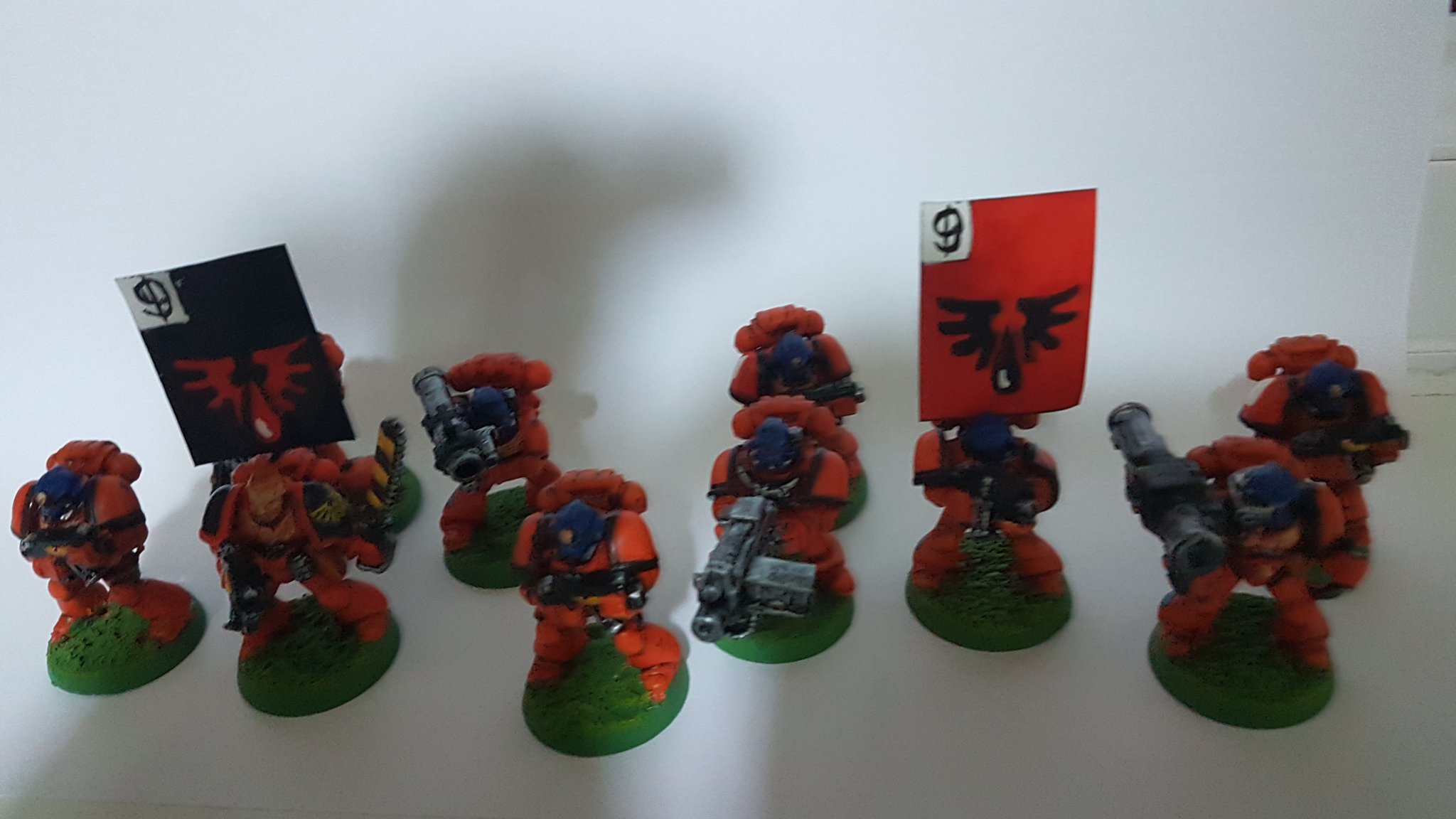 Overall I'm fairly satisfied, although I'm becoming increasingly aware of deficiencies in my technique – I can't edge highlight for sh*t and my eye for the detail is getting progressively worse… when all this COVID crap is over it might be time to bite the bullet and go get tested for glasses… and I really don't know what went wrong with some of the basing! I figured it would be easier and less messy to paint on the PVA and dip them in the sand before priming, and for most if them it worked but for some…. Really, not so much.
Still, from two feet away they look pretty good, and they do capture that 2nd Ed vibe, so I'm not going to get too hung up on the details – and here is the full force so far: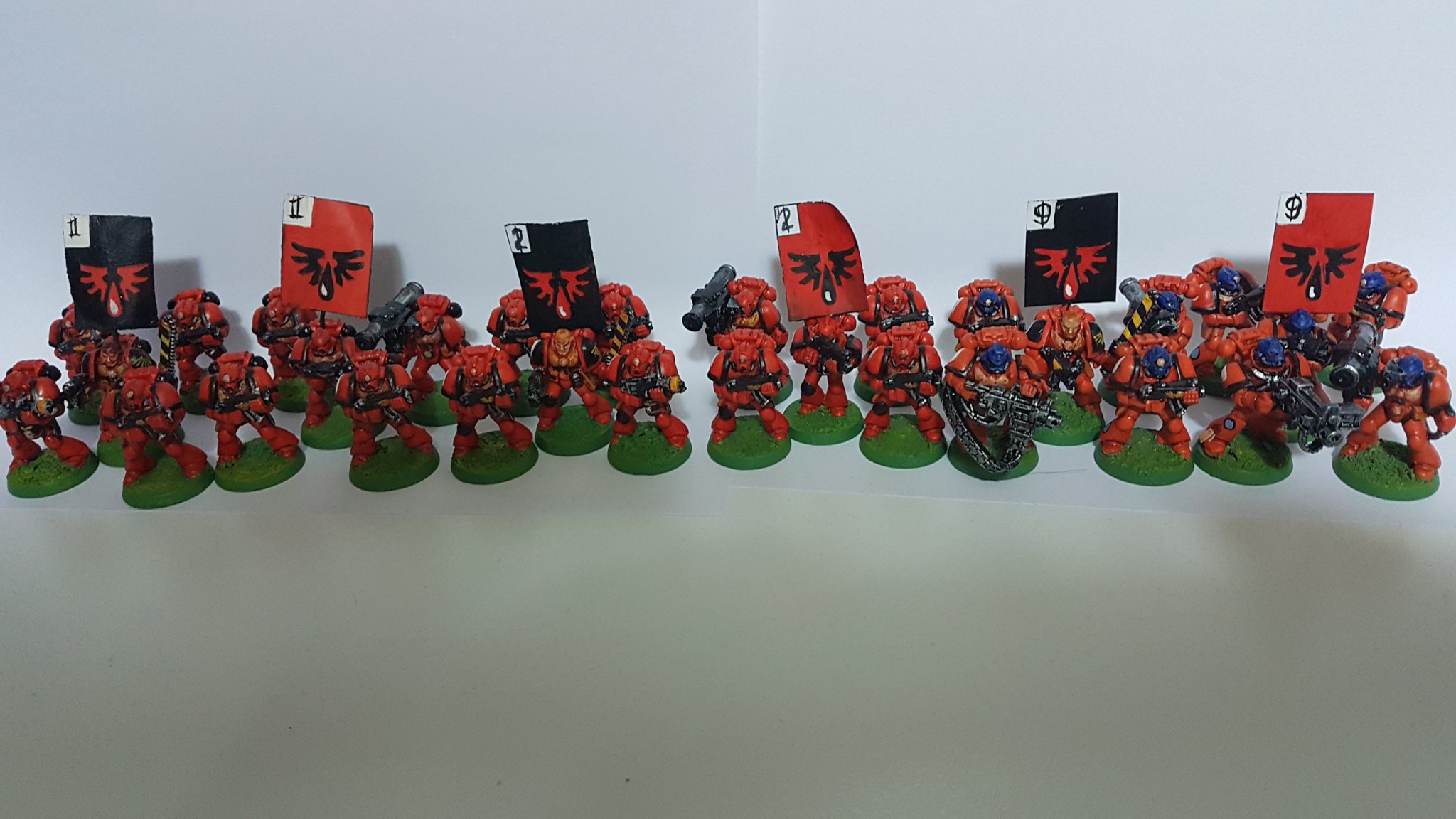 So, Jim lad, feels like it's my turn to host a remote game, fancy trying Betrayal At Calth with these lads tomorrow night?
Meantime, wherever you are, stay safe, stay sane, stay thrifty and hang on in there, we'll get through this.