After my compatriot's rather heartfelt (and heavily researched) post on the unfolding conflict in Ukraine, I kind of feel a bit sheepish popping this here, but here we are – the first vehicle for the 1991 Blood Angels!
Fittingly enough, it's a Rhino – the ubiquitous M113-battle-taxi of the far future. This was (fanfare please) a DIY papercraft build, put together from a template downloaded from the now-shuttered (sadly) blog "In The Grim Cheapness" – I'd recommend downloading the hell out of everything on that site while it's still up.
I actually built the basic hull and treads back in 2020 (!) and pretty much forgot about it, so hauled it back out and started applying details. Hatches and armour layers were cut from thin card, and the iconic four exhausts (borrowing from Wyloch.. praise be upon him) were made from drinking straws. I plugged up the holes with greenstuff and cut down thinner drinking straws for the very top of the exhaust.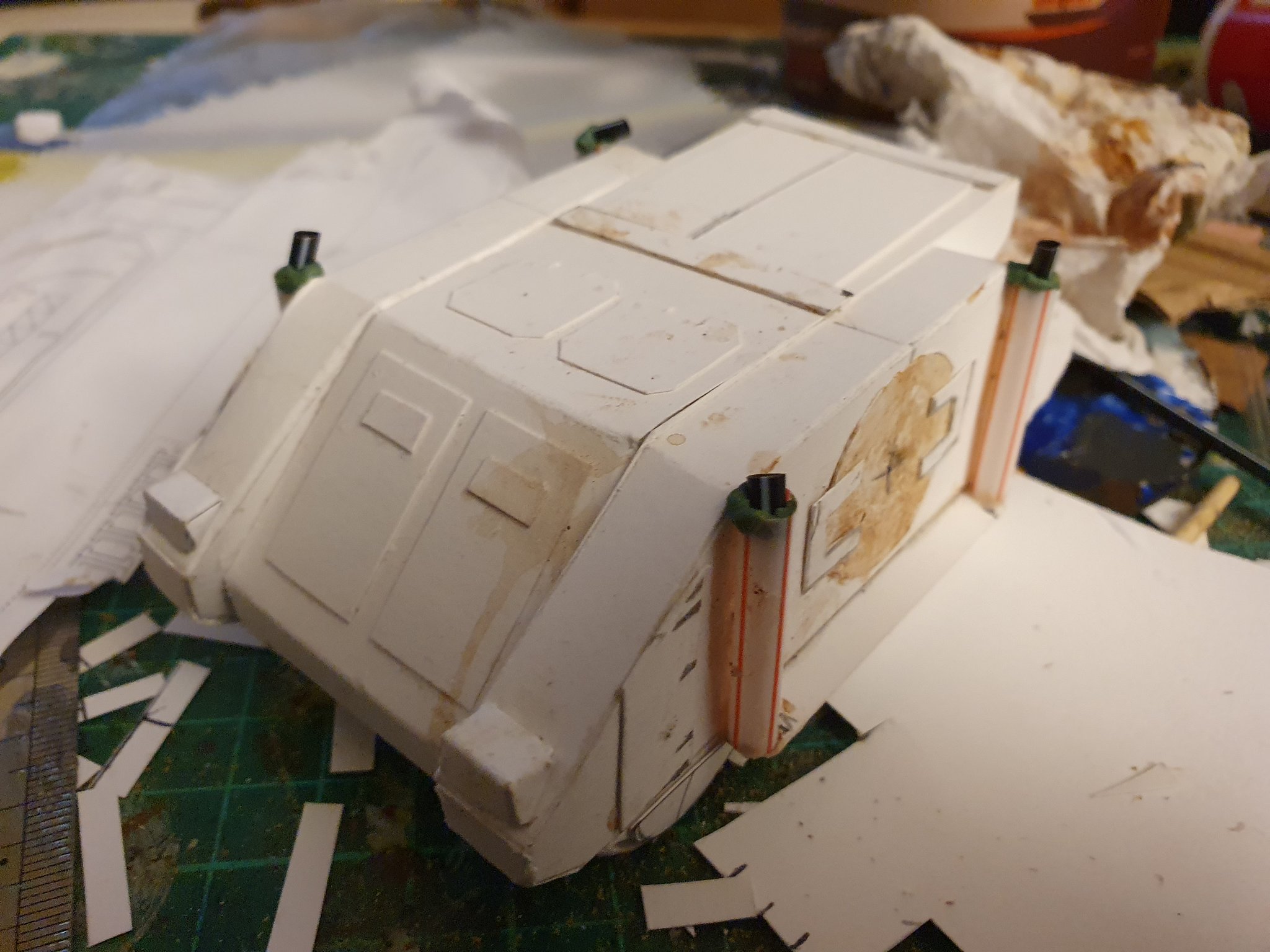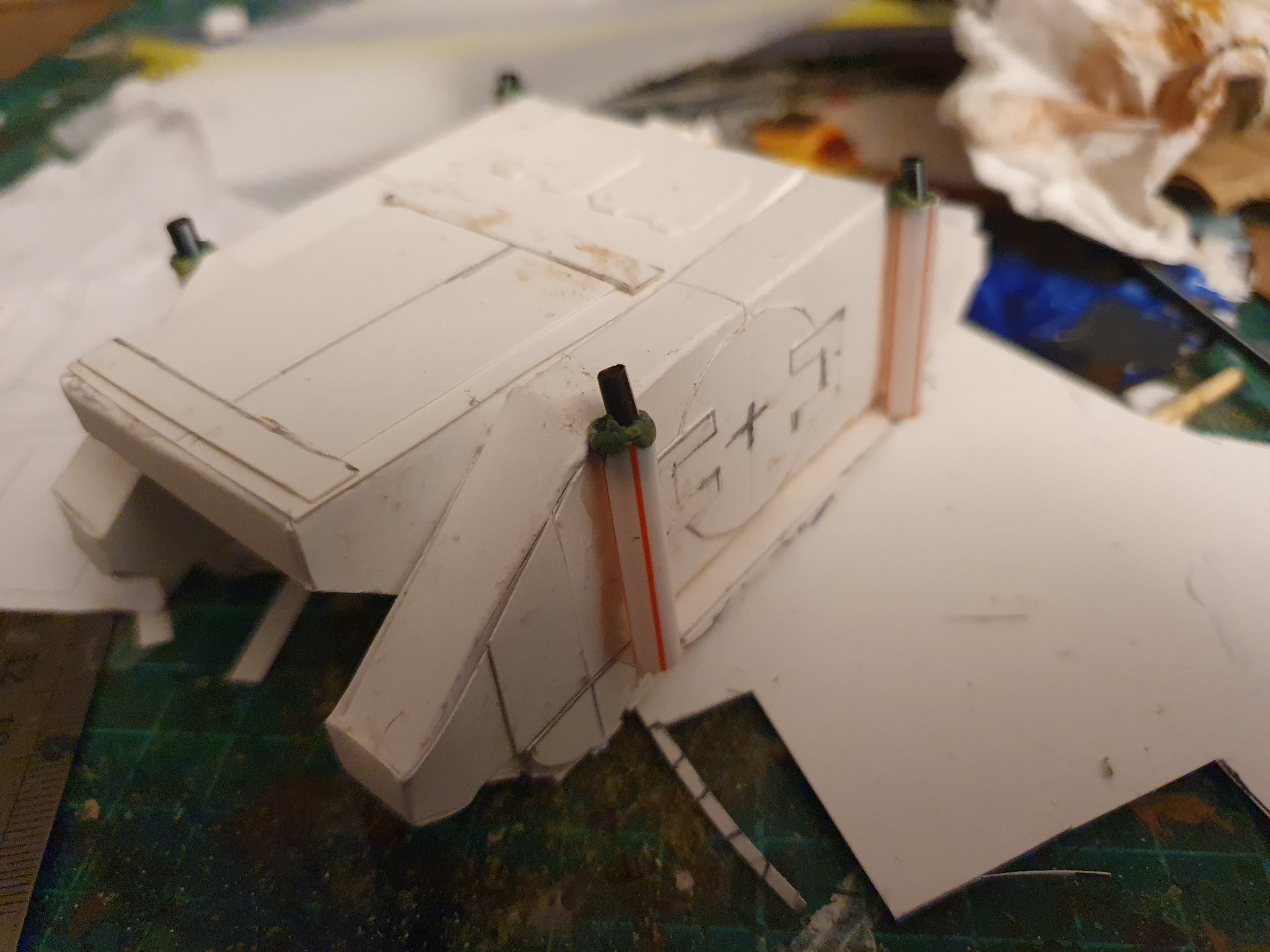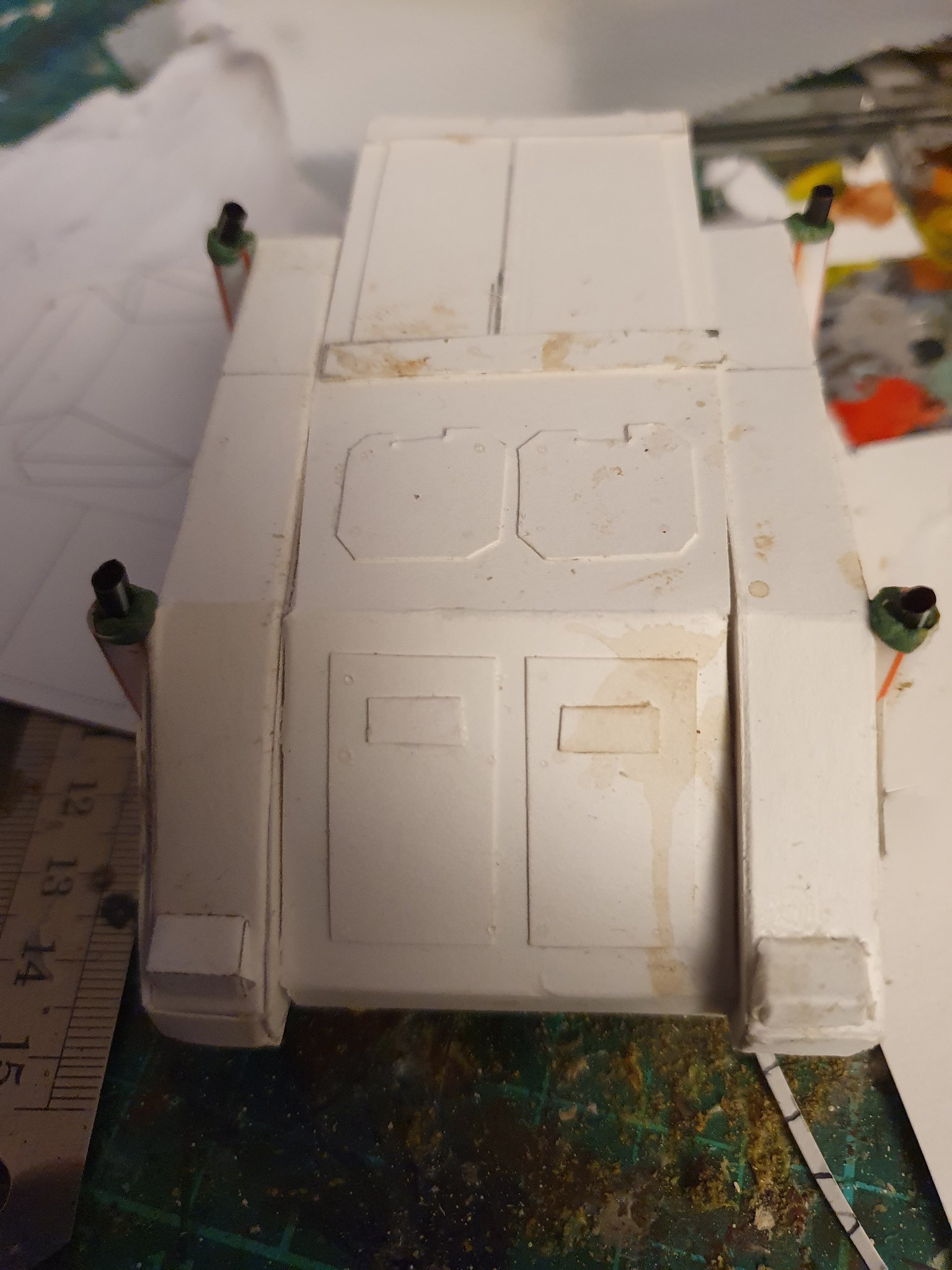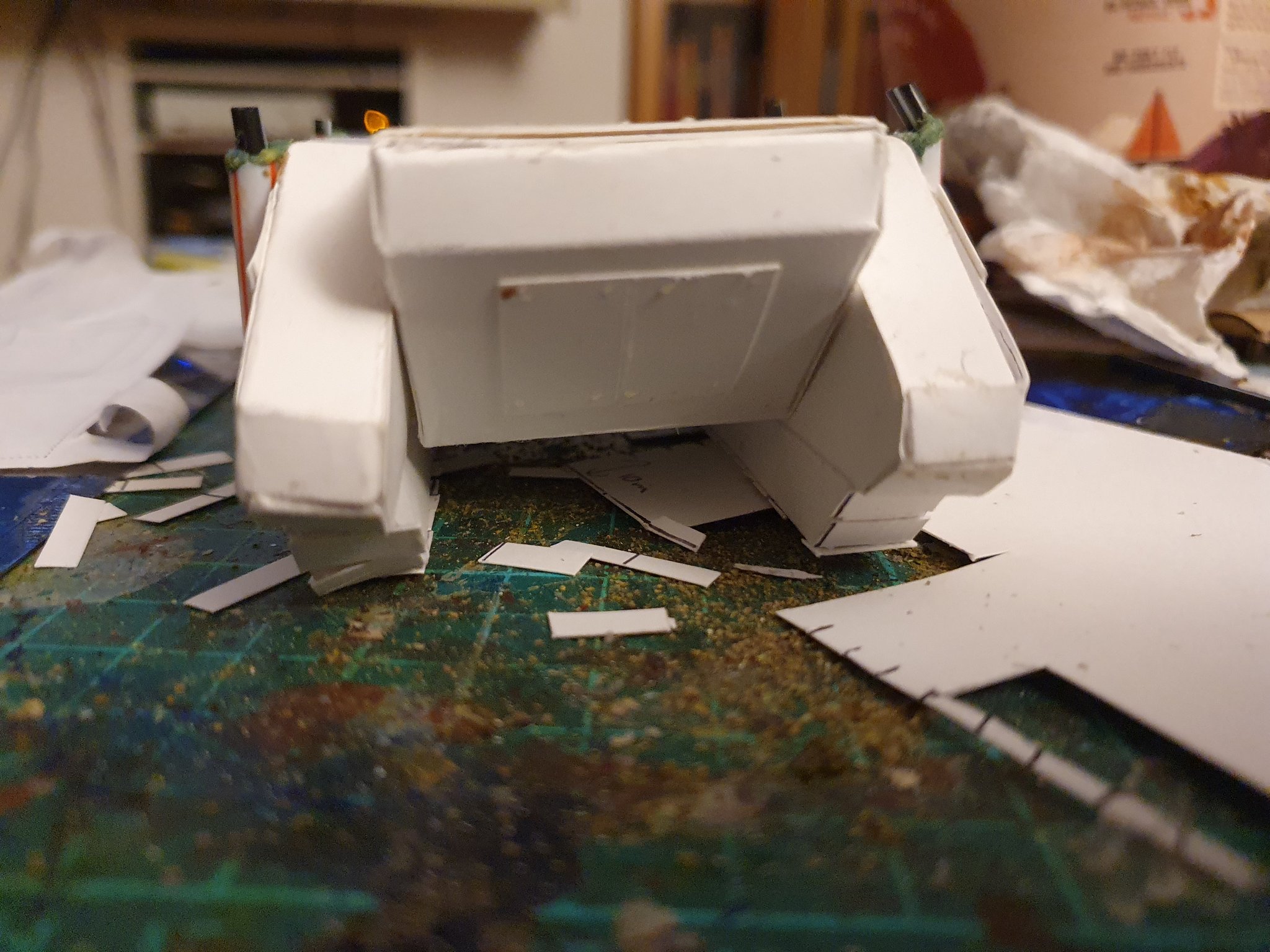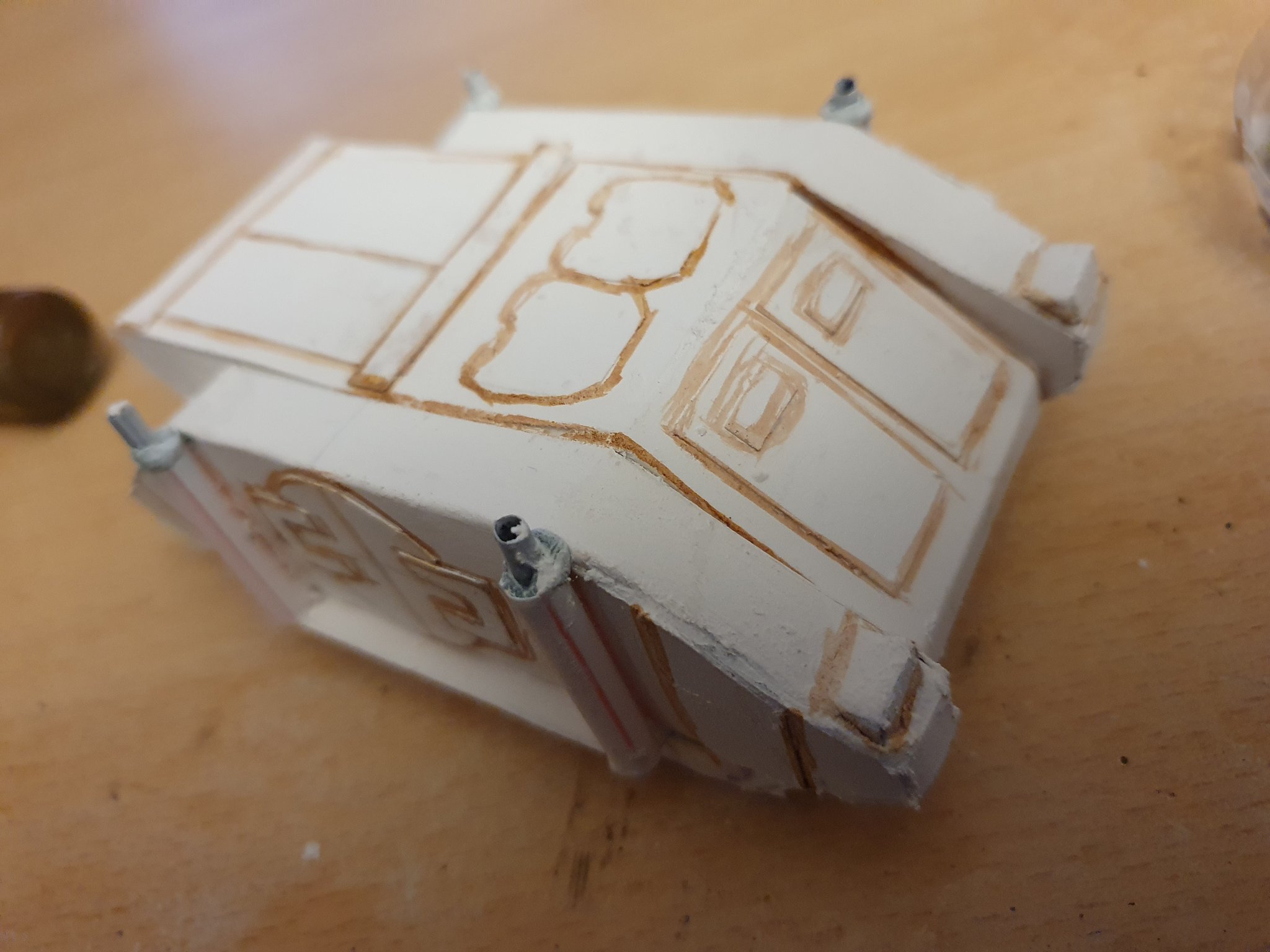 Before applying the basecoat, two thin coats (naturally) of Vallejo Hot Orange, washed with Vallejo Red Ink, drybrushed with Hot Orange and edge highlighted with thinned Cadmium Yellow craft paint.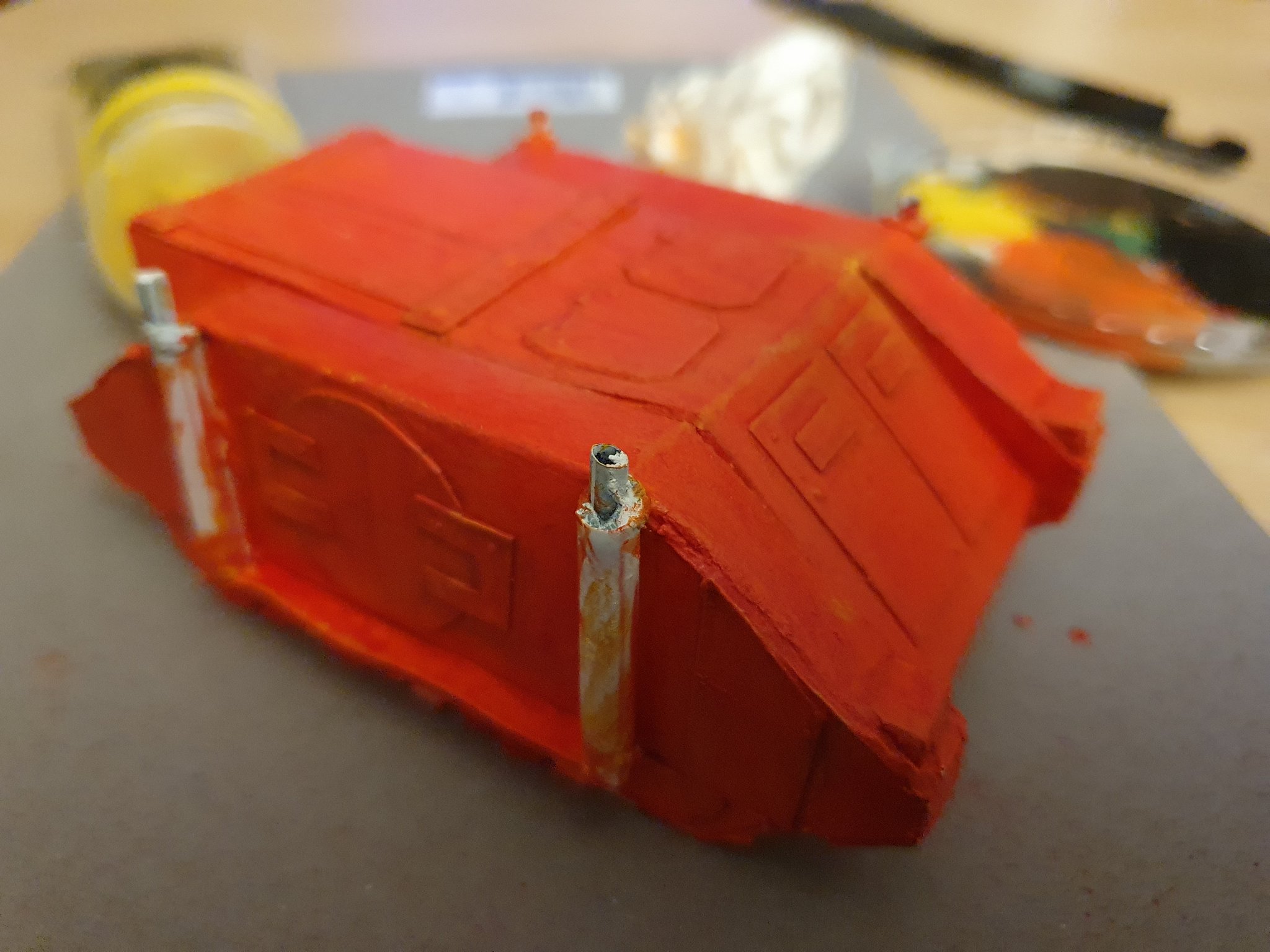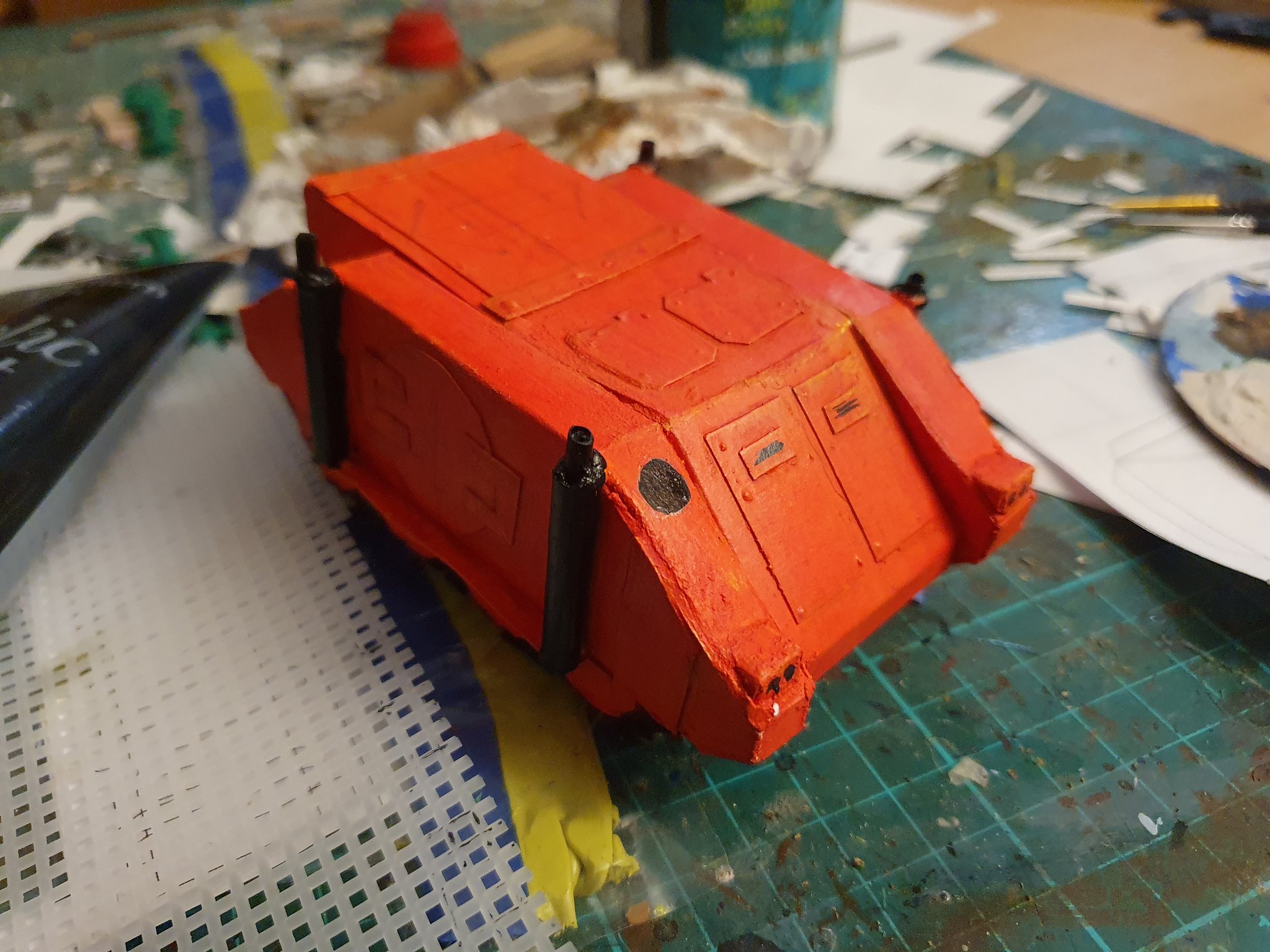 You might notice that although this is based on the classic Mk 1 Rhino from the Rogue Trader but I wimped out of doing the radiator grills – I did have a plan to use nylon tulle (which we used when we made Skalk Point) but after losing several layers of skin trying to superglue the bastard stuff I gave up and went for armour layers with cardboard. So we have a beast which is neither quite fish nor fowl, but after a lick of paint, we are left with….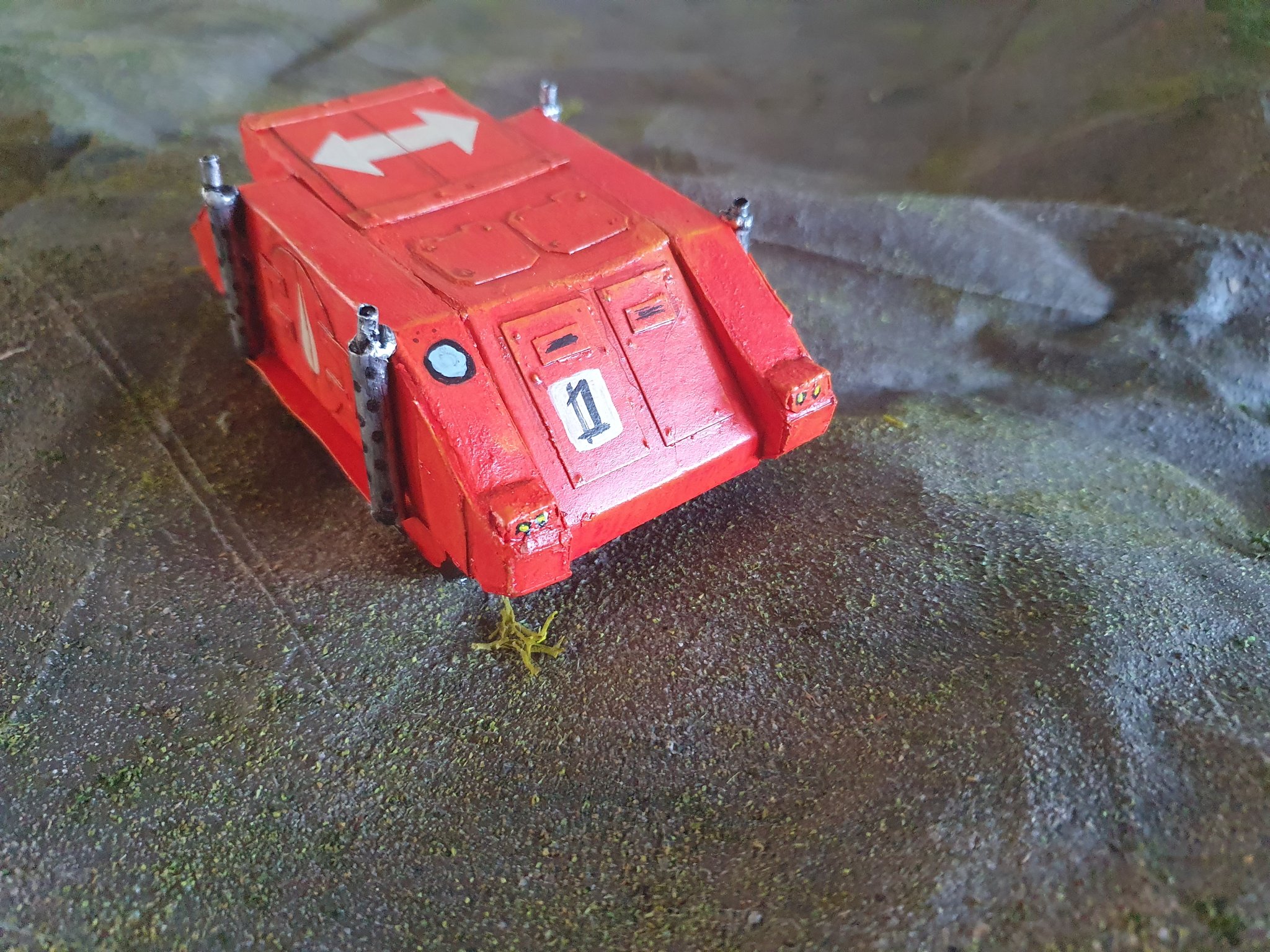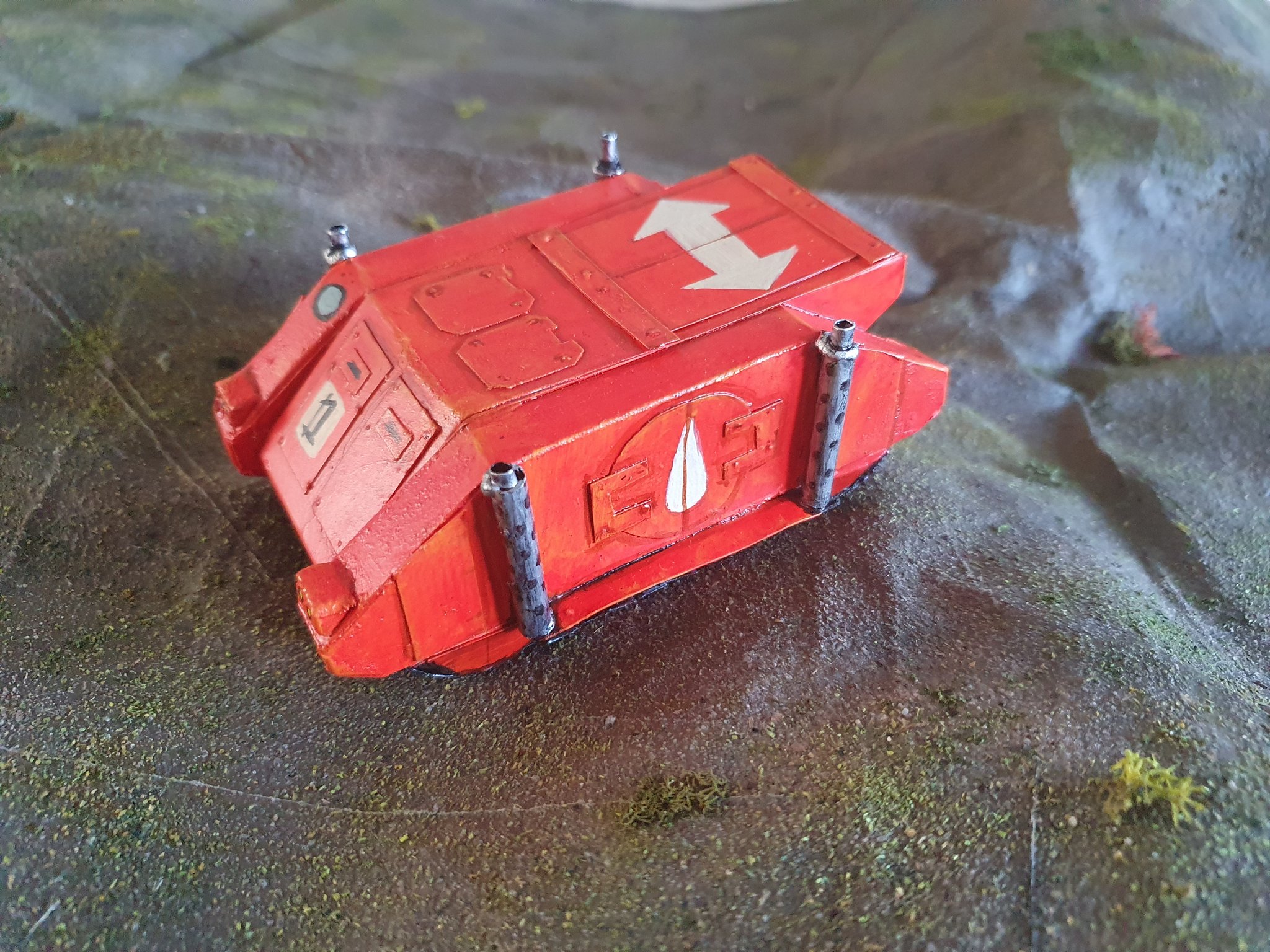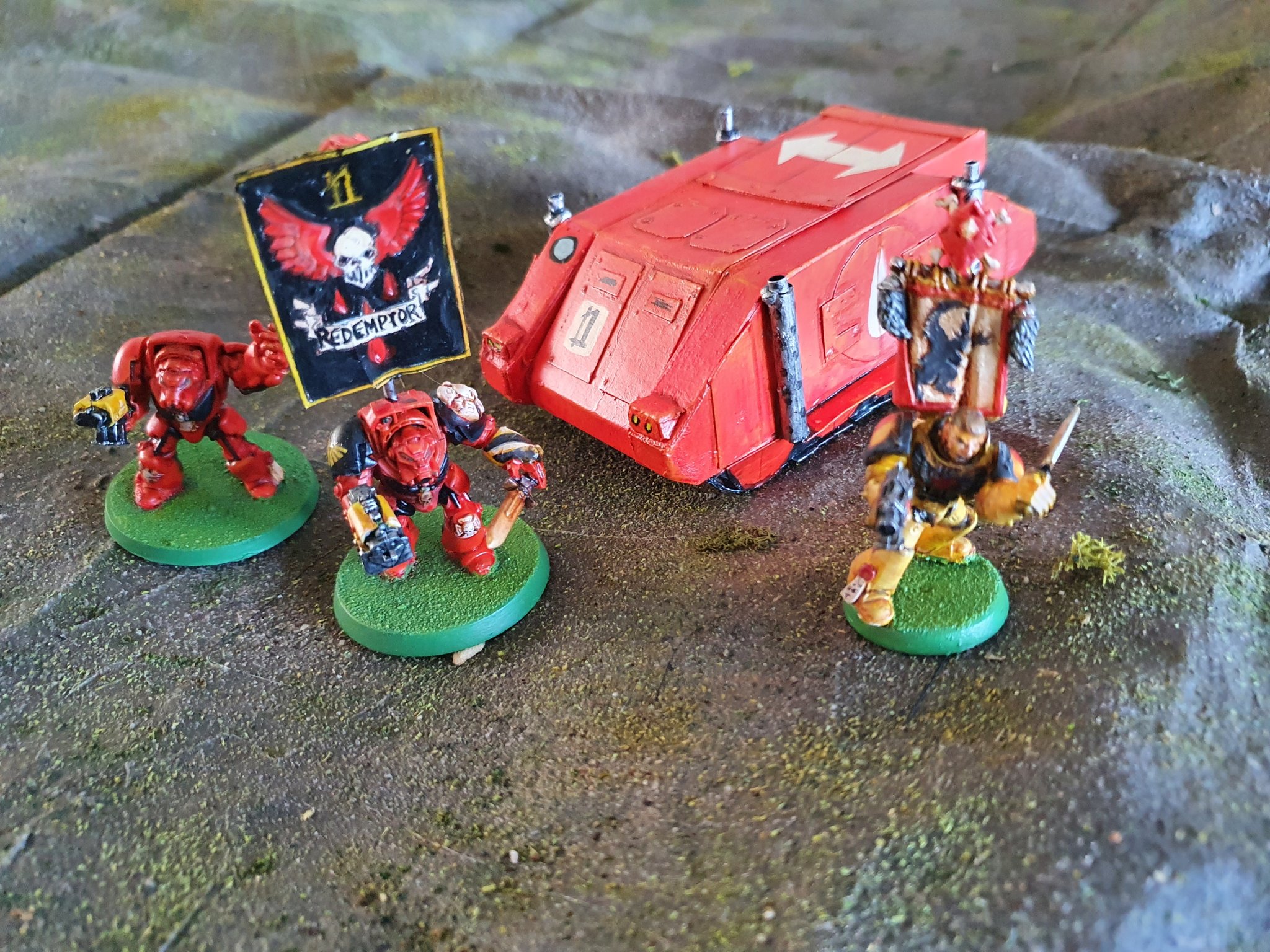 So there we are – it's not quite done, I need to get a couple of bolters to mount on it but riding a wave of confidence I may even scratchbuild some to stick on there!
Not perfect and I very much doubt it would fool anyone into thinking it's a legit GW product, but works nicely for us and looks pretty good – the army list calls for another two, so that's me occupied for the next few weeks!
On another note, we decided that one thing we could do is cash out everything we've earned from selling Apocalypse: Earth to the DEC appeal to support Ukraine, so from now on until all this is over all proceeds will be going there. Not much, but better than nothing. As Jim mentioned in the last post, we did have some engagement with Russia (43 readers… out of 144 million people.. still) so if you ARE a young Russian chap of draftable age reading this and conscription season is right around the corner, maybe now is time to take that gap year abroad you've been promising yourself…..
Stay thrifty and safe out there, and may sanity prevail before too long. Slavia Ukraini, slavia heroyem