How do – and while my compatriot mires himself in paperwork organising something Very Big Indeed, allow me to plug the gap by showing you a little more progress with another project of mine… because it wouldn't do just to focus on the Blood Angels tribute act, now would it? Even though we're somehow already in August and I've probably missed the boat to take them to Warhammer World for a 30th birthday bash…. oh well.
This lot are part of my "other" lockdown project – I was fancying a fantasy horde army, went looking for Undead 1/72 figures and instead came across a job lot of Caesar fantasy Orcs going cheap because they'd lost their boxes. We're already familiar with the Caesar Ratmen, having painted something like four billion back in The World That Was before the pandemic struck, and at something like £25 for about 140 figures or so, I really couldn't say no.
So here we are, another block of 30 greenskins and home made movement tray, giving me a second regiment of Orc Warriors – these will get used for Kings Of War (will be fun trying that in a different scale), OPR's Age Of Fantasy, Warhammer Fantasy, quite possibly Age Of Sigmar (especially now that 3rd edition rules are out and available to download, and of course our own Hyperian Wars ruleset (essentially Apocalypse: Earth reskinned and reorientated for fantasy).
These lads are all based on 20mm by 20mm square bases cut from wine box cardboard – judge all you like, it's ecologically friendly and economical – glued on using tacky PVA glue, and then primed white. White? Yep – apart from being how I primed the Blood Angels and therefore all I had in the shed, I find this suits my "go bright and wash down" style of painting and help me get around the obstacles of teeny tiny miniatures and increasingly wonky close in vision.
The paint scheme is also similar to the Blood Angels – Army Painter Goblin Green washed with Green Tone ink, Vallejo Hot Orange washed with Red Ink, Vallejo Filthy Brown (and a few brown craft paints) washed with Brown Ink for the browns, Mithril Silver washed with thinned Smoky Ink for the metallics giving a worn, battered effect. I've stuck with the "3 colours and metal" approach for the entire army, but as with the Ratmen, I've tried to make no two Orcs look exactly alike. They're Orcs, after all – uniformityjust wouldn't look right.
The bases are painted craft chocolate brown, then painted with PVA and dunked first in sand, then powdery earth from the veggie patch in the garden and then flock added in patches.
The moveent tray is done the same way as the bases – I figured I'd rank the Orcs up in 5 of ranks of 6, so that's a frontage of 100mm x 120mm. Add 5mm each side for breathing space and that adds up to 110mm x 130mm. I cut this out of the winebox card, added a lip of hot glue round the edges to keep everyone more or less in formation, painted it brown, slapped some PVA on and drizzled with flock, sand and earth. Then, because of course it warped like an absolute bugger, I painted the back with PVA, left it upsode down for 24 hours and hey presto, nice and flat. No messin'.
And with that, pics! Here are the lads all ranked up: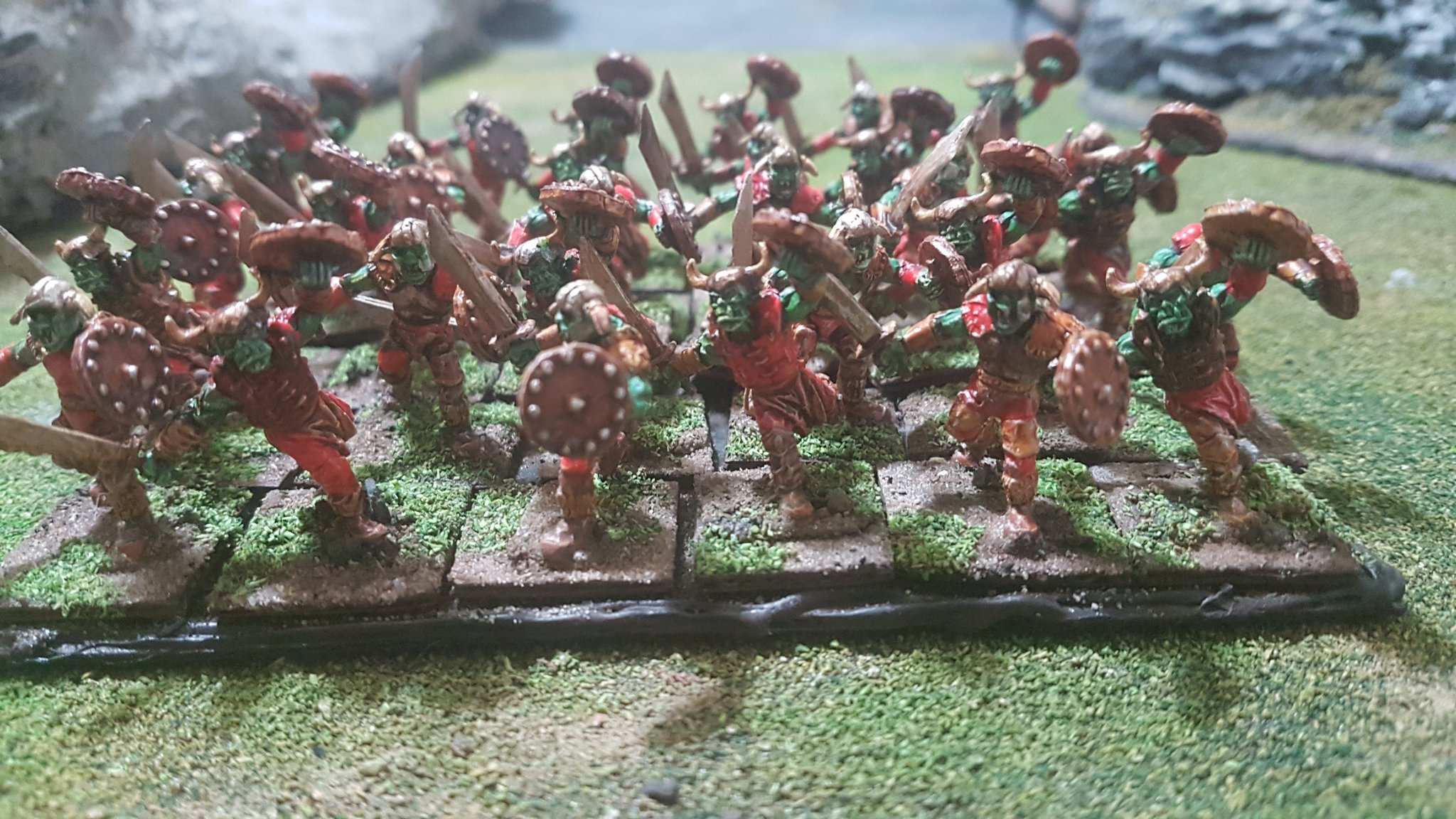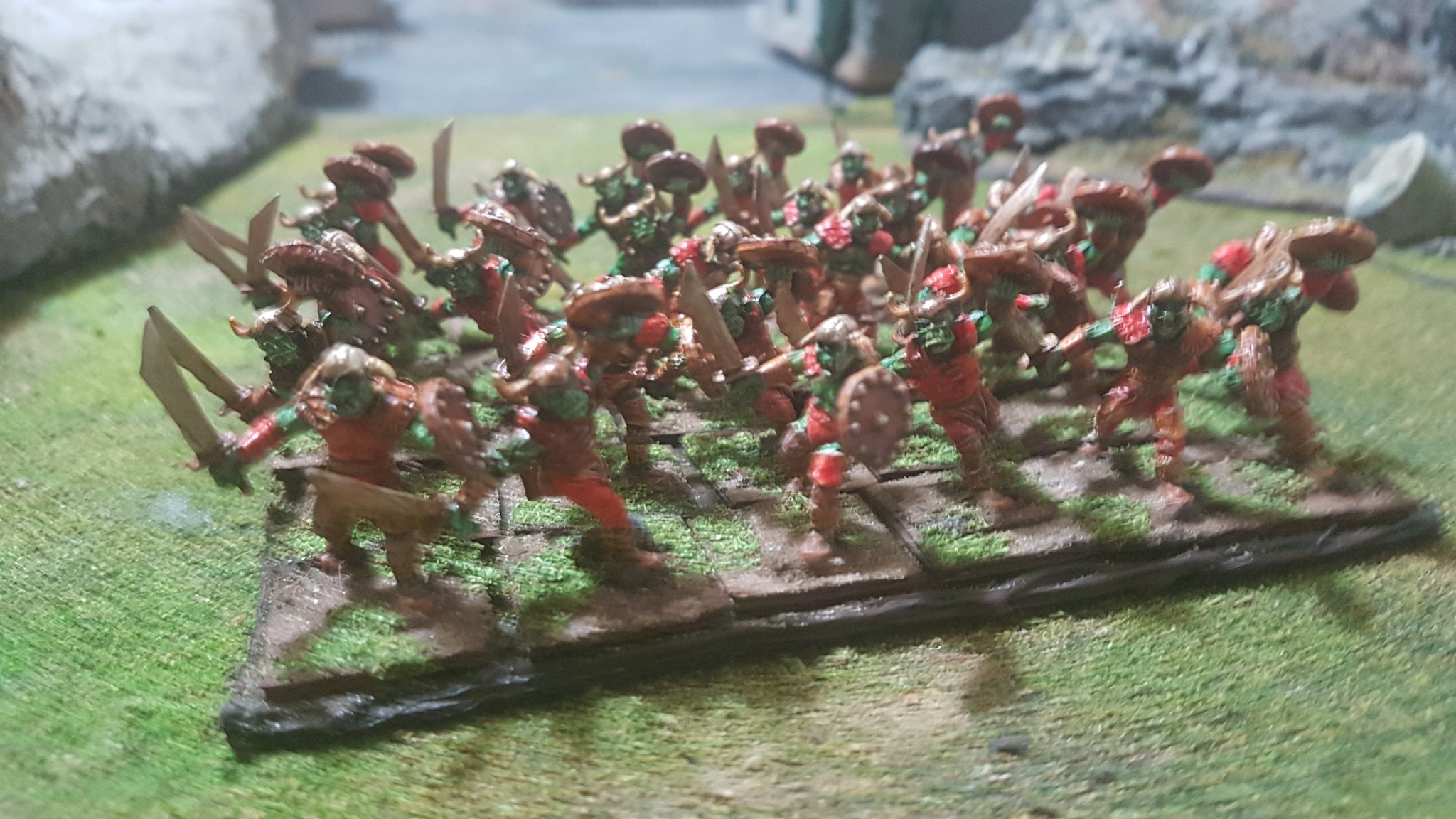 And here is the army so far, 101 figures by my count – 16 archers, 25 Savage Orcs, and two regiments of 30 Orc Warriors apiece: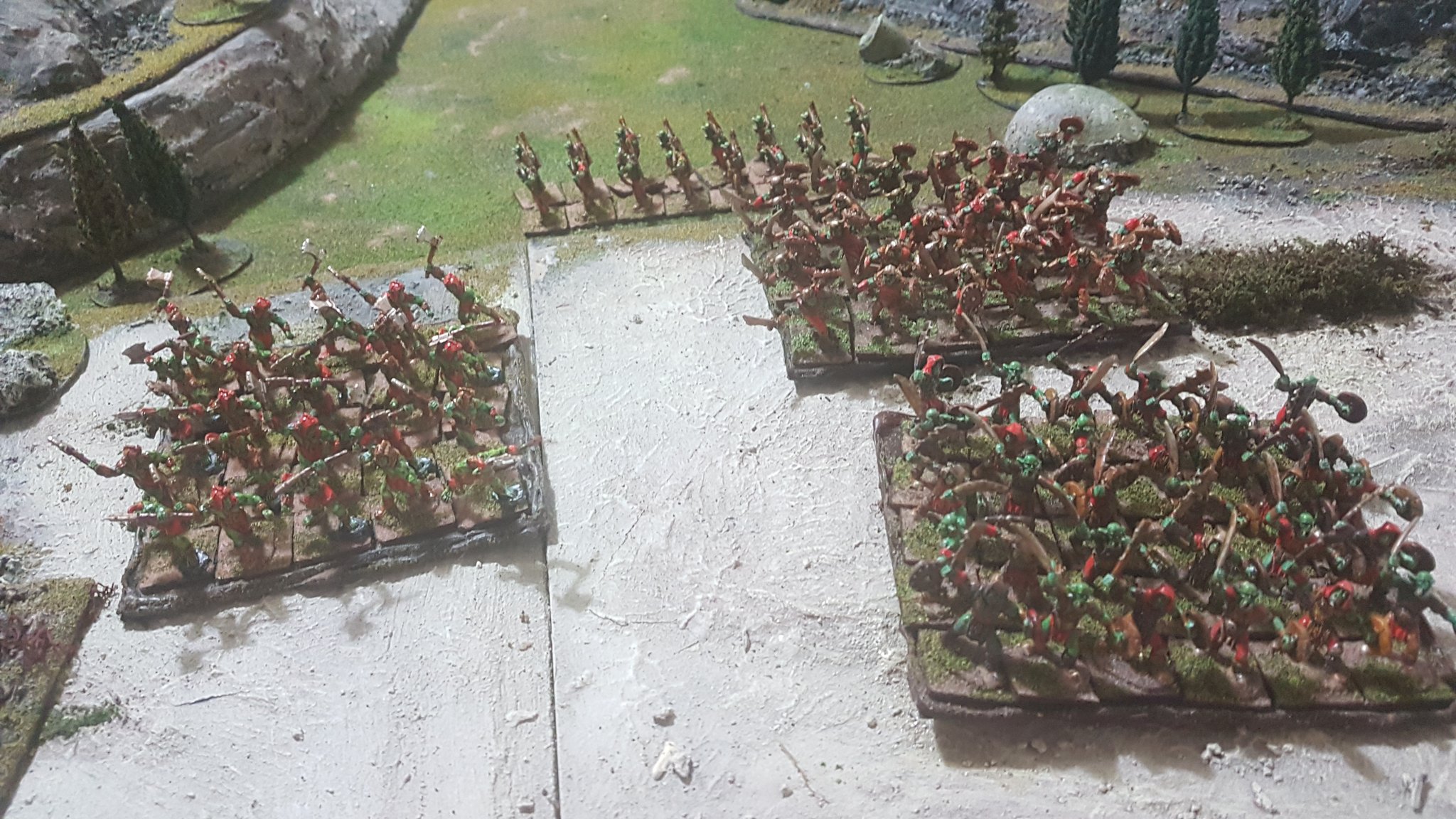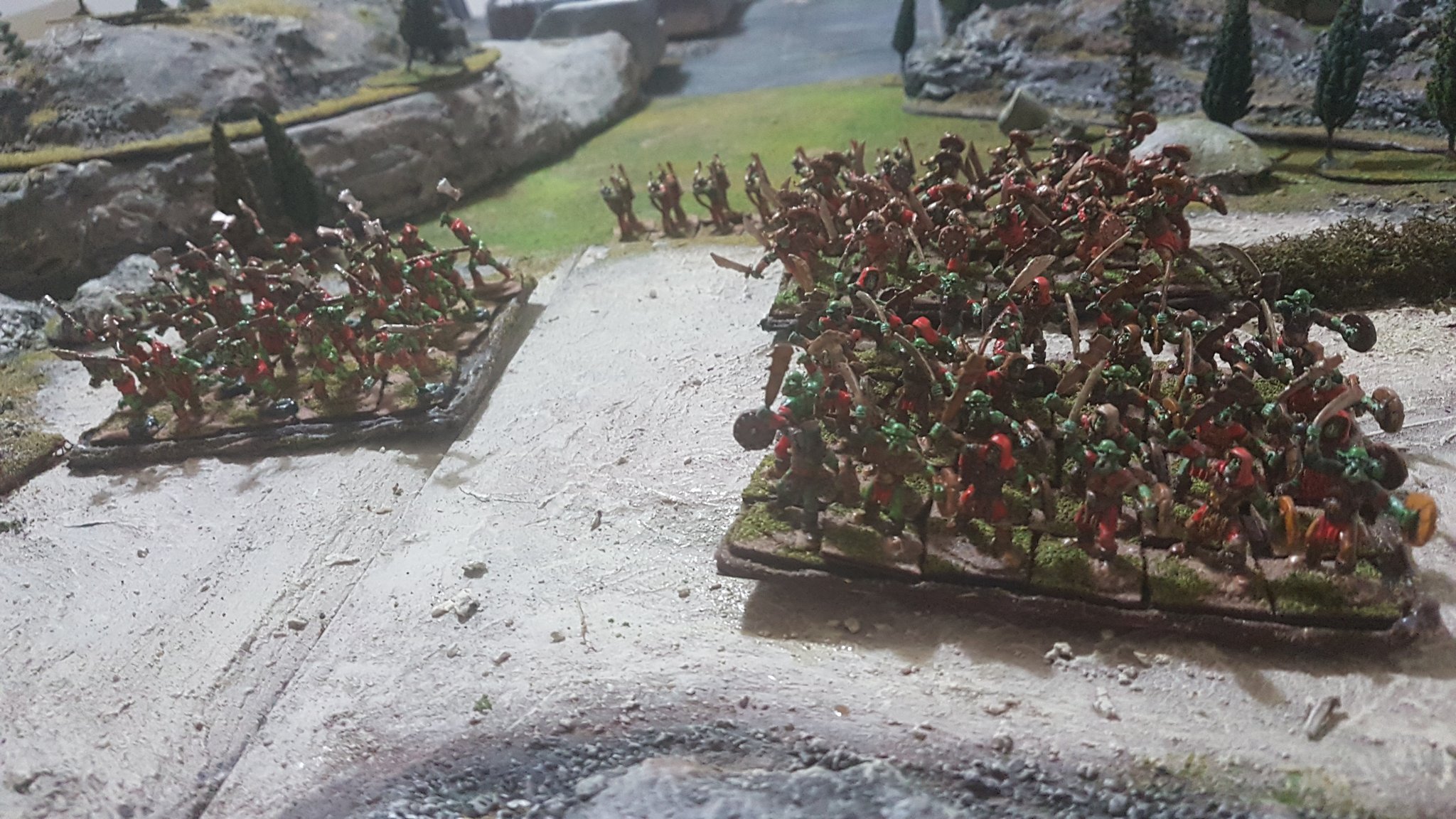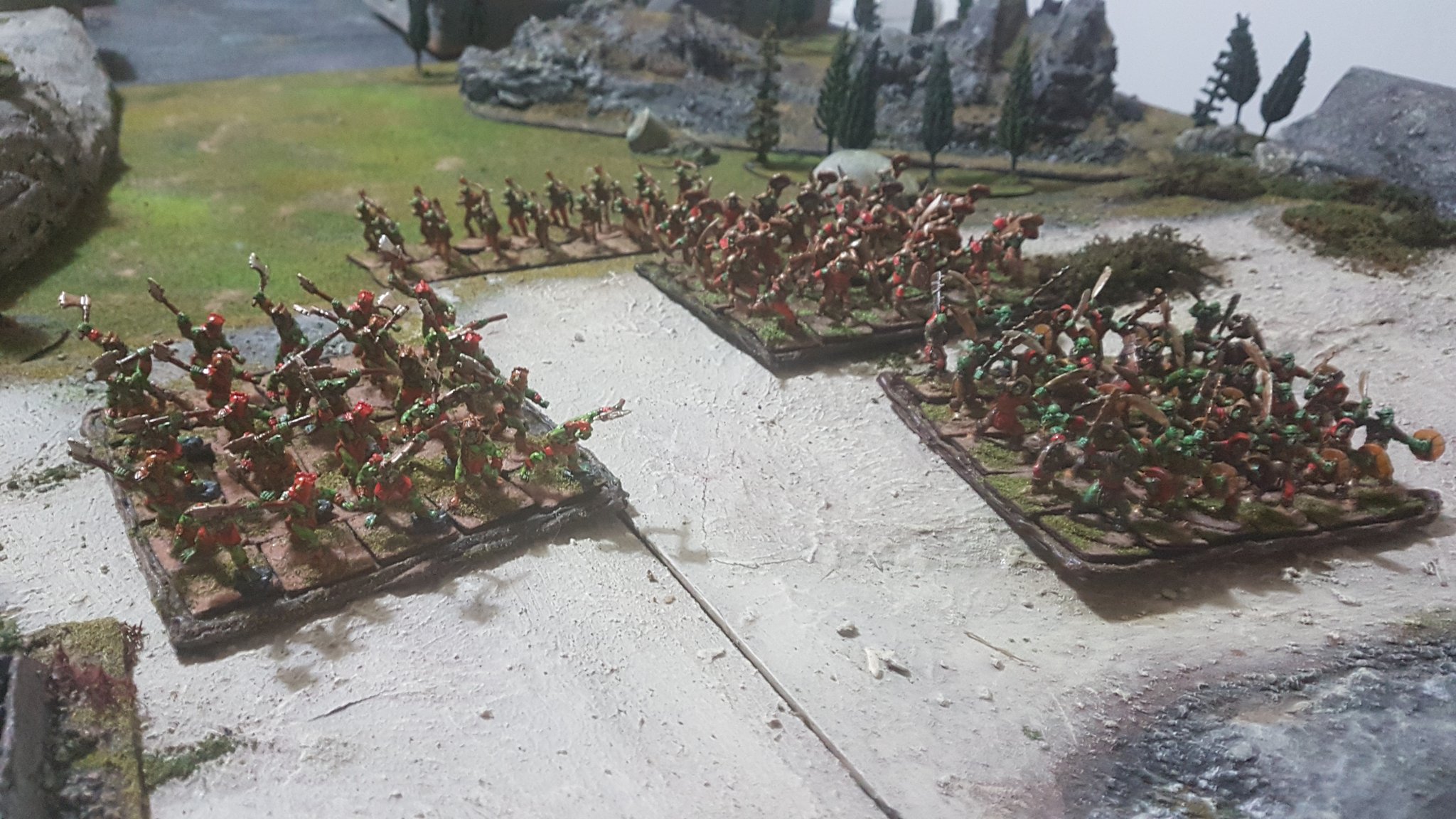 Why are they on the beach? Well, after the last year, everyone deserves a holiday…..
And for those interested, here are the profiles we've given them:
Orc Warrior:
| | | | | | | | |
| --- | --- | --- | --- | --- | --- | --- | --- |
| Speed | Shooting Skill | CCR | Initiative | Armour | Hit Point | Morale | Notes |
| 12 | 6 | 4 | 2 | 9 | 2 | Regular | Default: Advance (Assault) |
Orc Archer
| | | | | | | | |
| --- | --- | --- | --- | --- | --- | --- | --- |
| Speed | Shooting Skill | CCR | Initiative | Armour | Hit Point | Morale | Notes |
| 12 | 5 | 3 | 2 | 9 | 2 | Regular | Default: Advance (Assault) |
Savage Orc
| | | | | | | | |
| --- | --- | --- | --- | --- | --- | --- | --- |
| Speed | Shooting Skill | CCR | Initiative | Armour | Hit Point | Morale | Notes |
| 12 | 6 | 4 | 2 | 9 | 2 | Elite | Default: Advance (Assault) |
So as you can see – 'ard, but pretty thick, and not great at shooting stuff. The Savage Orcs rate elite morale as they're, well, Savage – if you knock off a couple of those lads, the rest are less likely to cut and run than yell WAAAAAARGH (unless GW has trademarked THAT too) and come pelting at you to beat you to a pulp.
They'll be getting their tabletop cherries popped pretty soon, but I'm also intrigued to see how they fare against the slippery Ratmen – fast, lethal but with fragile morale against the brick wall of green…
Stay safe and thrifty out there, we'll see you soon!