IIIIIIIIIIT'S CHRISTMAS! 
Well, not exactly. But – IIIIIIIIIIT's December! And as some of you may recall, we've been planning to celebrate the 25th anniversary of WH40K 2nd Ed by staging the Armageddon mini campaign that came in the box set. Now, we lucked out with our eBay purchase, but one thing that was demonstrably lacking was the cardboard terrain.
See, this was the first ever 40K box set (I know, right?) and GW were trying to have their base of starter players completely covered – rules, miniatures, army lists, counters and terrain – in this instance, cardstock push-fit walls to create LOS blocking ruins. We checked the campaign maps, and there were a LOT of these little buggers. 20, as far as we could tell. So if we were going to come up with our own DIY versions, they would have to be cheap, quick and easy.
The Skinflint Way.
We also decided, that since we've been dipping a toe into Deadzone waters, they should (at least for the most part) be compatible with 3″ squares. Fortunately, we've watched a LOT of Terrain Tutor videos – and we were up to the challenge!
We began with the base – lolly (popsicle to our friends across the pond) sticks. We measured these as 10mm wide, so here's where it starts to get ingenious – we cut one piece 3″ long, mark it L for long. Cut the next piece 3″ less 10mm wide – mark it with an S for short.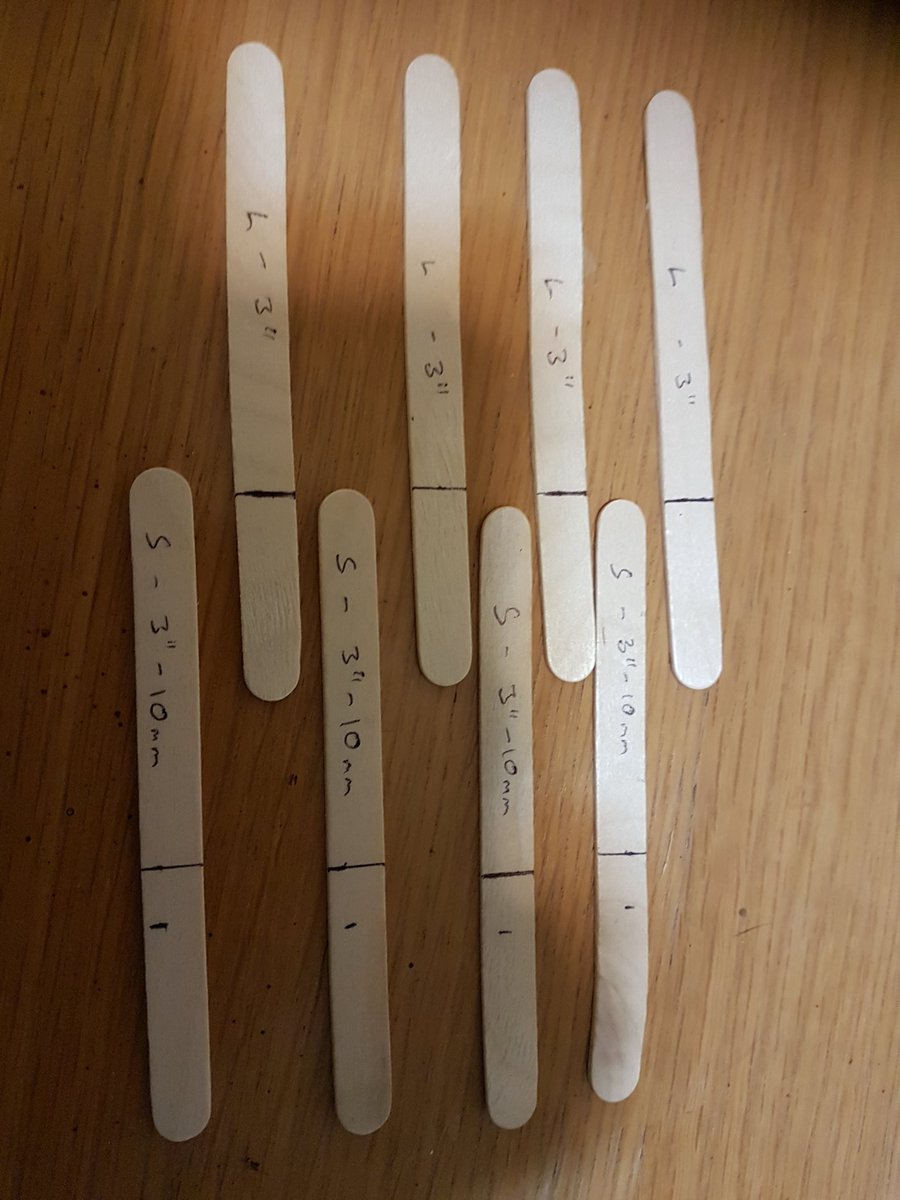 Position in an L shape as follows: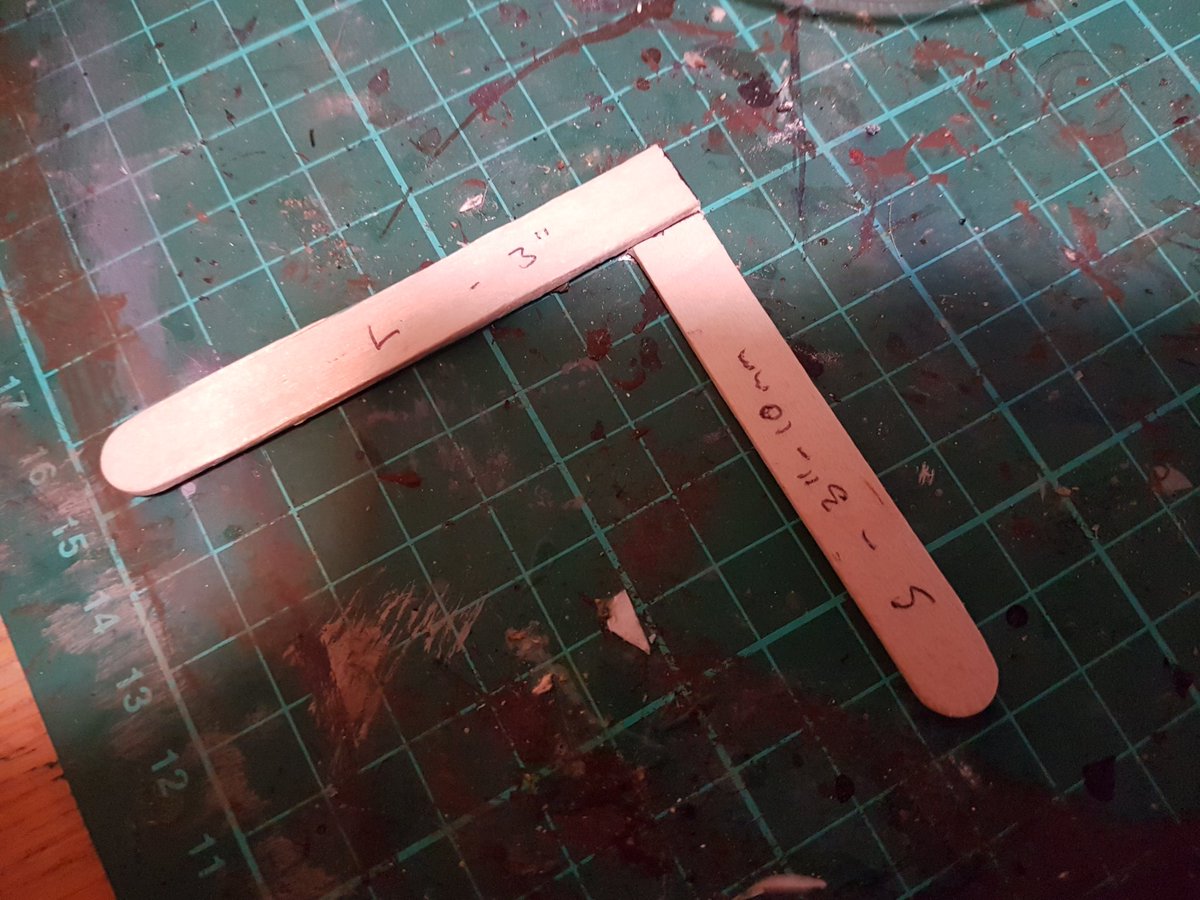 Next up – foamboard. This is bog standard 5mm stuff, which we picked up off eBay in A4 sheets.
We drew 2 rectangles – one 3″ x 2″ to be marked L, one 3″-10mm x 2″ to be marked S. Next, draw a wobbly diagonal line across each square – this represents the outline of the wall. Like this: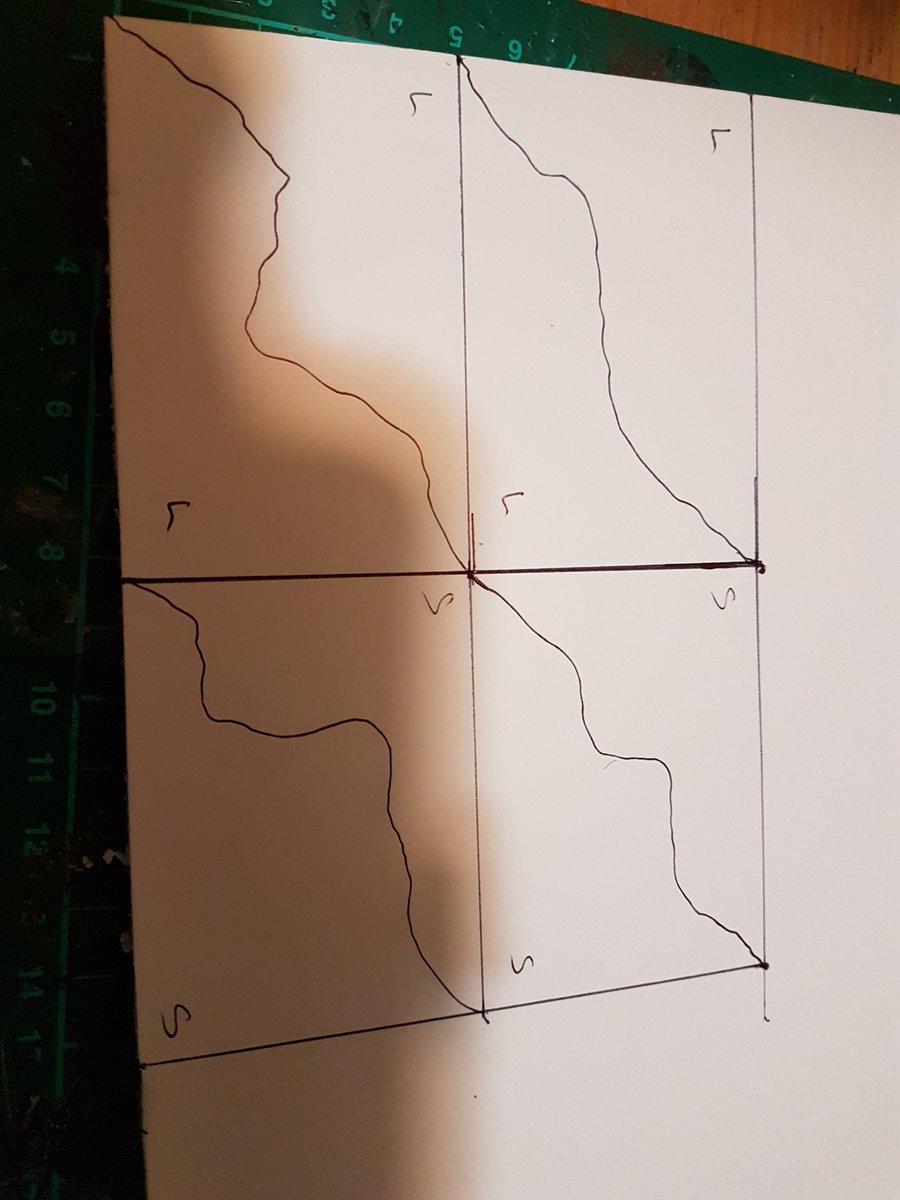 Cut this out with an Xacto hobby knife – I used a steel ruler for the straight edges and cut the wobbly ones freehand. You're making ruins, so no need to be too precise.
You've now got a long wall (L) a short wall (S). Glue the short wall over the long base and the long wall over the short base, then glue the walls together like this: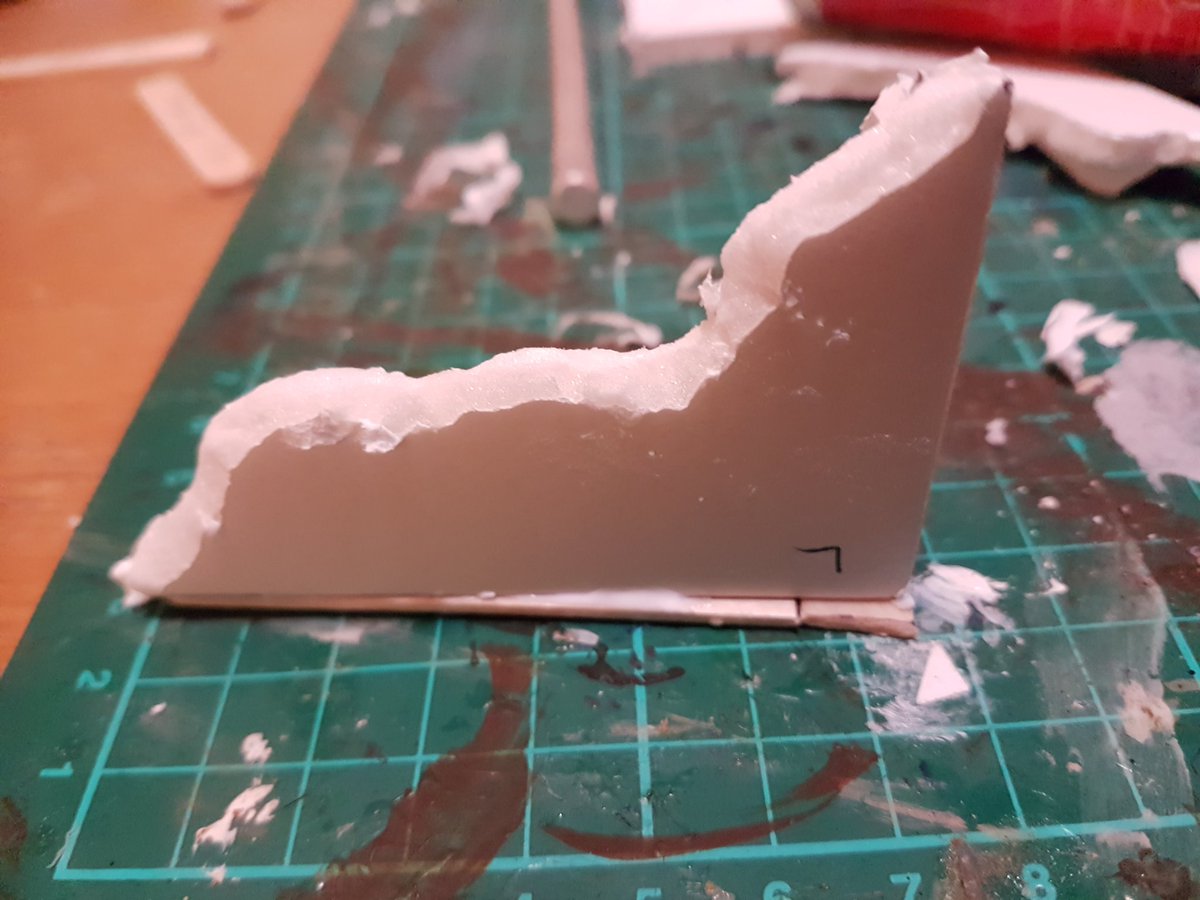 The long wall overlaps onto the long base and glues onto the short wall, creating a tough and sturdy L shape corner ruin. Don't worry about the join – a) life's too short, and b) we're going to put more stuff on it.
The next step is optional, but it's pretty quick and does help the look – bevel the edges with your knife (Health & Safety disclaimer – Knives are SHARP. Handle them carefully).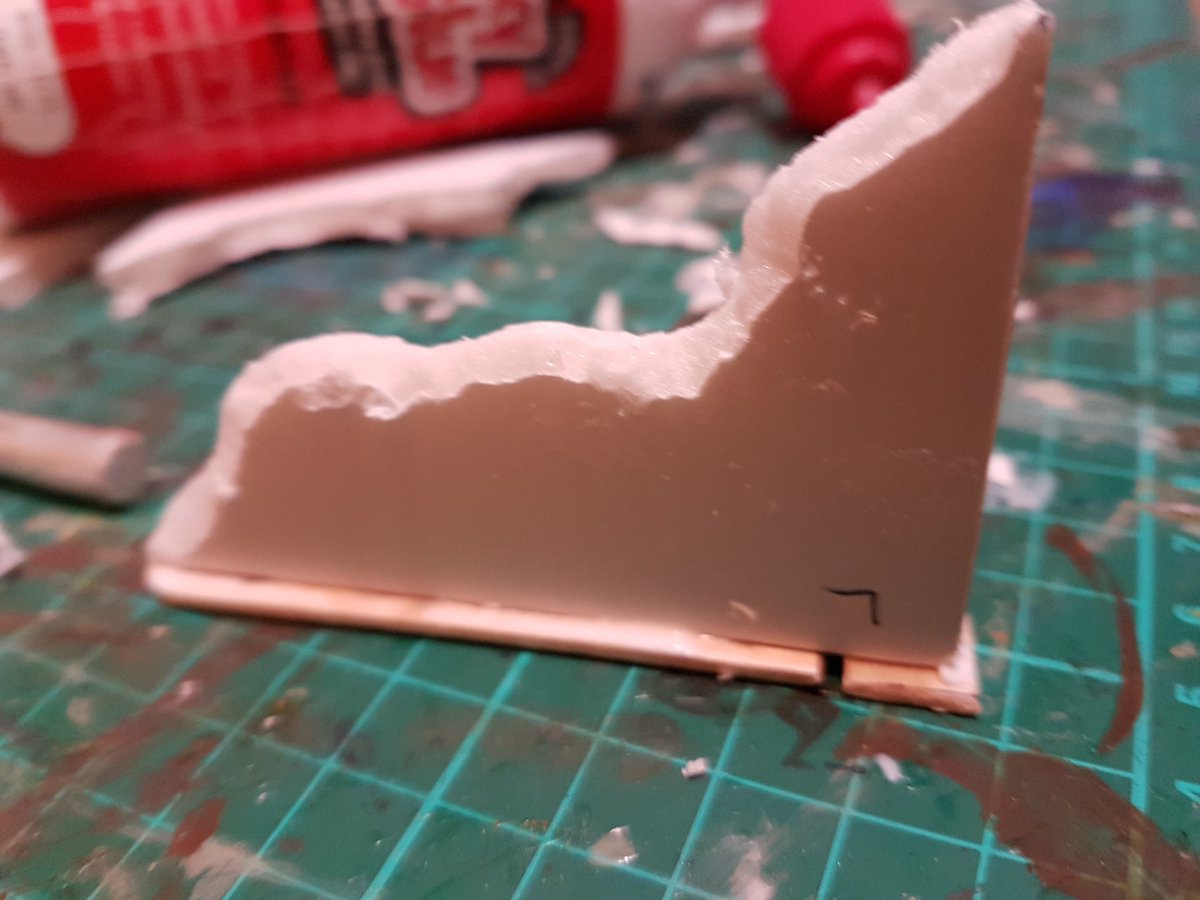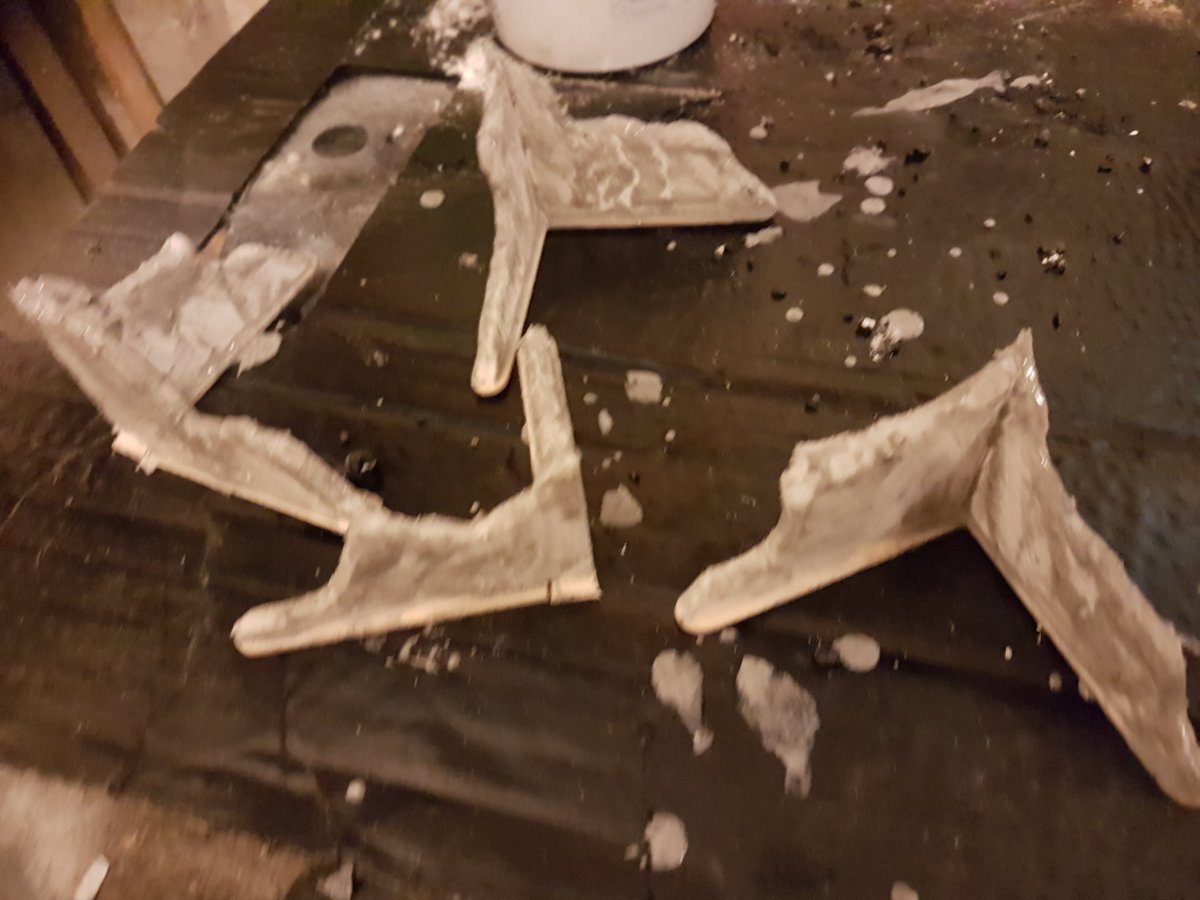 Next, we covered the ruins in texture paste – this is fantastic stuff, a home made brew of PVA, sand, powdered Polyfilla with some black craft acrylic mixed in and watered to taste. Leave this to dry – 24 hours if possible. You want it to be solid. Make sure you daub liberally over any exposed foam too, as the next step is spraying black primer which will melt any foam left uncovered.
Although I forgot to take pictures, this is also the stage at which I got some acrylic filler (aka decorator's caulk) and pushed some cat litter into it to create rubble effects.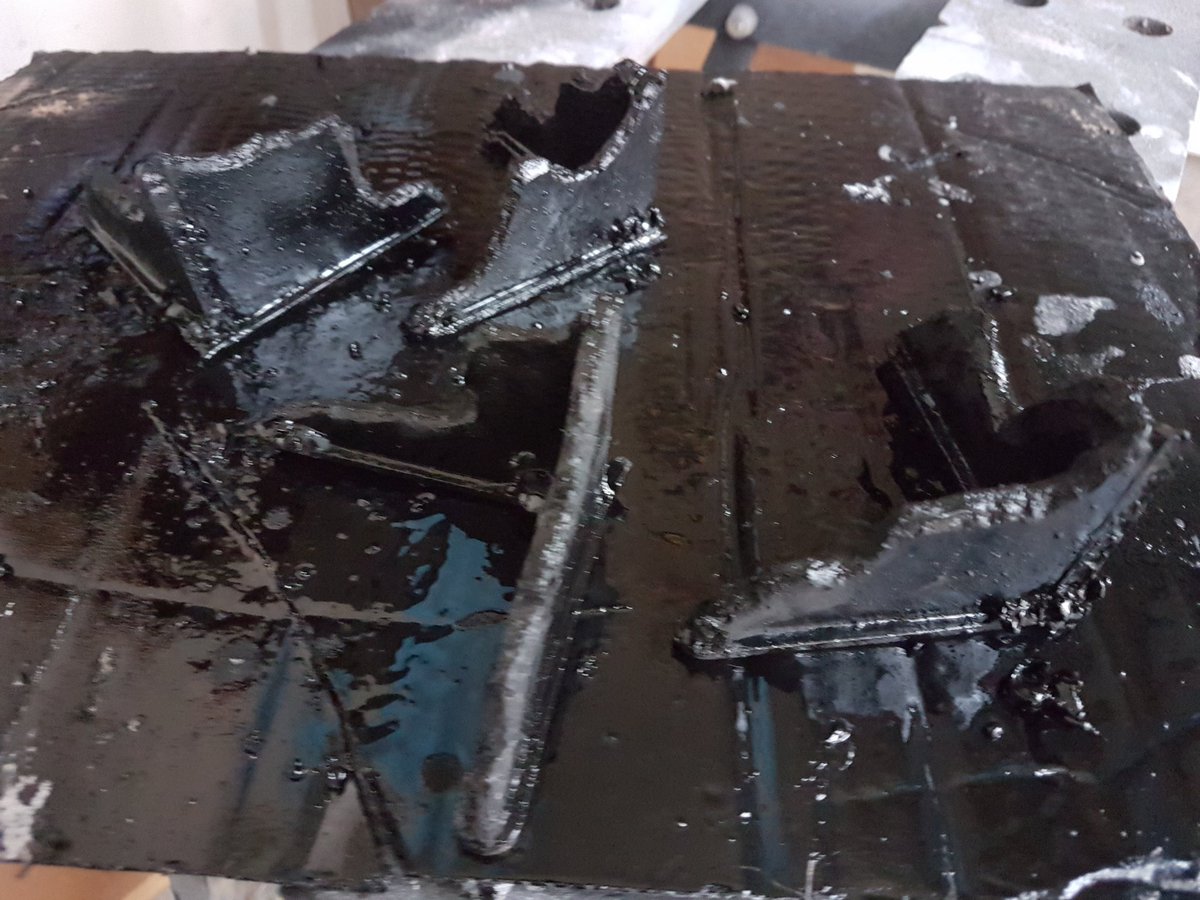 Next up, painting  – colour scheme filched entirely from Lukes APS and has served us well so far. First, duck egg blue drybrush: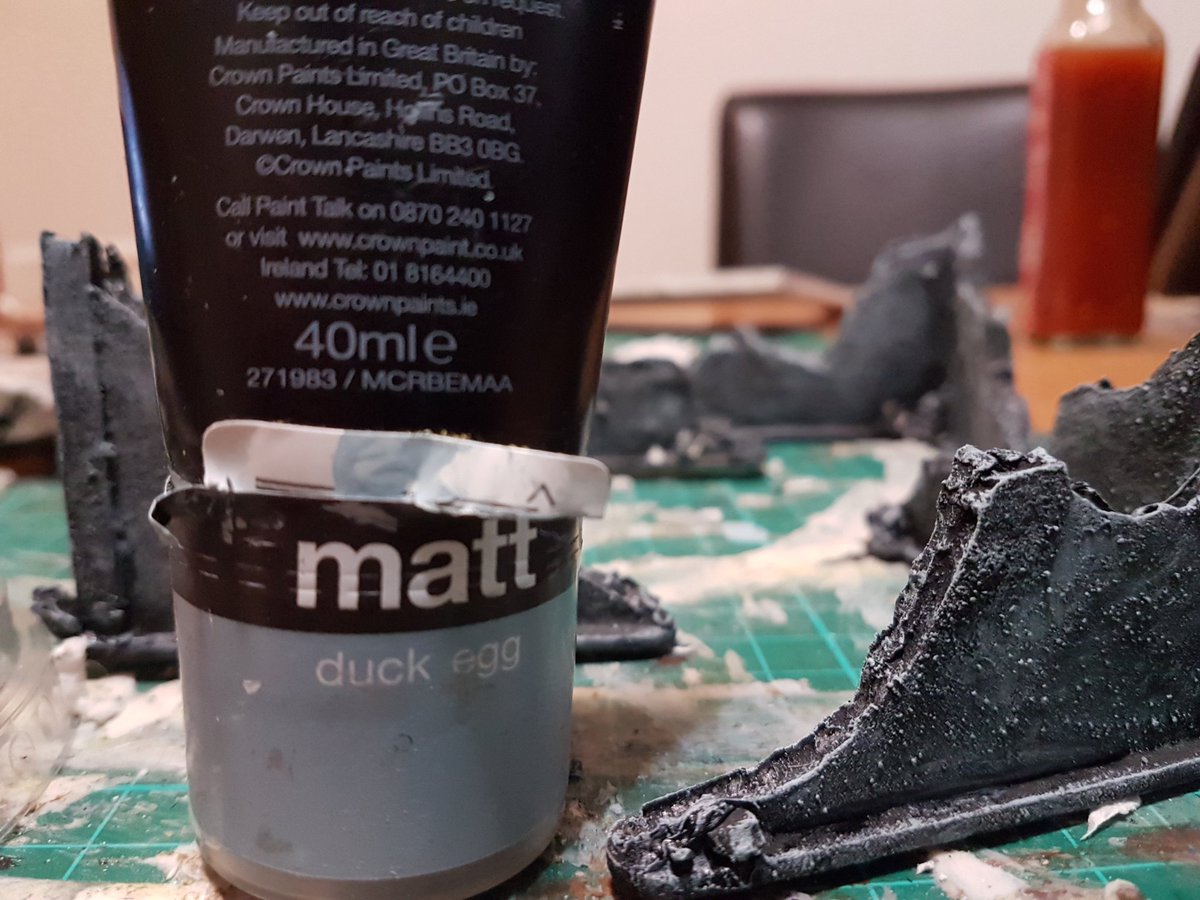 Next up, drybrushed on some red splodges from cheap acrylic craft paint – yeah, I know, red???? But this is the Squire Of The North, and he's not steered us wrong yet!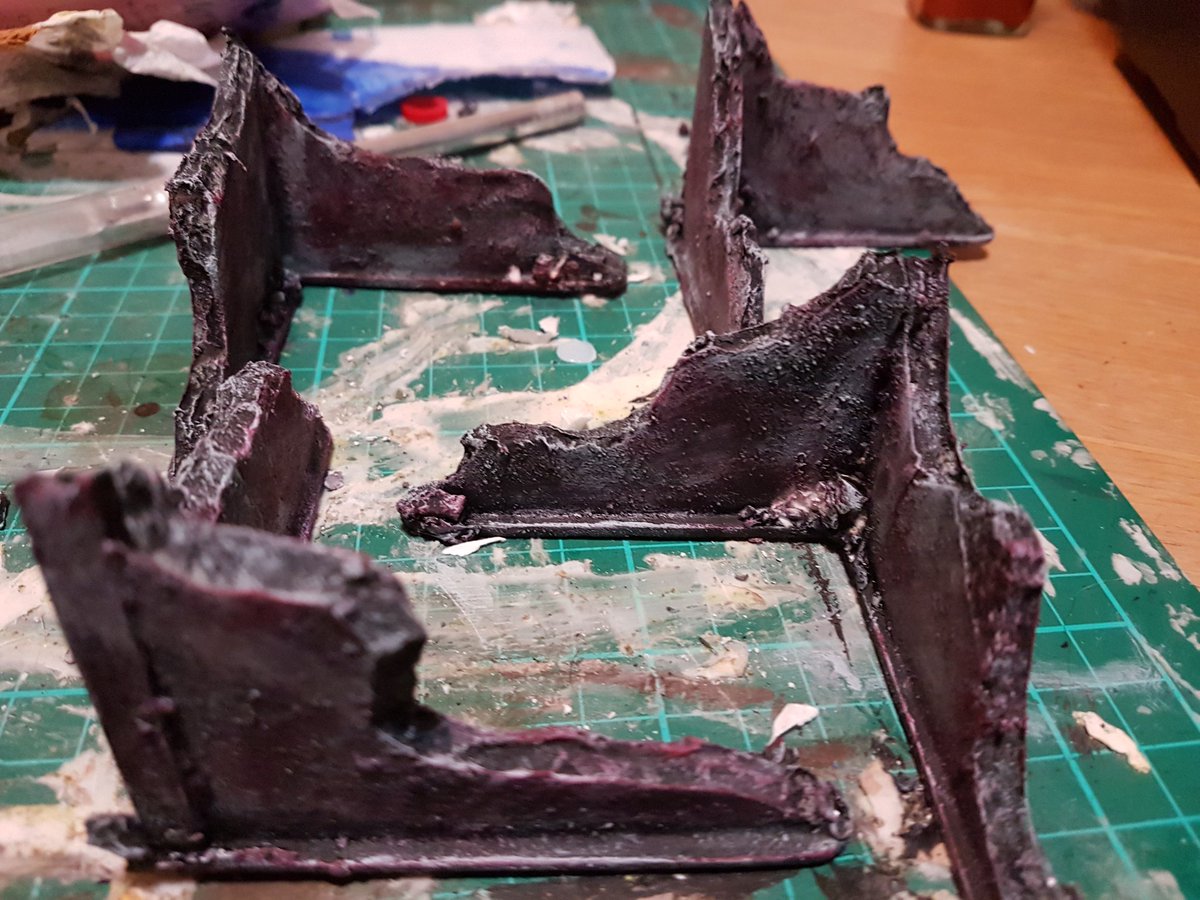 Overbrush with City Break mid grey: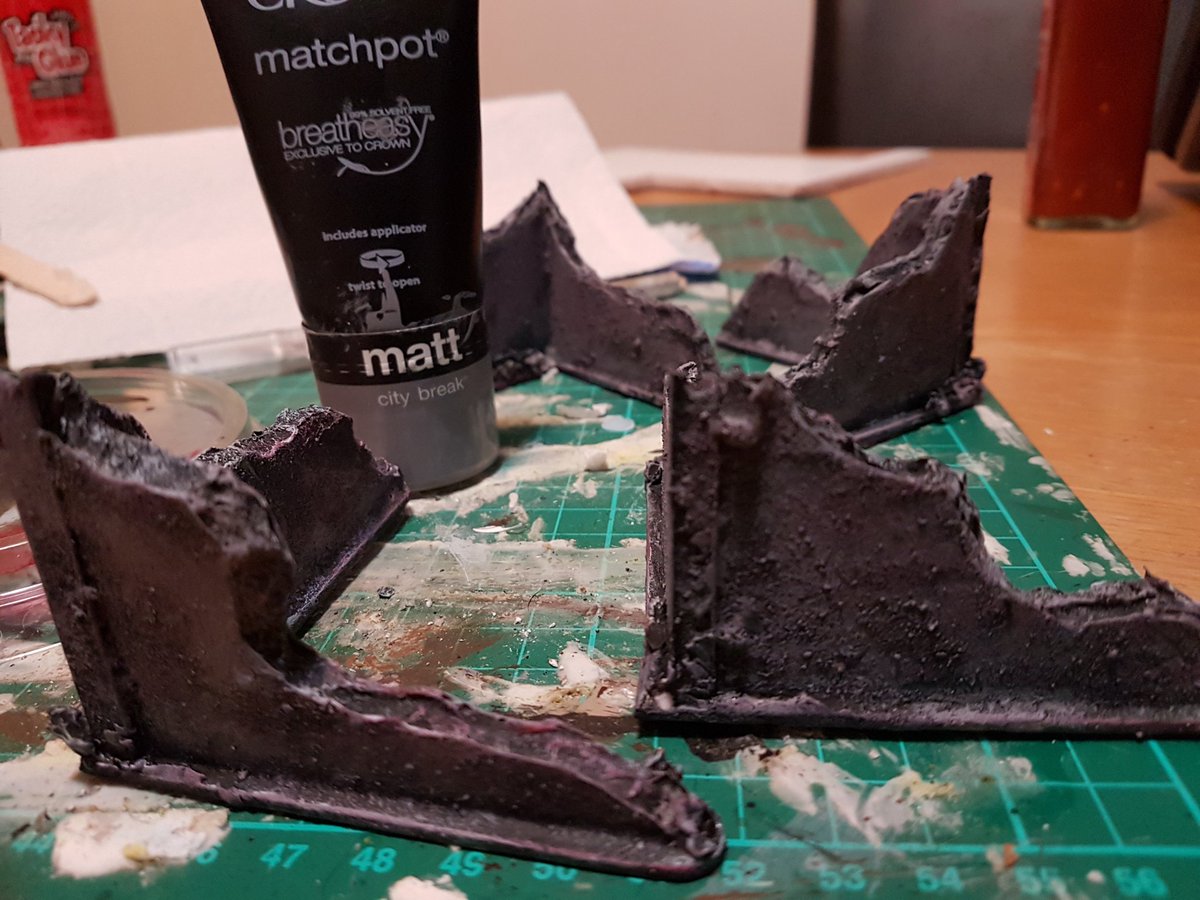 Drybrush with Cloud Burst light grey: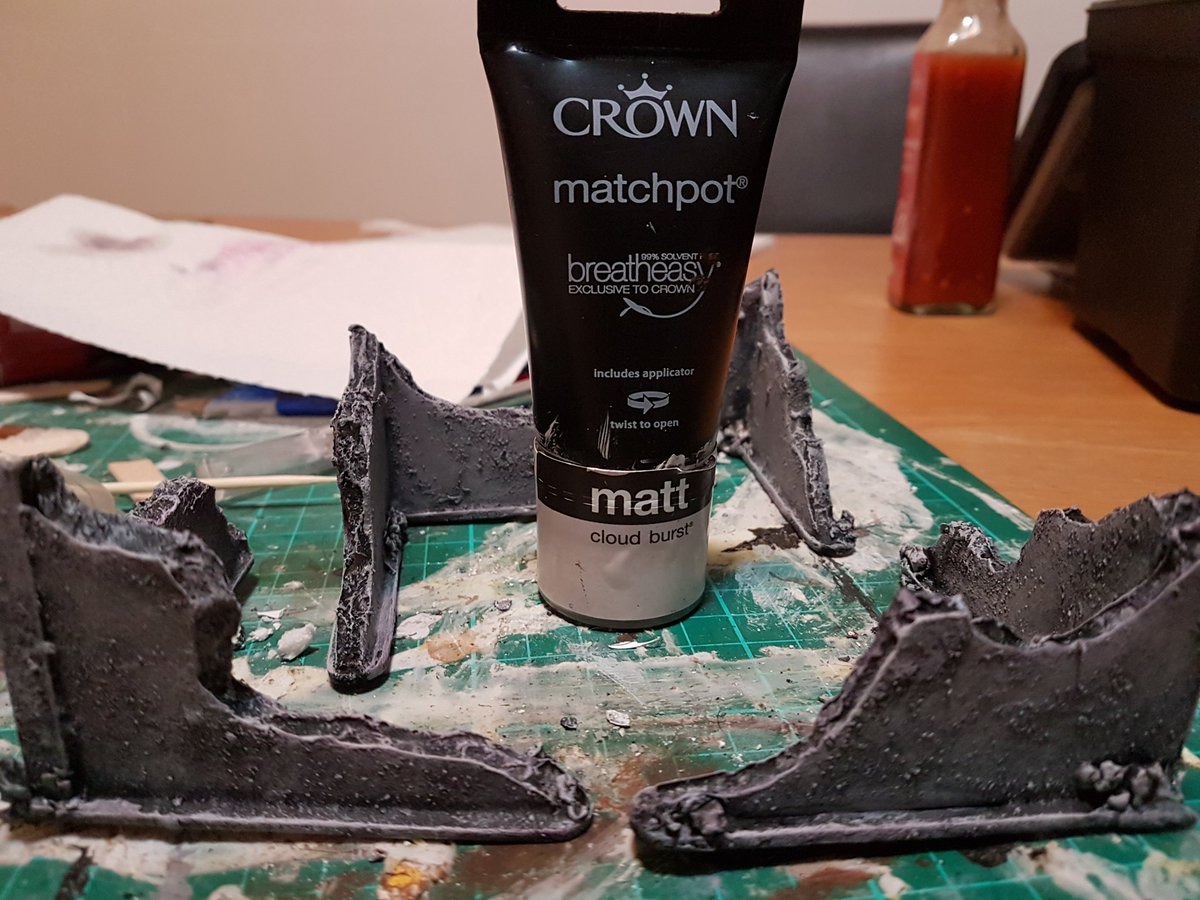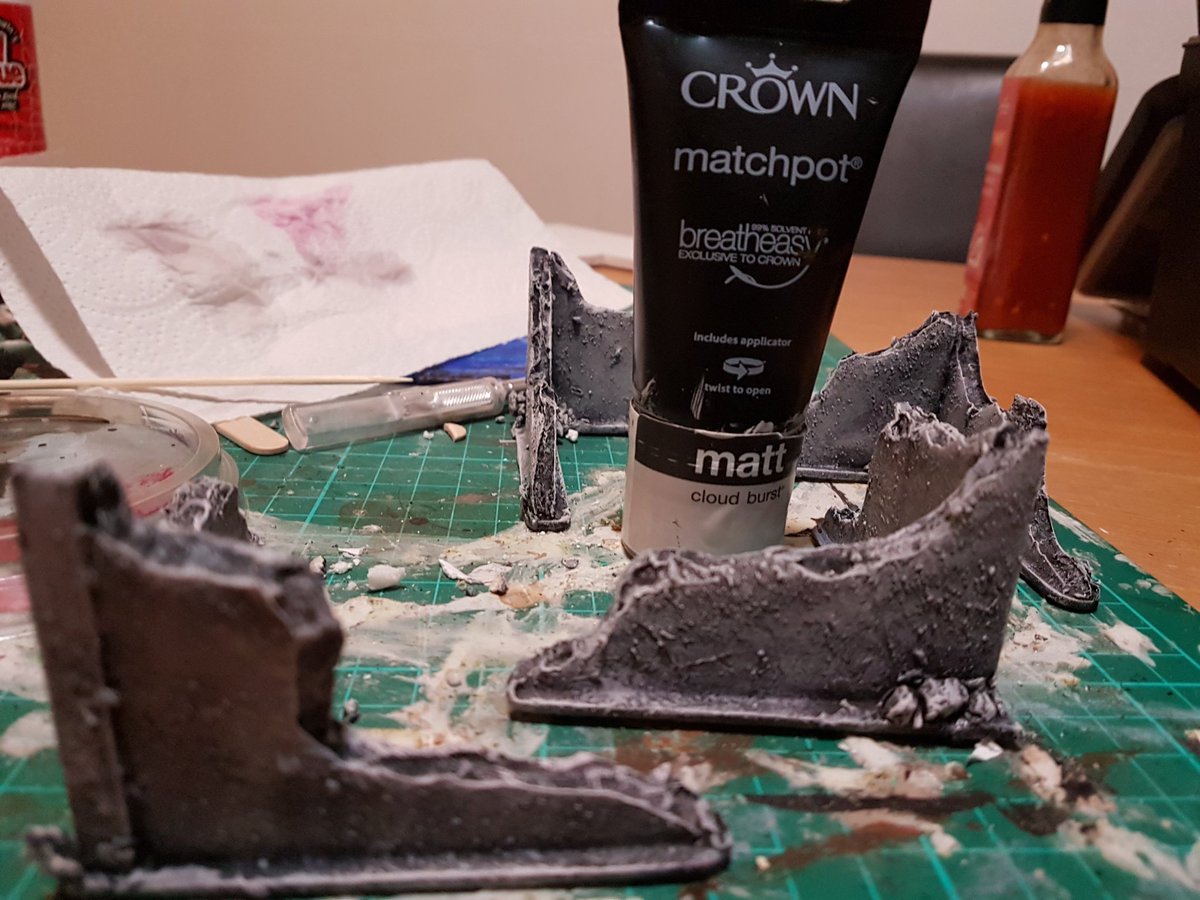 Next up a couple of washes – thinned mix of Vallejo Black and Smokey inks, applied with a wet brush – water keeps everything moving and evenly blended. A home made dark green wash finished things off nicely, and the various layers of greys and other things give a real depth of colour.
You can switch things up a bit from this basic design too – For these last two, I added an extra floor and a couple of bits of guitar string to represent rebar rods and cabling: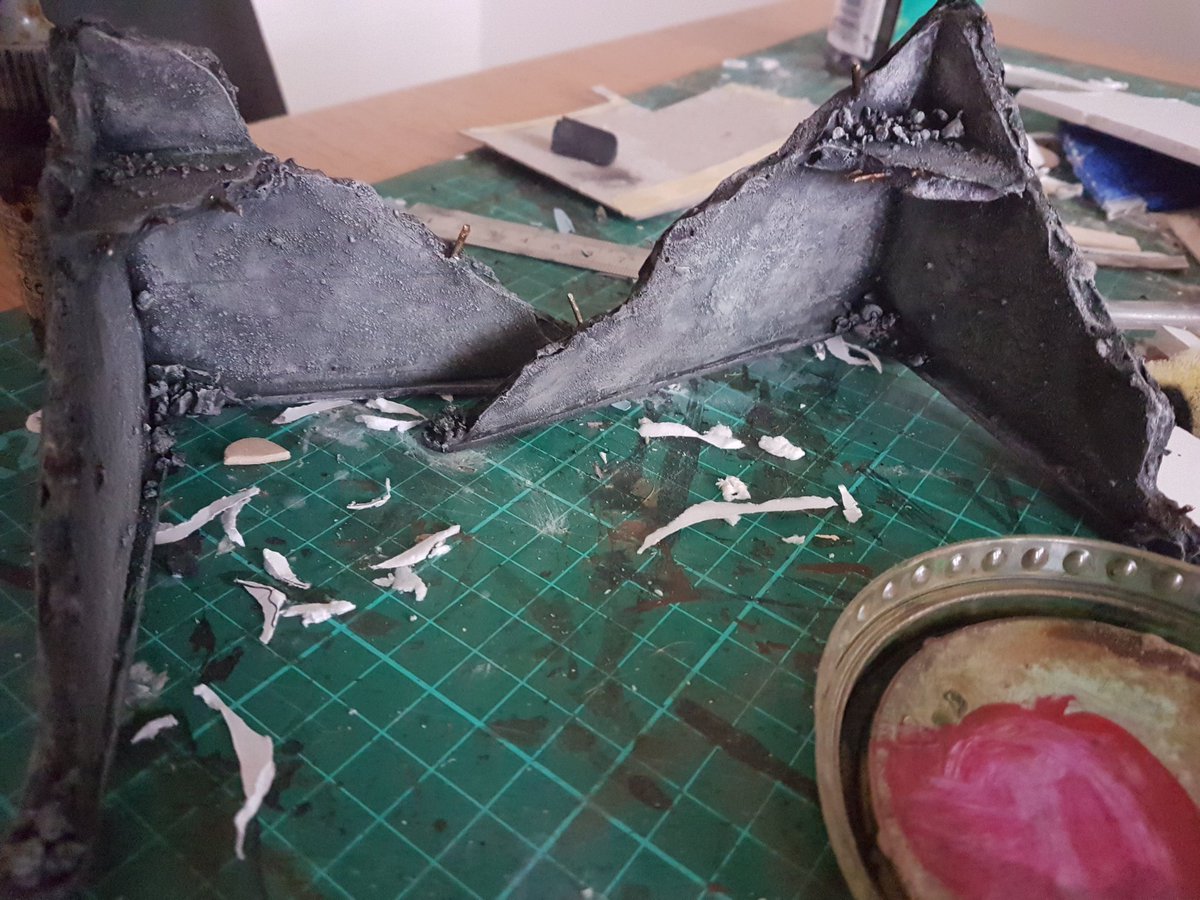 Really pleased with how these came out, and although there's scope for adding flock and dust effects I think for now these are good to go! Some last pics of them in situ, both Deadzone and 40k: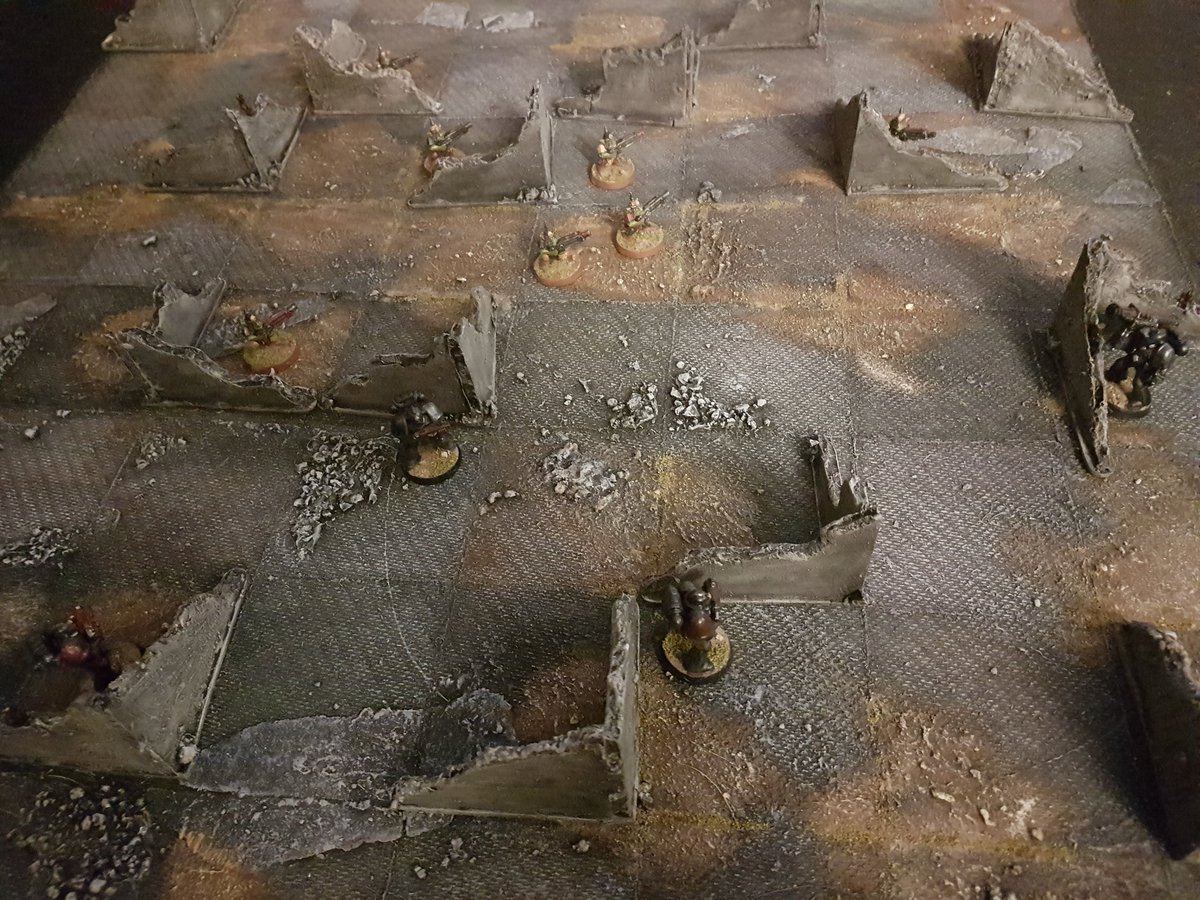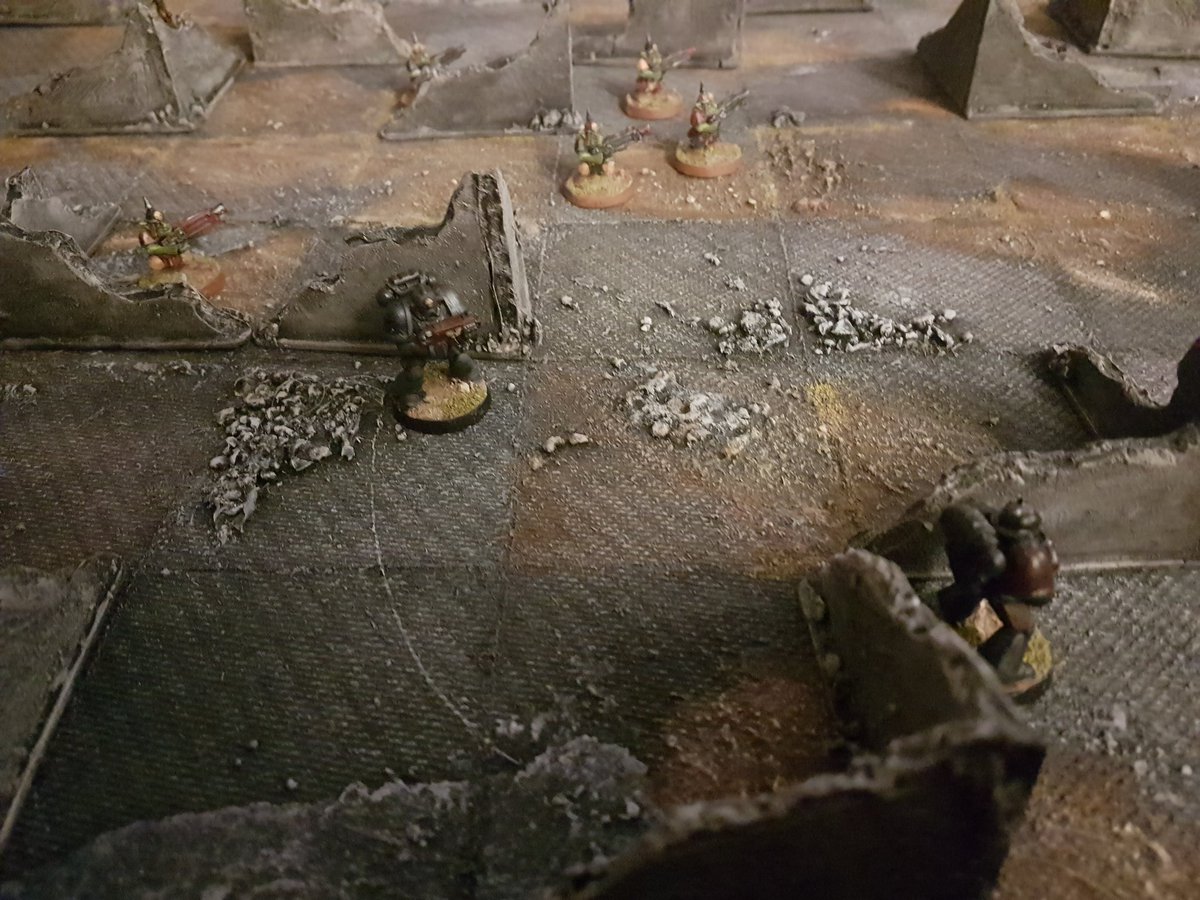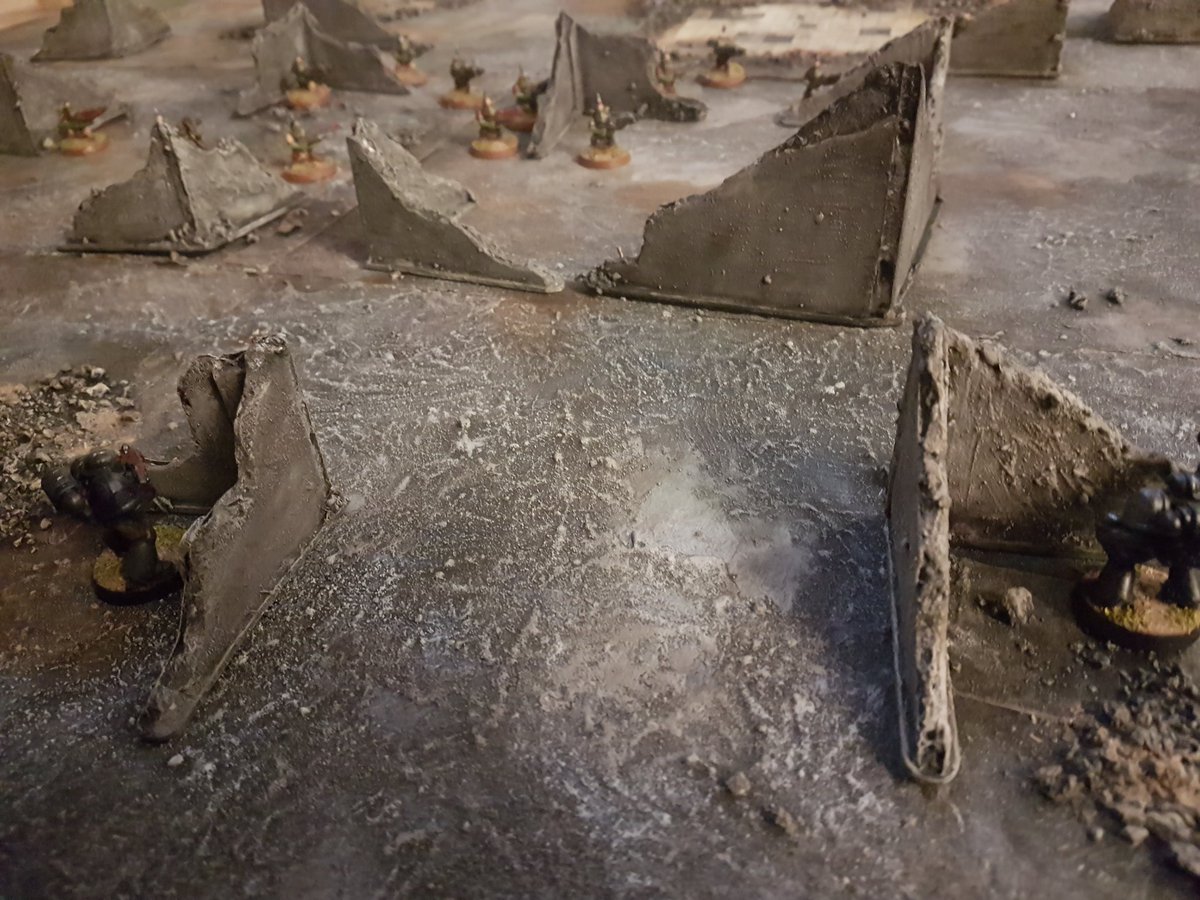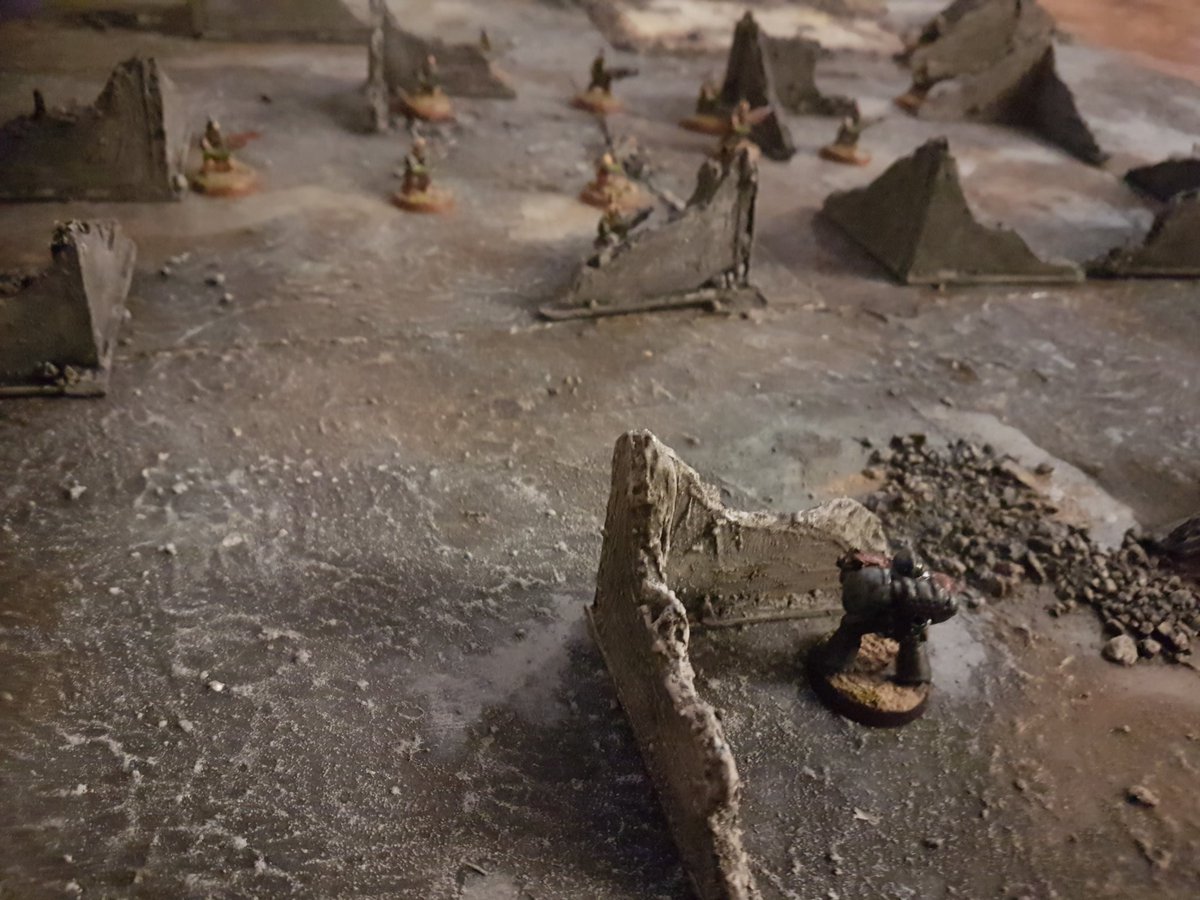 As always, stay thrifty out there, and as this is almost certainly our last post before Christmas, here's wishing you all a very merry one!