We're FREEEEEEEEEE!
Sorta.
And what better way to celebrate our new found glorious, double-jabbed-plus-two-weeks liberty than by reinstating our Grand Summer Megagame…
Now, admittedly, the last time we did this we managed to precipitate the Great Plague Of 2020, so it's entirely possible that in a couple of months we'll be staring at a blank screen lamenting the collapse of humanity to an alien invasion… but we're willing to take that risk. Let's break out the toy soldiers!
As before, the mantra was WE BRING EVERONE.
So that's all the factions we'd built in 20mm for Apocalypse: Earth, Hyperian Wars and Future Force Warrior – seeing as these three games are all built around the same basic principles, they've proved to be pretty compatible. And as before, we divided them into two rough factions, "goodies" and "baddies". Orders of battle below:
Goodies:
League Of European Nations (A:E)
People's State Liberation Army 1977th Guards Regiment (FFW)
People's State Liberation Army Special Forces "Crimson Fist" Squadron (FFW)
Grand Alliance Sky Marines (HW)
Baddies:
People's Front Of Hazzard 37th Freedom Brigade (with associated civilian elements) (FFW)
Lord Ratticus' Virum Nascii Horde (HW)
Last time out the baddies had been significantly outnumbered and outgunned, but we'd finished adding some special weapons to the Virum Nascii, not to mention about 100 fantasy Orcs, the PFH rebels with their cabal of powerful psychics and a cloud of armed civilians… should be a close run thing!
We also faced a problem this time – having EVERYONE on the table was just not going to work – there just wasn't room- so we came up with a different scenario to the basic "Kill 'Em All" approach of last time. This time we placed an objective – in this instance a downed spaceship (3D printer Dan's son had lovingly assembled and then sat on) – dead centre. The aim would be to pick up the spaceship and move it off your table – the unit carrying the spaceship would only be able to move at half speed and the objective would only be able to captured from Turn 2 onwards.
For deployment, all forces would be available but each unit would have to pass a reaction roll to appear.. each subsequent turn that roll would get a +1 bonus, then an extra +1 the turn after that and so on.
We set the table up with all the biggies – Mel Bay, Bose Cliffs, Skalk Point and the plasma reactors, ruins , BIG RUINS, and military buildings – with half the table rural and half urban, and I've got to say, biased as I am it all looked GOOD. Check it out: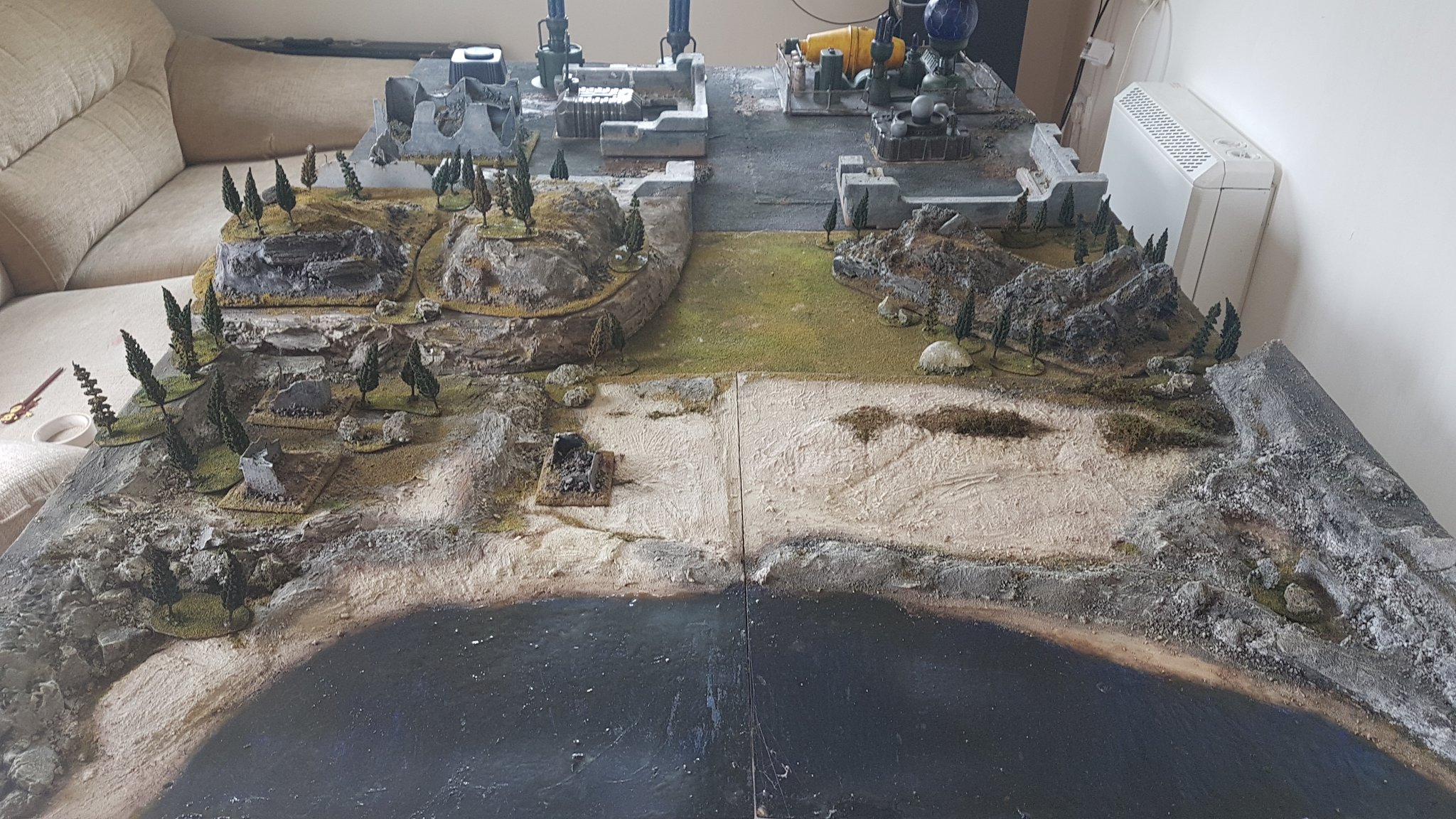 We diced for table edge – the Baddies winning and choosing the ruined city, leaving the Goodies with the beach landing – and then we began to deploy units alternately as per the Apocalypse Earth rulebook, rolling for availability as we went…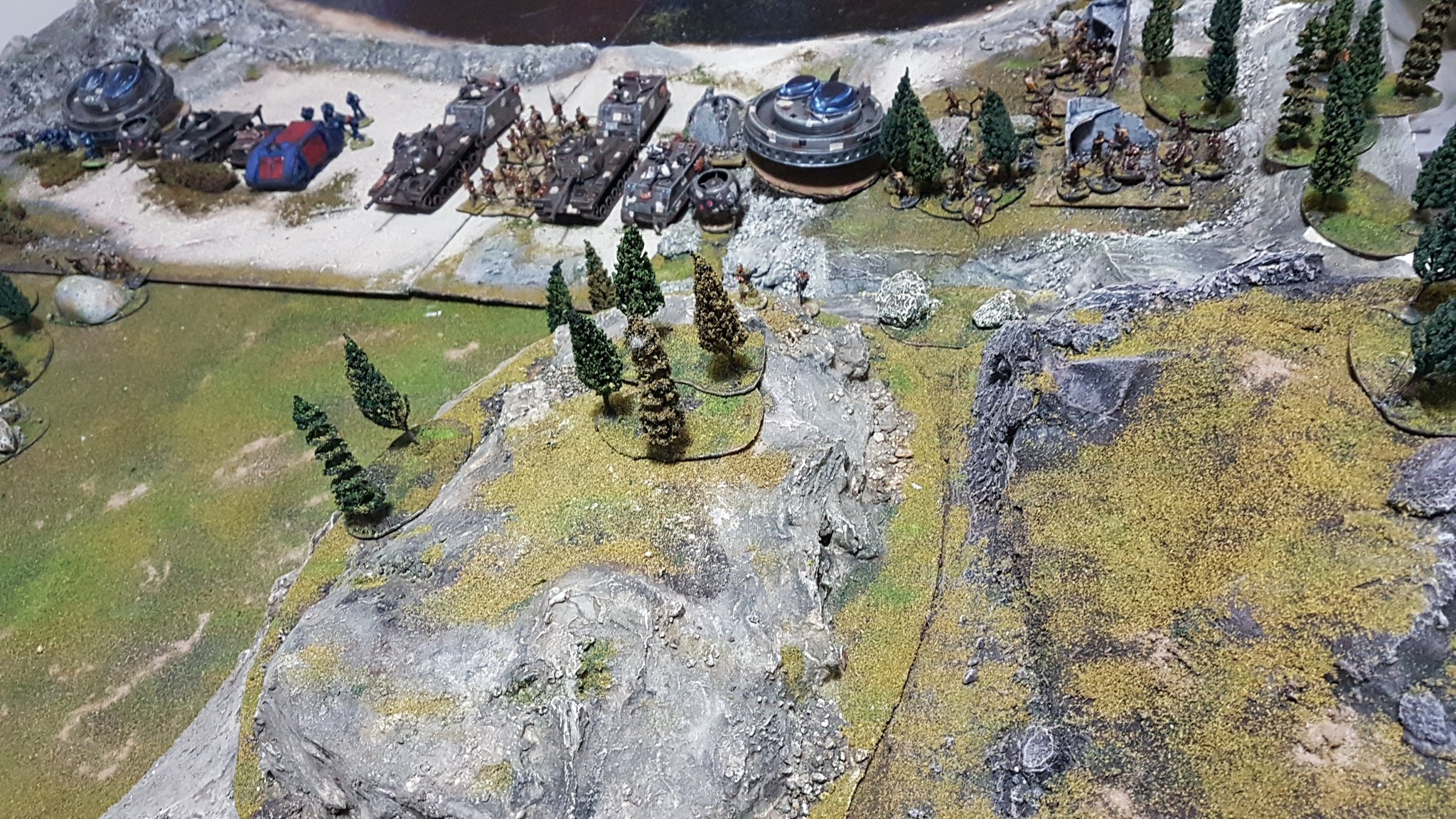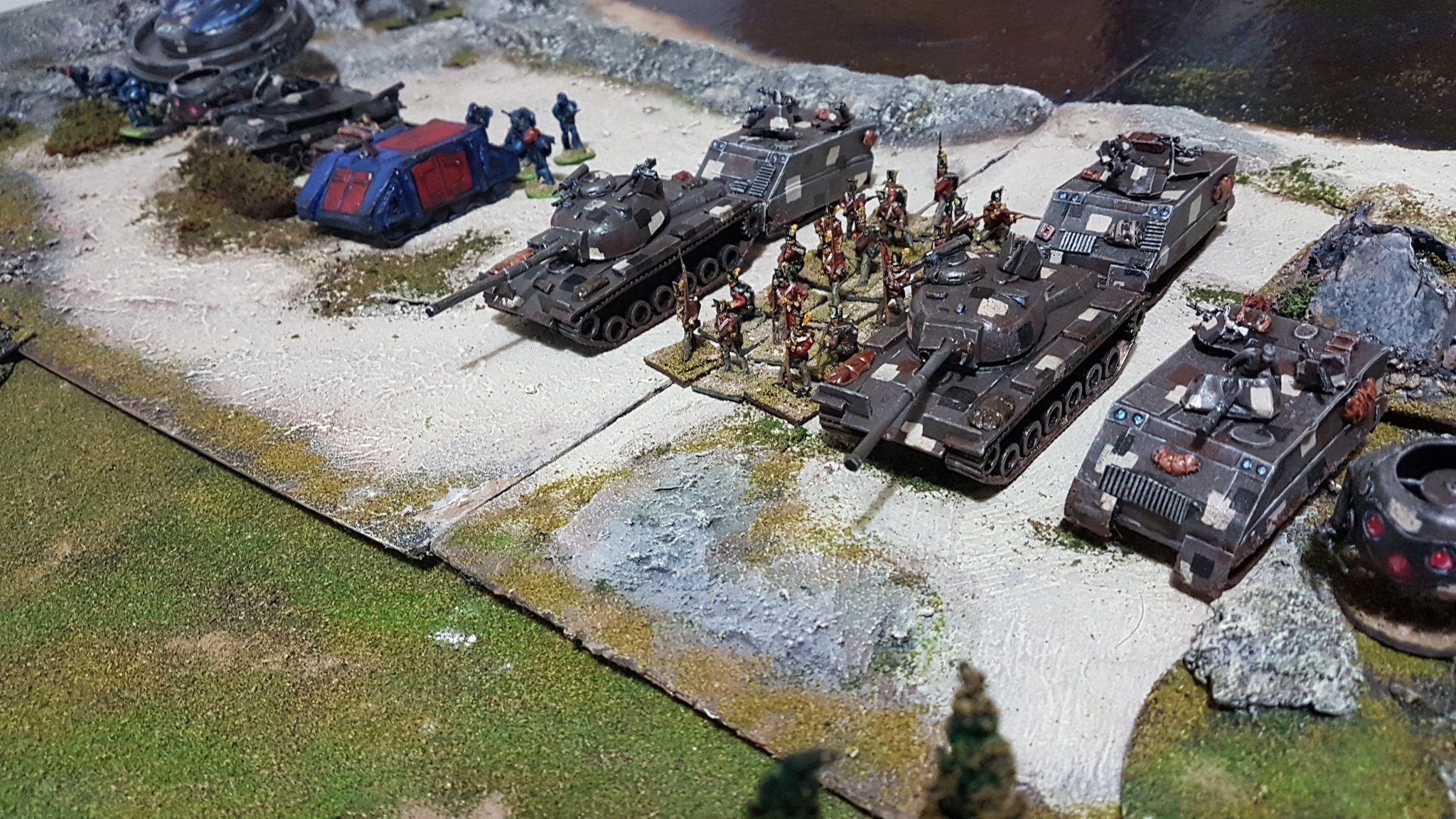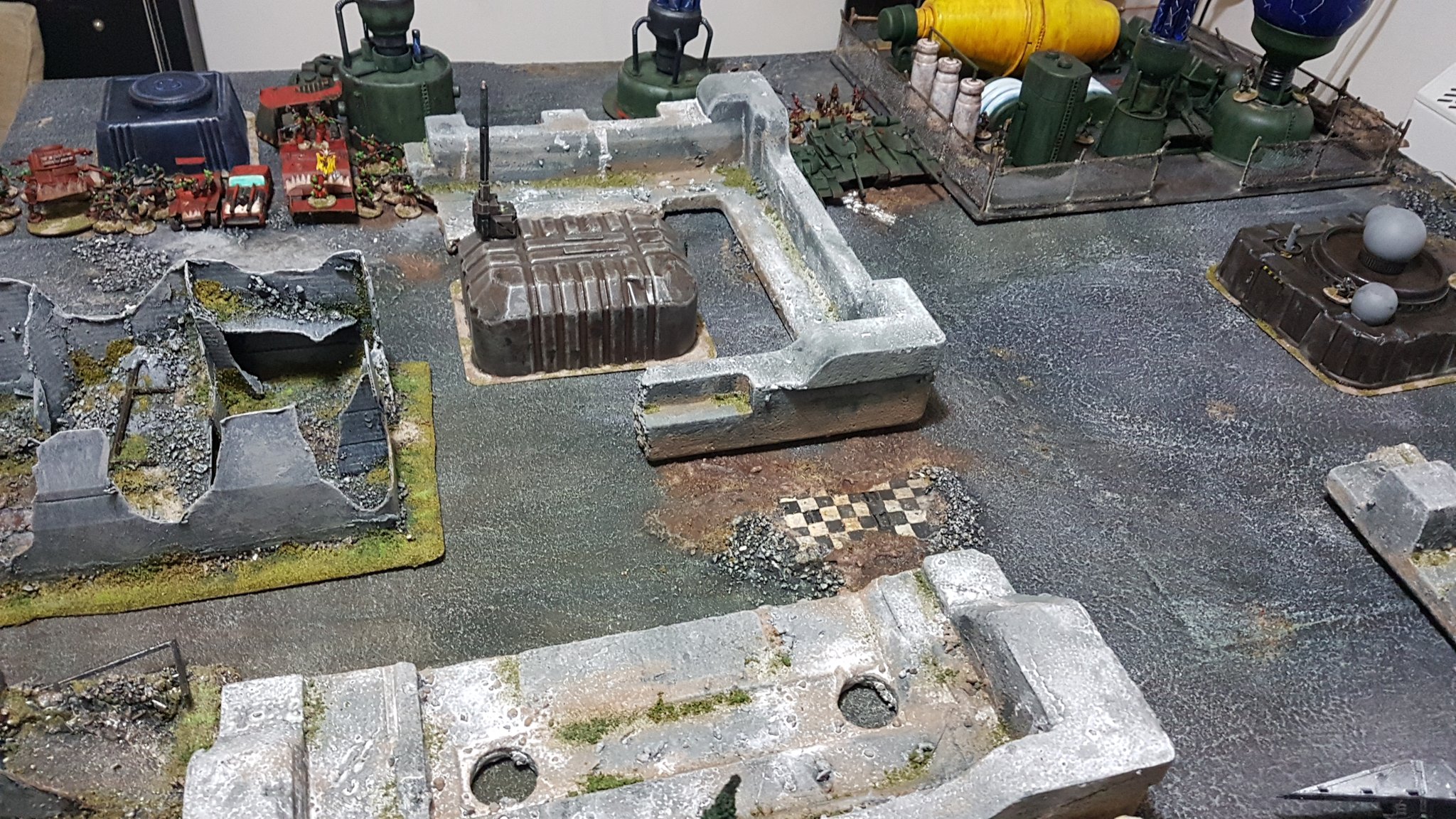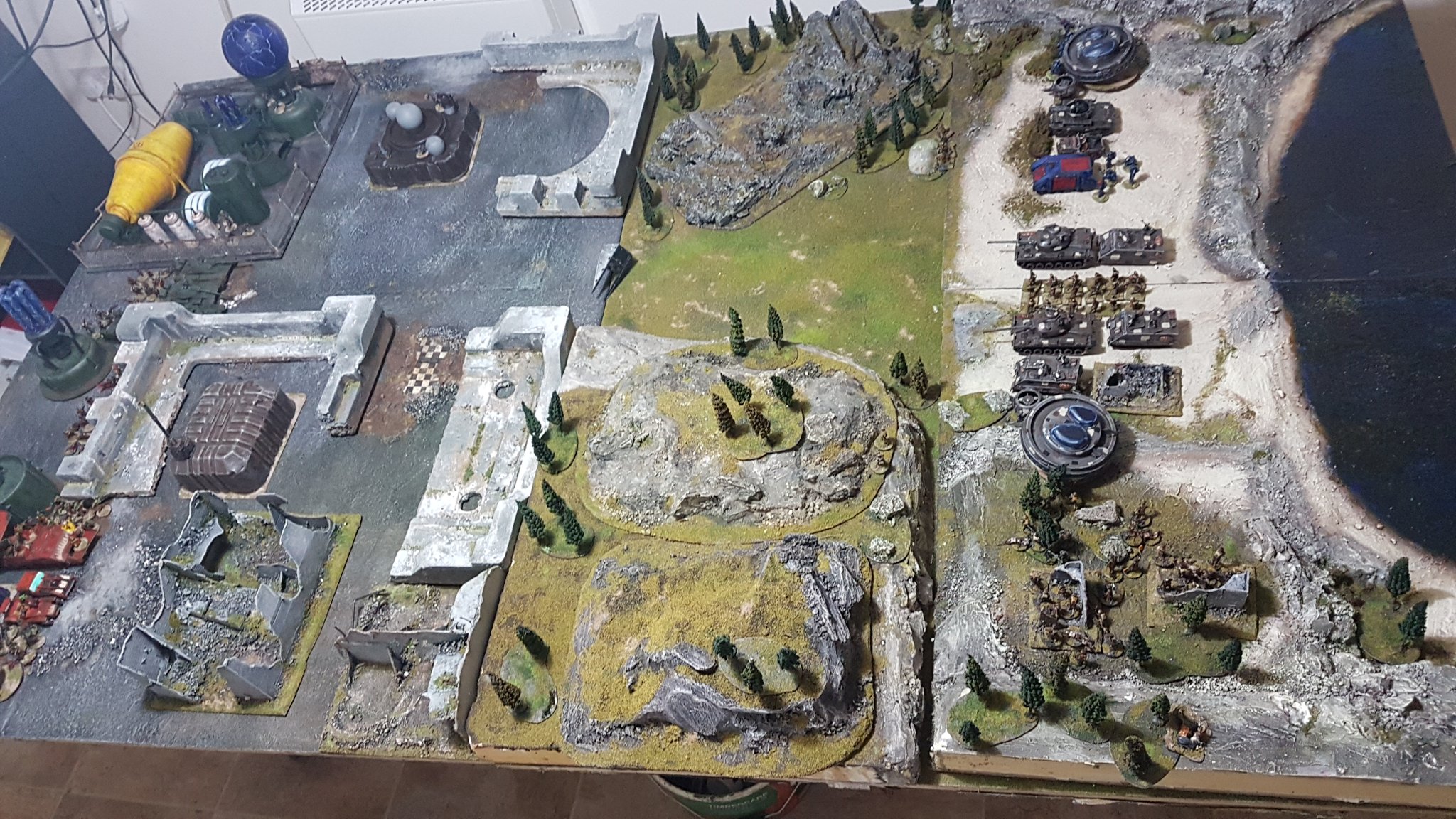 And thus the stage was set for quite the showdown – stay tuned for the next episode!