Good God. Was it really 2017 when we last did an Epic battle report?
Apparently so.. aww, remember when we thought Donald Trump was a threat to world peace? And that Brexit was a genuine existential problem?
And so we come to 2023, having endured plague, economic catastrophe and war in Europe.. it really is true that you only realise you're in a Golden Age after its' gone. Still, at least it can't get any worse, right?
RIGHT?
Anyway – we figured that a great way to wind up a pretty shitty year would be to get as far away from reality as possible, 38,000 years into the future and return once more to the world of Hazzard. Since our last scrap, we've added a HELL of a lot of kit to both the Ork and Imperial sides, not to mention a small contingent of Squat allies – so stay tuned, this should be a good one.
I rolled out Waagh-Bozzhog, recently reinforced with a Death Skull clan – and of course Big Red from a few years ago – and the order of battle was thus:

Evil Sunz clan reinforced with Nobz Warbikes, Gobsmashas, Bowelburnas, Spleenrippas and Mekboy Dragster
Goff Clan reinforced with Lungburstas, Gutrippas and Skullhamma battle fortress
Bad Moon Clan reinforced with Braincrushas, Squig Catapults and Weirdboy Battletowers
Death Skull Clan reinforced with Bonebreaka and Stompas
Ork Warlord & Stompas
Slasher Gargant
"Big Red" – Great Gargant.
This lot topped out at 6,600 points, so yeah – game on!
Jim pondered and decided that after the Redeemers had taken such a kicking in their last game and it would take time to replenish their geneseed, it would be my DIY Guard and his DIY Squats taking centre stage. Standing up to the orkish horde would be:
Squat Warrior Brotherhood
Squat Grand Battery
Guard Tactical Infantry Company
Guard Support Infantry Company
Marine Whirlwind Battery
Marine Land Raider Company
Marine Veteran Company
So, with forces chosen, we rolled up a battlefield, placed objectives and had at it!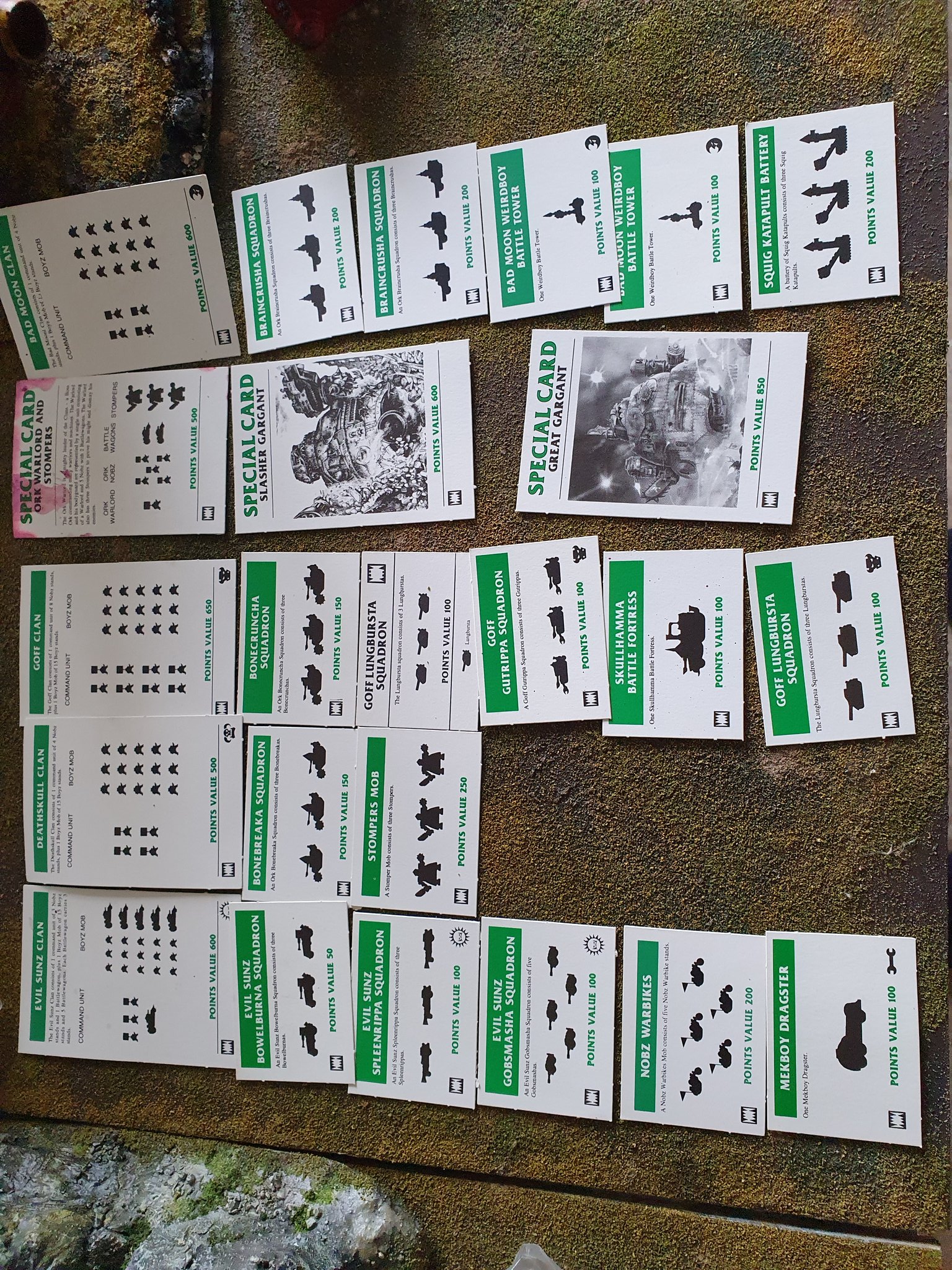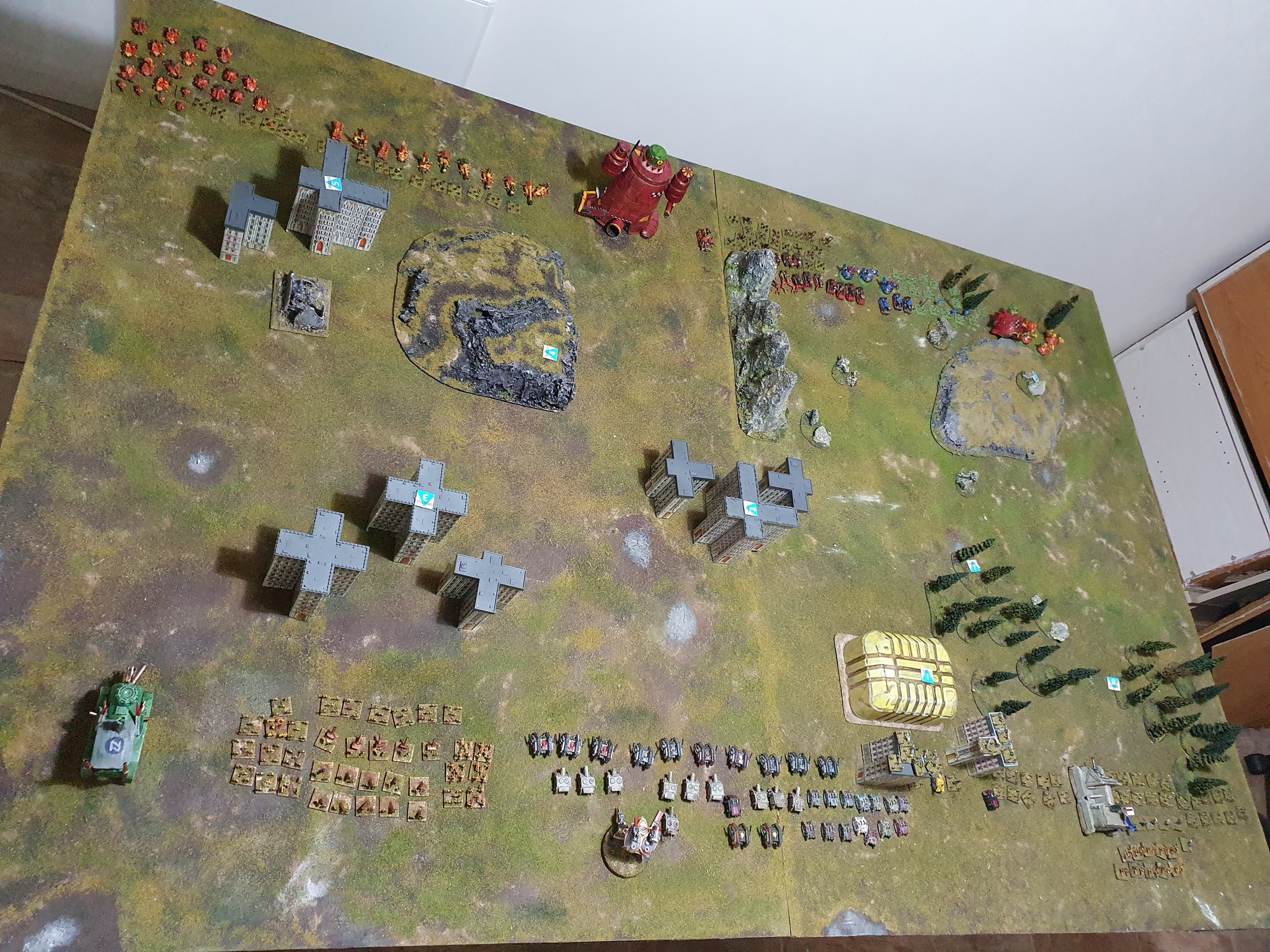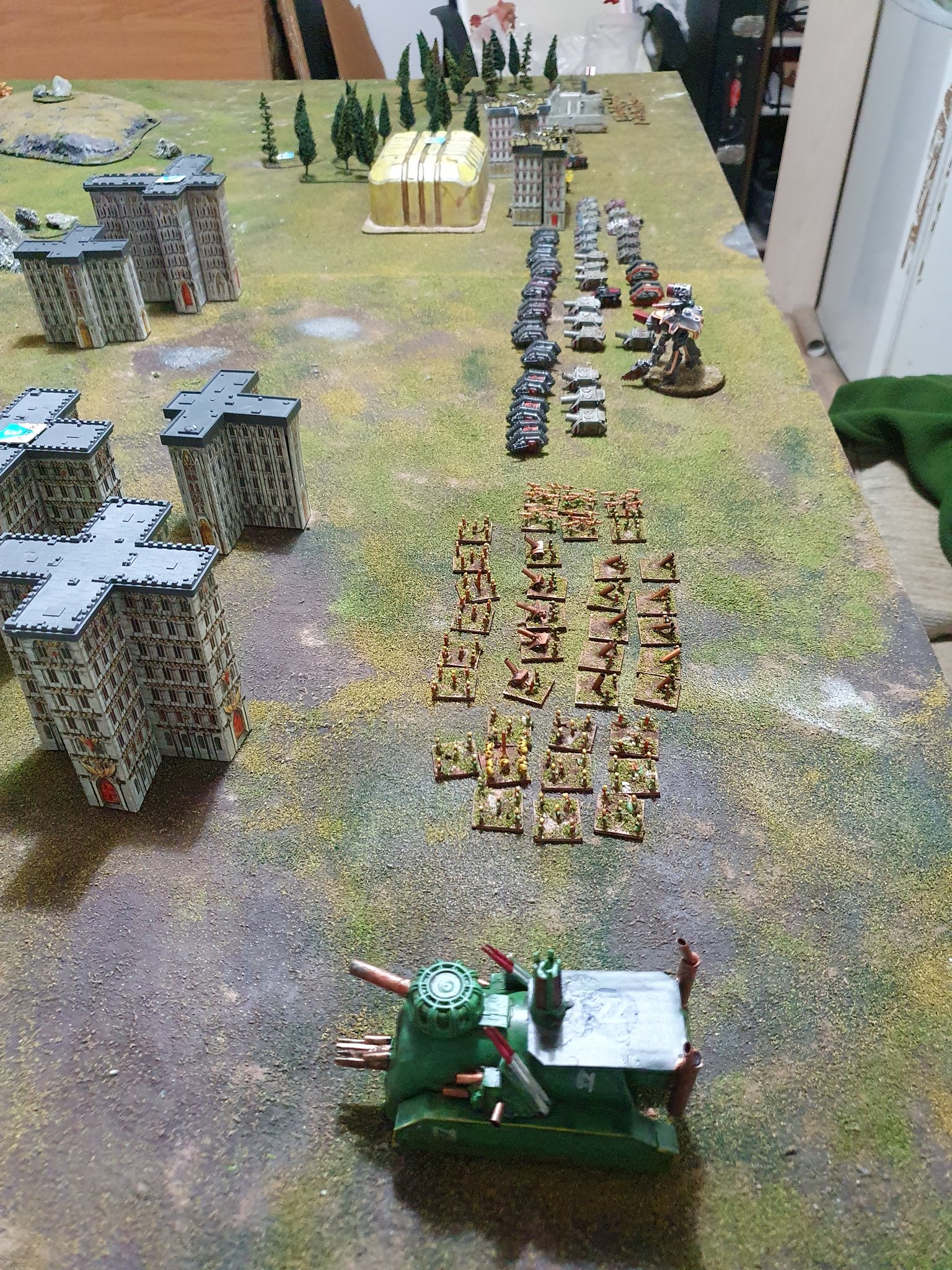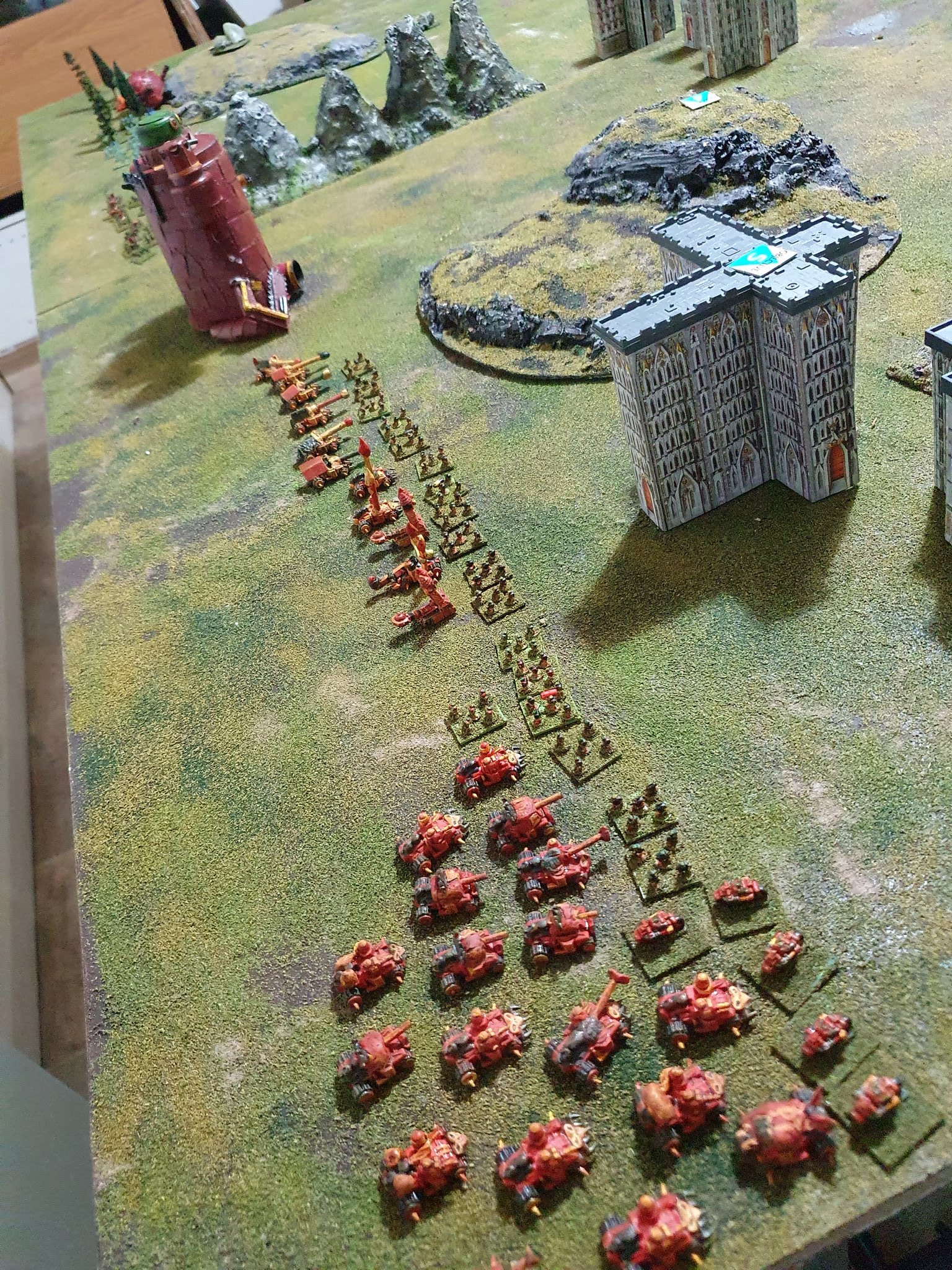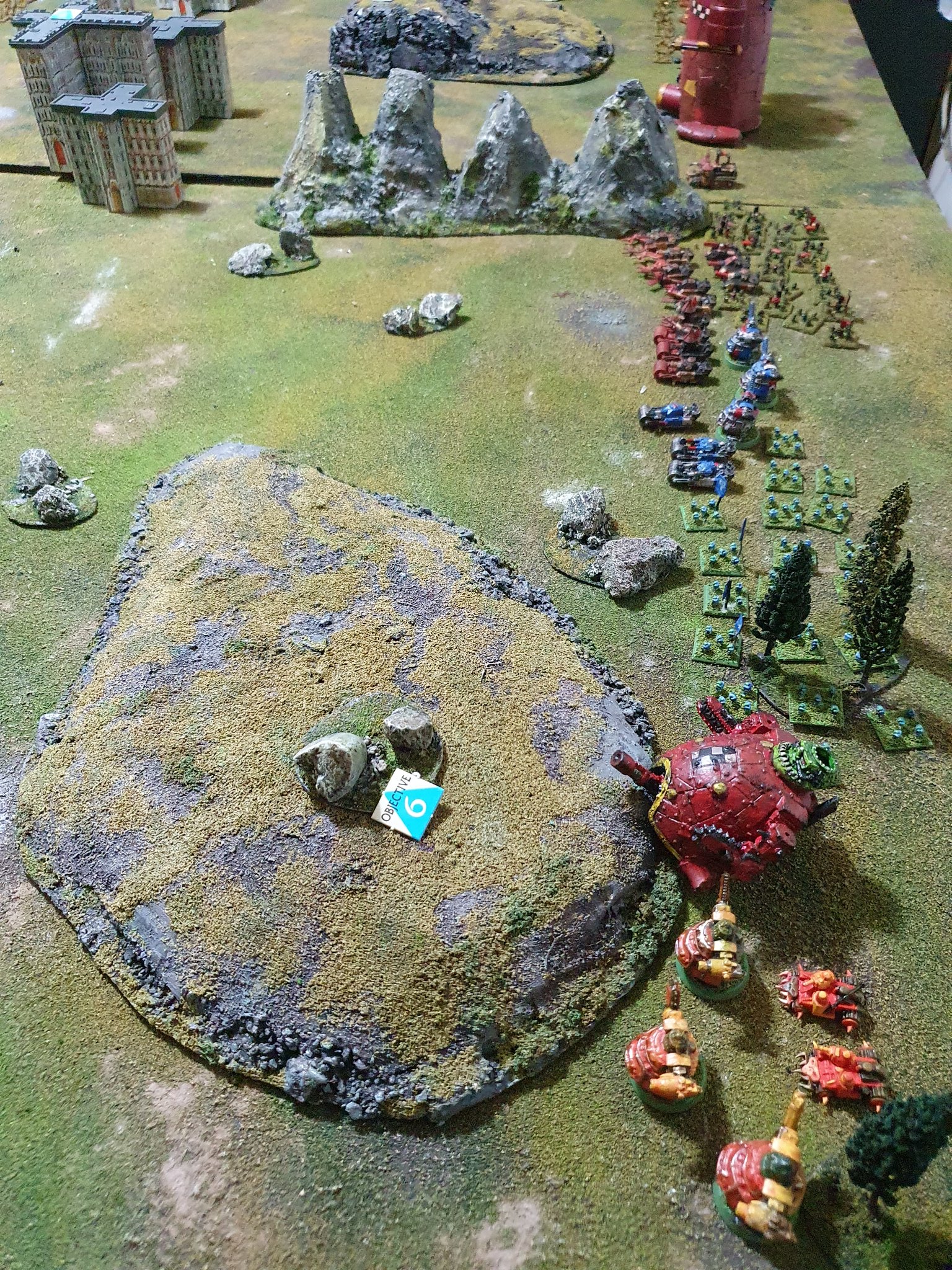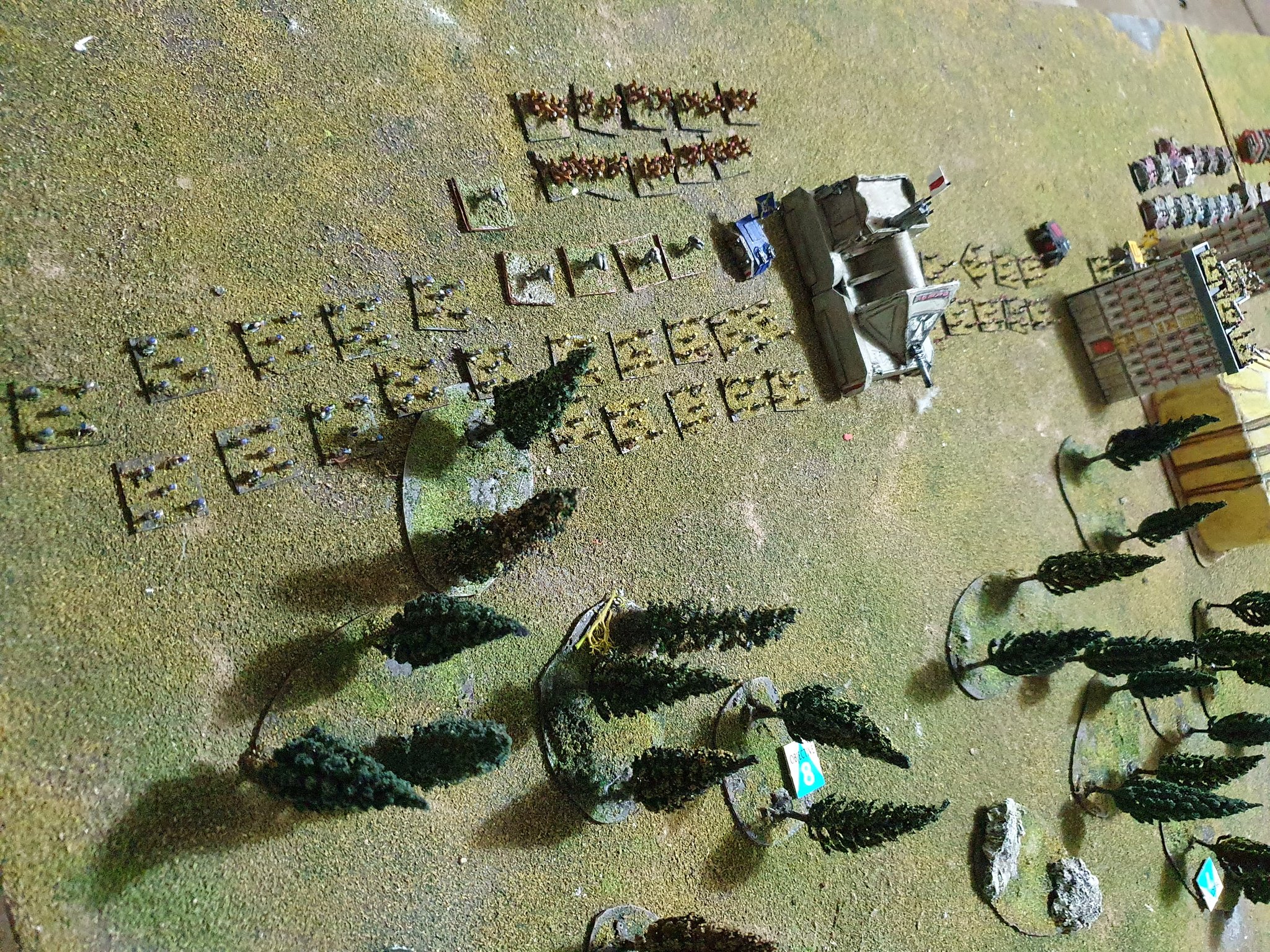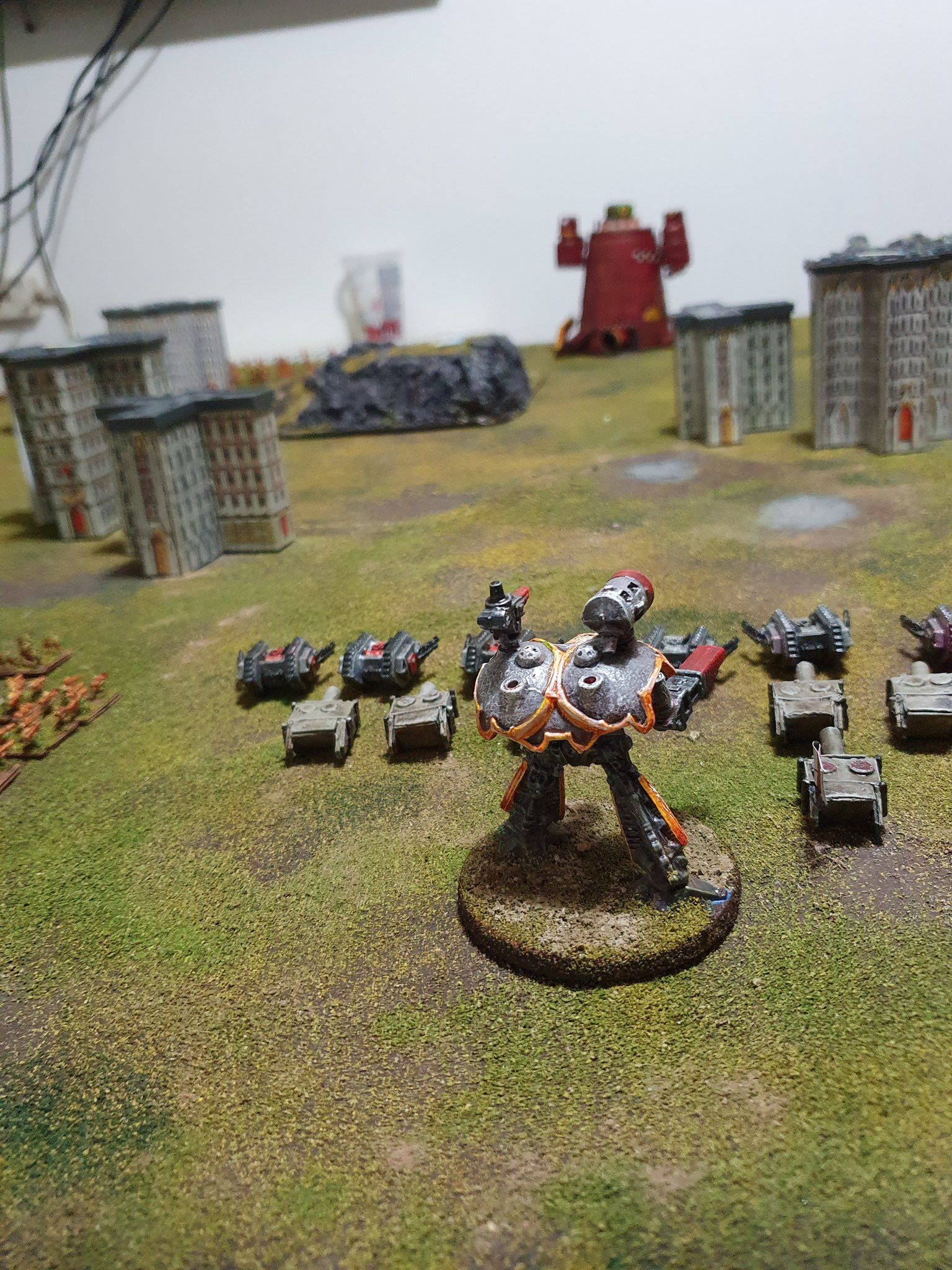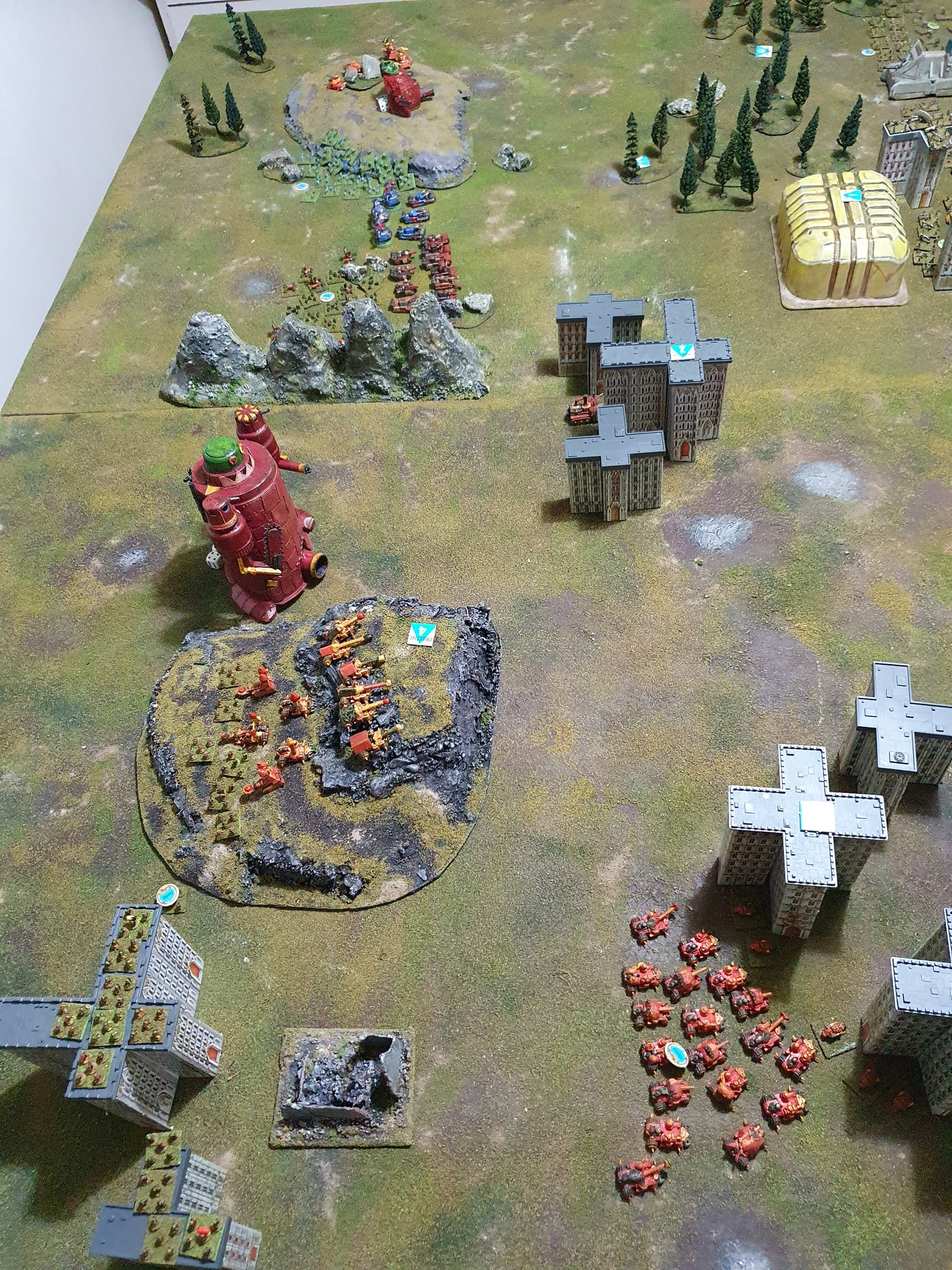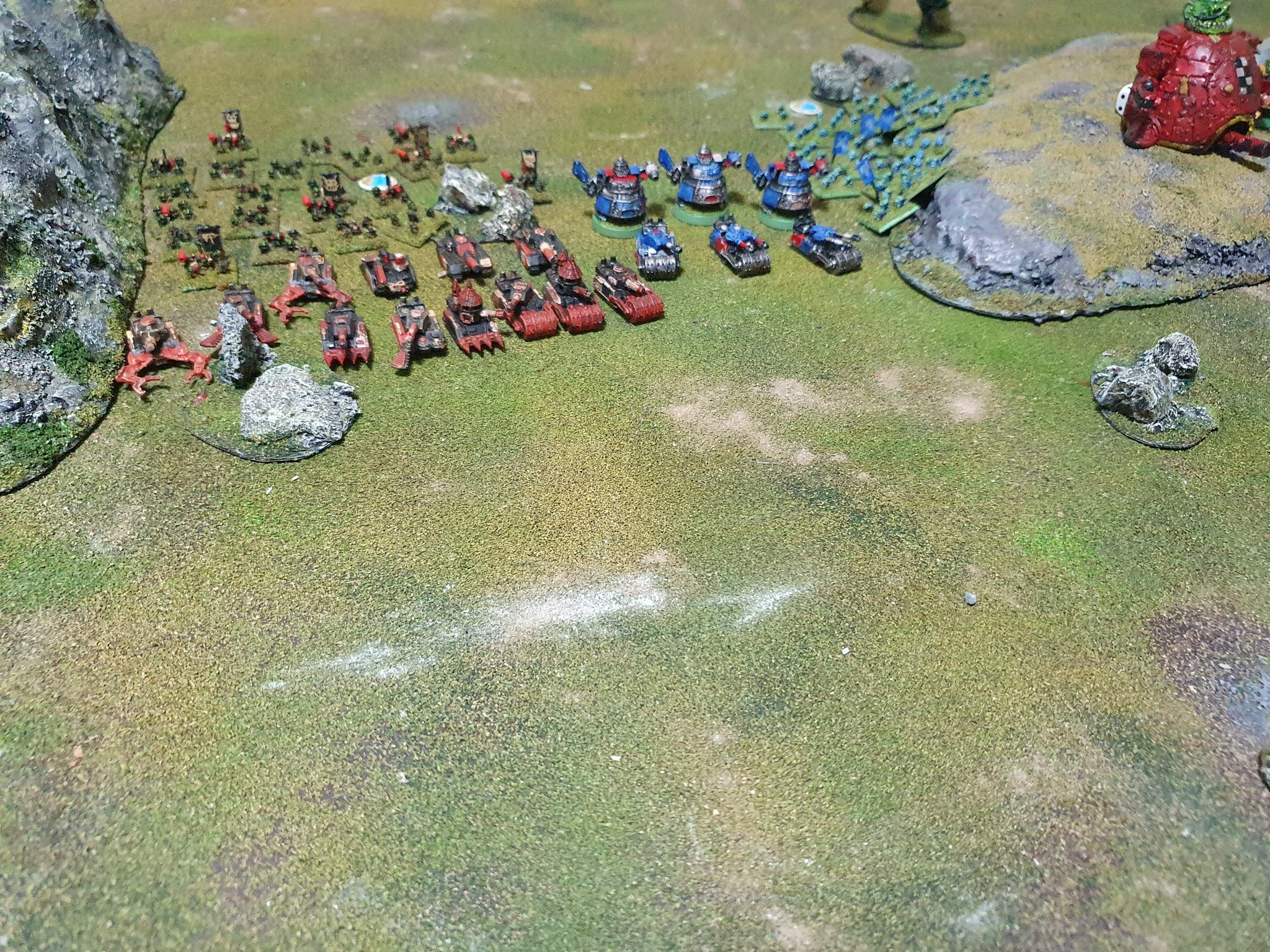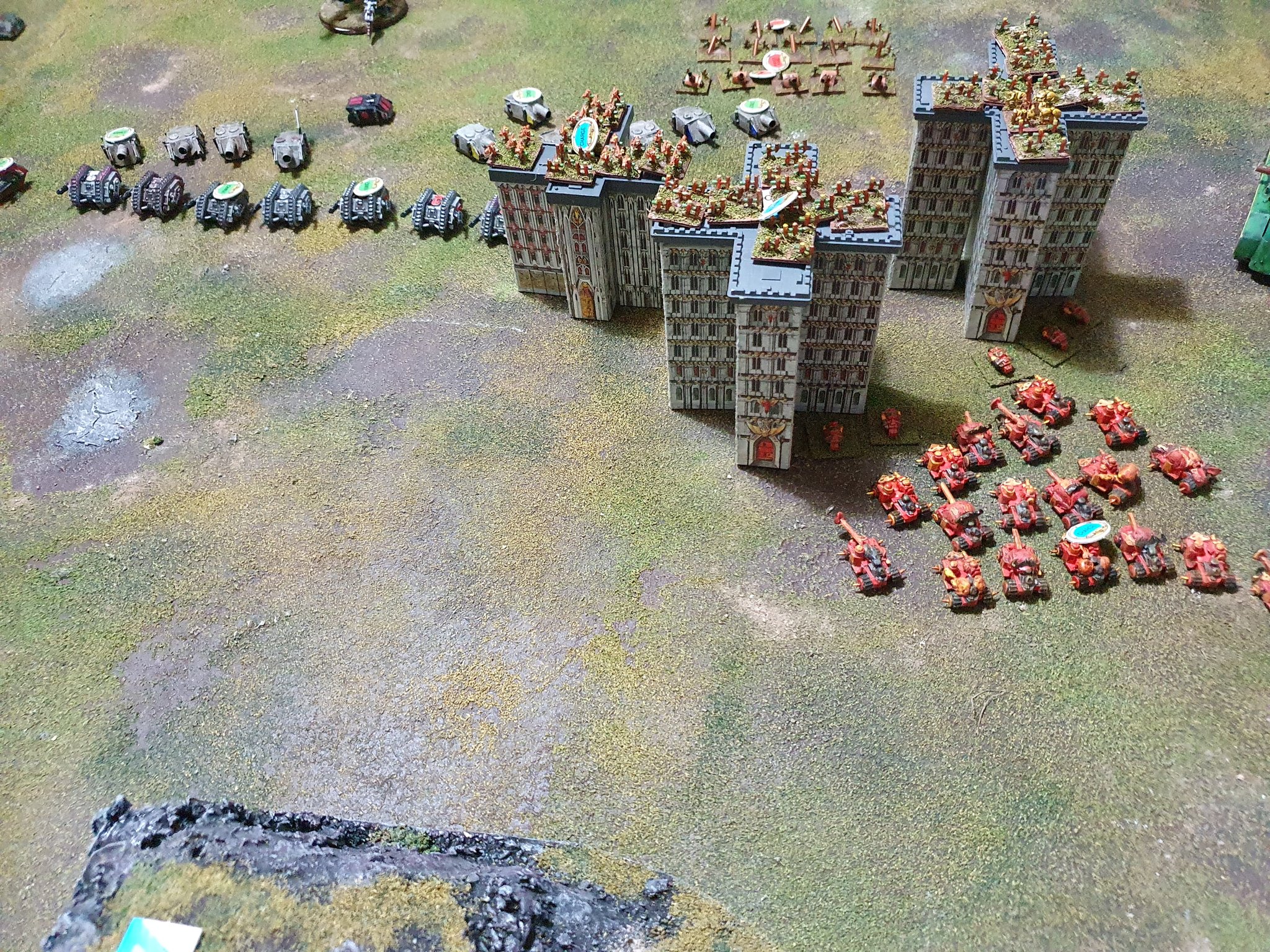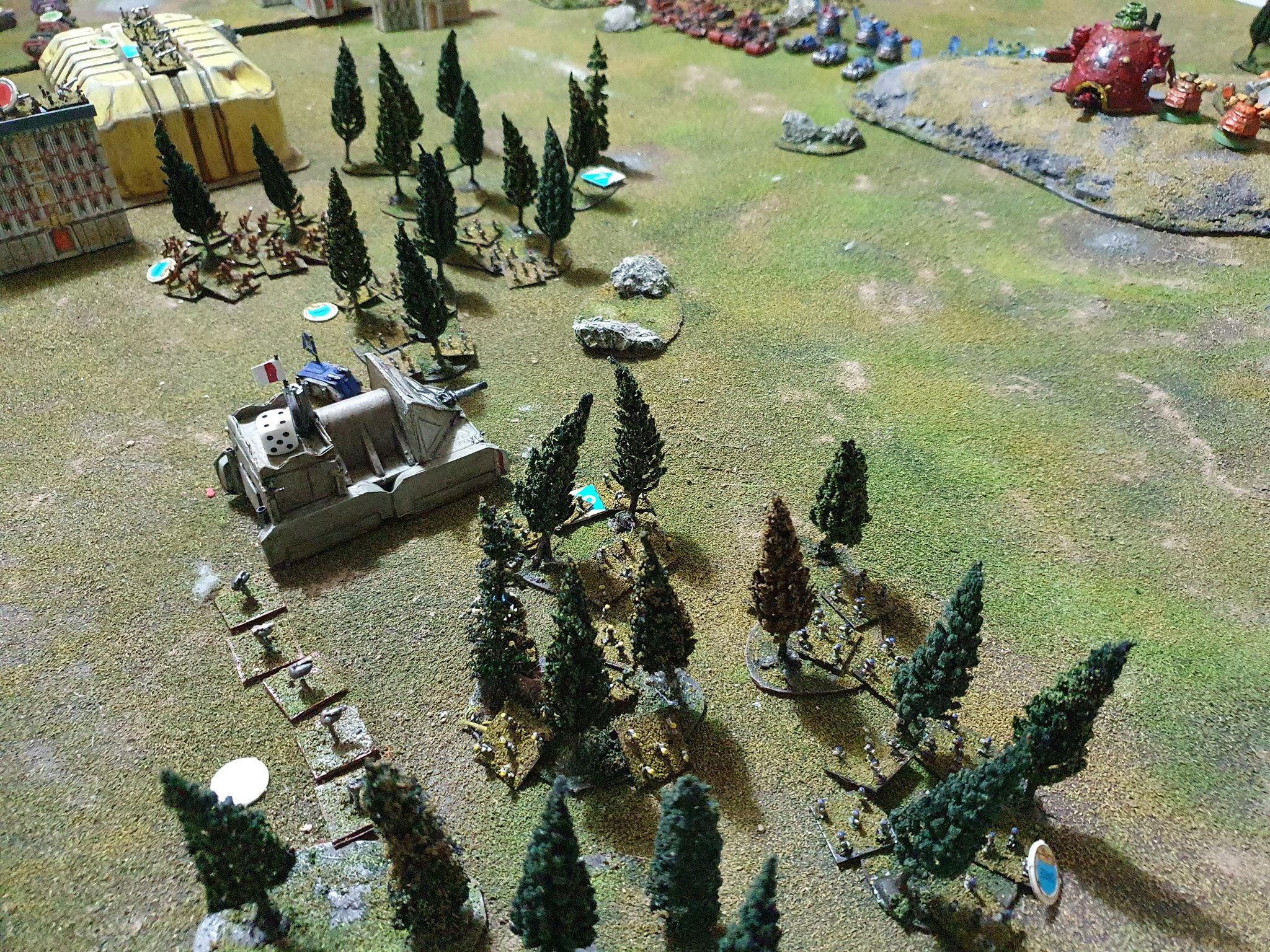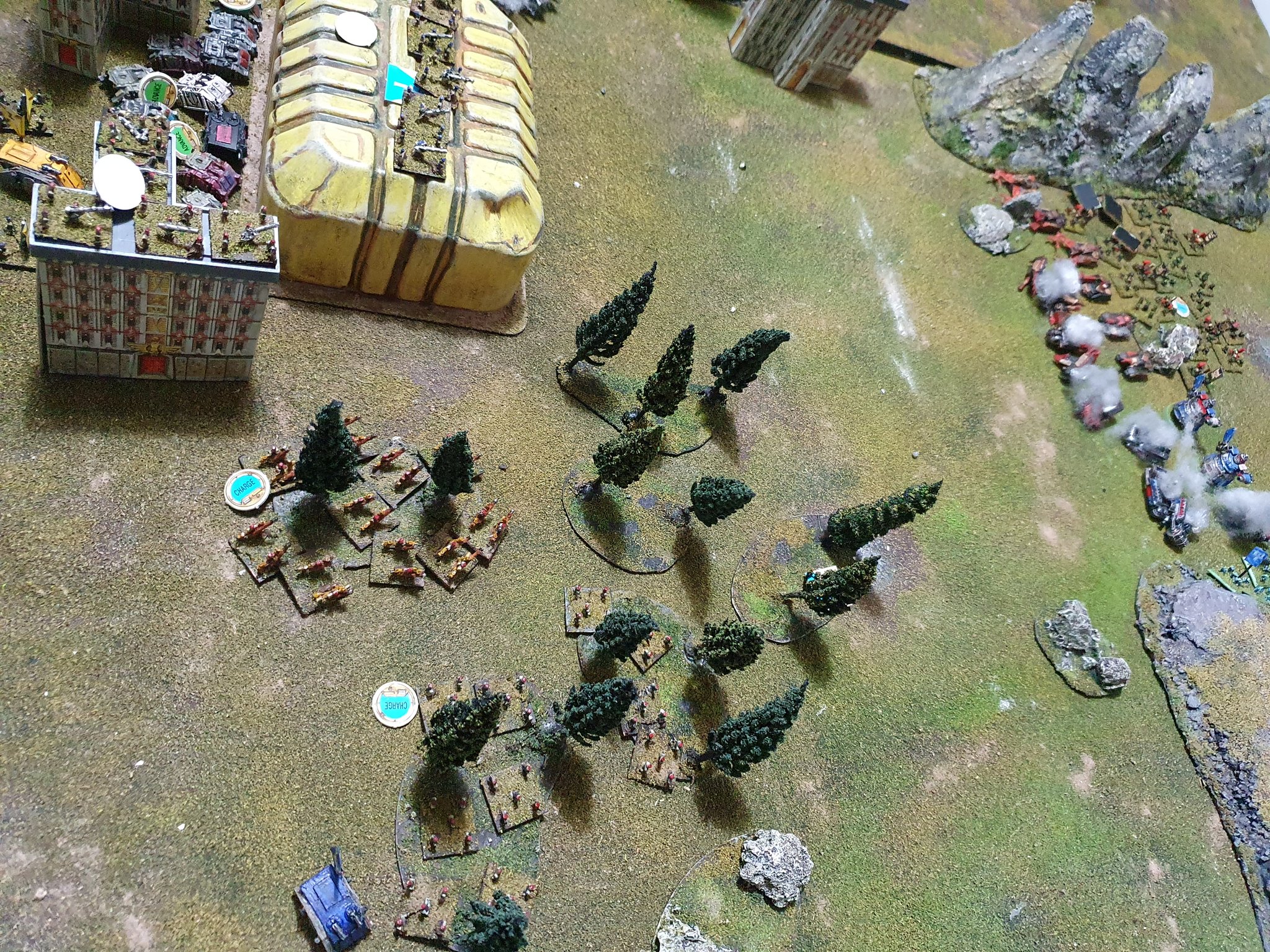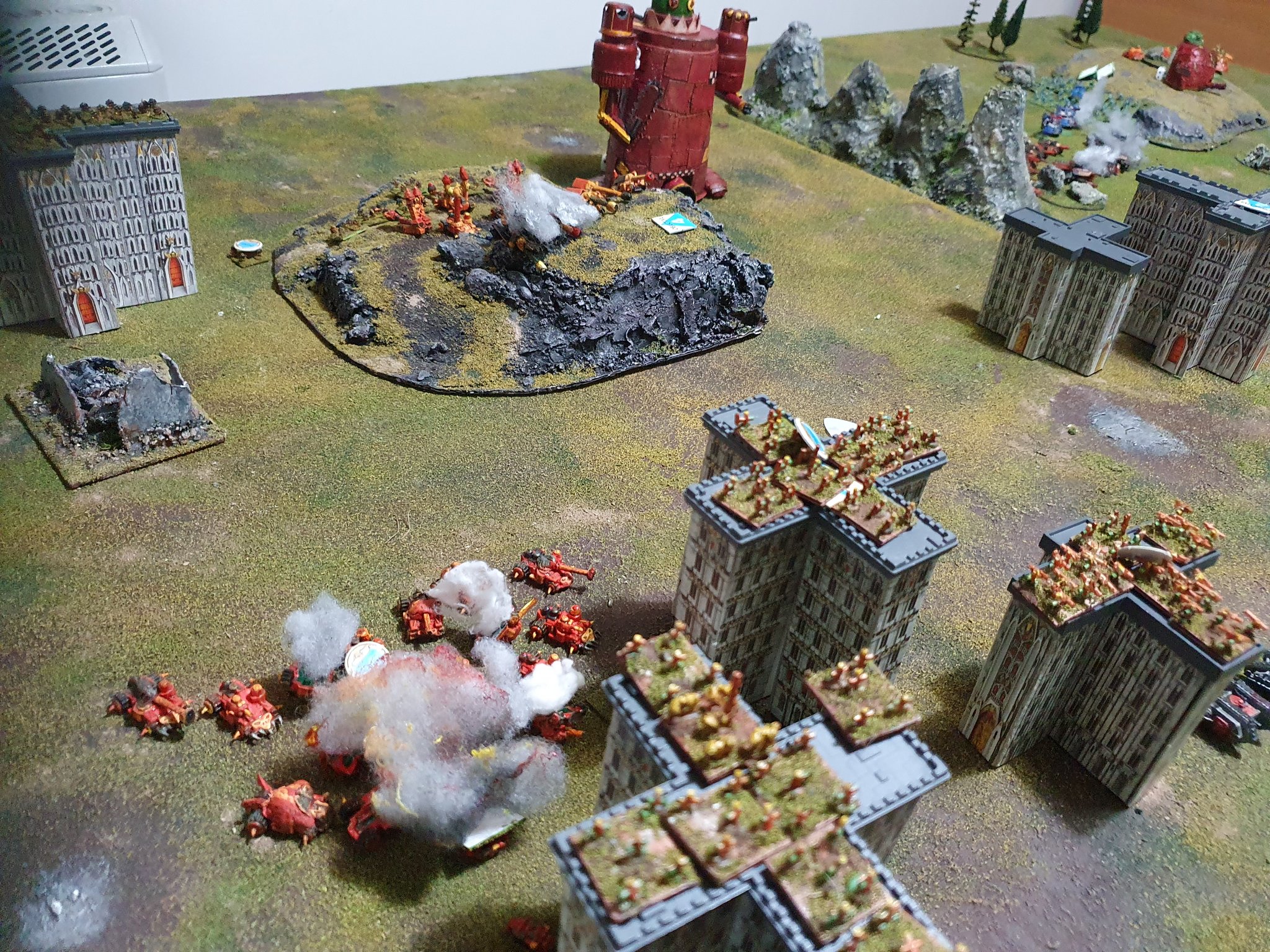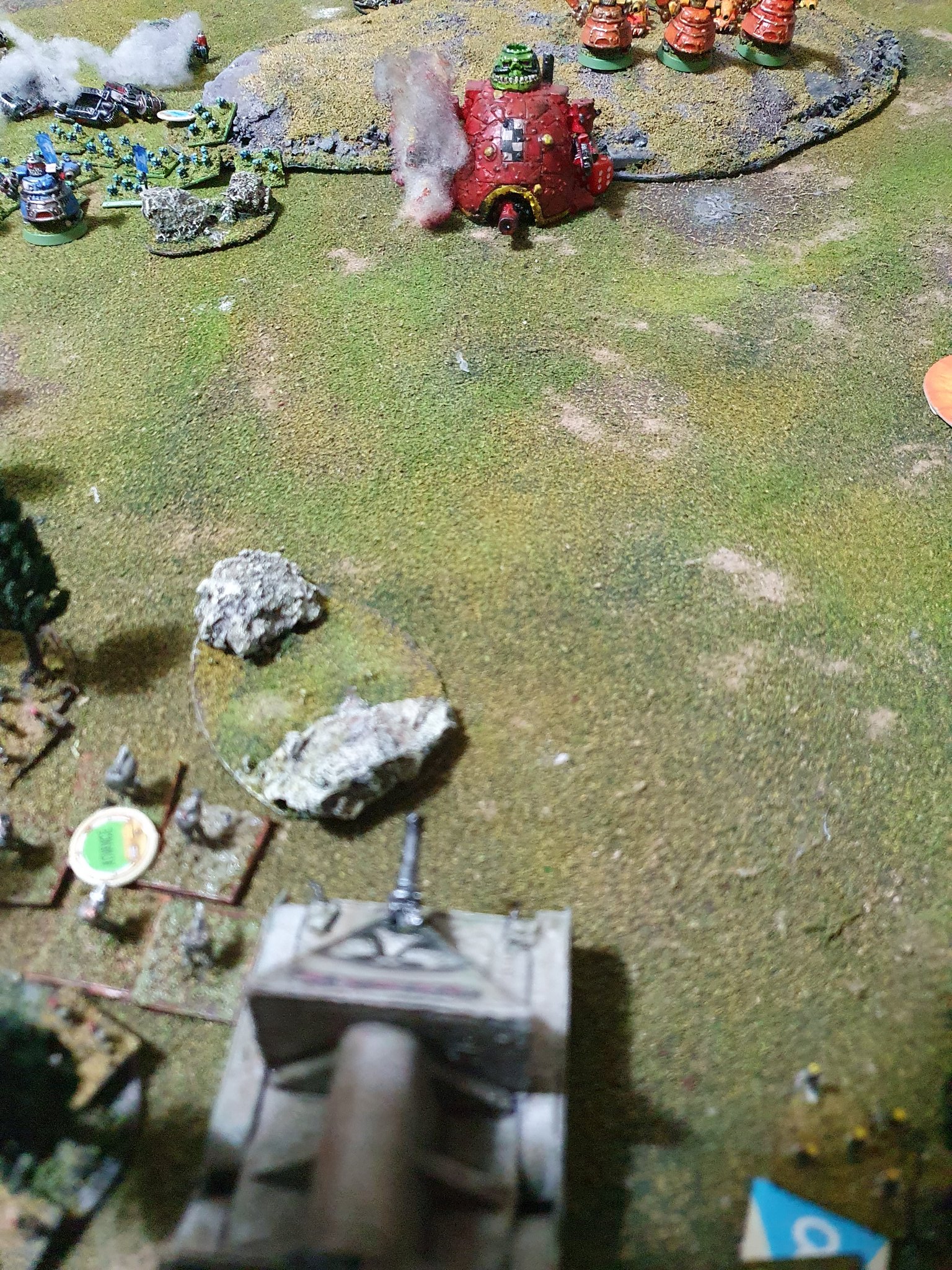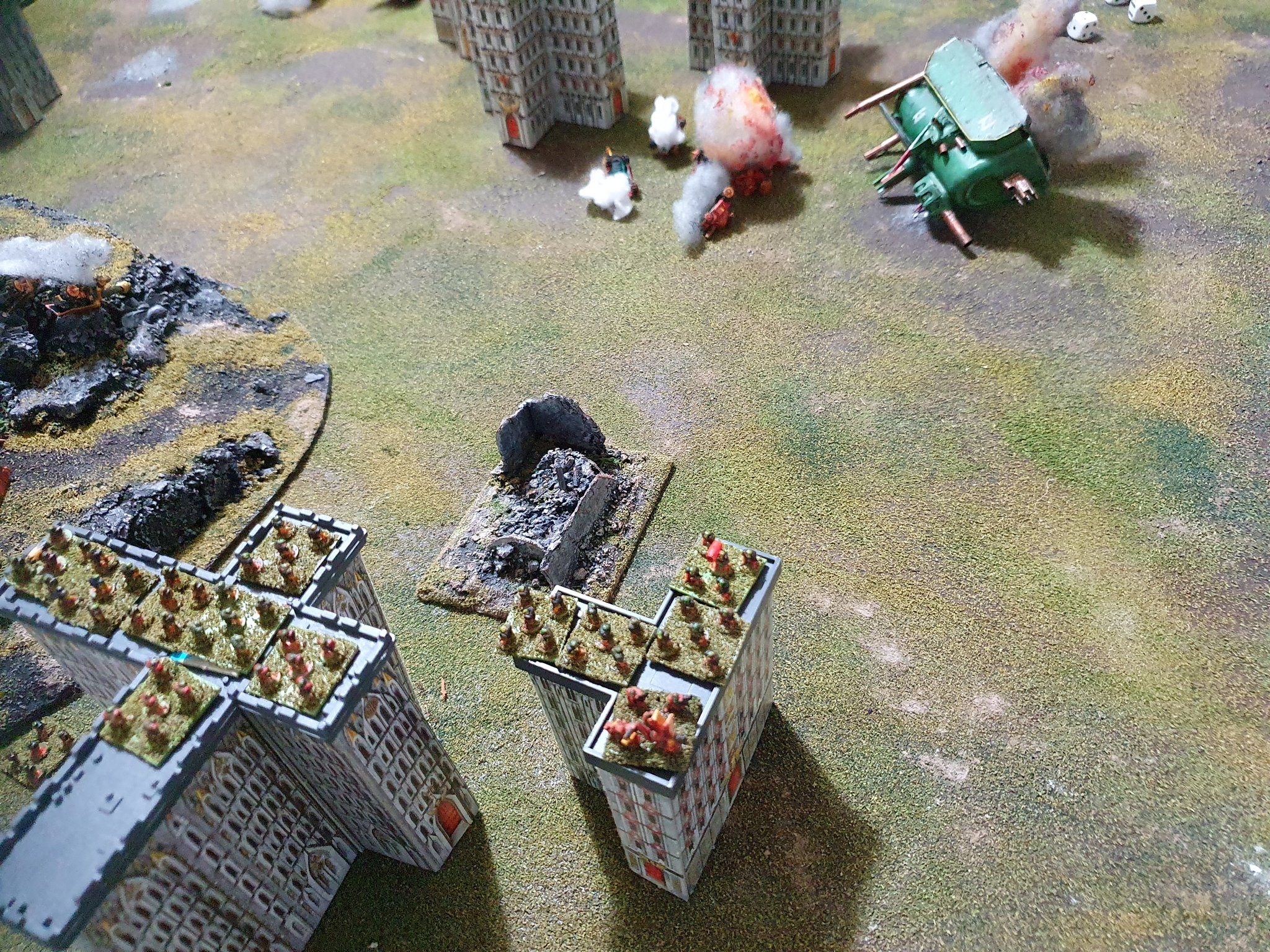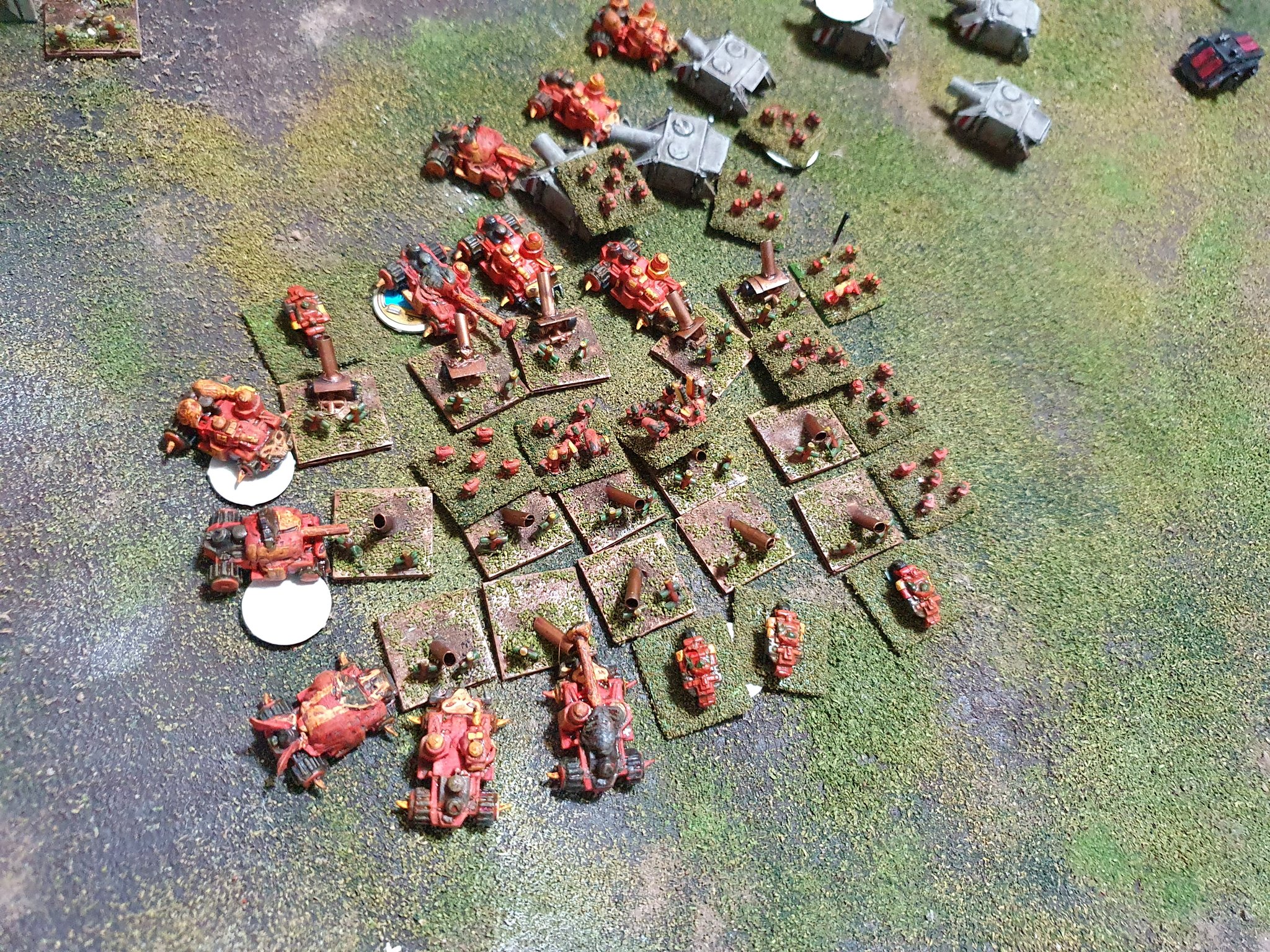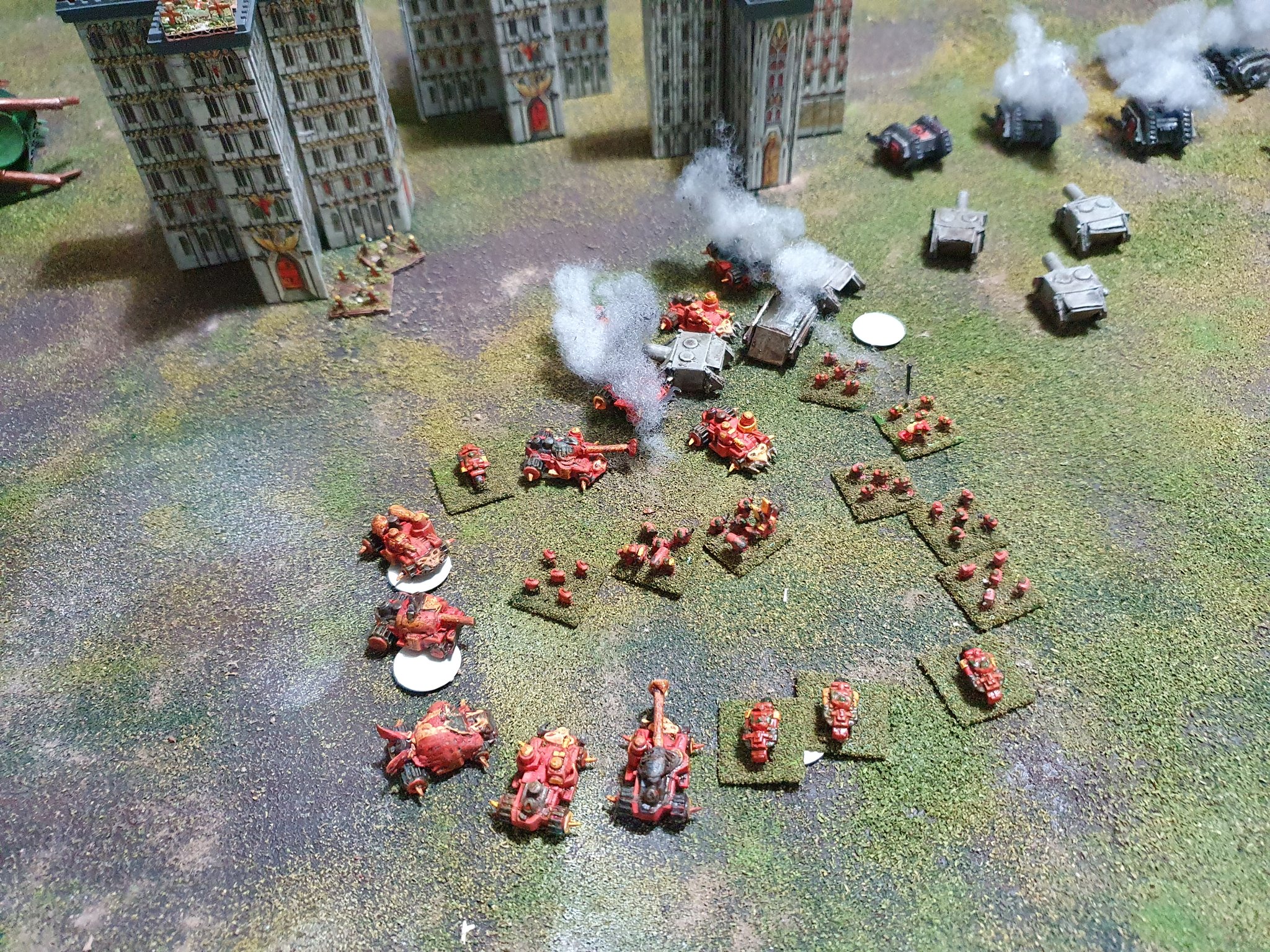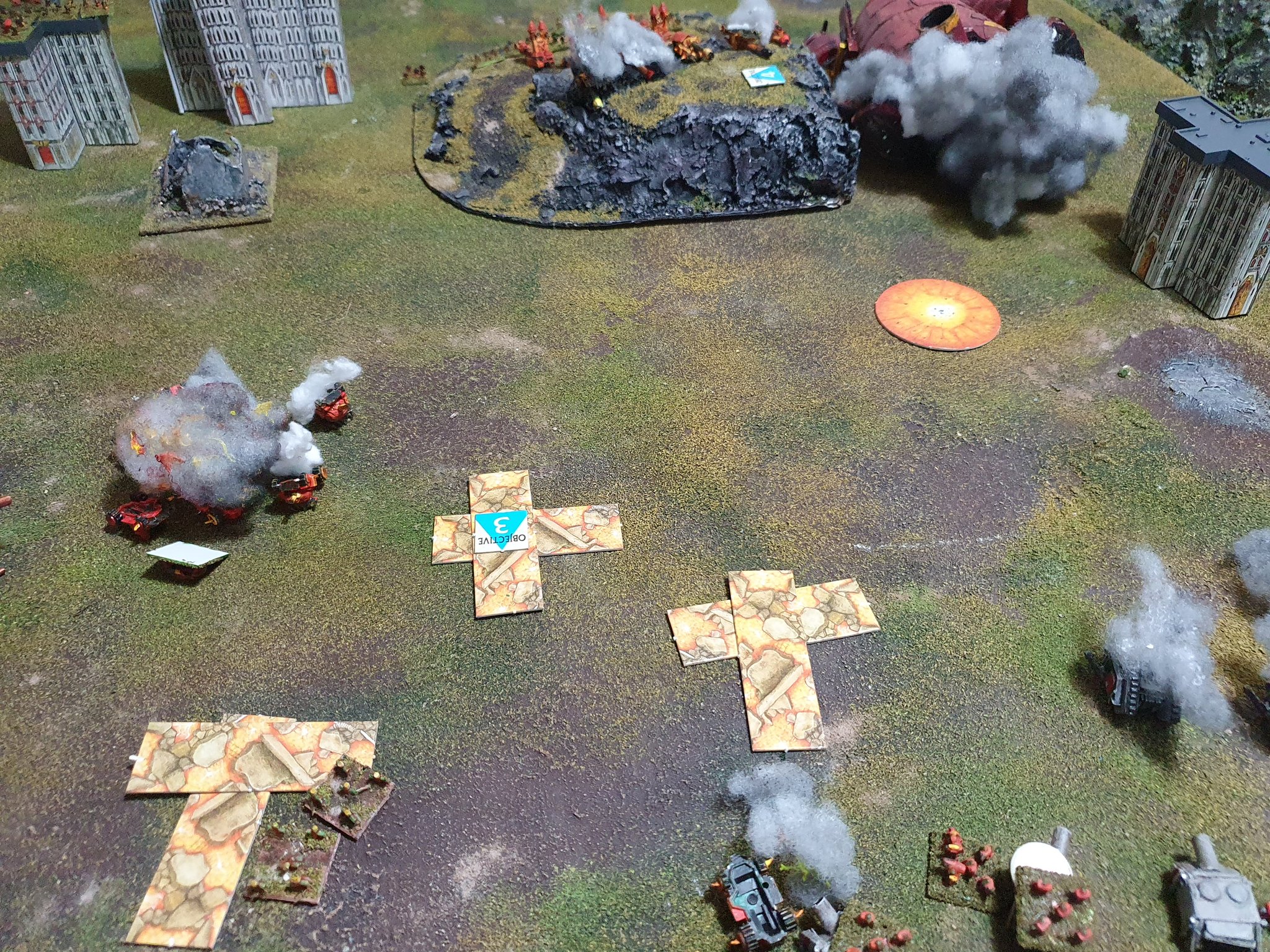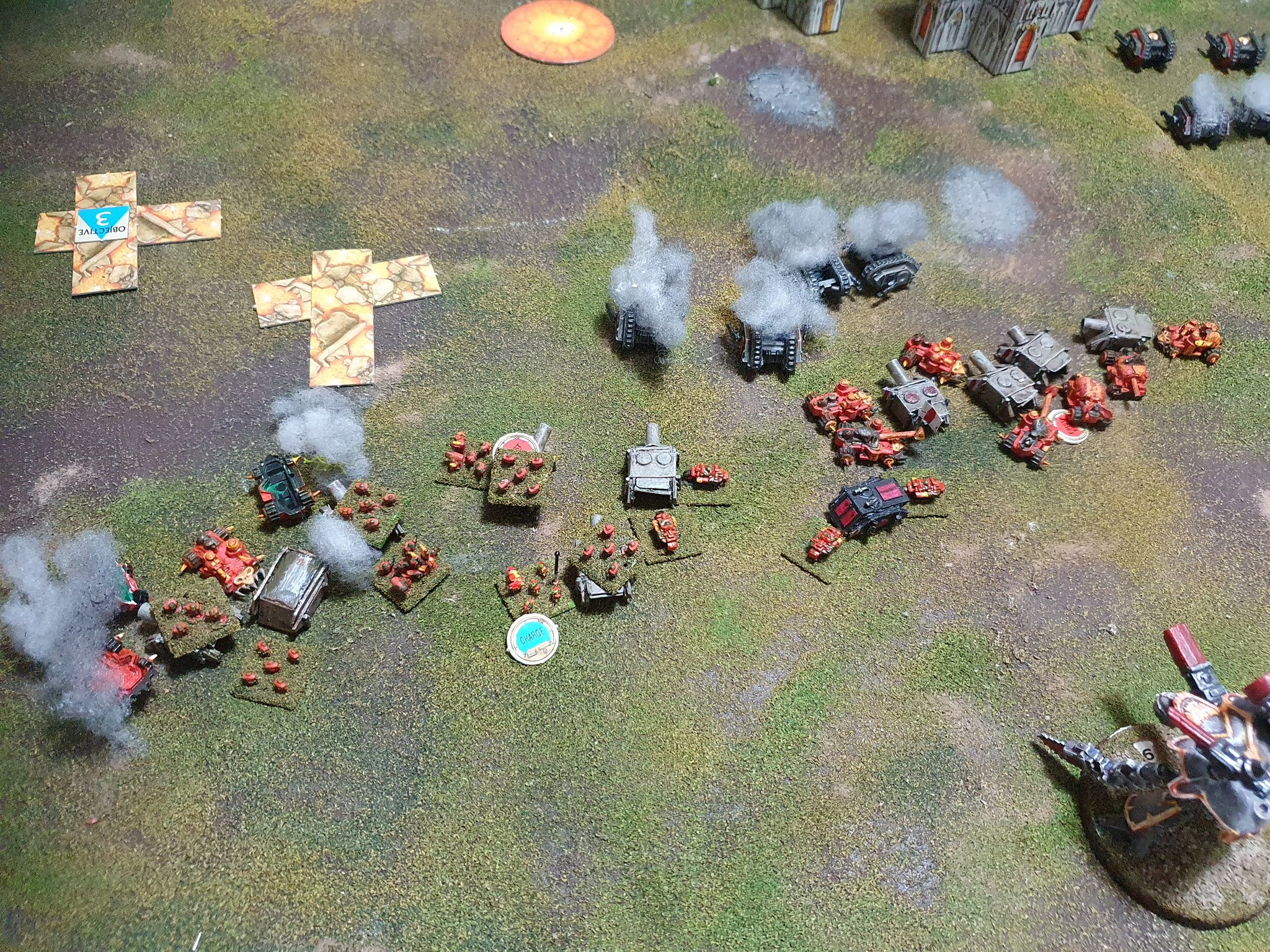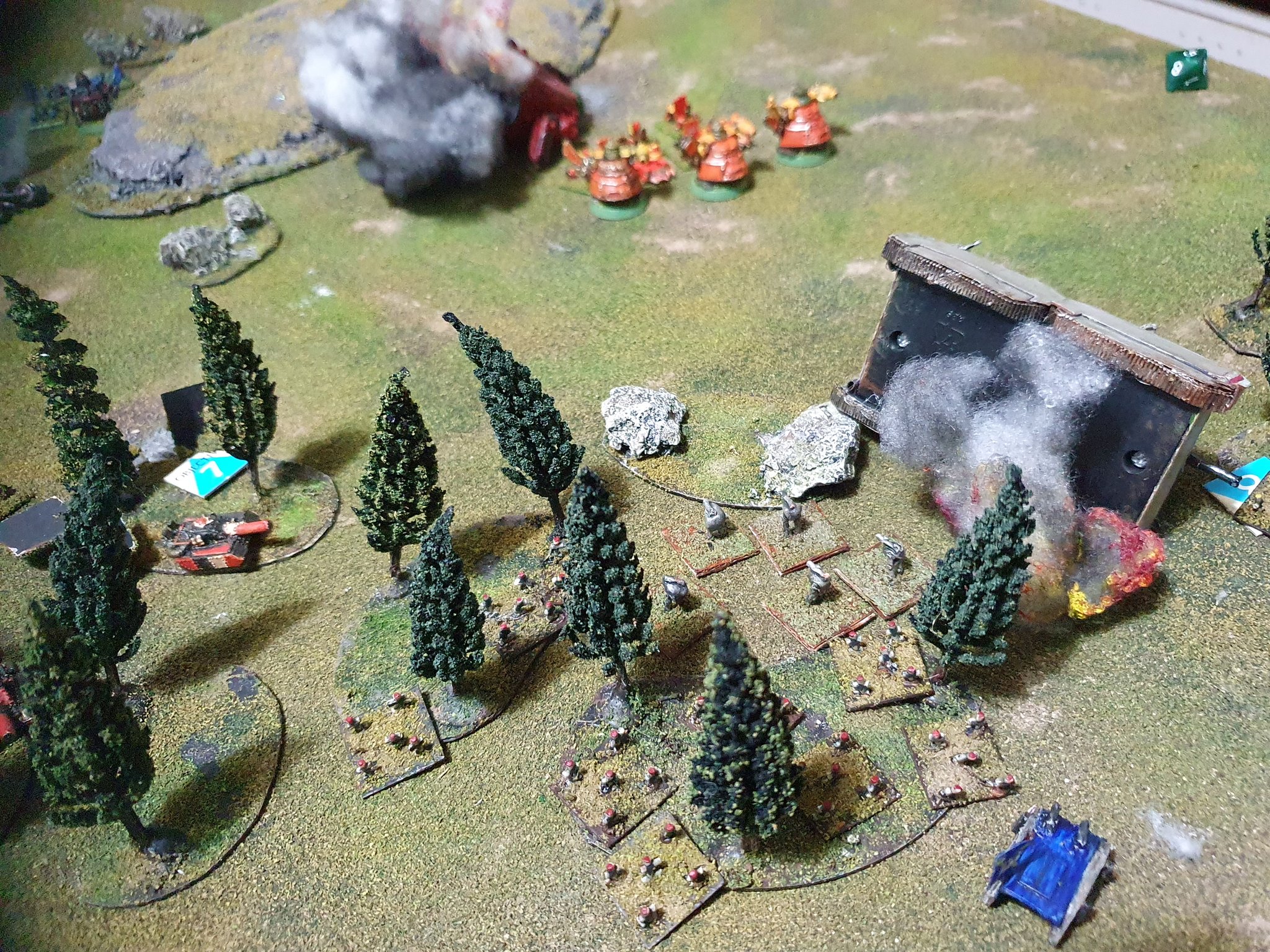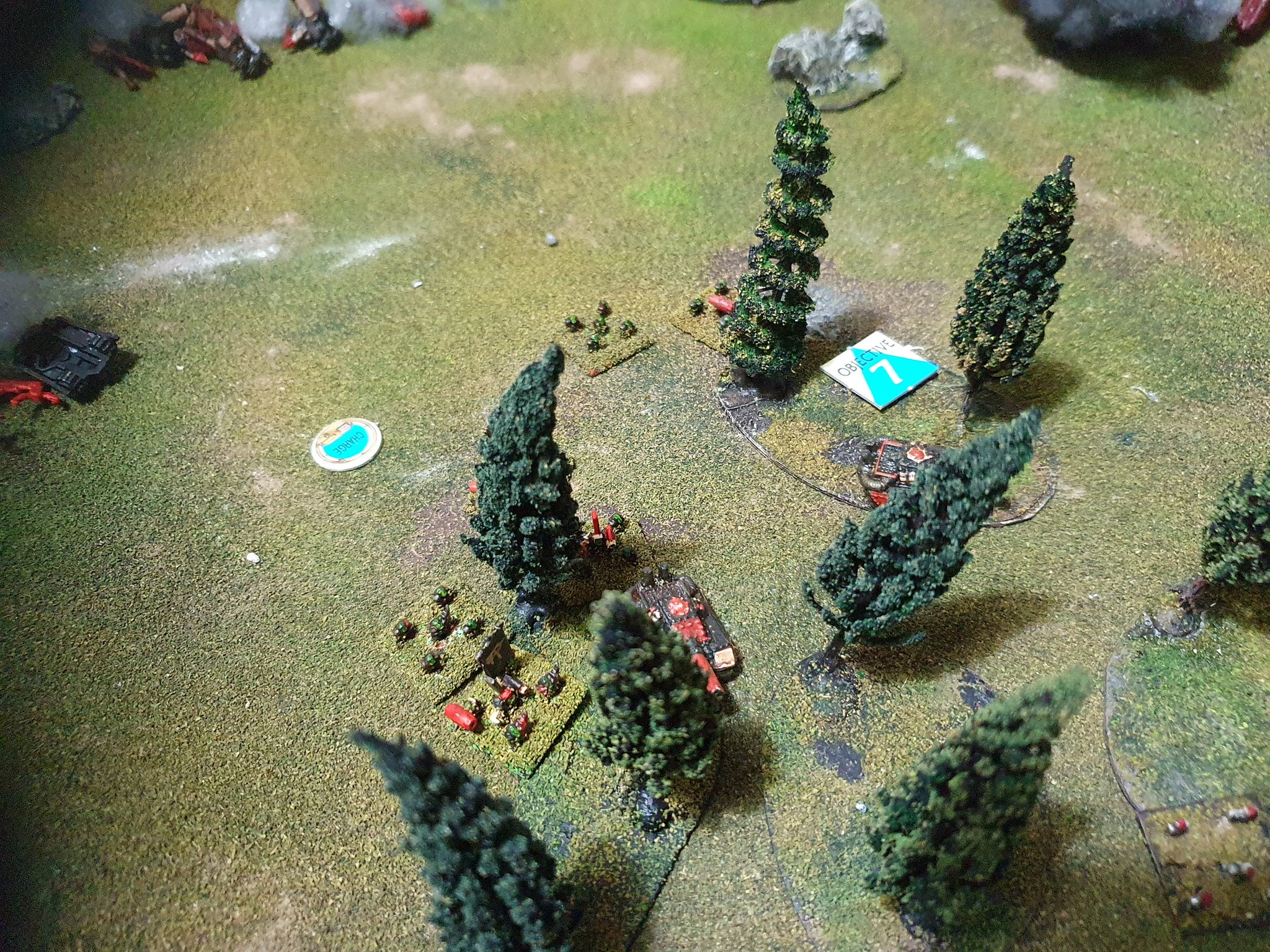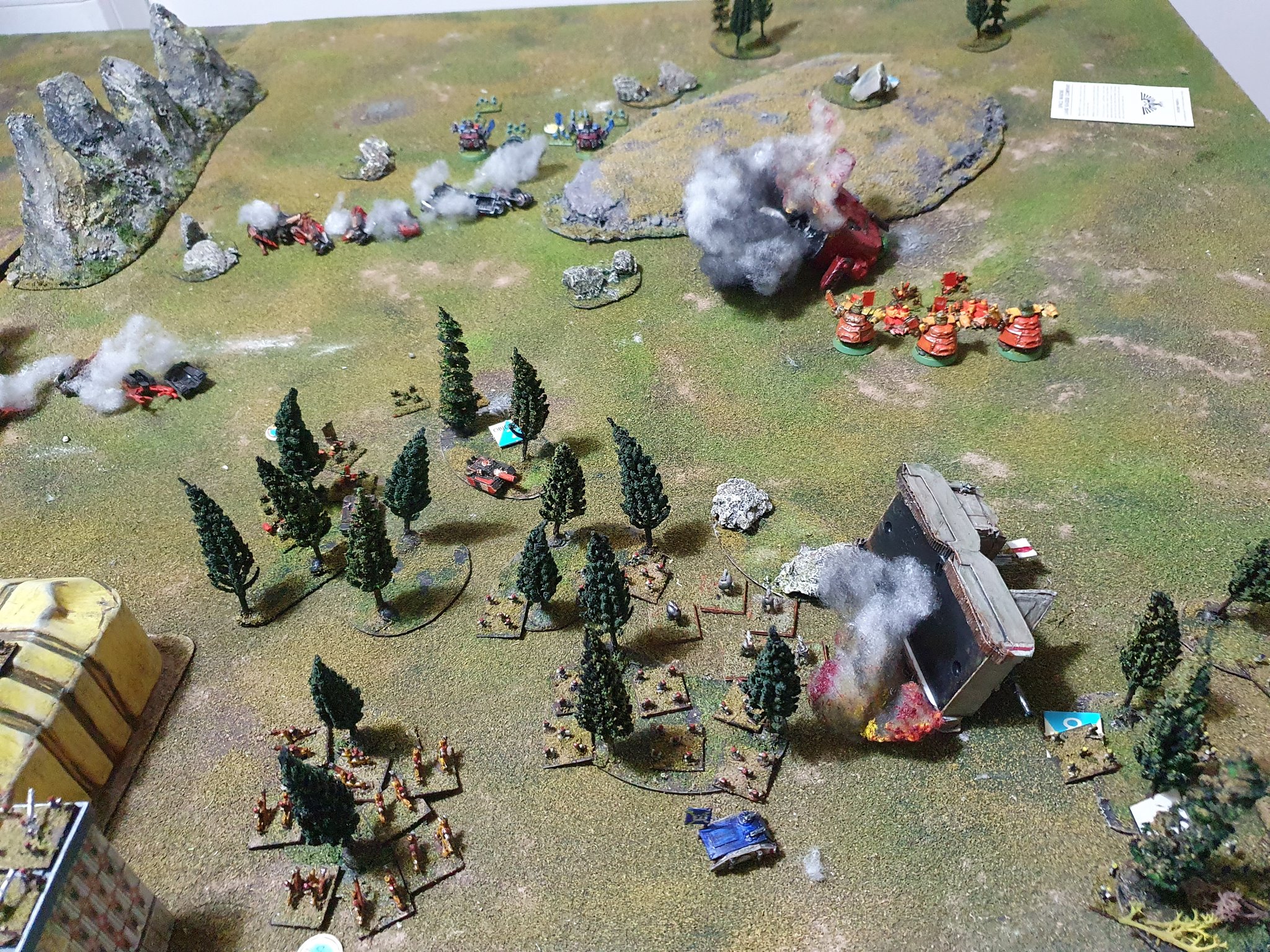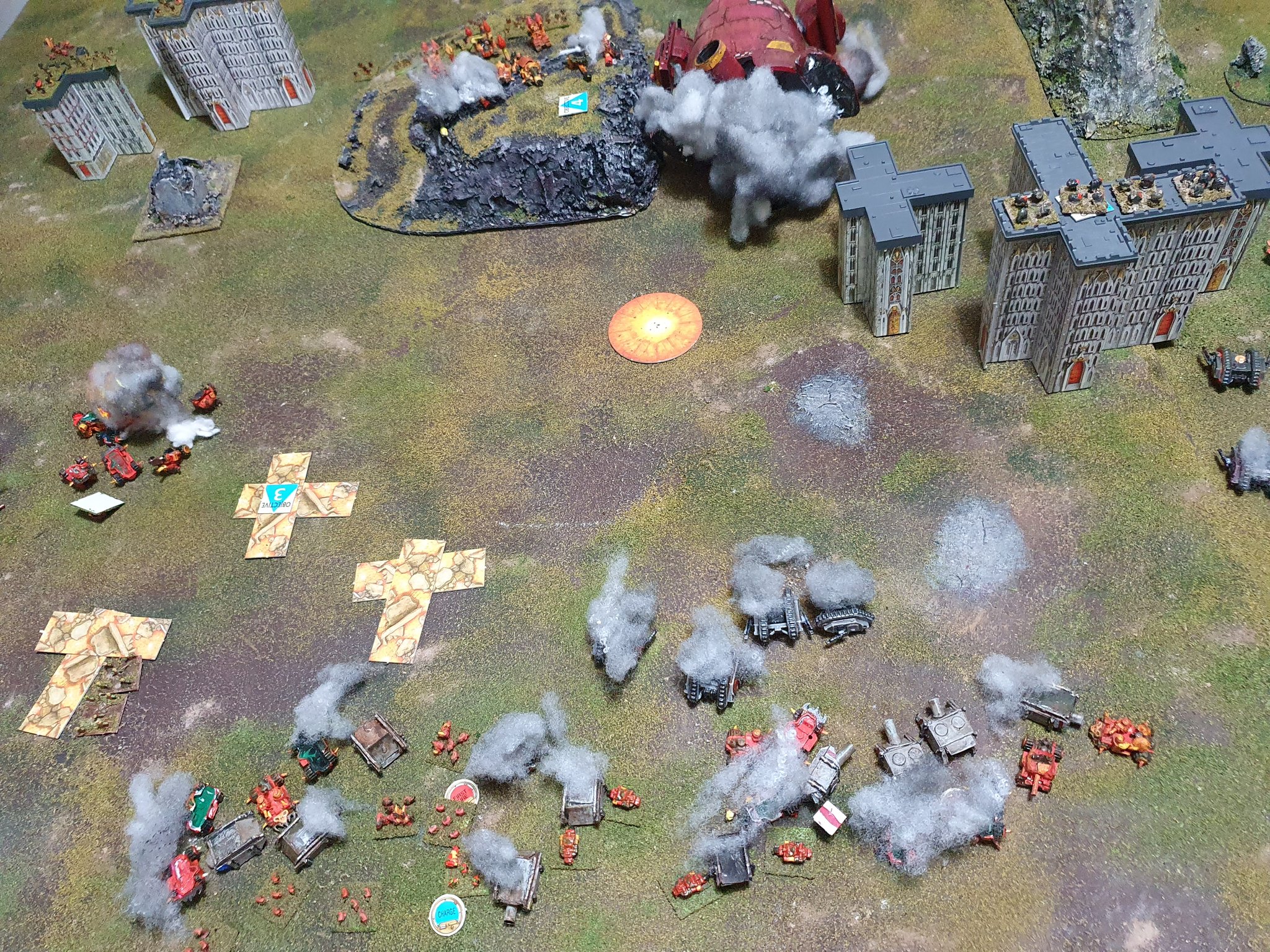 …but as it turned out, the Imperials had the good fortune to explode both the Gargants from internal fires, and had caused just enough casualties to break the remaining clans! Despite having lost a Land Raider Company, all the Squats, the Leviathan and most of the Vindicators there was still a solid core of Guard forces plus a Veteran Marine company as yet untouched… so yet again, Warlord Bozzhog's dastardly plans have come to naught!
Jim admitted he really thought that was in the bags for the Boyz, crediting pure luck with the destruction of the Gargants, and part of me agrees woth him… ah well, all the more excuse to reset and go again! And how will the Squat community on Hazzard feel about seeing their forces massacred while the Redeemers Space Marines cowered in their Rhinos, I wonder… might have the war on Hazard taken another turn??
Stay thrifty out there, see you soon!